Kemp, Barry J.
Most widely held works by Barry J Kemp
Ancient Egypt : anatomy of a civilization
by
Barry J Kemp
( Book )
73 editions published between
1988
and 2018 in 6 languages and held by 1,558 WorldCat member libraries worldwide
"This fully revised and updated edition of the bestselling Ancient Egypt seeks to identify what gave ancient Egypt its distinctive and enduring characteristics, ranging across material culture, the mindset of its people, and social and economic factors. It identifies the ideas by which the Egyptians organized their experience of the world and explains how they maintained a uniform style in their art and architecture across three thousand years, whilst accommodating substantial changes in outlook. The underlying aim is to relate ancient Egypt to the broader mainstream of our understanding of how all human societies function. This comprehensive survey of Egyptian society and history transforms our understanding of this remarkable civilization." "Ancient written documents often provide the essential information and these are used where necessary. However, the book highlights the contribution that archaeology makes, seeking an integration of sources. It uses numerous case studies, illustrating them with artwork expressly prepared for the book from specialist sources." "This revised edition adds new chapters on who, in ethnic terms, the ancient Egyptians were, and on the final ten centuries of ancient Egyptian civilization. Barry Kemp's book is an indispensable text for all students of ancient Egypt and for the general reader."--Jacket
The city of Akhenaten and Nefertiti : Amarna and its people
by
Barry J Kemp
( Book )
21 editions published between
2012
and 2015 in
English
and held by 799 WorldCat member libraries worldwide
The ancient site of Tell el-Amarna in Middle Egypt was the capital city of the heretic pharaoh Akhenaten and his chief consort, Nefertiti. Occupied for just sixteen or so years in the fourteenth century BC, the city lay largely abandoned and forgotten until excavations over the last hundred years brought it back into prominence. Based on more than three decades of research and excavation by Barry Kemp, this account provides new insight into Amarna and its people. The author brings to life the royal family and their offspring, including Tutankhamun, as well as prominent citizens such as the high priest Panehsy, the vizier Nakht, the general Ramose, and the sculptor Thutmose
100 hieroglyphs : think like an Egyptian
by
Barry J Kemp
( Book )
9 editions published between
2005
and 2006 in
English
and held by 362 WorldCat member libraries worldwide
"While the Western alphabet is fairly arbitrary, every Egyptian hieroglyph is a striking visual symbol of a central concept in ancient Egyptian culture. Hieroglyphs are also the best tools for getting deep into the mind-set of a society that's been lost to us for thousands of years." "Egyptologist Barry Kemp explains the foundation of this ancient civilization by presenting one hundred hand-drawn hieroglyphs with short explanations of their meaning and history. In this guide, he takes us on a sweeping journey that reveals the everyday life of ancient Egyptians, as well as their larger worldview. Kemp decodes the symbols for physical objects like "sun," "serpent," and "chariot," as well as the glyphs for more abstract notions like "spirit," "sacred," and "eternity.""--Jacket
How to read the Egyptian Book of the dead
by
Barry J Kemp
( Book )
6 editions published between
2007
and 2008 in
Spanish
and
English
and held by 150 WorldCat member libraries worldwide
The ancient Egyptians created a world of supernatural forces so vivid, powerful, and inescapable that controlling their destiny within it was their constant preoccupation. In life, supernatural forces manifested themselves through misfortune and illness, and after death were faced for eternity in the Otherworld, along with the divine gods that controlled the universe. The Book of the Dead, the modern name given to a popular compilation of ancient Egyptian spells, empowered the reader to overcome the dangers lurking in the Otherworld and to become one with the gods that governed. Here the author selects a number of spells to explore who and what the Egyptians feared and the kind of assistance that the book offered them, revealing a relationship between the human individual and the divine quite unlike that found in the major faiths of the modern world. -- From back cover
The main chapel at the Amarna Workmen's Village and its wall paintings
by
F. J Weatherhead
( Book )
7 editions published in
2007
in
English
and held by 101 WorldCat member libraries worldwide
"In the 1980s the Egypt Exploration Society's expedition to Amarna discovered a well-preserved private chapel at the Workmen's Village and the largest that had been built there. Amidst the rubble were many hundreds of fragments of painted plaster fallen from the walls. Over many subsequent years they were recorded, fitted, together and, in the case of some key groups, restored into panels. Here the results are finally presented, as a detailed catalogue that illustrates all fragments of any likely significance, set within descriptions of the chapel building and its archaeological fill. They form a valuable point of reference for the beliefs of people during the Amarna Period. The remarkable lack of attention to Akhenaten's ideas helps to define the limits of penetration of the Aten cult and its imagery into the lives of people who lived separate from the royal court."--Publisher's website
The awakening of man
by
J. N Postgate
( Book )
12 editions published between
1969
and 1970 in
English
and held by 97 WorldCat member libraries worldwide
Busy lives at Amarna : excavations in the main city : (grid 12 and the House of Ranefer, N49.18)
by
Barry J Kemp
( Book )
9 editions published in
2010
in
English
and held by 80 WorldCat member libraries worldwide
"Between 2002 and 2006 the Egypt Exploration Society's expedition to Amarna made a detailed study of the house of the chariot-officer Ranefer, first excavated in 1921. Particular attention was paid to the remains of an underlying earlier and smaller house that had been largely demolished to make way for Ranefer's own. At the same time a group of smaller houses for the ordinary people of the city were excavated for the first time, in an adjacent part of the site called Grid 12. Together they represent a cross-section of residential life at Amarna. The results are presented in two complementary volumes, the first devoted to the excavation, architecture and environmental remains, and the second to the objects. They lead on to reflections on domestic living and manufacture at Amarna, and on social dividing lines within the city."--Vol. 1, p. [4] of cover
more
fewer
Audience Level
0

1
Kids
General
Special
Audience level: 0.42 (from 0.30 for The awaken ... to 0.98 for Amarna rep ...)
Associated Subjects
Akhenaton,--King of Egypt
Antiquities
Archaeology
Architecture, Ancient
Architecture, Domestic
Art, Egyptian
Book of the dead
Botany
Civilization
Civilization, Ancient
Civilization, Assyro-Babylonian
Dwellings
Egypt
Egypt--Birket Habu
Egyptian language--Writing, Hieroglyphic
Egypt--Malkata Site
Egypt--Minyā (Province)
Egyptology
Egypt--Tell el-Amarna
Excavations (Archaeology)
Funeral rites and ceremonies
Future life
History, Ancient
Hittites
Incantations, Egyptian
Inscriptions, Egyptian
Middle East
Middle East--Assyria
Minoans
Mural painting and decoration, Egyptian
Nefertiti,--Queen of Egypt,
Painting, Egyptian
Pharaohs
Pottery, Egyptian
Pottery, Minoan
Sumerians
Textile fabrics, Ancient
Textile industry
Victoria--Macedon Ranges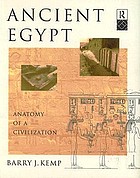 Alternative Names
Barry Kemp British Egyptologist

Kemp, B.

Kemp, B.J.

Kemp, B. J. 1963-

Kemp, B. J. (Barry J.)

Kemp, B. J. (Barry J.), 1963-

Kemp Barry

Kemp, Barry 1963-

Kemp, Barry (egiptologia).

Kemp, Barry J.

Kemp, Barry John.

Kemp, Barry John 1963-

Барри Кемп

باري ج. كيمب

巴里·肯普

Languages
Covers