Rassias, Themistocles M. 1951-
Most widely held works about Themistocles M Rassias
Most widely held works by Themistocles M Rassias
Nonlinear analysis
by
Themistocles M Rassias
( Book )
11 editions published between
1986
and 1987 in
English
and held by 232 WorldCat member libraries worldwide
This volume explores some of the interconnections and interrelations between Topology and Analysis with a major emphasis on the study of applications of topological methods, fixed point theory, bifurcation theory, and the stability of mappings. It contains selected papers by leading experts in nonlinear analysis problems and related subjects
Stability of functional equations in several variables
by
Donald H Hyers
( Book )
13 editions published in
1998
in
English
and
German
and held by 179 WorldCat member libraries worldwide
The notion of stability of functional equations has been an area of revision and development for the past 20 years, having its origins more than half a century ago when S. Ulam posed the fundamental problem and D.H. Hyers gave the first significant partial solution. This volume is unique in that (to date) none exists as a comprehensive examination to the subject. The authors present both classical results and their original research in an integrated and self-contained fashion. Apart from the main topic of the stability of certain functional equations, related problems are discussed. These include the stability of the convex functional inequality and the stability of minimum points. The techniques used require some basic knowledge of functional analysis, algebra, and topology. The text could be used in graduate seminars or by researchers in the field
Survey on classical inequalities
by
Themistocles M Rassias
( Book )
11 editions published in
2000
in
English
and held by 156 WorldCat member libraries worldwide
"This book will be of interest to mathematicians and graduate students whose work involves real functions, functions of a complex variable, functional analysis, approximation theory, numerical analysis and other subjects of mathematical analysis."--Jacket
Functional equations in mathematical analysis
by
Themistocles M Rassias
( Book )
9 editions published in
2012
in
English
and held by 37 WorldCat member libraries worldwide
Functional Equations in Mathematical Analysis, dedicated to S.M. Ulam in honor of his 100th birthday, focuses on various important areas of research in mathematical analysis and related subjects, providing an insight into the study of numerous nonlinear problems. Among other topics, it supplies the most recent results on the solutions to the Ulam stability problem. ¡ The original stability problem was posed by S.M. Ulam in 1940 and concerned approximate homomorphisms. The pursuit of solutions to this problem, but also to its generalizations and/or modifications for various classes of equations and inequalities, is an expanding area of research, and has led to the development of what is now called the Hyers-Ulam stability theory. ¡ Comprised of contributions from eminent scientists and experts from the international mathematical community, the volume presents several important types of functional equations and inequalities and their applications in mathematical analysis, geometry, physics, and applied mathematics. It is intended for researchers and students in mathematics, physics, and other computational and applied sciences
Handbook of functional equations : stability theory.
by
Themistocles M Rassias
( Book )
15 editions published in
2014
in
English
and held by 33 WorldCat member libraries worldwide
"This handbook consists of seventeen chapters written by eminent scientists from the international mathematical community, who present important research works in the field of mathematical analysis and related subjects, particularly in the Ulam stability theory of functional equations. The book provides an insight into a large domain of research with emphasis to the discussion of several theories, methods and problems in approximation theory, analytic inequalities, functional analysis, computational algebra and applications. The notion of stability of functional equations has its origins with S.M. Ulam, who posed the fundamental problem for approximate homomorphisms in 1940 and with D.H. Hyers, Th. M. Rassias, who provided the first significant solutions for additive and linear mappings in 1941 and 1978, respectively. During the last decade the notion of stability of functional equations has evolved into a very active domain of mathematical research with several applications of interdisciplinary nature. The chapters of this handbook focus mainly on both old and recent developments on the equation of homomorphism for square symmetric groupoids, the linear and polynomial functional equations in a single variable, the Drygas functional equation on amenable semigroups, monomial functional equation, the Cauchy-Jensen type mappings, differential equations and differential operators, operational equations and inclusions, generalized module left higher derivations, selections of set-valued mappings, D'Alembert's functional equation, characterizations of information measures, functional equations in restricted domains, as well as generalized functional stability and fixed point theory."--Page 4 of cover
Approximation and computation : in honor of Gradimir V. Milovanović
by
Walter Gautschi
( Book )
11 editions published in
2011
in
English
and held by 33 WorldCat member libraries worldwide
Approximation theory and numerical analysis are central to the creation of accurate computer simulations and mathematical models. Research in these areas can influence the computational techniques used in a variety of mathematical and computational sciences. This collection of contributed chapters, dedicated to the renowned mathematician Gradimir V. Milovanović, represent the recent work of experts in the fields of approximation theory and numerical analysis. These invited contributions describe new trends in these important areas of research including theoretic developments, new computational algorithms, and multidisciplinary applications. Special features of this volume: - Presents results and approximation methods in various computational settings including polynomial and orthogonal systems, analytic functions, and differential equations. - Provides a historical overview of approximation theory and many of its subdisciplines. - Contains new results from diverse areas of research spanning mathematics, engineering, and the computational sciences. "Approximation and Computation" is intended for mathematicians and researchers focusing on approximation theory and numerical analysis, but can also be a valuable resource to students and researchers in engineering and other computational and applied sciences
Handbook of functional equations : functional inequalities
by
Themistocles M Rassias
( Book )
14 editions published between
2014
and 2016 in
English
and held by 33 WorldCat member libraries worldwide
3 The Lagrange Dual Problem. The Deficit and Surplus Variables4 Analysis of Financial Contagion; 5 The ``Shadow Financial Market''; References; Comparisons of Means and Related Functional Inequalities; 1 Preliminaries; 2 Inequalities Between Means; 3 Functional Inequalities; 4 A General Functional Inequality; References; Constructions and Extensions of Free and Controlled Additive Relations; 1 Introduction; 2 A Few Basic Facts on Relations and Groupoids; 3 Divisible and Cancellable Subsets of Groupoids; 4 The Most Important Additivity and Homogeneity Properties of Relations
Mathematical Analysis, Approximation Theory and Their Applications
( )
10 editions published in
2016
in
English
and held by 30 WorldCat member libraries worldwide
Designed for graduate students, researchers, and engineers in mathematics, optimization, and economics, this self-contained volume presents theory, methods, and applications in mathematical analysis and approximation theory. Specific topics include: approximation of functions by linear positive operators with applications to computer aided geometric design, numerical analysis, optimization theory, and solutions of differential equations. Recent and significant developments in approximation theory, special functions and q-calculus along with their applications to mathematics, engineering, and social sciences are discussed and analyzed. Each chapter enriches the understanding of current research problems and theories in pure and applied research
more
fewer
Audience Level
0

1
Kids
General
Special
Audience level: 0.63 (from 0.45 for Nonlinear ... to 0.69 for Nonlinear ...)
Related Identities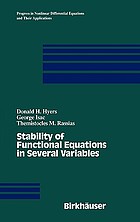 Alternative Names
Rassias, Th. M.

Rassias, Th. M. 1951-

Rassias, Th. M. (Themistocles M.), 1951-

Rassias, Themistocles Michael 1951-

Rassias, Themistoklēs M. 1951-

Themistocles M. Rassias Greek mathematician

Themistocles M. Rassias matemático griego

Themistocles M. Rassias wiskundige uit Griekenland

Languages
Covers