Harsanyi, John C.
Most widely held works about John C Harsanyi
more
fewer
Most widely held works by John C Harsanyi
Rational behavior and bargaining equilibrium in games and social situations
by
John C Harsanyi
( Book )
49 editions published between
1976
and 2011 in 4 languages and held by 700 WorldCat member libraries worldwide
"The book outlines a general theory of rational behaviour consisting of individual decision theory, ethics, and game theory as its main branches. Decision theory deals with a rational pursuit of individual utility; ethics with a rational pursuit of the common interests of society; and game theory with an interaction of two or more rational individuals, each pursuing his own interests in a rational manner"--Publisher's description
Essays on ethics, social behavior, and scientific explanation
by
John C Harsanyi
( Book )
24 editions published between
1976
and 1980 in
English
and
Dutch
and held by 495 WorldCat member libraries worldwide
When John Harsanyi came to Stanford University as a candidate for the Ph.D., I asked him why he was bothering, since it was most un­ likely that he had anything to learn from us. He was already a known scho­ lar; in addition to some papers in economics, the first two papers in this vol­ ume had already been published and had dazzled me by their originality and their combination of philosophical insight and technical competence. However, I am very glad I did not discourage him; whether he learned any­ thing worthwhile I don't know, but we all learned much from him on the foundations of the theory of games and specifically on the outcome of bar­ gaining. The central focus of Harsanyi's work has continued to be in the theory of games, but especially on the foundations and conceptual problems. The theory of games, properly understood, is a very broad approach to social interaction based on individually rational behavior, and it connects closely with fundamental methodological and substantive issues in social science and in ethics. An indication of the range of Harsanyi's interest in game the­ ory can be found in the first paper of Part B -though in fact his owncontri­ butions are much broader-and in the second paper the applications to the methodology of social science. The remaining papers in that section show more specifically the richness of game theory in specific applications
Papers in game theory
by
John C Harsanyi
( Book )
18 editions published between
1982
and 2010 in
English
and
Chinese
and held by 312 WorldCat member libraries worldwide
This volume contains twelve of my game-theoretical papers, published in the period of 1956-80. It complements my Essays on Ethics, Social Behavior, and Scientific Explanation, Reidel, 1976, and my Rational Behavior and Bargaining Equilibrium in Games and Social Situations, Cambridge University Press, 1977. These twelve papers deal with a wide range of game-theoretical problems. But there is a common intellectual thread going though all of them: they are all parts of an attempt to generalize and combine various game-theoretical solution concepts into a unified solution theory yielding one-point solutions for both cooperative and noncooperative games, and covering even such 'non-classical' games as games with incomplete information. SECTION A The first three papers deal with bargaining models. The first one discusses Nash's two-person bargaining solution and shows its equivalence with Zeuthen's bargaining theory. The second considers the rationality postulates underlying the Nash-Zeuthen theory and defends it against Schelling's objections. The third extends the Shapley value to games without transferable utility and proposes a solution concept that is at the same time a generaliza­ tion of the Shapley value and of the Nash bargaining solution
Game theory, experience, rationality : foundations of social sciences, economics and ethics : in honor of John C. Harsanyi
( Book )
10 editions published between
1998
and 2011 in
English
and held by 178 WorldCat member libraries worldwide
This volume collects outstanding contributions to the theory of games, the theory of game-theoretical rationality, and their applications. 27 articles present the new situation and the recent advances in game theory after the award of the Nobel Prize in economics and especially in game theory to John F. Nash, John C. Harsanyi, and Reinhard Selten. Two of them, Harsanyi and Selten, have contributed leading articles to this volume. In utility and game theory, the question of which rationality governs their methods and the behavior of the agents as well has emerged as one of the most exciting new conceptual foundations of all social sciences. The main aim of this book is to find an answer to this problem. Do we have to give up our belief in the traditional form of deductive and linear rationality in the social sciences in favor of probabilistic and stochastic methods? Which kind of rationality do we, and should we, use when we attempt to practically solve societal problems and conflicts? Quite a few articles in this book address these questions. The consequences of a new, multi-faceted rationality, which is going to shake the traditional foundation of game theory, decision theory, and utility theory, and, finally, the social sciences in their entirety, are discussed in depth in seven chapters and a preface: `Rationality and the Foundations of the Social Sciences, ' `Cooperation and Rationality, ' `Rationality and Economics, ' `Bayesian Theory and Rationality, ' `Evolution and Evolutionary Game Theory, ' `Ethics and Game Theory, ' and `Applications of Game Theory'. The contributors include economists, utility and decision theorists, psychologists, sociologists, physicists, philosophers of sciences and probability theorists. They attempt to make their contributions accessible to a wide audience. The book will interest researchers, teachers and advanced students in the above-mentioned disciplines; it can be used for a one-semester course on the graduate level. The volume also includes a review section focusing on recent publications on Logical Empiricism and its influence. An autobiographical report on the Vienna Circle by Arne Naess follows the main part of the Yearbook. An overview of the activities of the Institute Vienna Circle 1997/98 concludes the volume
Rational interaction : essays in honor of John C. Harsanyi
by
Reinhard Selten
( Book )
6 editions published in
1992
in
English
and held by 46 WorldCat member libraries worldwide
The unifying theme of the 23 contributions to this book is the social interaction of rational individuals. The work of John C. Harsanyi on game theory, social choice, and the philosophy of science finds an echo in these essays. Contributions by well known game theorists and economists present a great variety of stimulating theoretical investigations. Part I contains six papers on non-cooperative game theory written by Maschler, Owen, Myerson, Peleg, Rosenmüller, Hart and Mas-Collel. Part II with three contributions by Kalei, Samet, van Damme, d'Aspremont, and Gérard-Varet is devoted to the use of non-cooperative game theory in the analysis of problems of mechanism design. Basic questions of non-cooperative game theory are discussed in three essays by Güth, Hardin, and Sugden in Part III. Applied game models are discussed in three papers by Friedman, Selten, and Shubik in Part IV. Problems of social choice are investigated in Part V which deals with utilitarianism and related topics in five contributions by Hammond, Binmore, Arrow, Roemer, and Broome. Finally, Part VI contains three papers: an interdisciplinary comparison of physics and economics by Samuelson, a methodological essay by Brock, and an appraisal of the work of John C. Harsanyi
L'utilitarismo
by
John C Harsanyi
( Book )
5 editions published between
1988
and 1994 in
Italian
and held by 45 WorldCat member libraries worldwide
John C. Harsanyi, John F. Nash Jr., Reinhard Selten, Robert J. Aumann and Thomas C. Schelling
( Book )
1 edition published in
2009
in
English
and held by 33 WorldCat member libraries worldwide
This groundbreaking series brings together a critical selection of key papers by the Nobel Memorial Laureates in Economics that have helped shape the development and present state of economics. The editors have organised this comprehensive series by theme and each volume focuses on those Laureates working in the same broad area of study. The careful selection of papers within each volume is set in context by an insightful introduction to the Laureates' careers and main published works. This landmark series will be an essential reference for scholars throughout the world
more
fewer
Audience Level
0

1
Kids
General
Special
Audience level: 0.68 (from 0.45 for Harsanyt's ... to 1.00 for John C. Ha ...)
Related Identities
Associated Subjects
Bayesian statistical decision theory
Business
California--Berkeley
Canada
College teachers
Commission of Inquiry into the Charges Made Against Leon Trotsky in the Moscow Trials, New York, 1937
Consumers' preferences
Cooperation
Decision making
Decision making--Mathematical models
Decision making--Moral and ethical aspects
Economics
Economics, Mathematical
Economists
Equilibrium (Economics)
Equilibrium (Economics)--Econometric models
Ethics
Ethics, Modern
Fly fishing
Games of strategy (Mathematics)
Game theory
Game theory--Econometric models
Game theory--Mathematical models
Harsanyi, John C
Hungary
Industrial management
Justice
Liberalism
Nobel Prizes
Nobel Prize winners
Osborn, Robert Chesley,
Philosophy
Practical reason
Rawls, John,
Selten, Reinhard
Social choice
Social ethics
Social interaction--Mathematical models
Social justice
Social sciences
Social sciences--Philosophy
Social status
Treatise of fishing (Berners, Juliana)
Underground movements, War
United States
Utilitarianism
Utility theory
Von Neumann, John,
Welfare economics
World War (1939-1945)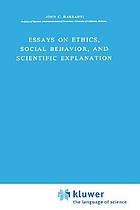 Covers
Alternative Names
Con Xarsani

Hársanyi, János

Hársanyi, János 1920-2000

Harsányi, János Károly 1920-2000

Harsányi János közgazdász

Harsanyi, John 1920-2000

Harsanyi, John-C.

Harsanyi, John-C. 1920-2000

Harsanyi, John-Charles

Harsanyi, John-Charles 1920-2000

Ioannes Carolus Harsanyi

John Charles Harsanyi

John Harsanyi economista húngaro de origen judío.

John Harsanyi economista ungherese

John Harsanyi ekonomista amerykański pochodzenia węgierskiego, noblista

John Harsanyi Hongaars econoom (1920-2000)

John Harsanyi maďarsko-australsko-americký ekonom

John Harsanyi ungarisch-amerikanischer Wirtschaftswissenschaftler

John Harsanyi ungersk-amerikansk nationalekonom

Xarsani Jon

Τζον Χάρσανι οικονομολόγος νομπελίστας

Джон Харсаньі

Джон Харсані

Джон Харсані американський економіст угорського походження

Джон Харшани

Харсаньи, Джон

Харшаньи, Джон

Ջոն Հարսանյի

ג'ון הרסני

جان هارسانی

جان ہارسانیی

جون هارساني

جون ہارسانئے

ჯონ ჰარსანი ნობელიის პრემიის ლაურეატი ეკონომისტი

존 하사니

ジョン・ハーサニ

約翰·夏仙義

约翰·海萨尼

Languages