Ganten, D. (Detlev) 1941-
Most widely held works about D Ganten
Most widely held works by D Ganten
Funktionen des Bewusstseins
( )
6 editions published in
2008
in
German
and held by 994 WorldCat member libraries worldwide
Everybody who thinks or speaks possesses consciousness? but nobody is capable of defining exactly what consciousness is. The phenomenon?consciousness?, therefore, is a persistent enigma which is being continually addressed by various disciplines. This volume encompasses the functions of consciousness as analysed by a consortium of scholars from the life sciences and humanities. Empirical results taken from psychiatry and psychology, linguistic and philosophical act and speech analyses, as well as, historical perspectives are all placed in context with one another
Encyclopedic reference of genomics and proteomics in molecular medicine
by
D Ganten
( )
11 editions published in
2006
in
English
and held by 567 WorldCat member libraries worldwide
This is the most authoritative and wide-ranging reference yet assembled on Functional Genomics (the systematic analysis and identification of genes and their function) and Proteomics (the study of the complex structures and functions of proteins) in the rapidly expanding field of Molecular Medicine. The two-volume reference work offers a comprehensive overview of the terms, topics and issues in both molecular biology and molecular medicine, with particular emphasis placed on the molecular causes of diseases. It provides up-to-the minute information about developments in the field, including pharmacogenetics and pharmacoproteomics, gene regulation and gene therapy. Presented in an A-Z format, the reference includes more than 2000 entries contributed by worldwide experts in genomics and proteomics. (Midwest)
Was ist der Mensch?
( )
2 editions published in
2008
in
German
and held by 537 WorldCat member libraries worldwide
The question of the nature of man has occupied human beings everywhere and in every period including the present. The scientists, politicians, theologians, journalists, and writers assembled here give their personal responses to the question in fifty incisive contributions representing different cultural traditions. What is to be expected? Clearly not a conclusive answer to the question but rather a dazzling spectrum of contemporary positions regarding human self-understanding both critical and constructive, pointed and profound
Grundlagen der molekularen Medizin mit 28 Tabellen
by
D Ganten
( )
8 editions published between
2003
and 2008 in
German
and held by 284 WorldCat member libraries worldwide
Das Wissen über die molekularen Grundlagen der Medizin und seine Anwendung in der klinischen Medizin nimmt mit ungebrochener Dynamik zu. Die 3. Auflage des Buches reflektiert diese Entwicklung: In 22 Kapiteln werden allgemeine Grundlagen, experimentelle Modelle, Diagnostik und Therapie auf dem neuesten Kenntnisstand von ausgewiesenen Experten dargestellt. Neu hinzugekommen sind Kapitel über die Themen, deren zentrale Bedeutung für die Zukunft der Molekularen Medizin absehbar ist: Pharmakogenetik, Pharmakogenomik, Gentherapie, Bioinformatik und biotechnologische Anwendungen. Die ideale Wissensgrundlage für Interessierte aus allen Fachgebieten, die an den Fortschritten der Molekularen Medizin teilhaben wollen!
Pharmacology of antihypertensive therapeutics
by
D Ganten
( Book )
13 editions published in
1990
in
English
and
German
and held by 261 WorldCat member libraries worldwide
This handbook provides a complete state-of-the-art discussion of antihypertensive agents; it describes chemical, experimental and clinical pharmacological data as well as clinical experience with drugs which are presently being used or shortly to be introduced on the market. Each major class of antihypertensive drugs is treated exhaustively in separate chapters with full references, chemical formulae, and numerous figures and tables. The contributing authors are international experts well-known in their respective fields. New areas of drug development are extensively examined and give the reader excellent insight into the directions in which the drug market is moving. Two highlights are the special chapters devoted to toxicity testing of antihypertensive drugs and traditions of antihypertensive therapy on different continents. An extremely practical catalogue of antihypertensive drugs with international generic and trade names and cross-referencing is included at the end of the handbook. For the practicing physician, it is imperative to have up-to-date and full unbiased information not only on the classical first line drugs, but also on the many new drugs being developed at the present time. In this handbook he will be able to obtain background information as well as practical advice for therapy with respect to differential therapy, side effects, combination of drugs and counterindications. The experimental pharmacologist will find detailed chemical and experimental information and complete references
Sleep, clinical and experimental aspects
by
D Ganten
( Book )
8 editions published in
1982
in 3 languages and held by 225 WorldCat member libraries worldwide
There is no doubt that a major problem of present day research workers, especially in the life sciences, is the plethora of publications of all kinds, abstracts, short communications, full papers in journals of varying quality, reviews and proceedings of symposia with, in addition, an unprecedented duplication of publications. Even for experts working in the field, it is almost impossible to keep an up-to-date view of all current research articles. The Western grant and career system encourages scientists to publish as much as possible. The editors and publishers of our new series are convinced that the format of Current Topics in Neuroendocrinology leads a way out of this confusion. Each volume is conceived as a concise up-to-date textbook on one well-defined and currently exciting subject. Different from classic textbooks, however, the speed of publication compares favorably with that of many journals; this ensures an immediacy which is im­ possible in textbooks. On the other hand, topics to be included in this series are also sufficiently reliable, with enough work being done to treat them from several aspects. Each volume will supply four to six chapfers treating such a broad topic as neuroendocrinology from several points of view, for example, anatomic, electrophysiologic, endocrine and behavioral views. Wh~re clinical data are immediately available, they will be included. No other 36Iles treating the nervous or endocrine systems provides such a coordinated set of chapters on an interesting topic in each volume
Neuroendocrinology of mood
by
D Ganten
( Book )
10 editions published in
1988
in
English
and
German
and held by 203 WorldCat member libraries worldwide
This volume deals with the various neurotransmitters (amino acids, biogenic amines, peptides) and their role in the control of behaviour and mood, both from the experimental and from the clinical and pharmacological point of view. The book provides a detailed discussion of how biological rhythms relate to changes in mood, and how the hypothalamus and pituitary hormones can be related to mood changes. Basic hints for diagnosis are also considered
Behavioral aspects of neuroendocrinology
by
D Ganten
( Book )
9 editions published in
1990
in
English
and
German
and held by 201 WorldCat member libraries worldwide
Latest issue in the CURRENT TOPICS IN NEUROENDOCRINOLOGY se- ries which has been gaining a great deal of reputation as a primary source for reviews in neuroendocrinology and related areas in the past few years
Adrenal actions on brain
( Book )
10 editions published in
1982
in
English
and held by 189 WorldCat member libraries worldwide
Stimulus-secretion coupling in neuroendocrine systems
by
D Ganten
( Book )
10 editions published in
1988
in
English
and held by 178 WorldCat member libraries worldwide
The role of electrical signalling in the control of endocrine secretions by the brain has been clear for many years. Recently, the influences of hormones on synthetic events in neuroendocrine cells have raised new questions concerning the peptides released from such neurons. This volume concentrates on the relation between these two fields and asks how electrical action potentials facilitate secretion of substances from nerve cells which control endocrine events. While stimulus-secretion coupling has been studied extensively in other physiological contexts, this is the first treatment of the phenomenon in an exclusively neuroendocrine setting
more
fewer
Audience Level
0

1
Kids
General
Special
Audience level: 0.48 (from 0.00 for Was ist de ... to 0.99 for Ganten, De ...)
Related Identities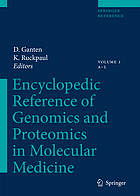 Covers
Alternative Names
Detlev Ganten

Detlev Ganten deutscher Facharzt für Pharmakologie und molekulare Medizin

Detlev Ganten Duits farmacoloog

Detlev Ganten farmacólogo alemán

Detlev Ganten farmacólogu alemán

Detlev Ganten German pharmacologist

Ganten, D.

Ganten, D. 1941-

Ganten, Detlef 1941-

Ganten, Detlev

Ganten, Detlev 1941-

Gantin, D. 1941-

Gantin, D. (Detlev), 1941-

간텐, 데트레프 1941-

Languages