Fukuyama, Francis
Overview
| | |
| --- | --- |
| Works: | 584 works in 1,549 publications in 12 languages and 29,966 library holdings |
| Genres: | History Counterfactual histories Conference papers and proceedings Forecasts |
| Roles: | Author, Editor, Contributor, Author of introduction, Thesis advisor, Interviewee, Compiler, Other, Speaker, Performer, Creator |
Most widely held works about Francis Fukuyama
more
fewer
Most widely held works by Francis Fukuyama
The end of history and the last man
by
Francis Fukuyama
( Book )
166 editions published between
1982
and 2018 in 10 languages and held by 3,501 WorldCat member libraries worldwide
Presents evidence to suggest that there are two powerful forces at work in human history, "the logic of modern science" and "the struggle for recognition."
Our posthuman future : consequences of the biotechnology revolution
by
Francis Fukuyama
( Book )
54 editions published between
2002
and 2017 in 4 languages and held by 2,355 WorldCat member libraries worldwide
A social philosopher examines how the foundation of liberal democracy, which is the belief that all human beings are equal by nature, could be shattered by the biotechnology revolution
Blindside : how to anticipate forcing events and wild cards in global politics
( )
13 editions published in
2007
in
English
and held by 1,956 WorldCat member libraries worldwide
"Focuses on developing analytical tools to anticipate and manage low-probability events. Addresses psychological and institutional obstacles preventing planning for low-probability tragedies and allocating necessary resources. Pinpoints failures--institutional and personal--that allowed events to surprise leaders and examines philosophies and methodologies of forecasting. Discusses low-probability, high-impact contingencies in various sectors"--Provided by publisher
Trust : the social virtues and the creation of prosperity
by
Francis Fukuyama
( Book )
54 editions published between
1992
and 2016 in 4 languages and held by 1,887 WorldCat member libraries worldwide
In Trust, a sweeping assessment of the emerging global economic order "after History," Fukuyama examines a wide range of national cultures in order to divine the hidden principles that make a good and prosperous society, and his findings strongly challenge the orthodoxies of both left and right. In fact, economic life is pervaded by culture and depends, Fukuyama maintains, on moral bonds of social trust. This is the unspoken, unwritten bond between fellow citizens that facilitates transactions, empowers individual creativity, and justifies collective action. In the global struggle for economic predominance that is now upon us - a struggle in which cultural differences will become the chief determinant of national success - the social capital represented by trust will be as important as physical capital. But trust varies greatly from one society to another, and a map of how social capital is distributed around the world yields many surprises
Political order and political decay : from the industrial revolution to the globalization of democracy
by
Francis Fukuyama
( Book )
37 editions published between
2014
and 2015 in
English
and held by 1,692 WorldCat member libraries worldwide
"The second volume of the bestselling landmark work on the history of the modern state Writing in The Wall Street Journal, David Gress called Francis Fukuyama's Origins of Political Order "magisterial in its learning and admirably immodest in its ambition." In The New York Times Book Review, Michael Lind described the book as "a major achievement by one of the leading public intellectuals of our time." And in The Washington Post, Gerard DeGrott exclaimed "this is a book that will be remembered. Bring on volume two." Volume two is finally here, completing the most important work of political thought in at least a generation. Taking up the essential question of how societies develop strong, impersonal, and accountable political institutions, Fukuyama follows the story from the French Revolution to the so-called Arab Spring and the deep dysfunctions of contemporary American politics. He examines the effects of corruption on governance, and why some societies have been successful at rooting it out. He explores the different legacies of colonialism in Latin America, Africa, and Asia, and offers a clear-eyed account of why some regions have thrived and developed more quickly than others. And he boldly reckons with the future of democracy in the face of a rising global middle class and entrenched political paralysis in the West. A sweeping, masterful account of the struggle to create a well-functioning modern state, Political Order and Political Decay is destined to be a classic"--
America at the crossroads : democracy, power, and the neoconservative legacy
by
Francis Fukuyama
( Book )
15 editions published between
2006
and 2007 in
English
and
Spanish
and held by 1,570 WorldCat member libraries worldwide
Francis Fukuyama's criticism of the Iraq war put him at odds with neoconservatives both within and outside the Bush administration. Here he explains how, in its decision to invade Iraq, the Bush administration failed in its stewardship of American foreign policy, in making preventive war the central tenet of its foreign policy, in misjudging the global reaction to its exercise of "benevolent hegemony," and in failing to appreciate the difficulties involved in large-scale social engineering. Providing a history of neoconservative thought since the 1930s, Fukuyama argues that the movement's legacy is a complex one that can be interpreted quite differently than it was after the end of the Cold War. He proposes a new approach to American foreign policy, in which the positive aspects of the neoconservative legacy are joined with a more realistic view of how to use American power around the world.--From publisher description
State-building : governance and world order in the 21st century
by
Francis Fukuyama
( Book )
38 editions published between
2004
and 2005 in 3 languages and held by 1,357 WorldCat member libraries worldwide
"Fukuyama begins State-Building with an account of the broad importance of "stateness." He rejects the notion that there can be a science of public administration and discusses the causes of contemporary state weakness. He ends the book with a discussion of the consequences of weak states for international order and the grounds on which the international community may legitimately intervene to prop them up."--Jacket
The great disruption : human nature and the reconstitution of social order
by
Francis Fukuyama
( Book )
31 editions published between
1999
and 2015 in 3 languages and held by 1,285 WorldCat member libraries worldwide
"The Great Disruption begins by observing that over the past thirty years, the United States and other developed countries have undergone a profound transformation from industrial to information societies; knowledge has replaced mass production as the basis of wealth, power, and social interaction. At the same time, Western societies have endured increasing levels of crime, massive changes in fertility and family structure, decreasing levels of trust, and the triumph of individualism over community. Just as the Industrial Revolution brought about momentous changes in society's moral values, a similar Great Disruption in our own time has caused profound changes in our social structure." "Drawing on the latest sociological data and new theoretical models from fields as diverse as economics and biology, Fukuyama reveals that even though the old order has broken apart, a new social order is already taking shape. Indeed, he suggests, the Great Disruption of the 1960s and 1970s may be giving way to a Great Reconstruction, as Western society weaves a new fabric of social and moral values appropriate to the changed realities of the postindustrial world."--Jacket
Falling behind : explaining the development gap between Latin America and the United States
by
Francis Fukuyama
( )
22 editions published between
2008
and 2011 in
English
and held by 1,025 WorldCat member libraries worldwide
"In 1700, Latin America and British North America were roughly equal in economic terms. Yet over the next three centuries, the United States gradually pulled away, and today the gap is huge. Why did this happen?" "In Falling Behind, Francis Fukuyama, acclaimed author of The End of History and America at the Crossroads, gathers together some of the world's leading scholars on the subject to explain the nature of the gap and how it came to be. Tracing the histories of development over the past 400 years and focusing in particular on the policies of the last 50 years, the contributors conclude that while many factors are important, economic policies and weak institutions are at the root of the divide."--Jacket
more
fewer
Audience Level
0

1
Kids
General
Special
Audience level: 0.31 (from 0.04 for Ends in si ... to 0.91 for Francis Fu ...)
Related Identities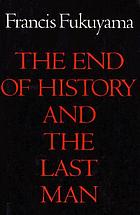 Covers
Alternative Names
Francis Fukuyama 1952-

Francis Fukuyama Amerikaans schrijver

Francis Fukuyama politologo statunitense

Francis Fukuyama Profesor, autor, filozof

Francis Fukuyama US-amerikanischer Politikwissenschaftler

Francis Fukuyama usona filozofo, ekonomikisto kaj esploristo pri politikaj sciencoj

Francis Yoshihiro Fukuyama 1952-

Fransis Fukujama

Frensiss Fukujama

Fukujama, Frensis

Fukujama, Frensis 1952-

Fukujama, Frensiss 1952-

Fukujamas, Frensiss 1952-

Fukuyama Francis

Fukuyama, Francis Yoshihiro 1952-

Fūkūyāmā, Frānsīs

Fūkūyāmā, Frānsīs 1952-

Fukuyama, Yoshihiro

Fukuyama Yoshihiro Francis

Hukuyama, Francis

Hukuyama, Peuraensiseu

Yoshihiro Francis Fukuyama

Φράνσις Φουκουγιάμα

Франсис Фукуяма

Франсис Фукујама

Френсис Фукујама

Френсіс Фукуяма

Фрэнсис Фукуяма

Фрэнсіс Фукуяма

Фукуяма Ё. Ф. 1952-

Фукуяма Ф.

Фукуяма, Франсис 1952-

Фукуяма, Френсис 1952-

Фукуяма Фрэнсис

Фукуяма, Фрэнсис 1952-

Фукуяма, Фрэнсис философ, писатель США

Ֆրենսիս Ֆուկույամա

פרנסיס פוקויאמה

فرانسيس فوكوياما

فرانسيس فوكوياما، 1952-

فرانسیس فوکویاما

فرانسیس فوکویاما فیلسوف و اقتصاددان آمریکایی

فوكوياما، فرانسيس

फ़्रांसिस फ़ुकुयामा

ਫ਼ਰਾਂਸਿਸ ਫ਼ੁਕੋਯਾਮਾ

ფრენსის ფუკუიამა

ფრენსის ფუკუიამა იაპონური წარმოშობის ამერიკელი ფილოსოფოსი, პოლიტოლოგი, პოლიტეკონომისტი და მწერალი

프랜시스 요시히로 후쿠야마 1952-

프랜시스 후쿠야마

프랜시스 후쿠야마 1952-

후꾸야마, 프란시스 1952-

후꾸야마, 프랜시스 1952-

후쿠야마, 프란시스 1952-

후쿠야마, 프랜시스 1952-

후쿠야마, 프랜시스 요시히로 1952-

フクヤマ, Francis

フクヤマ, フランシス

フクヤマ, フランシス 1952-

フランシス・フクヤマ

弗朗西斯·福山

法蘭西斯·福山

法蘭西斯·福山 美国政治学家

福山

Languages