Obstfeld, Maurice
Most widely held works by Maurice Obstfeld
International economics : theory and policy
by
Paul R Krugman
( Book )
245 editions published between
1987
and 2015 in 6 languages and held by 4,213 WorldCat member libraries worldwide
Krugman and Obstfeld provide a unified model of open-economy macroeconomics based upon an asset-market approach to exchange rate determination with a central role for expectations
Économie internationale
by
Paul R Krugman
( Book )
29 editions published between
1992
and 2015 in
French
and
Undetermined
and held by 848 WorldCat member libraries worldwide
"Ecrit par les plus grands experts de la discipline, il traite les deux thèmes de l'économie internationale : le commerce international et la finance internationale. Parmi les sujets couverts : les théories liées au commerce : avantages comparatifs, rôles de séconomies d'échelle, impact de l'ouverture commerciale sur la distribution des revenus ; l'application de ces théories à l'analyse des politiques commerciales : instruments utilisés, mise en oeuvre dans les pays émergents, etc. ; les théories du taux de change, les relations monétaires internationales et les modèles de croissance en économie ouverte ; l'application de ces théories à l'analyse des politiques macroéconomiques internationales : politique monétaire, instabilité financière et régulation des marchés de capitaux , croissance et réformes dans les pays émergents." [d'après la 4e de couv.]
Foundations of international macroeconomics
by
Maurice Obstfeld
( Book )
44 editions published between
1996
and 2011 in
English
and
Chinese
and held by 775 WorldCat member libraries worldwide
Foundations of International Macroeconomics is an innovative text that offers the first integrative modern treatment of the core issues in open economy macroeconomics and finance. With its clear and accessible style, it is suitable for first-year graduate macroeconomics courses as well as graduate courses in international macroeconomics and finance. Each chapter incorporates an extensive and eclectic array of empirical evidence. For the beginning student, these examples provide motivation and aid in understanding the practical value of the economic models developed. For advanced researchers, they highlight key insights and conundrums in the field. Topic coverage includes intertemporal consumption and investment theory, government spending and budget deficits, finance theory and asset pricing, the implications of (and problems inherent in) international capital market integration, growth, inflation and seignorage, policy credibility, real and nominal exchange rate determination, and many interesting special topics such as speculative attacks, target exchange rate zones, and parallels between immigration and capital mobility. Most main results are derived both for the small country and world economy cases. The first seven chapters cover models of the real economy, while the final three chapters incorporate the economy's monetary side, including an innovative approach to bridging the usual chasm between real and monetary models
Financial policies and the world capital market : the problem of Latin American countries
by
Pedro Aspe Armella
( Book )
16 editions published between
1983
and 2009 in
English
and
Undetermined
and held by 494 WorldCat member libraries worldwide
Stories of the 1930s for the 1980s; Optimal economic integration; Seigniorage and fixed excnage rates: an optimal inflation tax analysis; Dollarization in Mexico: causes and consequences; On equilibrium wage indexation and neutrality of inexation policy; Real versus financial openness under alternative exchange rate regimes
Global capital markets : integration, crisis, and growth
by
Maurice Obstfeld
( Book )
29 editions published between
2003
and 2011 in
English
and held by 461 WorldCat member libraries worldwide
Understood in this way, the present era of globalization can be seen, in part, as the resumption of a liberal world order that was established in the years from 1880 to 1914. Much has changed along the way. Marking a reaction against the old order, the Great Depression emerges as the key turning point in the recent history of international capital markets and offers important insights for contemporary policy debates
EMU : ready or not?
by
Maurice Obstfeld
( Book )
26 editions published between
1998
and 1999 in
English
and held by 449 WorldCat member libraries worldwide
In this paper I focus on two specific hazard areas in the transition from Stage Two to Stage Three of European economic and monetary union (EMU), as well as on some key problems of Stage Three that EMU's monetary and fiscal structures appear ill-prepared to handle. The transitional hazards are of considerable theoretical as well as policy interest: the best way to coordinate monetary stances and lock exchange parties for a smooth switch from eleven national currencies to a single joint currency. A third problems, one that is central for EMU and to any currency union, lies behind the difficulty of the transition: the possibility of nationally asymmetric real shocks. I review that topic in the context of Ireland's recent experience. The paper goes on to discuss weaknesses in the structure of Stage Three, already much noted, connected with the provision of lender of last resort facilities in the euro zone and the framework for supervising financial institutions. The deficit and debt limits embodies in the excessive deficits procedure of the Maastrich treaty and the subsequent Stability and Growth Pact have been justified by the threat high debts might pose to the stability of the euro zone's financial markets. I consider the past and prospective fiscal adjustments of the EMU 11, and suggest these might pose future difficulties for macroeconomic policy and growth
Money, capital mobility, and trade : essays in honor of Robert A. Mundell
( Book )
16 editions published between
2001
and 2004 in
English
and
Spanish
and held by 340 WorldCat member libraries worldwide
Annotation Written by Robert Mundell's academic descendants, as well as other leading economists and scholars, the essays in this volume reflect Mundell's broad influence on modern open-economy macroeconomics. The topics include the vicissitudes of gold in the international system, choice of exchange rate regime, post-World War II European monetary reform, banking crises in emerging markets, speculative attacks on fixed exchange rates, monetary policy rules, interactions between economists and policy makers over macrostabilization and structural microeconomic issues, the connection between international factor mobility and trade, the Mundell-Fleming open-economy macro model, the quantitative implications of general-equilibrium sticky price models, the international roles of the euro and yen, and the employment effects of import tariffs
Exchange rate dynamics with sluggish prices under alternative price-adjustment rules
by
Maurice Obstfeld
( Book )
50 editions published between
1983
and 2004 in
English
and
Undetermined
and held by 241 WorldCat member libraries worldwide
Until now, thinking on open economy macroeconomics has been largely schizophrenic. When it comes to analyzing exchange rate dynamics, an empirically-minded economist abandons modern current account models which, while theoretically coherent, fail to address the awkward reality of sticky nominal prices. In this paper we develop an analytically tractable two-country model that marries a full account of dynamics to a supply framework based on monopolistic competition and sticky prices. It offers simple and intuitive predictions about exchange rates and current accounts that sometimes differ sharply from those of either modern flexible-price intertemporal models, or traditional sticky-price Keynesian models. The model also leads to a novel perspective on the international welfare spillovers of monetary and fiscal policies
Economía internacional : teoría y política
by
Paul R Krugman
( Book )
48 editions published between
1944
and 2012 in
Spanish
and held by 240 WorldCat member libraries worldwide
CONTENIDO: Comercio mundial: una visión general - Productividad del trabajo y ventaja comparativa: el modelo ricardiano - Recursos, ventaja comparativa y distribución de la renta - El modelo estándar de comercio - Economías de escala, competencia imperfecta y comercio internacional - Los movimientos internacionales de factores - Los instrumentos de la política comercial - La economía política de la política comercial - La política comercial en los países en vías de desarrollo - Controversias de la política comercial - La contabilidad nacional y la balanza de pagos - Los tipos de cambio y el mercado de divisas: un enfoque de activos - El dinero, los tipos de interés y los tipos de cambio - El nivel de precios y el tipo de cambio a largo plazo - La producción nacional y el tipo de cambio a corto plazo - Los tipos de cambio fijos y la intervención en los mercados de divisas - El sistema monetario internacional, 1870-1973 - La política macroeconómica y la coordinación con tipos de cambio f
Global economic crisis : impacts, transmission and recovery
by
Maurice Obstfeld
( Book )
12 editions published in
2012
in
English
and held by 115 WorldCat member libraries worldwide
This book explores many of the key issues raised in the wake of the global economic crisis and provides an in-depth analysis of crisis transmission to emerging markets. Here expert contributors compare the recent crisis with earlier crises, explore international aspects of the crisis from the perspectives of financial markets and trade, and examine macroeconomic policy responses. In so doing, they address important questions including: How did this crisis differ from those suffered previously? How and why did flaws in financial markets contribute to the crisis? How important were global imbalances and global overheating in explaining the global meltdown? Did different pre-crisis fundamentals generate different post-crisis performances? And, how severe were the economic shocks to countries such as Korea and other emerging economies
more
fewer
Audience Level
0

1
Kids
General
Special
Audience level: 0.63 (from 0.23 for Foundation ... to 0.88 for Économie ...)
Related Identities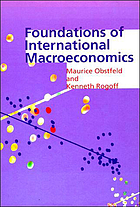 Alternative Names
Maurice Obstfeld Amerikaans econoom

Maurice Obstfeld US-amerikanischer Ökonom

Obstfeld, M. 1952-

Obstfeld, Maurice Moses 1952-

Obstfeld, Maury 1952-

Обстфельд, М.

Обстфельд, Морис

オブズフェルド, M

オブズフェルド, モーリス

モーリス・オブストフェルド

Languages
Covers