Obstfeld, Maurice
Most widely held works by Maurice Obstfeld
International economics : theory and policy
by
Paul R Krugman
( Book )
331 editions published between
1987
and 2018 in 7 languages and held by 5,400 WorldCat member libraries worldwide
Krugman and Obstfeld provide a unified model of open-economy macroeconomics based upon an asset-market approach to exchange rate determination with a central role for expectations
Foundations of international macroeconomics
by
Maurice Obstfeld
( Book )
42 editions published between
1996
and 2011 in
English
and held by 782 WorldCat member libraries worldwide
Foundations of International Macroeconomics is an innovative text that offers the first integrative modern treatment of the core issues in open economy macroeconomics and finance. With its clear and accessible style, it is suitable for first-year graduate macroeconomics courses as well as graduate courses in international macroeconomics and finance. Each chapter incorporates an extensive and eclectic array of empirical evidence. For the beginning student, these examples provide motivation and aid in understanding the practical value of the economic models developed. For advanced researchers, they highlight key insights and conundrums in the field
Financial policies and the world capital market : the problem of Latin American countries
by
Pedro Aspe Armella
( Book )
20 editions published between
1983
and 2009 in
English
and held by 489 WorldCat member libraries worldwide
Stories of the 1930s for the 1980s; Optimal economic integration; Seigniorage and fixed excnage rates: an optimal inflation tax analysis; Dollarization in Mexico: causes and consequences; On equilibrium wage indexation and neutrality of inexation policy; Real versus financial openness under alternative exchange rate regimes
Global capital markets : integration, crisis, and growth
by
Maurice Obstfeld
( Book )
30 editions published between
2003
and 2011 in
English
and held by 474 WorldCat member libraries worldwide
Today's return to a world of globalized capital is marked by great unevenness in outcomes, in terms of both participation in capital market integration and in the distribution of risks and rewards. More than in the past, foreign investment flows largely from rich countries to other rich countries. Yet the burden of financial crises falls most harshly on developing countries, with costs for everyone
EMU : ready or not?
by
Maurice Obstfeld
( Book )
27 editions published between
1998
and 1999 in
English
and held by 443 WorldCat member libraries worldwide
In this paper I focus on two specific hazard areas in the transition from Stage Two to Stage Three of European economic and monetary union (EMU), as well as on some key problems of Stage Three that EMU's monetary and fiscal structures appear ill-prepared to handle. The transitional hazards are of considerable theoretical as well as policy interest: the best way to coordinate monetary stances and lock exchange parties for a smooth switch from eleven national currencies to a single joint currency. A third problems, one that is central for EMU and to any currency union, lies behind the difficulty of the transition: the possibility of nationally asymmetric real shocks. I review that topic in the context of Ireland's recent experience. The paper goes on to discuss weaknesses in the structure of Stage Three, already much noted, connected with the provision of lender of last resort facilities in the euro zone and the framework for supervising financial institutions. The deficit and debt limits embodies in the excessive deficits procedure of the Maastrich treaty and the subsequent Stability and Growth Pact have been justified by the threat high debts might pose to the stability of the euro zone's financial markets. I consider the past and prospective fiscal adjustments of the EMU 11, and suggest these might pose future difficulties for macroeconomic policy and growth
Money, capital mobility, and trade : essays in honor of Robert A. Mundell
( Book )
18 editions published between
2001
and 2004 in
English
and
Spanish
and held by 352 WorldCat member libraries worldwide
Annotation Written by Robert Mundell's academic descendants, as well as other leading economists and scholars, the essays in this volume reflect Mundell's broad influence on modern open-economy macroeconomics. The topics include the vicissitudes of gold in the international system, choice of exchange rate regime, post-World War II European monetary reform, banking crises in emerging markets, speculative attacks on fixed exchange rates, monetary policy rules, interactions between economists and policy makers over macrostabilization and structural microeconomic issues, the connection between international factor mobility and trade, the Mundell-Fleming open-economy macro model, the quantitative implications of general-equilibrium sticky price models, the international roles of the euro and yen, and the employment effects of import tariffs
Economía internacional : teoría y política
by
Paul R Krugman
( Book )
68 editions published between
1944
and 2016 in
Spanish
and
Portuguese
and held by 307 WorldCat member libraries worldwide
La idea de escribir este libro surgió de nuestra experiencia como profesores de economía internacional a universitarios desde finales de la década de los sesenta. Consideramos que la enseñanza plantea dos grandes desafíos. El primero consiste en transmitir a los estudiantes los apasionantes adelantos intelectuales en esta materia tan dinámica. El segundo consiste en explicar que la evolución de la teoría económica internacional ha estado determinada, tradicionalmente, por la necesidad de comprender una economía mundial en continuo cambio, y de analizar los problemas actuales de la política económica internacional. - Con demasiada frecuencia, los textos de economía internacional ofrecen al estudiante una confusa profusión de modelos y supuestos especiales de los que resulta difícil extraer conclusiones básicas. Este libro refleja, sin embargo, un marco de análisis actualizado y comprensible para iluminar las cuestiones actuales y llevar al aula lo apasionante de la economía internacional
Global economic crisis : impacts, transmission and recovery
by
Maurice Obstfeld
( Book )
13 editions published in
2012
in
English
and held by 123 WorldCat member libraries worldwide
This book explores many of the key issues raised in the wake of the global economic crisis and provides an in-depth analysis of crisis transmission to emerging markets. Here expert contributors compare the recent crisis with earlier crises, explore international aspects of the crisis from the perspectives of financial markets and trade, and examine macroeconomic policy responses. In so doing, they address important questions including: How did this crisis differ from those suffered previously? How and why did flaws in financial markets contribute to the crisis? How important were global imbalances and global overheating in explaining the global meltdown? Did different pre-crisis fundamentals generate different post-crisis performances? And, how severe were the economic shocks to countries such as Korea and other emerging economies
Exchange rate dynamics with sluggish prices under alternative price-adjustment rules
by
Maurice Obstfeld
( Book )
14 editions published between
1983
and 1984 in
English
and held by 105 WorldCat member libraries worldwide
This paper studies exchange rate behavior in models with moving long-run equilibria incorporating alternative price-adjustment mechanisms.The paper demonstrates that price-adjustment rules proposed by Mussa andby Barro and Grossman yield models that are empirically indistinguishable from each other. For speeds of goods-market adjustment that are "too fast, " the Barro-Grossman rule appears to induce instability; but we argue that when the ruleis interpreted properly, models incorporating it are dynamically stable regardless of the speed at which disequilibriumis eliminated. The Barro-Grossman pricing scheme is shown to be a natural generalization, to a setting of moving long-run equilibria, of less versatile schemes proposed in earlier literature on exchange rate dynamics
Nonlinear aspects of goods-market arbitrage and adjustment : Heckscher's commodity points revisited
by
Maurice Obstfeld
( Book )
26 editions published in
1997
in
English
and held by 104 WorldCat member libraries worldwide
We propose that analysis of purchasing power parity (PPP) and the law of one price (LOOP) should explicitly take into account the possibility of commodity points' thresholds delineating a region of no central tendency among relative prices, possibly due to lack of perfect arbitrage in the presence of transaction costs and uncertainty. More than eighty years ago, Heckscher stressed the importance of such incomplete arbitrage in the empirical application of PPP. We devise an econometric method to identify commodity points. Price adjustment is treated as a nonlinear process, and a threshold autoregression (TAR) offers a parsimonious specification within which both thresholds and adjustment speeds are estimated by maximum likelihood methods. Our model performs well using post-1980 data reasonable: adjustment outside the thresholds might imply half-lives of price deviations measured in months rather than years and the thresholds correspond to popular rough estimates as to the order of magnitude of actual transport costs. The estimated commodity points appear to be positively related to objective measures of market segmentation, notably nominal exchange rate volatility
more
fewer
Audience Level
0

1
Kids
General
Special
Audience level: 0.62 (from 0.21 for Foundation ... to 0.79 for Economía ...)
Related Identities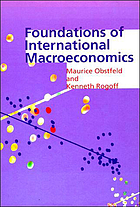 Alternative Names
Maurice Obstfeld Amerikaans econoom

Maurice Obstfeld economista estadounidense

Maurice Obstfeld économiste américain

Maurice Obstfeld US-amerikanischer Ökonom

Obstfeld, M. 1952-

Obstfeld, Maurice Moses.

Obstfeld, Maurice Moses 1952-

Obstfeld, Maury 1952-

Обстфельд, М.

Обстфельд, Морис

옵스트펠드, 모리스

オブストフェルド, M.

オブズフェルド, M

オブズフェルド, モーリス

モーリス・オブストフェルド

Languages
Covers