Bosworth, R. J. B.
Most widely held works about R. J. B Bosworth
Most widely held works by R. J. B Bosworth
Italy and the wider world 1860-1960
by
R. J. B Bosworth
( )
24 editions published between
1995
and 2013 in
English
and held by 1,889 WorldCat member libraries worldwide
Richard Bosworth's overview of Italy's role in European and world politics from 1860 to 1960 is lively and iconclastic. Based on a combination of primary research and secondary material he examines Italian diplomacy, military power, commerce, culture, tourism and ideology. His account challenges many aspects of current Italian historiography and offers an original vision of the place of Italy in modern history
Mussolini
by
R. J. B Bosworth
( Book )
45 editions published between
2002
and 2016 in 4 languages and held by 1,743 WorldCat member libraries worldwide
In 1945, disguised in German greatcoat and helmet, Mussolini attempted to escape from the advancing Allied armies. Unfortunately for him, the convoy of which he was part was stopped by partisans and his features, made so familiar by Fascist propaganda, gave him away. Within 24 hours he was executed by his captors, joining those he sent early to their graves as an outcome of his tyranny, at least one million people. He was one of the tyrant-killers who so scarred interwar Europe, but we cannot properly understand him or his regime by any simple equation with Hitler or Stalin. Like them, his life began modestly in the provinces; unlike them, he maintained a traditional male family life, including both wife and mistresses, and sought in his way to be an intellectual. He was cruel (though not the cruelest); his racism existed, but never without the consistency and vigor that would have made him a good recruit for the SS. He sought an empire; but, in the most part, his was of the old-fashioned, costly, nineteenth century variety, not a racial or ideological imperium. And, self-evidently Italian society was not German or Russian: the particular patterns of that society shaped his dictatorship. Bosworth's Mussolini allows us to come closer than ever before to an appreciation of the life and actions of the man and of the political world and society within which he operated. With extraordinary skill and vividness, drawing on a huge range of sources, this biography paints a picture of brutality and failure, yet one tempered with an understanding of Mussolini as a human being, not so different from many of his contemporaries
Mussolini's Italy : life under the dictatorship, 1915-1945
by
R. J. B Bosworth
( Book )
37 editions published between
2005
and 2014 in
English
and held by 1,556 WorldCat member libraries worldwide
An evaluation of Italy's notorious Fascist period under dictator Benito Mussolini considers its violence and demands for obedience, noting how it served as a model for other twentieth-century dictatorships while arguing that the nation's largely undeveloped country and tribal family structures helped Italians to devise creative survival and resistance methods
Whispering city : modern Rome and its histories
by
R. J. B Bosworth
( )
14 editions published in
2011
in
English
and held by 864 WorldCat member libraries worldwide
In "Civilization and Its Discontents", Sigmund Freud claimed that Rome must be comprehended as 'not a human dwelling place but a mental entity', in which the palaces of the Caesars still stand alongside modern apartment buildings in layers of brick, mortar, and memory. This book accepts Freud.s challenge
Italian Venice : a history
by
R. J. B Bosworth
( Book )
13 editions published between
2014
and 2015 in
English
and held by 684 WorldCat member libraries worldwide
"In this elegant book Richard Bosworth explores Venice--not the glorious Venice of the Venetian Republic, but from the fall of the Republic in 1797 and the Risorgimento up through the present day. Bosworth looks at the glamour and squalor of the belle époque and the dark underbelly of modernization, the two world wars, and the far-reaching oppressions of the fascist regime, through to the 'Disneylandification' of Venice and the tourist boom, the worldwide attention of the biennale and film festival, and current threats of subsidence and flooding posed by global warming. He draws out major themes--the increasingly anachronistic but deeply embedded Catholic Church, the two faces of modernization, consumerism versus culture. Bosworth interrogates not just Venice's history but its meanings, and how the city's past has been co-opted to suit present and sometimes ulterior aims. Venice, he shows, is a city where its histories as well as its waters ripple on the surface."--Publisher information
Italy, the least of the Great Powers : Italian foreign policy before the First World War
by
R. J. B Bosworth
( Book )
25 editions published between
1979
and 2009 in
English
and
Italian
and held by 546 WorldCat member libraries worldwide
In the heart of Rome beside the Capitol, confronting the Piazza Venezia, stands the Victor Emmanuel monument. In Rome, which until 1945 was so often accorded the adjectives 'eternal' or 'imperial', the monumentissimo (as sardonic socialists labelled it) is the most public, most theatrical and most excessive architectural celebration of post-Risorgimento Italian patriotism, nationalism and perhaps imperialism. This book asks why the Victor Emmanuel monument, planned after 1878 and opened in 1911, was a structure raised by Liberal and not Fascist Italy. Through a detailed study of diplomacy, of policy-making, of policy-makers, and of the distribution of real power in pre-First World War Italy, it demonstrates how important foreign policy, and a foreign policy of greatness, was to Liberal Italy. Weakened by economic backwardness, regional diversity, and the gulf between the legal-political world and 'real' society, Liberal Italy was nonetheless ambitious to be a Great Power. This monograph contributes to a number of major historiographical debates. It produces evidence which casts doubts on the thesis that fascism was a parenthesis in Italian history
The Oxford handbook of fascism
by
R. J. B Bosworth
( Book )
25 editions published between
2009
and 2013 in
English
and held by 518 WorldCat member libraries worldwide
"The essays in this Handbook, written by an international team of distinguished scholars, combine to explore the way in which fascism is understood by contemporary scholarship, as well as pointing to areas of continuing dispute and discussion. From a focus on Italy as, chronologically at least, the 'first Fascist nation', the contributors cover a wide range of countries, from Nazi Germany and the comparison with Soviet Communism to fascism in Yugoslavia and its successor states. The book also examines the roots of fascism before 1914 and its survival, whether in practice or in memory, after 1945. The analysis looks at both fascist ideas and practice, and at the often uneasy relationship between the two. The book is not designed to provide any final answers to the fascist problem and no quick definition emerges from its pages. Readers will rather find there historical debate. On appropriate occasions, the authors disagree with each other and have not been forced into any artificial 'consensus', offering readers the chance to engage with the debates over a phenomenon that, more than any other single factor, led humankind into the catastrophe of the Second World War"--Publisher's description
more
fewer
Audience Level
0

1
Kids
General
Special
Audience level: 0.34 (from 0.06 for Italy and ... to 0.84 for La Politic ...)
Related Identities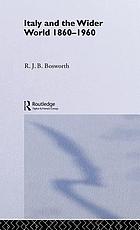 Alternative Names
Boon Bosworth, R. J. 1943-

Boon Bosworth, Richard James 1943-

Bosworth, R. 1943-

Bosworth, R. J. 1943-

Bosworth, R.J.B.

Bosworth R. J. B. 1943-....

Bosworth, R. J. B. (Richard James Boon), 1943-

Bosworth, Richard

Bosworth, Richard 1943-

Bosworth, Richard J. 1943-

Bosworth, Richard J.B.

Bosworth, Richard J. B. 1943-

Bosworth, Richard James Boon.

Bosworth Richard James Boon 1943-....

R. J. B. Bosworth historicus uit Australië

Richard Bosworth

Richard J. B. Bosworth historiador australiano

Richard James Boon Bosworth australischer Historiker

Languages
Covers