Spector, Ronald H. 1943-
Most widely held works by Ronald H Spector
Eagle against the sun : the American war with Japan
by
Ronald H Spector
( Book )
34 editions published between
1984
and 2014 in 3 languages and held by 3,524 WorldCat member libraries worldwide
This text reassesses U.S. and Japanese strategy and offers interpretations of the Pacific War
After Tet : the bloodiest year in Vietnam
by
Ronald H Spector
( Book )
14 editions published between
1992
and 1994 in
English
and held by 1,650 WorldCat member libraries worldwide
In the wake of the Tet Offensive in January and February 1968, Lyndon Johnson announced the cessation of bombing against North Vietnam and America's determination to seek peace. As negotiations began in Paris, most Americans believed the war was winding down and, indeed, almost over. Yet, ironically, the year that followed the Tet Offensive saw the fiercest battles of the Vietnam War. Now, on the twenty-fifth anniversary of that bloodiest year, Ronald Spector has written a brilliant narrative account of the harrowing events that rarely reached American television screens but largely determined the war's course and outcome. The terrible battles of 1968 condemned America and North and South Vietnam to five more years of war precisely because they were costly and inconclusive. These bloody but indecisive operations could not break, but could only perpetuate, the war's diplomatic and military deadlock. For the rank-and-file soldier, the war raged on. Drawing upon recently declassified government documents, accounts by GIs, and his own eye-witness experience as a Marine in Vietnam that year, noted military historian Ronald Spector describes the vicious struggle in the jungles, mountains, and rice paddies. He shows how the bloodiest year epitomized every aspect of the war - from individual bravery to military doggedness to political vacillation - as both sides mounted increasingly expensive and desperate offensives. He reveals the experience of the soldiers caught between an ambivalent American government and an intransigent North Vietnamese leadership. Exploring the lesser known aspects of the war, Spector describes in detail the deterioration of American military race relations, the growth of the drug culture, the riots in U.S. military prisons, and even the experience of South Vietnamese soldiers and Viet Cong. Describing the bloodiest year from all angles - the personal, military, and political, the American and the Vietnamese -this comprehensive history will stand as one of the most important books ever written about the American military experience in Vietnam
In the ruins of empire : the Japanese surrender and the battle for postwar Asia
by
Ronald H Spector
( Book )
10 editions published between
2007
and 2008 in
English
and held by 1,110 WorldCat member libraries worldwide
Spector follows up on Eagle Against the Sun, his account of the American struggle against the Japanese in World War II, with a chronicle of the aftermath of this crucial conflict. He tells the fascinating story of the deadly confrontations that broke out--or merely continued--in Asia after peace was proclaimed. Under occupation by the victorious Allies, this part of the world was plunged into new power struggles, or back into old feuds, that in some ways were worse than the war itself. International suspicions were still strong; die-hard Japanese officers plotted to prevent surrender; in Manchuria, Russian "liberators" looted, raped, and killed innocent civilians; in China a fratricidal rivalry continued between Chiang Kai-shek's regime and Mao's revolutionaries; and Southeast Asia and Korea became powderkegs, with Communists only one of several competing anticolonial factions.--From publisher description
At war, at sea : sailors and naval combat in the twentieth century
by
Ronald H Spector
( Book )
13 editions published between
2001
and 2003 in
English
and held by 1,079 WorldCat member libraries worldwide
"At War at Sea is a fascinating account of the most important naval conflicts of the twentieth century. Beginning with a gripping narrative of one of the most decisive battles in history - the 1905 Battle of Tsushima between the Japanese and the Russians - and ending with the sophisticated missile engagements off the Falklands and in the Persian Gulf, naval historian Ronald Spector explores every facet of naval warfare." "Here are the real stories of combat at sea told from the point of view of the sailors who experienced it. How did it feel to be the target of a 15-inch shell at the Battle of Jutland or to experience a depth-charge attack in a submarine in the Battle of the Atlantic? What was it like to be under attack by Stuka dive bombers off Crete or kamikazes off Okinawa during World War II? What is the difference between being a sailor on a German U-boat or on today's nuclear submarines? Using more than a hundred diaries, memoirs, letters, and interviews as well as the official record, Spector takes an in-depth look at fighting sailors - in peacetime and in time of war - that is unparalleled both in scope and emotional intensity." "Researched and fascinating in its detail, Spector also explains how the politics and social backdrop inside and outside of the navies of Japan, Russia, Britain, Germany, and the United States affected both the sailors and the navies themselves during the last century. The result is a monumental history of the men, the ships, and the battles fought on the high seas."--Jacket
At war at sea : sailors and naval combat in the twentieth century
by
Ronald H Spector
( )
7 editions published between
2002
and 2011 in
English
and held by 658 WorldCat member libraries worldwide
The author begins with the 1905 battle of Tsushima, where the Japanese annihilated the Russians in what is arguably the most decisive naval battle ever fought. There are also thorough descriptions of the infamous World War I clash at Jutland, the World War II engagement at Midway, the high-tech combat of the Persian Gulf War, and much more. Between tales of battle, Spector describes the changing lives and duties of sailors, giving a sense for why certain navies were able to accomplish their objectives, while others failed
Advice and support : the early years of the United States Army in Vietnam, 1941-1960
by
Ronald H Spector
( Book )
33 editions published between
1983
and 2014 in
English
and held by 632 WorldCat member libraries worldwide
"Finally - more than three decades after French colonial forces were crushed at Dien Bien Phu - America has a definitive account of its own first military involvements in Vietnam. Drawing on recently declassified Pentagon files and hundreds of other official documents, historian Ronald H. Spector unearths a host of findings about the U.S. Army's advisory role in Southeast Asia: that in 1954 the U.S. prepared plans to assist the French with atomic weapons; that throughout the 1950s Army Chief of Staff Gen. Matthew Ridgway opposed almost singlehandedly State Dept. demands for massive military intervention; that gross ignorance of Vietnamese society, language, and culture and a 'dogged Can Do attitude' in the field prevented American advisory forces from realistically appraising either the viability of the South Vietnamese army or the soundness of the government it supported. Showing that the agonizing truth about Vietnam was apparent fifteen years before the fall of Saigon, Advice and Support is crucial to our understanding of how we got into Vietnam, why we couldn't get out - and what went wrong."--Book cover, p. [4]
Professors of war : the Naval War College and the development of the naval profession
by
Ronald H Spector
( Book )
14 editions published between
1977
and 2005 in
English
and held by 479 WorldCat member libraries worldwide
"This is a study of the role of the Naval War College in the professionalization of the U.S. Navy and the effects of that process upon the shaping of naval policy from the founding of the College in 1884 to its temporary discontinuance in 1917 during World War I"--Page 1
U.S. Marines in Grenada, 1983
by
Ronald H Spector
( Book )
5 editions published in
1987
in
English
and held by 472 WorldCat member libraries worldwide
more
fewer
Audience Level
0

1
Kids
General
Special
Audience level: 0.25 (from 0.11 for At war at ... to 0.90 for Colour of ...)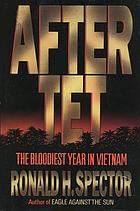 Alternative Names
Ronald H. Spector Amerikaans militair historicus

Ronald H. Spector Historian

Ronald H. Spector US-amerikanischer Militär- und Marinehistoriker

Spector, Ronald.

Spector, Ronald 1943-

Spector, Ronald H.

Spector, Ronald Harvey 1943-

スペクター, ロナルド・H

Languages
Covers