West, Darrell M. 1954-
Most widely held works by Darrell M West
Brain gain : rethinking U.S. immigration policy
by
Darrell M West
( )
15 editions published between
2010
and 2011 in
English
and held by 2,597 WorldCat member libraries worldwide
Many of America's greatest artists, scientists, inventors, educators, and entrepreneurs have come from abroad. Rather than suffering from the "brain drain" of talented and educated individuals emigrating, the United States has benefited greatly over the years from the "brain gain" of immigration. These gifted immigrants have engineered advances in energy, information technology, international commerce, sports, arts, and culture. To stay competitive, the United States must institute more of an open-door policy to attract unique talents from other nations. Yet Americans resist such a policy despite their own immigrant histories and the substantial social, economic, intellectual, and cultural benefits of welcoming newcomers. Why? In this book the author asserts that perception or "vision" is one reason reform in immigration policy is so politically difficult. Public discourse tends to emphasize the perceived negatives. Fear too often trumps optimism and reason, And democracy is messy, with policy principles that are often difficult to reconcile. The seeming irrationality of U.S. immigration policy arises from a variety of thorny and interrelated factors: particularistic politics and fragmented institutions, public concern regarding education and employment, anger over taxes and social services, and ambivalence about national identity, culture, and language. Add to that stew a myopic (or worse) press, persistent fears of terrorism, and the difficulties of implementing border enforcement and legal justice. He prescribes a series of reforms that will put America on a better course and enhance its long-term social and economic prosperity. Reconceptualizing immigration as a way to enhance innovation and competitiveness, the author notes, will help us find the next Sergey Brin, the next Andrew Grove, or even the next Albert Einstein
Digital government : technology and public sector performance
by
Darrell M West
( )
27 editions published between
2005
and 2010 in
English
and
Spanish
and held by 2,504 WorldCat member libraries worldwide
"Darrell M. West discusses how new technology is altering governmental performance, the political process, and democracy itself by improving government responsiveness and increasing information available to citizens. This book outlines the variety of factors that have restricted the ability of policymakers to make effective use of new technology. Although digital government offers the potential for revolutionary change, social, political, and economic forces constrain the scope of transformation and prevent government officials from realizing the full benefits of interactive technology."--Jacket
Digital medicine : health care in the Internet era
by
Darrell M West
( )
19 editions published between
2009
and 2010 in
English
and
Swedish
and held by 2,452 WorldCat member libraries worldwide
"Investigates factors limiting the ability of digital technology to remake health care. Analyzes data sources to study content of health care-related websites, sponsorship status, public usage, and the relationship between e-health use and health care attitudes. Examines the different ways in which officials overseas have implemented health information technology"--Provided by publisher
The next wave : using digital technology to further social and political innovation
by
Darrell M West
( )
14 editions published between
2011
and 2013 in
English
and held by 1,945 WorldCat member libraries worldwide
"Maintains that the digital revolution is well under way and will continue to lead to important changes in the way people, the for-profit and nonprofit sectors, and government will function and interact, with emphasis on the importance of innovation and the need to balance innovation, privacy, and security"--Provided by publisher
Billionaires : reflections on the upper crust
by
Darrell M West
( )
12 editions published in
2014
in
English
and held by 1,658 WorldCat member libraries worldwide
"Through personal interactions and rich anecdotes, West takes us inside the world of the super-wealthy through a balanced and insightful analysis of U.S. billionaires such as Sheldon Adelson, David and Charles Koch, George Soros, Michael Bloomberg, Bill Gates, Peter Thiel, Donald Trump and Tom Steyer. And looking abroad, West analyzes the billionaires who have run for office in nations such as Austria, Australia, France, Georgia, India, Italy, Russia, Thailand, and the Ukraine. From oligarchs in Russia and Eastern Europe to princelings in China, tycoons raise important questions about political influence, transparency, accountability, and government performance. This book argues that countries need policies that promote better transparency, governance, and opportunity."--Publisher's description
Digital schools : how technology can transform education
by
Darrell M West
( )
17 editions published between
2012
and 2013 in
English
and held by 1,555 WorldCat member libraries worldwide
Educator John Dewey said that "if we teach today's students as we taught yesterday's, we rob them of tomorrow." That wisdom resonates strongly today, and that maxim underlies this insightful look at the present and future of education in the digital age. Darrell West makes clear in Digital Schools, today's educational institutions must reinvent themselves to engage students successfully and provide them with skills needed to compete in an increasingly global, technological, and online world. Otherwise American education system will continue to fall woefully short in its mission to prepare the population to survive and thrive in a rapidly changing world. West examines new models of education made possible by enhanced information technology, new approaches that will make public education in the post-industrial age more relevant, efficient, and ultimately more productive. Digital Schools surveys this new landscape, examining personalized learning; real time student assessment; ways to enhance teacher evaluation; the untapped potential of distance learning; and ways in which technology can improve effectiveness of special education and foreign language instruction. West illustrates potential contributions of blogs, wikis, social media, and video games and augmented reality in K-2 and higher education. If today's schools combine increased digitization with needed improvements in organization, operations, and culture, we can overcome current barriers, produce better results, and improve manner in which schools function
Evaluating campaign quality : can the electoral process be improved?
by
Louis Sandy Maisel
( )
13 editions published in
2007
in
English
and held by 1,402 WorldCat member libraries worldwide
"For a number of years, voters and academic observers have been dissatisfied with a number of elements of American campaigns. Contemporary races are seen as too negative, too superficial, and too unfair or misleading. Based on these complaints, a variety of reform organizations have targeted millions of dollars to improve the situation. Through their efforts and those within the academic community, a wide range of reform initiatives have been undertaken, such as voluntary codes of conduct, industry self-regulation, certificate programs, tougher ethics rules for consultants, and the encouragement of more substantive venues. Candidate debates, town meetings, and issue forums have been promulgated to improve the performance of American elections." "This book seeks to evaluate whether these activities have improved the level of campaign discourse and conduct in U.S. House and Senate campaigns and argues that while individual reform efforts have achieved some of their stated objectives, the overall effect of these reform efforts has been disappointing. A different approach to campaign conduct and political discourse in American elections is clearly called for if improved campaigning is the goal."--BOOK JACKET
Megachange : economic disruption, political upheaval, and social strife in the 21st century
by
Darrell M West
( )
9 editions published in
2016
in
English
and held by 1,293 WorldCat member libraries worldwide
"Big, unexpected changes are here to stay. Slow, incremental change has become a relic of the past. Today's shifts come fast and big, what Darrell West calls megachanges, in which dramatic disruptions in trends and policies occur on a regular basis. Domestically, we see megachange at work in the new attitudes and policies toward same-sex marriage, health care, smoking, and the widespread legalization of marijuana use. Globally, we have seen the extraordinary rise and then collapse of the Arab Spring, the emergence of religious zealotry, the growing influence of nonstate actors, the spread of ISIS-fomented terrorism, the rise of new economic and political powers in Asia, and the fracturing of once-stable international alliances. Long-held assumptions have been shattered, and the proliferation of unexpected events is confounding experts in the United States and around the globe. Many of the social and political institutions that used to anchor domestic and international politics have grown weak or are in need of dramatic reform. What to do? West says that we should alter our expectations about the speed and magnitude of political and social change. We also need to recognize that many of our current governing processes are geared to slow deliberation and promote incremental change, not large-scale transformation. With megachange becoming the new normal, our domestic and global institutions must develop the ability to tackle the massive economic, political, and social shifts that we face"--
The future of work : robots, AI, and automation
by
Darrell M West
( )
16 editions published between
2018
and 2019 in
English
and held by 1,267 WorldCat member libraries worldwide
"Robots, artificial intelligence, and driverless cars are no longer things of the distant future. They are with us today and will become increasingly common in coming years, along with virtual reality and digital personal assistants. As these tools advance deeper into everyday use, they raise the question--how will they transform society, the economy, and politics? If companies need fewer workers due to automation and robotics, what happens to those who once held those jobs and don't have the skills for new jobs? And since many social benefits are delivered through jobs, how are people outside the workforce for a lengthy period of time going to earn a living and get health care and social benefits? Looking past today's headlines, political scientist and cultural observer Darrell M. West argues that society needs to rethink the concept of jobs, reconfigure the social contract, move toward a system of lifetime learning, and develop a new kind of politics that can deal with economic dislocations. With the U.S. governance system in shambles because of political polarization and hyper-partisanship, dealing creatively with the transition to a fully digital economy will vex political leaders and complicate the adoption of remedies that could ease the transition pain. It is imperative that we make major adjustments in how we think about work and the social contract in order to prevent society from spiraling out of control. This book presents a number of proposals to help people deal with the transition from an industrial to a digital economy. We must broaden the concept of employment to include volunteering and parenting and pay greater attention to the opportunities for leisure time. New forms of identity will be possible when the "job" no longer defines people's sense of personal meaning, and they engage in a broader range of activities. Workers will need help throughout their lifetimes to acquire new skills and develop new job capabilities. Political reforms will be necessary to reduce polarization and restore civility so there can be open and healthy debate about where responsibility lies for economic well-being."--
Going mobile : how wireless technology is reshaping our lives
by
Darrell M West
( )
9 editions published between
2014
and 2015 in
English
and held by 1,221 WorldCat member libraries worldwide
"In Going Mobile, Darrell M. West breaks down the mobile revolution and shows how to maximize its overall benefits in both developed and emerging markets."--
more
fewer
Audience Level
0

1
Kids
General
Special
Audience level: 0.14 (from 0.04 for Brain gain ... to 0.45 for Congress a ...)
Related Identities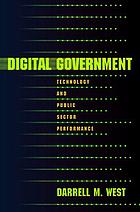 Covers
Alternative Names
Darrell M. West American political scientist

Darrell M. West Amerikaans politicoloog

Darrell M. West politólogo estadounidense

Darrell M. West politólogu estauxunidense

West, Darrel M.

داريل إم. ويست، 1954-

داريل إم. ويست عالم سياسة من الولايات المتحدة الأمريكية

웨스트, 대럴 1954-

웨스트, 대럴 M. 1954-

ウェスト, ダレル・M

Languages