Akerlof, George A. 1940-
Overview
| | |
| --- | --- |
| Works: | 130 works in 404 publications in 7 languages and 9,247 library holdings |
| Genres: | History |
| Roles: | Author, Editor, Other |
Most widely held works by George A Akerlof
Animal spirits : how human psychology drives the economy, and why it matters for global capitalism
by
George A Akerlof
( Book )
42 editions published between
2009
and 2014 in 4 languages and held by 2,020 WorldCat member libraries worldwide
The global financial crisis has made it painfully clear that powerful psychological forces are imperiling the wealth of nations today. From blind faith in ever rising housing prices to plummeting confidence in capital markets, "animal spirits" are driving financial events worldwide. In this book, the authors, both economists, challenge the economic wisdom that got us into this mess, and put forward a bold new vision that will transform economics and restore prosperity. They reassert the necessity of an active government role in economic policymaking by recovering the idea of "animal spirits", a term John Maynard Keynes used to describe the gloom and despondence that led to the Great Depression and the changing psychology that accompanied recovery. Like Keynes, they know that managing these animal spirits requires the steady hand of government; simply allowing markets to work won't do it. In rebuilding the case for a more robust, behaviorally informed Keynesianism, they detail the most pervasive effects of animal spirits (i.e. human psychology), in contemporary economic life, such as confidence, fear, bad faith, corruption, a concern for fairness, and the stories we tell ourselves about our economic fortune, and show how Reaganomics, Thatcherism, and the rational expectations revolution failed to account for them. The authors then offer a road map for reversing the financial misfortunes besetting us today; they teach how leaders can channel animal spirits, the powerful forces of human psychology that are afoot in the world economy today, and making them work for and not against us
Phishing for phools : the economics of manipulation and deception
by
George A Akerlof
( Book )
20 editions published between
2015
and 2017 in
English
and
Dutch
and held by 1,091 WorldCat member libraries worldwide
Akerlof and Shiller argue that markets harm as well as help us. As long as there is profit to be made, sellers will systematically exploit our psychological weaknesses and our ignorance through manipulation and deception. Based on the intuitive idea that markets both give and take away, they show how phishing affects everyone, in almost every walk of life. We spend our money up to the limit, and then worry about how to pay the next month's bills. The financial system soars, then crashes. In exploring the role of manipulation and deception, the authors explain a paradox: why, at a time when we are better off than ever before in history, all too many of us are leading lives of quiet desperation
An economic theorist's book of tales : essays that entertain the consequences of new assumptions in economic theory
by
George A Akerlof
( Book )
23 editions published between
1984
and 1999 in
English
and held by 733 WorldCat member libraries worldwide
These essays explore what happens when a skilful economist makes unconventional assumptions. Economic theory has traditionally relied upon a tacit and 'classical' set of assumptions that have gradually acquired a life of their own in defining how economists write and how they justify economic models. Similarly, these assumptions have acquired an autonomous character: they guide the way economists think about the world. In consequence, consideration of alternative assumptions has become taboo. These essays are substantively and stylistically novel because they break these taboos and bring new assumptions into economic theory. The papers apply this adventurous approach to a wide range of issues - from insurance markets and trade in underdeveloped countries to unemployment and discrimination. Some of the essays derive the implications for economic markets of costly asymmetric information. Others explore the findings of other social sciences such as anthropology, psychology and sociology
What have we learned? : macroeconomic policy after the crisis
by
George A Akerlof
( Book )
14 editions published in
2014
in
English
and held by 407 WorldCat member libraries worldwide
Since 2008, economic policymakers and researchers have occupied a brave new economic world. Previous consensuses have been upended, former assumptions have been cast into doubt, and new approaches have yet to stand the test of time. Policymakers have been forced to improvise and researchers to rethink basic theory. George Akerlof, Nobel Laureate and one of this volume's editors, compares the crisis to a cat stuck in a tree, afraid to move. In April 2013, the International Monetary Fund brought together leading economists and economic policymakers to discuss the slowly emerging contours of the macroeconomic future. This book offers their combined insights. The editors and contributors -- who include the Nobel Laureate and bestselling author Joseph Stiglitz, Federal Reserve Vice Chair Janet Yellen, and the former Governor of the Bank of Israel Stanley Fischer -- consider the lessons learned from the crisis and its aftermath. They discuss, among other things, post-crisis questions about the traditional policy focus on inflation; macroprudential tools (which focus on the stability of the entire financial system rather than of individual firms) and their effectiveness; fiscal stimulus, public debt, and fiscal consolidation; and exchange rate arrangements
Explorations in pragmatic economics : selected papers of George A. Akerlof (and co-authors)
by
George A Akerlof
( Book )
25 editions published between
2003
and 2013 in 3 languages and held by 325 WorldCat member libraries worldwide
This collection of Akerlof's most important papers provide both an introduction to his work and a grounding in modern economics. Divided into two broad areas, micro- and macroeconomics, they cover the economics of information; the theory of unemployment; macroeconomic equilibria; the demand for money; psychology and economics; and the nature of discrimination and other social issues. The collection closes with Akerlof's 2001 Nobel Lecture, in which he arguesthat it is imperative that macroeconomics be considered inherently behavioral
Les esprits animaux comment les forces psychologiques mènent la finance et l'économie
by
George A Akerlof
( Book )
5 editions published between
2009
and 2013 in
French
and held by 120 WorldCat member libraries worldwide
La 4e de couverture indique : "La vision (libérale) de marchés capables de s'autoréguler, avec des acteurs sérieux opérant des choix rationnels, a été mise à mal par la crise économique et financière. L'économie réelle est bizarre, incertaine, irrégulière, et ne doit pas faire abstraction de nos "esprits animaux". Les esprits animaux, ce sont les facteurs psychologiques qui influencent notre économie, sa part d'incohérence et d'instabilité naturelles - et souhaitables! Car si l'incertitude qu'elle génère, à certaines périodes, nous paralyse, elle se révèle, à d'autres, stimulante et féconde. On doit la théorie des esprits animaux à Keynes. Akerlof et Schiller, deux des économistes les plus respectés aujourd'hui, présentent et expliquent comment ces forces irrationnelles et inconscientes font et défont nos économies. Comment adviennent les crises? Quel est le pouvoir réel des banques centrales? Qu'est-ce qui explique l'instabilité récurrente des marchés financiers? D'où vient le caractère cyclique du marché immobilier? Le chômage est-il inéluctable? ... Revisitant les grands épisodes de l'histoire économique, cet ouvrage examine les réponses possibles à la crise et offre une autre vision de l'économie - plus réelle, et plus humaine."
Animal spirits : how human psychology drives the economy and why it matters for global capitalism
by
George A Akerlof
( Recording )
8 editions published in
2009
in
English
and
No Linguistic content
and held by 90 WorldCat member libraries worldwide
The global financial crisis has made it painfully clear that powerful psychological forces are imperiling the wealth of nations today. From blind faith in ever-rising housing prices to plummeting confidence in capital markets, "animal spirits" are driving financial events worldwide
Identity economics : how our identities shape our work, wages, and well-being
by
George A Akerlof
( )
10 editions published between
2010
and 2015 in
English
and held by 62 WorldCat member libraries worldwide
In 1995, economist Rachel Kranton wrote future Nobel Prize-winner George Akerlof a letter insisting that his most recent paper was wrong. Identity, she argued, was the missing element that would help to explain why people - facing the same economic circumstances - would make different choices. This was the beginning of a fourteen-year collaboration-and of Identity Economics. Identity economics is a new way to understand people's decisions-at work, at school, and at home. With it, we can better appreciate why incentives like stock options work or don't, why some schools succeed and others don't, why some cities and towns don't invest in their futures - and much, much more. Identity Economics bridges a critical gap in the social sciences. It brings identity and norms to economics. People's notions of what is proper, and what is forbidden, and for whom, are fundamental to how hard they work, and how they learn, spend, and save. Thus people's identity-their conception of who they are, and of who they choose to be-may be the most important factor affecting their economic lives. And the limits placed by society on people's identity can also be crucial determinants of their economic well-being
Marchés de dupes : l'économie du mensonge et de la manipulation
by
George A Akerlof
( Book )
3 editions published in
2016
in
French
and held by 61 WorldCat member libraries worldwide
La 4e de couverture indique : "Personne n'a envie de se faire arnaquer. Pourtant, c'est ce qui nous arrive tous les jours : abonnements trop coûteux, médicaments inutiles voire dangereux, produits ou services faussement innovants, crédits bancaires pourris, etc. Loin d'être accidentels, le mensonge et la manipulation sont intrinsèques à l'économie. Pourquoi? Parce que, contrairement à ce que postulait Adam Smith, l'équilibre de marché n'est pas nécessairement optimal (la fameuse "main invisible"). La concurrence des marchés est telle que toute occasion de profit est systématiquement exploitée, résultant trop souvent en un marché de dupes. Comprendre les mécanismes qui nous conduisent à prendre de mauvaise décisions économiques - des biais psychologiques aux dissymétries informationnelles -, tel est l'objectif de ce livre écrit par deux prix Nobel d'économie. Levant le voile sur l'étendue et les conséquences pour la collectivité des dommages produits par les marchés, ils réclament fermement des politiques de régulation plus efficaces."
more
fewer
Audience Level
0

1
Kids
General
Special
Audience level: 0.45 (from 0.24 for What have ... to 0.92 for Phishing f ...)
Related Identities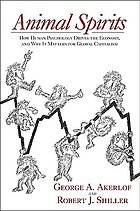 Alternative Names
Akerlof , George

Akerlof, George 1940-

Akerlof, George A.

Akerlof, George Arthur

Akerlof, George Arthur 1940-

Arthur Akerlof, George

Corc Akerlof

Džordžs Akerlofs

George A. Akerlof

George A. Akerlof 1940-

George A. Akerlof amerikansk økonom

George A. Akerlof amerykański ekonomista, noblista

George A. Akerlof US-amerikanischer Wirtschaftswissenschaftler

George Akerlof American economist and Koshland Professor of Economics

George Akerlof Amerikaans econoom

George Akerlof amerikansk ekonom

George Akerlof amerikansk økonom

George Akerlof economista e accademico statunitense

George Akerlof économiste américain

George Akerlof Nobel-díjas amerikai közgazdász

George Arthur Akerlof

Τζωρτζ Άκερλοφ

Τζωρτζ Άκερλοφ αμερικανός καθηγητής οικονομικών

Джордж Акерлоф американский экономист

Џорџ Акерлоф американски економист

Ջորջ Աքերլոֆ

ג'ורג' אקרלוף

جارج اکرلوف

جرج اکرلوف اقتصاددان آمریکایی

جورج أكرلوف

জর্জ একারলফ

ჯორჯ აკერლოფი

애커로프, 조지 A. 1940-

조지 A. 애커로프 1940-

조지 애컬로프

アカロフ, ジョージ・A

ジョージ・アカロフ

乔治·阿克洛夫

Languages
Covers