Houston, Stephen D.
Most widely held works by Stephen D Houston
Maya glyphs
by
Stephen D Houston
( Book )
26 editions published between
1989
and 1996 in 3 languages and held by 683 WorldCat member libraries worldwide
The classic Maya
by
Stephen D Houston
( Book )
13 editions published between
2009
and 2010 in
English
and held by 673 WorldCat member libraries worldwide
In the first millennium A.D., the classic Maya created courtly societies in and around the Yucatan Peninsula that have left some of the most striking intellectual and aesthetic achievements of the ancient world, including large settlements like Tikal, Copan, and Palenque. This book is a synthesis of the Classic Maya. It is informed by new decipherment of hieroglyphs, decades of intensive excavation and survey. Structured by categories of person in society, it reports on kings, queens, nobles, gods, and ancestors, as well as the many millions of farmers and other figures who lived in societies predicated on sacred kingship and varying political programs. This text presents a tandem model of societies bound by moral covenants and convulsed by unavoidable tensions between groups, all affected by demographic trends and changing environments. It focuses on the Classic heartland but also refers to other zones
The Maya
by
Michael D Coe
( Book )
6 editions published in
2015
in
English
and held by 548 WorldCat member libraries worldwide
"Coe and Houston update this classic by distilling the latest scholarship for the general reader and student. This new edition incorporates the most recent archaeological and epigraphic research, which continues to proceed at a fast pace. Among the finest new discoveries are spectacular stucco sculptures at El Zotz and Holmul, which reveal surprising aspects of Maya royalty and the founding of dynasties. Dramatic refinements in our understanding the pace of changes in the Maya world have led scholars to perceive a pattern of rapid bursts of building and political formation. Other finds include the discovery of the earliest known occupant of the region, the Hoyo Negro girl, recovered from an underwater cavern in the Yucatan peninsula, along with new evidence for the first architecture at Ceibal."--Back cover
Fiery pool : the Maya and the mythic sea
by
Daniel Finamore
( Book )
7 editions published in
2010
in
English
and held by 391 WorldCat member libraries worldwide
"Maya art and hieroglyphs constitute one of the world's most fascinating, visually striking, and complex systems of expression. Most scholarly interpretations of Maya art and culture have emphasized that this ancient civilization was oriented toward inland centers and preoccupied with the blood of royal lineage and ritual sacrifice. Drawing on recent archaeological discoveries and developments in deciphering Maya glyphs, this volume presents a revisionist reading that shifts the emphasis of interpretation to the mythic power of the sea as the basis of a larger, deeper cultural narrative and history for the Maya." "Surrounded by the sea in all directions, the Maya viewed water as a source of both life and danger. Through the artworks presented - including acknowledged masterpieces and many never before exhibited in the United States - readers will gain a new appreciation for water's influence on Maya cosmology, its role in their interpretation of the supernatural, as well as its impact on Maya cross-cultural contacts, trading practices, and power dynamics. Essays by prominent scholars provide an interdisciplinary context for understanding Maya art as well as new interpretations of traditional iconography and symbolism."--Jacket
The first writing : script invention as history and process
by
Stephen D Houston
( Book )
17 editions published between
2004
and 2008 in
English
and held by 375 WorldCat member libraries worldwide
"The theme of this book is the first writing systems - early cuneiform, proto-Elamite, Egyptian (all prior to 3000 BC, by some centuries), Chinese (prior to 1000 BC), and Maya and its Mesoamerican precursors (beginning ca. 500 BC) ... [and it] also looks more briefly at what might be called 'secondary inventions', including late ones like Scandinavian runic"--Page [3]
The memory of bones : body, being, and experience among the classic Maya
by
Stephen D Houston
( Book )
10 editions published in
2006
in
English
and held by 324 WorldCat member libraries worldwide
All of human experience flows from bodies that feel, express emotion, and think about what such experiences mean. But is it possible for us, embodied as we are in a particular time and place, to know how people of long ago thought about the body and its experiences? In this groundbreaking book, three leading experts on the Classic Maya (ca. AD 250 to 850) marshal a vast array of evidence from Maya iconography and hieroglyphic writing, as well as archaeological findings, to argue that the Classic Maya developed a coherent approach to the human body that we can recover and understand today. The authors open with a cartography of the Maya body, its parts and their meanings, as depicted in imagery and texts. They go on to explore such issues as how the body was replicated in portraiture; how it experienced the world through ingestion, the senses, and the emotions; how the body experienced war and sacrifice and the pain and sexuality that were intimately bound up in these domains; how words, often heaven-sent, could be embodied; and how bodies could be blurred through spirit possession. From these investigations, the authors convincingly demonstrate that the Maya conceptualized the body in varying roles, as a metaphor of time, as a gendered, sexualized being, in distinct stages of life, as an instrument of honor and dishonor, as a vehicle for communication and consumption, as an exemplification of beauty and ugliness, and as a dancer and song-maker. Their findings open a new avenue for empathetically understanding the ancient Maya as living human beings who experienced the world as we do, through the body
Hieroglyphs and history at Dos Pilas : dynastic politics of the Classic Maya
by
Stephen D Houston
( Book )
6 editions published in
1993
in
English
and held by 278 WorldCat member libraries worldwide
This pioneering study uses the inscriptions and monumental art of Dos Pilas in the Peten region of Guatemala to reconstruct the history and fate of a crucial Maya-dynasty. Houston's innovative approach combines data derived from the hieroglyphs with the findings of archaeology and anthropology to provide a detailed picture of Dos Pilas' development as a dynastic center. Houston reveals that the rulers of Dos Pilas were conquerors who established and maintained a regional polity. The records of their deeds on monuments at Dos Pilas and sites nearby contain a wealth of detail that matches anything found at other major Maya centers
The life within : classic Maya and the matter of permanence
by
Stephen D Houston
( Book )
8 editions published between
2014
and 2017 in
English
and held by 267 WorldCat member libraries worldwide
"For the Classic Maya, who flourished in and around the Yucatan peninsula in the first millennium AD, artistic materials were endowed with an internal life. Far from being inert substances, jade, flint, obsidian, and wood held a vital essence, agency, and even personality. To work with these materials was to coax their life into full expression and to engage in witty play. Writing, too, could shift from hieroglyphic signs into vibrant glyphs that sprouted torsos, hands, and feet. Appearing to sing, grapple, and feed, they effectively blurred the distinction between text and image. In this first full study of the nature of Maya materials and animism, renowned Mayanist scholar Stephen Houston provides startling insights into a Pre-Columbian worldview that dramatically contrasts with western perspectives. Illustrated with more than one hundred photographs, images, and drawings, this beautifully written book reveals the Maya quest for transcendence in the face of inevitable death and decay"--Publisher's description
more
fewer
Audience Level
0

1
Kids
General
Special
Audience level: 0.45 (from 0.20 for The disapp ... to 0.71 for The dynast ...)
Related Identities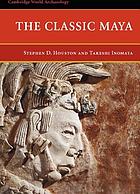 Alternative Names
Houston, S. D.

Houston, S. D. 1958-

Houston, S. D. (Stephen D.)

Houston, S. D. (Stephen Douglas)

Houston, S. D. (Stephen Douglas), 1958-

Houston, Stephen

Houston, Stephen 1958-

Houston, Stephen D.

Stephen D. Houston American Mesoamericanist

スティーブン・ハウストン

ハウストン, スティーヴン

Languages
Covers