Parker, Barry R.
Most widely held works about Barry R Parker
Most widely held works by Barry R Parker
Chaos in the cosmos : the stunning complexity of the universe
by
Barry R Parker
( Book )
10 editions published in
1996
in
English
and held by 999 WorldCat member libraries worldwide
As this remarkable book shows, we live in a universe beset with chaos. Highly acclaimed popular science writer Barry Parker shows - for the first time in a popular work - the amazing impact chaos theory is having on our understanding of the cosmos. Through vivid metaphors and imagery, Parker indoctrinates the reader into the fantastic realm of chaos theory, from the exquisitely detailed structure of fractals to strange attractors to stretching and folding space. He interviews the world's premier astronomers to discuss firsthand the challenge of applying these powerful concepts to the most intriguing paradoxes in astronomy; the workings of chaos in the bizarre tumbling orbit of one of Saturn's moons, the swirling migration of the great red spot of Jupiter, the explosive mechanics of pulsating stars, and the intricate dance of stars orbiting black holes. He also explains the exciting cutting-edge technology scientists employ as they learn - via computer images - to model accurately the movements of planets, suns, and even superclusters of galaxies millions of years into the past and future to explore the role of chaos in the mysterious genesis and fate of the universe. This burgeoning new science, like all brilliant theories, raises nearly as many questions as it answers. Is the universe a puzzle we will one day be able to solve? Chaos theory reminds us that unpredictability goes part and parcel with our dynamic universe. It also offers testimony to the elegantly complex structure of the universe. As Parker eloquently shows, this remarkable science, though still in its infancy, is destined to rank among the most potent and compelling forces that will shape the future of astronomy
The Isaac Newton school of driving : physics and your car
by
Barry R Parker
( Book )
15 editions published between
2003
and 2005 in
English
and
Chinese
and held by 895 WorldCat member libraries worldwide
For some people, driving is an art, for others, it's a science. At the Isaac Newton School of Driving, though, every car is a laboratory on wheels and every drive an exciting journey into the world of physics. This books is based on Parker's classroom discussions at Idaho State U. where he discovered a winning teaching formula combining physics with automotive examples. This book describes nearly every aspect of physics as they related to cars; from basic mechanics including velocity, acceleration, momentum, and torque, to more advanced concepts including heat transfer and efficiency, electricity and magnetism, and aerodynamics
Creation : the story of the origin and evolution of the universe
by
Barry R Parker
( Book )
12 editions published between
1988
and 2003 in
English
and held by 884 WorldCat member libraries worldwide
Discovery of the expanding universe. Cosmology of the mind. Alpha, beta, and gamow. From quarks to black roles. From chaos to creation. Inflation. Mystery of the cosmic mirror. The cosmic cookbook. Emergence of the fireball. Before the Big Bang. The big breakup. A "lumpy" universe. Cosmic strings. The "heavy element" cookbook. The emergence of life
Cosmic time travel : a scientific odyssey
by
Barry R Parker
( Book )
12 editions published between
1991
and 2001 in 3 languages and held by 785 WorldCat member libraries worldwide
Reveals the latest scientific developments in the field of space and time travel
Einstein : the passions of a scientist
by
Barry R Parker
( Book )
9 editions published between
2003
and 2005 in
English
and
Spanish
and held by 771 WorldCat member libraries worldwide
"Although Einstein is celebrated as one of the most gifted scientific minds of the twentieth century for his tremendous contributions to our understanding of the world around us, little is known about the private life behind his legendary persona. How did Einstein spend his life when not engaged in scientific pursuits? What were his interests? What in Einstein's background and everyday life inspired his development as a scientist and as a person? In this unique contribution to the Einstein literature, Barry Parker draws on the great scientist's letters and personal papers to explore the intellectual and emotional drives that motivated both his work and his life."--Jacket
Colliding galaxies : the universe in turmoil
by
Barry R Parker
( Book )
8 editions published between
1990
and 1994 in
English
and
German
and held by 700 WorldCat member libraries worldwide
I remember sitting spellbound, watching the movie When Worlds Collide. Two planets hurled through space toward Earth while scientists and engineers frantically raced to complete a rocket ship that would take them to safety. In the final moments the spaceship lifted off as the occupants watched the Earth bulge, crack, then literally explode as one of the planets struck it. As I left the theater I wondered if it was really possible for another world to collide with Earth. Later I learned that while many catastrophic collisions no doubt occurred early in the his tory of the solar system, today they are exceedingly rare. I was relieved, but in another sense I was disappointed (not that I hoped a collision of this type would actually occur). A collision of two objects in space, say, two stars, I was sure would be a spectacular event. It is quite unlikely, however, that we will ever witness the collision of two stars. The event is just too rare. But collisions of systems of stars-galaxies-oddly enough, are relatively com mon. In fact, we see evidence of several in the sky right now
more
fewer
Audience Level
0

1
Kids
General
Special
Audience level: 0.28 (from 0.20 for The myster ... to 0.87 for Einsteins ...)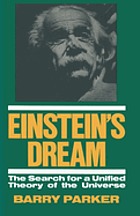 Alternative Names
Parker, Barry.

Parker, Barry 1935-

Parker, Barry 1935, 13 abr.-

Parker, Barry 1935 Apr. 13-

Parker, Barry 1935 April 13-

Parker, Barry R.

Parker, Barry Richard 1935-

باري باركر، 1935-

파커, 배리

パーカー, バリー

Languages
Covers