Waal, F. B. M. de (Frans B. M.) 1948-
Overview
| | |
| --- | --- |
| Works: | 206 works in 844 publications in 13 languages and 29,228 library holdings |
| Genres: | Biography Pictorial works Educational films Internet videos Popular works Conference papers and proceedings |
| Roles: | Author, Editor, Illustrator, Creator, Author of introduction, wpr, Producer, Other, Draftsman, Contributor, eds, Correspondent |
Most widely held works about F. B. M. de Waal
more
fewer
Most widely held works by F. B. M. de Waal
Chimpanzee politics : power and sex among apes
by
F. B. M. de Waal
( Book )
61 editions published between
1982
and 2017 in 4 languages and held by 2,077 WorldCat member libraries worldwide
This extraordinary account of schmoozing, scheming, and consensus building among the chimpanzees of a large zoo colony in Arnhem, The Netherlands, attracted attention. Throughout this revised edition - which features a new gallery of color photographs along with a new introduction and epilogue - de Waal expands and updates his story of the Arnhem colony and its continuing political upheavals. We learn the fate of many memorable characters and meet the colony's current leaders and their allies. The new edition remains a detailed and thoroughly engrossing account - of sexual rivalries and coalitions, of actions governed by intelligence rather than instinct - and it reaffirms the complex bond between humans and their closest living relatives. As we watch the chimpanzees of Arnhem behave in ways we recognize from Machiavelli (and from the nightly news), de Waal reminds us again that the roots of politics are older than humanity
Are we smart enough to know how smart animals are?
by
F. B. M. de Waal
( Book )
27 editions published between
2016
and 2017 in 6 languages and held by 1,958 WorldCat member libraries worldwide
What separates your mind from the mind of an animal? Maybe you think it's your ability to design tools, your sense of self, or your grasp of past and future - all traits that have helped us define ourselves as the pre-eminent species on Earth. But in recent decades, claims of human superiority have been eroded by a revolution in the study of animal cognition. Take the way octopuses use coconut shells as tools, or how elephants can classify humans by age, gender, and language. Take Ayumu, the young male chimpanzee at Kyoto University who demonstrates his species' exceptional photographic memory. Based on research on a range of animals, including crows, dolphins, parrots, sheep, wasps, bats, whales, and, of course, chimpanzees and bonobos, Frans de Waal explores the scope and depth of animal intelligence, revealing how we have grossly underestimated non-human brains. He overturns the view of animals as stimulus-response beings and opens our eyes to their complex and intricate minds. With astonishing stories of animal cognition, Are We Smart Enough to Know How Smart Animals Are? challenges everything you thought you knew about animal - and human - intelligence
Our inner ape : a leading primatologist explains why we are who we are
by
F. B. M. de Waal
( Book )
26 editions published between
2005
and 2017 in
English
and
Dutch
and held by 1,667 WorldCat member libraries worldwide
One of the world's foremost primatologists explores what our two closest relatives in the animal kingdom--the violent, power-hungry chimpanzee and the cooperative, empathetic bonobo--can tell us about the duality of our own human nature. We have long attributed man's violent, aggressive, competitive nature to his animal ancestry. But what if we are just as given to cooperation, empathy and morality by virtue of our genes? For nearly twenty years, Frans de Waal has worked with both the famously aggressive chimpanzee and the lesser-known egalitarian, erotic, matriarchal bonobo, two species whose DNA is nearly identical to that of humans. In this book, he lets their personalities, relationships, power struggles, and high jinks captivate our hearts and minds. The result is a surprising narrative that explores what their behavior can teach us about the most provocative aspects of human nature.--From publisher description
Peacemaking among primates
by
F. B. M. de Waal
( Book )
47 editions published between
1988
and 2011 in 7 languages and held by 1,515 WorldCat member libraries worldwide
Examines how simians cope with aggression, and how they make peace after fights
Bonobo : the forgotten ape
by
F. B. M. de Waal
( Book )
17 editions published between
1997
and 2008 in
English
and
Dutch
and held by 1,494 WorldCat member libraries worldwide
Most people have never heard of the bonobo, an intriguing member of the great ape family, despite the fact that bonobos are as close to us as their much better known relatives, the chimpanzees. Scientists are only beginning to explore the social life of the bonobo. Whereas chimpanzees are known for male power politics, cooperative hunting, and intergroup warfare, bonobo society is egalitarian and peaceful. One major distinction of the bonobo seems to be sensitivity to others. Now, two world-renowned experts in their fields, primatologist Frans de Waal and wildlife photographer Frans Lanting, have joined to celebrate this wonderful and little-known creature. Theirs is the first extended profile of the bonobo for the general reader. It presents the most up-to-date information on the species, including comparative data from zoo populations and from the field and interviews with leading bonobo experts. This is a book for all primate-watchers, amateur and specialist, for anyone interested in the origin of our own species, and for those studying evolution or gender relations
The age of empathy : nature's lessons for a kinder society
by
F. B. M. de Waal
( Book )
37 editions published between
2009
and 2017 in 3 languages and held by 1,458 WorldCat member libraries worldwide
Publisher description: By studying social behaviors in animals, such as bonding, the herd instinct, the forming of trusting alliances, expressions of consolation, and conflict resolution, Frans de Waal demonstrates that animals-and humans-are "preprogrammed to reach out." He has found that chimpanzees care for mates that are wounded by leopards, elephants offer "reassuring rumbles" to youngsters in distress, and dolphins support sick companions near the water's surface to prevent them from drowning. From day one humans have innate sensitivities to faces, bodies, and voices; we've been designed to feel for one another. De Waal's theory runs counter to the assumption that humans are inherently selfish, which can be seen in the fields of politics, law, and finance, and whichseems to be evidenced by the current greed-driven stock market collapse. But he cites the public's outrage at the U.S. government's lack of empathy in the wake of Hurricane Katrina as a significant shift in perspective-one that helped Barack Obama become elected and ushered in what may well become an Age of Empathy. Through a better understanding of empathy's survival value in evolution, de Waal suggests, we can work together toward a more just society based on a more generous and accurate view of human nature
Primates and philosophers : how morality evolved
by
F. B. M. de Waal
( Book )
34 editions published between
2006
and 2017 in 4 languages and held by 1,364 WorldCat member libraries worldwide
'It's the animal in us', we often hear when we've been bad, But why not when we're good? 'Primates and Philosophers' tackles this question by exploring the biological foundations of one of humanity's most valued traits: morality
The ape and the sushi master : cultural reflections by a primatologist
by
F. B. M. de Waal
( Book )
24 editions published between
2001
and 2009 in
English
and
Dutch
and held by 1,263 WorldCat member libraries worldwide
"The Ape and the Sushi Master challenges our most basic assumptions about who we are and how we differ from other animals. In a delightful mix of autobiographical anecdote, rigorous research, and speculation, eminent primatologist Frans de Waal leads us to consider the possibility that apes have their own culture. We think that only we humans are culturally free and sophisticated, varying our behavior from group to group. But what if apes react to situations with behavior learned through observation of their elders (culture) rather than through pure genetic instinct (nature)? Such a scenario shakes our centuries-old convictions about what makes humans distinct. It also counters our recent tendency to look at other animals as slaves of their genetic programs: if animals learn from each other the way we do, this brings them much closer to us."--Jacket
Tree of origin : what primate behavior can tell us about human social evolution
( Book )
13 editions published between
2001
and 2002 in
English
and held by 895 WorldCat member libraries worldwide
How did we become the linguistic, cultured, and successful apes we are? Our closest relatives offer tantalizing clues. In this volume top primate experts read these clues and compose an extensive picture of what the behaviour of monkeys and apes can tellus about our own evolution as a species
more
fewer
Audience Level
0

1
Kids
General
Special
Audience level: 0.27 (from 0.07 for Natural co ... to 0.79 for El bonobo ...)
Related Identities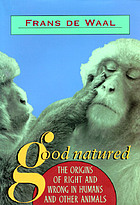 Alternative Names
De Val', Frans.

De Waal, F.

De Waal, F. 1948-

De Waal, F.B.M.

De Waal, F. B. M. 1948-

De Waal, F. B. M. 1948- (Frans B. M.)

De Waal, F. B. M. (Frans B. M.)

De Waal, F. B. M. (Frans B. M.), 1948-

De Waal, Frans.

De Waal Frans 1948-....

De Waal, Frans B.M.

De Waal Frans B. M. 1948-....

De Waal, Frans Bernardus Maria 1948-

DeWaal, Frans 1948-

Frans de Waal ahli biologi asal Kerajaan Belanda

Frans de Waal Dutch primatologist and ethologist

Frans de Waal etologo olandese

Frans de Waal holendersko-amerykański prymatolog i etolog

Frans de Waal Hollandalı primatolog ve etolog

Frans de Waal Nederlands bioloog

Frans de Waal niederländischer Zoologe und Verhaltensforscher

Frans de Waal primatologue néerlandais

Qaal, Frans de, 1948-

Val', Frans de.

Waal, F.B.M

Waal, F. B. M. 1948-

Waal , F. B. M. : de

Waal F. B. M. de 1948-

Waal, F. B. M. de (Frans B. M.), 1948-

Waal F. de 1948-

Waal , Franciscus Bernardus Maria : de

Waal , Frans B. M. : de

Waal Frans B. M. de 1948-....

Waal, Frans Bernardus Maria de 1948-

Waal, Frans BM de 1948-

Waal, Frans de.

Waal, Frans de 1948-

Waal, Frans de (Fransiscus Bernardus Maria), 1948-

Waal, Fransiscus Bernardus Maria de 1948-

Wall, Frans B. M. de

Вааль Ф. де 1948-

Франс де Ваал

Франс де Валь

ואהל, פרנס דה, 1948-

ואל, פרנס דה, 1948-

והל, פרנס דה, 1948-

וואהל, פרנס דה, 1948-

ול, פרנס דה, 1948-

פראנס דה ואל

فرانس د وال

فرانسیس د وال

발, F. B. M. 드 1948-

발, 프란스 드 1948-

왈, 프란스 드 1948-

후란스 드 봘

ヴァール, フランス・ドゥ

フランス・ドゥ・ヴァール

弗兰斯·德·瓦尔

弗兰斯·德瓦尔(Frans de Waal)

Languages
Covers