Clotfelter, Charles T.
Most widely held works by Charles T Clotfelter
After Brown : the rise and retreat of school desegregation
by
Charles T Clotfelter
( Book )
17 editions published between
2004
and 2011 in
English
and held by 1,284 WorldCat member libraries worldwide
The United States Supreme Court's 1954 landmark decision, Brown v. Board of Education, set into motion a process of desegregation that would eventually transform American public schools. This book provides a comprehensive and up-to-date assessment of how Brown's most visible effect--contact between students of different racial groups--has changed over the fifty years since the decision. Using both published and unpublished data on school enrollments from across the country, Charles Clotfelter uses measures of interracial contact, racial isolation, and segregation to chronicle the changes. He goes beyond previous studies by drawing on heretofore unanalyzed enrollment data covering the first decade after Brown, calculating segregation for metropolitan areas rather than just school districts, accounting for private schools, presenting recent information on segregation within schools, and measuring segregation in college enrollment. Two main conclusions emerge. First, interracial contact in American schools and colleges increased markedly over the period, with the most dramatic changes occurring in the previously segregated South. Second, despite this change, four main factors prevented even larger increases: white reluctance to accept racially mixed schools, the multiplicity of options for avoiding such schools, the willingness of local officials to accommodate the wishes of reluctant whites, and the eventual loss of will on the part of those who had been the strongest protagonists in the push for desegregation. Thus decreases in segregation within districts were partially offset by growing disparities between districts and by selected increases in private school enrollment. ... Publisher description
Federal tax policy and charitable giving
by
Charles T Clotfelter
( Book )
17 editions published in
1985
in
English
and
Undetermined
and held by 631 WorldCat member libraries worldwide
The United States is distinctive among Western countries in its reliance on nonprofit institutions to perform major social functions. This reliance is rooted in American history and is fostered by federal tax provisions for charitable giving. In this study, Charles T. Clotfelter demonstrates that changes in tax policy-effected through legislation or inflation-can have a significant impact on the level and composition of giving. Clotfelter focuses on empirical analysis of the effects of tax policy on charitable giving in four major areas: individual contributions, volunteering, corporate giving, and charitable bequests. For each area, discussions of economic theory and relevant tax law precede a review of the data and methodology used in econometric studies of charitable giving. In addition, new econometric analyses are presented, as well as empirical data on the effect of taxes on foundations. While taxes are not the most important determinant of contributions, the results of the analyses presented here suggest that charitable deductions, as well as tax rates and other aspects of the tax system, are significant factors in determining the size and distribution of charitable giving. This work is a model for policy-oriented research efforts, but it also supplies a major (and very timely) addition to the evidence that must inform future proposals for tax reform
Big-time sports in American universities
by
Charles T Clotfelter
( Book )
13 editions published between
2011
and 2013 in
English
and held by 506 WorldCat member libraries worldwide
"For almost a century, big-time college sport has been a wildly popular but consistently problematic part of American higher education. The challenges it poses to traditional academic values have been recognized from the start, but they have grown more ominous in recent decades, as cable television has become ubiquitous, commercial opportunities have proliferated and athletic budgets have ballooned. Drawing on new research findings, this book takes a fresh look at the role of commercial sports in American universities. It shows that, rather than being the inconsequential student activity that universities often imply that it is, big-time sport has become a core function of the universities that engage in it. For this reason, the book takes this function seriously and presents evidence necessary for a constructive perspective about its value. Although big-time sport surely creates worrying conflicts in values, it also brings with it some surprising positive consequences"--Provided by publisher
Economic challenges in higher education
by
Charles T Clotfelter
( Book )
20 editions published between
1991
and 2008 in
English
and
Undetermined
and held by 479 WorldCat member libraries worldwide
This book examines three issues that will have a significant influences on all institutions of higher education in the United States: (1) the growth and composition of undergraduate enrollments; (2) the supply of faculty in the academic labor market; and (3) the skyrocketing cost of operating colleges and universities. Part 1 focuses on the demand for undergraduate education, with five chapters addressing the size and significance of such demand, patterns of enrollment and completion, explanations of demand, financial aid and public policy, and implications of recent enrollment trends. Part 2 focuses on the academic labor supply, with five chapters covering projections of shortages, a stock flow model of academic labor supply, decisions to undertake and complete doctoral study and choices of sector of employment, the demographic distribution of doctorates, and policies regarding the flow of new doctorates. Part 3 focuses on costs and productivity in American colleges and universities, with four chapters exploring cost inflation, expenditures, enrollment, and costs per student over time. (Contains approximately 430 references.) (Mdm)
Studies of supply and demand in higher education
by
Charles T Clotfelter
( Book )
17 editions published between
1993
and 2008 in
English
and held by 443 WorldCat member libraries worldwide
In the United States today, there are some 3,400 separately governed colleges and universities, amounting to a higher education industry with expenditures that constitute 2.8% of the gross national product. Yet, the economic issues affecting this industry have been paid relatively little attention. In this collection of eight essays, experts in economics and education bring economic analysis to bear on such underexamined topics as the nature of competition in higher education, higher education's use of resources, and who chooses to purchase what kind of education and why. In higher education, s
Buying the best : cost escalation in elite higher education
by
Charles T Clotfelter
( Book )
14 editions published between
1996
and 2016 in
English
and held by 422 WorldCat member libraries worldwide
In Clotfelter's view spiraling costs arise from the institutions' lofty ambitions and are made possible by steadily intensifying demand for places in the country's elite colleges and universities. Only if this demand slackens will universities be pressured to make cuts or pursue efficiencies. Buying the Best is the first study to make use of the internal historical records of specific institutions, as opposed to the frequently unreliable aggregate records made available by the federal government for the use of survey researchers. As such, it has the virtue of allowing Clotfelter to draw much more realistic comparative conclusions than have hitherto been reported. While acknowledging the obvious drawbacks of the small sample, Clotfelter notes that the institutions studied are significant for the disproportionate influence they, and comparable elite institutions, exercise in research and in the training of future leaders
American universities in a global market
by
Charles T Clotfelter
( Book )
14 editions published between
2010
and 2012 in
English
and
Undetermined
and held by 276 WorldCat member libraries worldwide
International Differences in Entrepreneurship Edited by Josh Lemer and Antoinette Schoar
more
fewer
Audience Level
0

1
Kids
General
Special
Audience level: 0.32 (from 0.09 for After Brow ... to 0.73 for Public sch ...)
Related Identities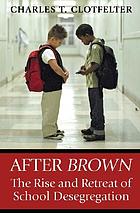 Alternative Names
Charles T. Clotfelter American economist

Charles T. Clotfelter economista estadounidense

Clotfelter, C. 1947-

Clotfelter, Charles 1947-

Clotfelter, Charles T.

Languages
Covers