Fitzpatrick, Sheila
Overview
| | |
| --- | --- |
| Works: | 94 works in 574 publications in 6 languages and 21,560 library holdings |
| Genres: | History Biography Conference papers and proceedings Bibliography Sources Biographies Records and correspondence Diaries |
| Roles: | Author, Editor, Other, Author of afterword, colophon, etc., Dedicatee, Publishing director, Publisher |
| Classifications: | DK265, 947.0841 |
Most widely held works about Sheila Fitzpatrick
Most widely held works by Sheila Fitzpatrick
The Russian Revolution
by
Sheila Fitzpatrick
( Book )
86 editions published between
1982
and 2017 in 4 languages and held by 3,310 WorldCat member libraries worldwide
This work looks at the many upheavals of the Russian Revolution as successive stages in a single process. Focusing on the Russian Revolution in its widest sense, the author covers not only the events of 1917 and what preceded them, but the nature of the social transformation brought about by the Bolsheviks after they took power. Making use of a huge amount of previously secret information in Soviet archives and unpublished memoirs, this detailed chronology recounts each monumental event from the February and October Revolutions of 1917 and the Civil War of 1918-1920, through the New Economic Policy of 1921 and the 1929 First Five-Year Plan, to Stalin's "revolution from above" at the end of the 1920s and the Great Purge of the late 1930s. This study makes comprehensible the complex events of the revolution
Everyday Stalinism : ordinary life in extraordinary times : Soviet Russia in the 1930s
by
Sheila Fitzpatrick
( )
29 editions published between
1999
and 2015 in
English
and held by 2,702 WorldCat member libraries worldwide
Here is a pioneering account of everyday life under Stalin, written by one of our foremost authorities on modern Russian history. Focusing on urban areas in the 1930s, Sheila Fitzpatrick shows that with the adoption of collectivization and the first Five-Year Plan, everyday life was utterly transformed. With the abolition of the market, shortages of food, clothing, and all kinds of consumer goods became endemic. Aspeasants fled the collectivized villages, major cities were soon in the grip of an acute housing crisis, with families jammed for decades in tiny single rooms in communal apartments, counting living space in square meters. It was a world of privation, overcrowding, endless queues, and brokenfamilies, in which the regime's promises of future socialist abundance rang hollowly. We read of a government bureaucracy that often turned everyday life into a nightmare, and of the ways that ordinary citizens tried to circumvent it, primarily by patronage and the ubiquitous system of personalconnections known as blat. And we read of the police surveillance that was endemic to this society, and the waves of terror like the Great Purges of 1937, that periodically cast this world into turmoil. Fitzpatrick illuminates the ways that Soviet city-dwellers coped with this world, examining suchdiverse activities as shopping, traveling, telling jokes, finding an apartment, getting an education, landing a job, cultivating patrons and connections, marrying and raising a family, writing complaints and denunciations, voting, and trying to steer clear of the secret police. Based on extensive research in Soviet archives only recently opened to historians, this superb book illuminates the ways ordinary people tried to live normal lives under extraordinary circumstances
Stalin's peasants : resistance and survival in the Russian village after collectivization
by
Sheila Fitzpatrick
( )
19 editions published between
1994
and 1996 in
English
and held by 2,268 WorldCat member libraries worldwide
Drawing on newly-opened Soviet archives, especially the letters of complaint and petition with which peasants deluged the Soviet authorities in the 1930s, Stalin's Peasants analyzes peasants' strategies of resistance and survival in the new world of the collectivized village. Stalin's Peasants is a story of struggle between peasants and Communists over the terms of collectivization. But it is also a story about the impact of collectivization on the internal social relations and culture of the village in the 1930s, exploring questions of authority, religious practice, feuds, denunciations, and rumors. For the first time, it is possible to see the real people behind the facade of the "Potemkin village" created by Soviet propagandists. In dramatic contrast to the official story of happy peasants clustered around a tractor and praising Stalin, Fitzpatrick portrays a village in which sullen peasants called collectivization a "second serfdom" and showed their resistance to the new order by working like serfs, that is, doing as little work on the collective farm as they could get away with. Far from naively venerating Stalin as "the good Tsar," these real-life peasants held Stalin personally responsible for collectivization and the famine, and hoped for his overthrow. Sheila Fitzpatrick's work is truly a landmark in Soviet studies - the first richly-documented social history of the 1930s, whose perspective "from below" sheds a new light on the whole relationship of Soviet state and society during (and indeed after) the Stalin period. Anyone interested in Soviet and Russian history, peasant studies, or social history will appreciate this major contribution to our understanding of life in Stalin's Russia
Stalinism : new directions
by
Sheila Fitzpatrick
( )
23 editions published between
1999
and 2006 in
English
and held by 1,862 WorldCat member libraries worldwide
Stalinism is a provocative addition to the current debates related to the history of the Stalinist period of the Soviet Union. The author has collected together the newest and most exciting work by young Russian, American and European scholars, as well as some of the seminal articles that have influenced them, in an attempt to reassess this contentious subject in the light of new data and new theoretical approaches
Tear off the masks! : identity and imposture in twentieth-century Russia
by
Sheila Fitzpatrick
( )
27 editions published between
2005
and 2011 in
English
and
Russian
and held by 1,339 WorldCat member libraries worldwide
Russia in the 20th century experienced two massive socio-political upheavals, in 1917 & again in 1991. This book examines the ways in which Russians created, discarded & disguised identities that would either advance their interests or place them at risk in the wake of these revolutions
Sedition : everyday resistance in the Soviet Union under Khrushchev and Brezhnev
by
V. A Kozlov
( )
15 editions published between
1900
and 2013 in
English
and held by 1,125 WorldCat member libraries worldwide
The attitudes of disgruntled common citizens become clear in these documents. Politically unsophisticated, unimpressed by the liberal-minded intelligentsia, resentful that Soviet goods were being exported while people at home were deprived and hungry, the everyday critics were sometimes caught in acts of "sedition." Their crimes were cursing their bosses, desecrating symbols of Soviet power, penning anonymous letters and leaflets, writing naive anti-Soviet treatises, and joining proto-political organizations. This book covers the gamut, from the death of Stalin to elections to individual and group acts of defiance. --Book Jacket
Cultural revolution in Russia, 1928-1931
by Ohio, U.S.A. Committee on research and development. Conference. 1976? U.S.A American Association For The Advancement Of Slavic Studies. Columbus
( Book )
21 editions published between
1978
and 1990 in
English
and
Undetermined
and held by 985 WorldCat member libraries worldwide
The cultural front : power and culture in revolutionary Russia
by
Sheila Fitzpatrick
( Book )
17 editions published in
1992
in
English
and held by 926 WorldCat member libraries worldwide
Annotation When Lenin asked, "Who will beat whom?" (Kto kogo?), he had no plan to wage revolutionary class war in culture. Many young Communists thought differently, however. Seeking in the name of the proletariat to wrest "cultural hegemony" from the intelligentsia, they turned culture into a battlefield in the 1920s. But was this, as Communist militants thought, a genuine class struggle between "proletarian" Communists and the "bourgeois" intelligentsia? Or was it, as the intelligentsia believed, an onslaught by the ruling Communist Party on the eternal principles of cultural autonomy and intellectual freedom? In this volume, one of the foremost historians of the Soviet Union chronicles the fierce battle on "the cultural front" from the October Revolution through the Stalinist 1930s. Sheila Fitzpatrick brings together ten of her essays - two previously unpublished and all revised for inclusion here - which illuminate key arenas of the prolonged struggle over cultural values and institutional control. Individual essays deal with such major issues as the Cultural Revolution, the formation of the new Stalinist elite, and socialist realism, as well as recounting colorful episodes including the uproar over Shostakovich's opera Lady Macbeth of the Mtsensk District, arguments over sexual mores, and the new consumerism of the 1930s. Closely examining the cultural elites and orthodoxies that developed under Stalin, Fitzpatrick offers a provocative reinterpretation of the struggle's final outcome in which the intelligentsia, despite its loss of autonomy and the debasement of its culture, emerged as a partial victor. The Cultural Front is essential reading for anyone interested in the formative history of the Soviet Union and the dynamic relationship between culture and politics
On Stalin's team : the years of living dangerously in Soviet politics
by
Sheila Fitzpatrick
( Book )
28 editions published between
2014
and 2018 in
English
and
French
and held by 884 WorldCat member libraries worldwide
"Stalin was the unchallenged dictator of the Soviet Union for so long that most historians have dismissed the officials surrounding him as mere yes-men and political window dressing. On Stalin's Team overturns this view, revealing that behind Stalin were a group of loyal men who formed a remarkably effective team with him from the late 1920s until his death in 1953. Drawing on extensive original research, Sheila Fitzpatrick provides the first in-depth account of this inner circle and their families, vividly describing how these dedicated comrades-in-arms not only worked closely with Stalin, whom they both feared and admired, but also constituted his social circle. Readers meet the wily security chief Beria, whom the rest of the team quickly had executed following Stalin's death; Stalin's number-two man, Molotov, who continued on the team even after his wife was arrested and exiled; the charismatic Ordzhonikidze, who ran the country's industry with entrepreneurial flair; Andreev, who traveled to provincial purges while listening to Beethoven on a portable gramophone; and Khrushchev, who finally disbanded the team four years after Stalin's death. Among the book's surprising findings is that Stalin almost always worked with the team on important issues, and after his death the team managed a brilliant transition to a reforming collective leadership. Taking readers from the cataclysms of the Great Purges and World War II to the paranoia of Stalin's final years, On Stalin's Team paints an entirely new picture of Stalin within his milieu--one that transforms our understanding of how the Soviet Union was ruled during much of its existence"--
In the shadow of revolution : life stories of Russian women from 1917 to the second World War
( Book )
14 editions published between
2000
and 2018 in
English
and held by 793 WorldCat member libraries worldwide
Asked shortly after the revolution about how she viewed the new government, Tatiana Varsher replied, "With the wide-open eyes of a historian." Her countrywoman, Zinaida Zhemchuzhnaia, expressed a similar need to take note: "I want to write about the way those events were perceived and reflected in the humble and distant corner of Russia that was the Cossack town of Korenovskaia." What these women witnessed and experienced, and what they were moved to describe, is part of the extraordinary portrait of life in revolutionary Russia presented in this book. A collection of life stories of Russian women in the first half of the twentieth century, In the Shadow of Revolution brings together the testimony of Soviet citizens and migrs, intellectuals of aristocratic birth and Soviet milkmaids, housewives and engineers, Bolshevik activists and dedicated opponents of the Soviet regime. In literary memoirs, oral interviews, personal dossiers, public speeches, and letters to the editor, these women document their diverse experience of the upheavals that reshaped Russia in the first half of this century. As is characteristic of twentieth-century Russian women's autobiographies, these life stories take their structure not so much from private events like childbirth or marriage as from great public events. Accordingly the collection is structured around the events these women see as touchstones: the Revolution of 1917 and the Civil War of 1918-20; the switch to the New Economic Policy in the 1920s and collectivization; and the Stalinist society of the 1930s, including the Great Terror. Edited by two preeminent historians of Russia and the Soviet Union, the volume includes introductions that investigate the social historical context of these women's lives as well as the structure of their autobiographical narratives
more
fewer
Audience Level
0

1
Kids
General
Special
Audience level: 0.29 (from 0.05 for Stalinism ... to 0.70 for Mischka's ...)
Associated Subjects
Agriculture and state
Australian students
City and town life
Cold War (1945-1989)
Collectivization of agriculture
Communism
Denunciation (Canon law)
Denunciation (Criminal law)
Dissenters
Economic policy
Education
Europe
Evidence, Criminal
Fitzpatrick, Sheila
Friendship
German Occupation of Latvia (1941-1944)
Germany
Government, Resistance to
Group identity
Historiography
Human rights
Influence (Literary, artistic, etc.)
Intellectual life
Latvia
Lunacharsky, Anatoly Vasilievich,
Political culture
Politicians
Politics and government
Propaganda, Anti-Soviet
Refugees
Revolution (Soviet Union : 1917-1921)
Rural conditions
Russia (Federation)
Russia (Federation)--Moscow
Russian S.F.S.R.--Narodnyĭ komissariat prosveshchenii︠a︡
School management and organization
Social classes
Social conditions
Social history--Archival resources
Social history--Historiography
Social history--Sources
Social mobility
Sovietologists
Soviet Union
Stalin, Joseph,
Totalitarianism
Travel
United States
Women
World War (1939-1945)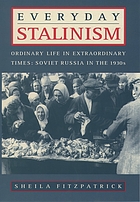 Covers
Alternative Names
Ficpatrik, Šejla

Ficpatrik, Šejla 1941-

Fit︠s︡patrik, Sheĭla

Fitzpatrick Hugh, Sheila.

Fitzpatrick, Sheila Hough-

Fitzpatrick Sheila Mary

Fitzpatrick, Sheila Mary 1941-

Hough Sheila Fitzpatrick

Hough, Sheila Fitzpatrick 1941-

Hugh, Sheila Fitzpatrick.

Sheila Fitzpatrick Amerikaans historica

Sheila Fitzpatrick amerikansk historikar

Sheila Fitzpatrick amerikansk historiker

Sheila Fitzpatrick Austraalia ja Ameerika Ühendriikide ajaloolane

Sheila Fitzpatrick historiadora estadounidense

Sheila Fitzpatrick historienne américaine

Sheila Fitzpatrick US-amerikanische Historikerin

Sheila Fitzpatrick usona historiisto

Фицпатрик Ш.

Фицпатрик Шейла

Фицпатрик, Шейла 1941-

피츠패트릭, 쉴라 1941-

シェイラ・フィッツパトリック

シェイラ・フィッツパトリック‏ 1941-

希拉·菲茨帕特裡克

Languages