Bello, Walden F.
Most widely held works about Walden F Bello
Most widely held works by Walden F Bello
Dark victory : the United States, structural adjustment, and global poverty
by
Walden F Bello
( Book )
34 editions published between
1993
and 1999 in
English
and
Undetermined
and held by 1,531 WorldCat member libraries worldwide
"As we enter the 21st century, many countries of the South are in a state of economic crisis, with once optimistic visions of the future cruelly dashed by rising mass poverty, inequality, and hunger. At the same time, working people in the North find their living standards declining. Dark Victory reveals the roots of these global trends in a sweeping strategy of global economic rollback unleashed by the U.S. to shore up the North's domination of the international economy and reassert corporate control
Deglobalization : ideas for a new world economy
by
Walden F Bello
( )
68 editions published between
2000
and 2014 in 3 languages and held by 1,362 WorldCat member libraries worldwide
"How to manage the world economy - and, more fundamentally, whether humanity wishes it to go in an ever more market-oriented, transnational corporation-dominated and capital-footloose direction - is the most important international question of our time. In this short and trenchant history of those bodies - the World Bank, IMF, WTO and Group of Seven - which have promoted this economic globalization, Walden Bello points to their manifest failings; examines the major new ideas put forward for reforming the management of the world economy; and argues for a much more fundamental shift towards a decentralized, pluralistic system of global economic governance allowing countries to follow development strategies sensitive to their own values and particular mix of constraints and opportunities."--Jacket
Capitalism's last stand? : deglobalization in the age of austerity
by
Walden F Bello
( )
15 editions published in
2013
in
English
and held by 1,231 WorldCat member libraries worldwide
In this eye-opening and often scathing book, Walden Bello provides a forensic dissection of contemporary capitalism's multiple crises. Trenchant but constructive, Bello's analysis of the collapse of the global real economy - covering such issues as the Wall Street meltdown, the disintegration of the Greek economy and the rise of China - emphasizes the ever more pressing need to engage in a radical process of 'deglobalization' towards a decentralized, pluralistic world system. Only then will we be able to construct a fairer and more equitable society
Asia's new battlefield : the USA, China and the struggle for the Western Pacific
by
Richard Javad Heydarian
( )
6 editions published in
2015
in
English
and
Undetermined
and held by 1,172 WorldCat member libraries worldwide
Offers a guide to understanding the evolution of maritime territorial disputes in East Asia, exploring their legal, political-security and economic dimensions against the backdrop of a brewing Sino-American struggle for hegemony. Heydarian shows how the pivotal relationship between the USA and China has been central to prosperity and stability in the Asia-Pacific. He also examines the ways that 'small' and 'middle' powers have shaped the trajectory of tensions in the region--tensions which could ignite an international war and re-configure the global order. --From publisher description
The food wars
by
Walden F Bello
( Book )
17 editions published between
2009
and 2012 in 5 languages and held by 764 WorldCat member libraries worldwide
Walden Bello traces the evolution of the violent protests across the global South, in response to rocketing food prices, that highlighted a flaw in the modern system of world trade. This book speaks out against the obscene imbalance in the most basic commodities between northern and southern hemispheres
Paper dragons : China and the next crash
by
Walden F Bello
( )
7 editions published between
2019
and 2021 in
English
and
Undetermined
and held by 721 WorldCat member libraries worldwide
Emerging relatively unscathed from the banking crisis of 2008, China has been viewed as a model of both rampant success and fiscal stability. But beneath the surface lies a network of fissures that look likely to erupt into the next big financial crash. A bloated real-estate sector, roller-coaster stock market, and rapidly growing shadow-banking sector have all coalesced to create a perfect storm: one that is in danger of taking the rest of the world's economy with it. Walden Bello traces our recent history of financial crises - from the bursting of Japan's `bubble economy' in 1990 to Wall Street in 2008 - taking in their political and human ramifications such as rising inequality and environmental degradation. He not only predicts that China might be the site of the next crash, but that under neoliberalism this will simply keep happening. The only way that we can stop this cycle, Bello argues, is through a fundamental change in the ways that we organise: a shift to cooperative enterprise, respectful of the environment, and which fractures the twin legacies of imperialism and capitalism. Insightful, erudite and passionate, Paper Dragons is a must-read for anyone wishing to prevent the next financial meltdown
Dilemmas of domination : the unmaking of the American empire
by
Walden F Bello
( Book )
15 editions published between
2004
and 2005 in
English
and held by 517 WorldCat member libraries worldwide
"Walden Bello punctures the myth of America's invincibility, revealing its carefully concealed contradictions. He shows how, despite the enormity of the U.S. defense budget, American forces are critically overextended - a condition bound to intensify as each local "victory" breeds simmering resistance and new confrontations elsewhere. He points to the empire's looming economic breakdown, the result of its gargantuan military costs, record-breaking deficits, and exploitative trade and investment relations with developing countries. On the political front, he warns of the disillusionment mounting around the world in response to America's failure to champion liberal democracy. Everywhere America goes, crony capitalism, gross inequalities in income, and the hostile coercion of foreign peoples undermine its pretenses of justice and inclusion, leaving embittered - and often violently vengeful - populations in its wake."--Jacket
Dragons in distress : Asia's miracle economies in crisis
by
Walden F Bello
( Book )
29 editions published between
1990
and 1992 in
English
and
Undetermined
and held by 490 WorldCat member libraries worldwide
Challenging the prevailing wisdom of Asia's "miracle economies", this book argues that South Korea, Taiwan and Singapore are headed for crisis. The authors lead their readers on an exploration of the different dimensions of this crisis and suggest strategies to surmount the unfolding crisis
The future in the balance : essays on globalization and resistance
by
Walden F Bello
( Book )
15 editions published between
2001
and 2002 in
English
and held by 457 WorldCat member libraries worldwide
The author examines the role of the World Trade Organization, the International Monetary Fund, and the World Bank in the Third World
A Siamese tragedy : development and disintegration in modern Thailand
by
Walden F Bello
( Book )
16 editions published in
1998
in
English
and held by 441 WorldCat member libraries worldwide
"Thailand has come to be known as the Fifth Tiger. With the Asian economic collapse of 1997-1998, this book poses the central question: Is this merely a short term crisis or is there a real prospect of Thailand being pushed back into Third World status? The International Monetary Fund has intervened with an irrelevant, indeed damaging policy package that promises to determine the outcome." "A Siamese Tragedy argues that, even before the collapse, the Thai economy had feet of clay. Walden Bello and his co-authors show how vested interests, local and international, propelled the Thai people down a particular path which is unsustainable in terms of human exploitation, social disruption, ecological damage and economic fragility. Thailand, like rest of the world, needs to rethink the fundamentals of its economic model."--Jacket
more
fewer
Audience Level
0

1
Kids
General
Special
Audience level: 0.32 (from 0.00 for Food and f ... to 0.94 for Modernizat ...)
Related Identities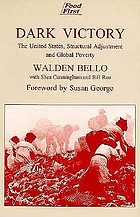 Covers
Alternative Names
Bello, W.

Bello, W. F.

Bello, Walden.

Bello, Walden 1945-

Bello, Walden F.

Bello, Walden F. 1945-

Bēnlō, Wō̜ndēn

Bēnlō, Wōndēn 1945-

Walden Bello Filipijns schrijver

Walden Bello homme politique philippin

Walden Bello philippinischer Soziologe, Professor für Soziologie und Globalisierungskritiker

Walden Bello polaiteoir Filipíneach

Walden Bello político filipino

Walden Bello sociologo, politico e ambientalista filippino

Уолден Белло

וולדן בלו פוליטיקאי פיליפיני

والدن بلو

والدن بلّو، 1945-

والدن بيلو

والدن بيلو سياسي فلبيني

வால்டன் பெல்லோ

เบลโล, วอลเดน

벨로, 왈던 1945-

벨로, 왈던 F. 1945-

벨로, 월든 F. 1945-

벨로우, 왈던 1945-

ウォールデン・ベロ

ベリョ, ワルデン

ベロー, ウォルデン

瓦爾登·貝約

Languages