Heilman, Samuel C.
Most widely held works about Samuel C Heilman
Most widely held works by Samuel C Heilman
Synagogue life : a study in symbolic interaction
by
Samuel C Heilman
( Book )
28 editions published between
1976
and 2017 in
English
and
Undetermined
and held by 859 WorldCat member libraries worldwide
"Via a participant-observer approach, Synagogue Life analyzes the three essential dimensions of synagogue life: the houses of prayer, study, and assembly. In each Heilman documents the rich detail of the synagogue experience while articulating the social and cultural drama inherent in them. He illustrates how people come to the synagogue not only for spiritual purposes but also to find out where and how they fit into life in the neighborhood in which they share. In his new introduction, Heilman discusses what led him to write this book and the process of personal transformation through which he, as an Orthodox Jew, had to go in order to turn a disciplined eye on the world from which he came. Rather than using the stranger-as-native approach of classic anthropology, he had instead to begin as a native who discoverd how to look at a once-taken-for-granted synagogue life like a stranger. In the afterword, arguing for the efficacy of this approach, Heilman offers guidance on how natives can use their special familiarity and still be trained to distance themselves from their own group, making use of the disciplines of sociology and anthropology. Synagogue Life offers a fascinating portrait that has something to say to social scientists as well as all those curious about what happens in the main arena of Orthodox Jewish community life."--Provided by publisher
The people of the book : drama, fellowship, and religion
by
Samuel C Heilman
( Book )
24 editions published between
1983
and 2017 in
English
and held by 579 WorldCat member libraries worldwide
"Judaism has long derived its identity from its sacred books. The book or scroll--rather than the image or idol--has been emblematic of Jewish faith and tradition. The People of the Book presents a study of a group of Orthodox Jews, all of whom live in the modern world, engaged in the time-honored practice of lernen, the repeated review and ritualized study of the sacred texts. In preserving one of the activities of Jewish life, Samuel C. Heilman argues, these are the genuine -People of the Book.- For two years, Heilman participated in and observed five study circles in New York and Jerusalem engaged in the avocation of lernen the Talmud, the great corpus of Jewish law, lore, and tradition. These groups, made up of men who felt the ritualized study of sacred texts to be not only a religious obligation but also an appealing way to spend their evenings, weekends, and holidays, assembled together under the guidance of a teacher to review the holy books of their people. Having become part of this world, the author is able to provide first-hand observation of the workings of the study circle. Heilman's study moves beyond the merely descriptive into an analysis of the nature and meaning of activity he observed. To explain the character and appeal of the study groups, he employs three concepts: drama, fellowship, and religion. Inherent to the life of the study circle are various sorts of drama: -social dramas- playing out social relationships, -cultural performances- reenacting the Jewish world view, and -interactional dramas- and -word plays- involving the intricacies of the recitation and translation process. This book will be of interest to anthropologists and those interested in the academic study of religion."--Provided by publisher
Portrait of American Jews : the last half of the 20th century
by
Samuel C Heilman
( Book )
17 editions published between
1995
and 2014 in
English
and held by 520 WorldCat member libraries worldwide
The second half of the twenthieth century has been a time when American Jews have experienced a minimum of prejudice and almost all domains of life have been accessible to them, but it has also been a time of assimilation, of swelling rates of inter-marriage, and of large numbers ignoring their Jewishness completely. Jews have no trouble building synagogues, but they have all sorts of trouble filling them. The quality of Jewish education is perhapes higher than ever before, and the output of Jewish scholarship is overwhelming in its scope and quality, but most American Jews receive a minimum of religious education and can neither read nor comprehend the great corpus of Jewish literature in its Hebrew (or Aramaic) original. This is a time in America when there is no shame in being a Jew, and yet fewer American Jews seem to know what being a Jew means. This book is part of a stocktaking that has been occurring among Jews as the century in which their residence in America was firmly established comes to an end. Grounded in empirical detail, it provides a concise yet analytic evaluation of the meaning of the many studies and surveys of the last four and a half decades. All those who want to know what it means and has meant to be an American Jew will find this volume of interest
When a Jew dies : the ethnography of a bereaved son
by
Samuel C Heilman
( Book )
9 editions published in
2001
in
English
and held by 509 WorldCat member libraries worldwide
"Samuel Heilman's eloquent account of the traditional customs that are put into practice when a Jewish person dies provides both an informative anthropological perspective on Jewish rites of mourning and a moving chronicle of the loss of his own father. This unique narrative crosses and recrosses the boundary between the academic and the religious, the personal and the general, reflecting Heilman's changing roles as social scientist, bereaved son, and observant Jew. Not only describing but explaining the cultural meaning behind Jewish practices and traditions, this extraordinary book shows what is particular and what is universal about Jewish experiences of death, bereavement, mourning, and their aftermath."--Jacket
The Rebbe : the life and afterlife of Menachem Mendel Schneerson
by
Samuel C Heilman
( Book )
14 editions published between
2010
and 2012 in
English
and
Undetermined
and held by 455 WorldCat member libraries worldwide
A biography of Rabbi Menachem Mendel Schneerson that discusses his childhood in Russia, education in Germany and Paris, messianic conviction, religious leadership, legacy, and other related topics
Sliding to the right : the contest for the future of American Jewish Orthodoxy
by
Samuel C Heilman
( Book )
7 editions published between
2006
and 2007 in
English
and held by 369 WorldCat member libraries worldwide
Offering a snapshot of Orthodoxy Jewry in the United States, this book asks how the community has evolved in the years since World War II, and where it is headed. Incorporating everyday life, observations of cultural practices, descriptions of educational institutions, and more, it presents the varieties of Jewish Orthodox groups
A Life Apart : Hasidism in America
( Visual )
3 editions published between
2000
and 2001 in
English
and held by 324 WorldCat member libraries worldwide
A life apart relates the story of the creation of the Hasidic post-Holocaust communities in the United States
Death, bereavement, and mourning
by
Samuel C Heilman
( Book )
3 editions published between
2005
and 2017 in
English
and held by 210 WorldCat member libraries worldwide
"An encounter with the death of another is often an occasion when the bereaved need to be sustained in their loss, relieved of the anxiety that the meeting with death engenders, and comforted in their grief. It is a time when those left behind often seek to redress wrongs in themselves or in the relationships that death has shaken and upset. In both collective and individual responses to the trauma of encountering death, we witness efforts to counter the misfortune and to explain the meaning of the loss, to turn memory into blessing, to reconcile life with death, to regenerate life, and redeem both the bereaved and the dead.Sometimes loss may transform the bereaved in ways that lead to growth and maturity; other times a loss leads to unremitting anger or melancholia. There may be a variety of spiritual expressions that the bereaved experience in their time of loss, but there appears to be some common elements in all of them. Overtime, survivors' feelings are transformed into growing exploration of the spiritual, a profound sense of rebirth, newfound feelings of self-mastery or confidence, and a deeply held conviction that "life goes on."The contributions to this volume are based on a conference held in New York on the first anniversary of September 11, 2001. Contributors include Peter Metcalf, Robert Jay Lifton, Ilana Harlow, Robert A. Neimeyer, Samuel Heilman, and Neil Gillman. This sensitive and heartfelt volume relates specifically to issues of death, bereavement, and mourning in the aftermath of the attack on the World Trade Center, but the applications to other individual and catastrophic events is obvious. The contributions do not simply explore how people deal with bereavement or are psychologically affected by extreme grief: they address how people can try to find meaning in tragedy and loss, and strive to help restore order in the wake of chaos. The multidisciplinary perspectives include those of anthropology, psychology, theology, social work, and art."--Provided by publisher
more
fewer
Audience Level
0

1
Kids
General
Special
Audience level: 0.37 (from 0.07 for The Rebbe ... to 0.89 for A sociolog ...)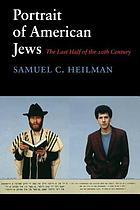 Alternative Names
Heilman, Samuel.

Heilman, Samuel 1946-

Heilman, Samuel C. 1946-

Samuel Heilman American sociologist

Samuel Heilman sociólogo estadounidense

הילמן, שמואל

Languages
Covers