Evans, C. Stephen
Most widely held works about C. Stephen Evans
Most widely held works by C. Stephen Evans
The historical Christ and the Jesus of faith : the incarnational narrative as history
by
C. Stephen Evans
( Book )
20 editions published between
1996
and 2004 in
English
and
Undetermined
and held by 654 WorldCat member libraries worldwide
The New Testament contains a story about Jesus of Nazareth which has always been understood by the Church to be historically true. It is an account of the life, death, and resurrection of a real person, whose links with history are firmly signalled in the creeds of the early church. Contemporary historical scholarship, on the other hand, has called into question the reliability of the church's version of this story, and thereby raised the question as to whether ordinary people can know its historical truth. In this book, a leading philosopher of religion argues that the historicity of the story still matters, and that its religious significance cannot be captured by the category of "non-historical myth." The commonly drawn distinction between the Christ of faith and the Jesus of history cannot be maintained. The Christ who is the object of faith must be seen as historical; the Jesus who is reconstructed by historical scholarship is always shaped by commitments to faith. Evans looks carefully at contemporary New Testament studies, and the philosophical and literary assumptions upon which it rests, to show that this scholarship does not undermine the confidence of lay people who believe that they can know that the church's story about Jesus is true. His accessible and controversial study will interest all thoughtful Christian readers. -- Publisher description
Kierkegaard : an introduction
by
C. Stephen Evans
( Book )
11 editions published between
2009
and 2010 in
English
and
Undetermined
and held by 606 WorldCat member libraries worldwide
C. Stephen Evans provides an introduction to Søren Kierkegaard (1813-55) as a philosopher and thinker. His book is organized around Kierkegaard's concept of the three 'stages' or 'spheres' of human existence, which provide both a developmental account of the human self and an understanding of three rival views of human life and its meaning. Evans also discusses such important Kierkegaardian concepts as 'indirect communication', 'truth as subjectivity', and the Incarnation understood as 'the Absolute Paradox'. Although his discussion emphasises the importance of Christianity for understanding Kierkgaard, it shows him to be a writer of great interest to a secular as well as a religious audience. --From publisher's description
Philosophy of religion : thinking about faith
by
C. Stephen Evans
( Book )
21 editions published between
1982
and 2009 in
English
and held by 563 WorldCat member libraries worldwide
Is there a God? How can we know? What can we know about God? These questions are the focal points of the philosophy of religion. C. Stephen Evans wrestles with these issues, looking at the classical arguments for God's existence and examining the contemporary challenges to theism from sociology, psychology, and philosophy. He investigates the meaning and significance of personal religious experience, revelation and miracles, and looks at how religious pluralism relates to individual commitment. Evans (Ph. D., Yale) is curator of the Howard and Edna Hong Kierkegaard Library and associate professor of philosophy at St. Olaf College. Along with editing the Contours of Christian Philosophy series, he has written several books, including Subjectivity and Religious Belief
Passionate reason : making sense of Kierkegaard's Philosophical fragments
by
C. Stephen Evans
( Book )
12 editions published in
1992
in
English
and
Undetermined
and held by 493 WorldCat member libraries worldwide
Johannes Climacus, Soren Kierkegaard's pseudonymous author of Philosophical Fragments, "invents" a religion suspiciously resembling Christianity as an alternative to the assumption that humans possess the Truth within themselves. Through this literary device, Climacus raises in a fresh and audacious way age-old questions about the relation of Christian faith to human reason. Is the idea of a human incarnation of God logically coherent? Is religious faith the product of a voluntary choice? In a comprehensive discussion of one of Kierkegaard's most important books, C. Stephen Evans elucidates Kierkegaard's novel explanation that the tension between faith and reason must be understood as a consequence of the passionate character of reason itself. Passionate Reason situates Kierkegaard's philosophy in the context of postmodern religious thought, providing a contemporary reading of Fragments as a challenge to both the modern Enlightenment critique of reason and the postmodern abandonment of truth
Subjectivity and religious belief : an historical, critical study
by
C. Stephen Evans
( Book )
16 editions published between
1978
and 2004 in
English
and
Undetermined
and held by 485 WorldCat member libraries worldwide
Immanuel Kant, Soren Kierkegaard, and William James- three diverse philosophers from three different eras- have followed a similar route of non-theoretical justification of belief. This position states that there is no theoretical knowledge, positive or negative, of divine existence. The defense of religious belief, therefore, must be related to pervasive features of practical human existence; in other words, it must be subjective. While giving amble attention to the differences among these three philosophers, C. Stephen Evans finds and examines a common structure to all their arguments. This structure includes a theoretical skepticism about the existence of God, a repudiation of a neutral attitude on this question, and a deliberate shift of this question from theoretical reason to practical reason
Fear and trembling ; Repetition
by
Søren Kierkegaard
( Book )
10 editions published between
2006
and 2011 in
English
and held by 368 WorldCat member libraries worldwide
In this rich and resonant work, Soren Kierkegaard reflects poetically and philosophically on the biblical story of God's command to Abraham, that he sacrifice his son Isaac as a test of faith. Was Abraham's proposed action morally and religiously justified or murder? Is there an absolute duty to God? Was Abraham justified in remaining silent? In pondering these questions, Kierkegaard presents faith as a paradox that cannot be understood by reason and conventional morality, and he challenges the universalist ethics and immanental philosophy of modern German idealism, especially as represented by Kant and Hegel. This volume presents the first new English translation for twenty years, by Sylvia Walsh, together with an introduction by C. Stephen Evans which examines the ethical and religious issues raised by the text
Kierkegaard's ethic of love : divine commands and moral obligations
by
C. Stephen Evans
( Book )
20 editions published between
2004
and 2008 in
English
and held by 357 WorldCat member libraries worldwide
"C. Stephen Evans interprets Kierkegaard as presenting a form of divine command theory of moral obligation, similar to accounts developed by Robert Adams and Philip Quinn. The account understands the relation humans have with a loving God as making possible the greatest human good, and as creating those unique obligations we designate as moral. God's commands should be obeyed, not because of fear of divine punishment, but out of love and gratitude for the good that God has bestowed on humans in creating them and giving them eternal life with God as their intended destiny."
Preserving the person : a look at the human sciences
by
C. Stephen Evans
( Book )
9 editions published between
1977
and 2002 in
English
and held by 332 WorldCat member libraries worldwide
The human quest for self-understanding is ancient. It transcends the boundaries between ordinary folk and philosophers and it overlaps with many academic disciplines, including psychology, sociology, philosophy and theology. Actually, the quest is not essentially academic; it is a human quest, pursued by persons in every age. With this in mind, philosopher C. Stephen Evans takes a look at the human sciences and their contribution to this self-understanding. Evans first presents a basic problem in these sciences today: the attack on the concept of personhood. He reviews the contemporary understanding of mind and brain: Is a person only a thinking machine or a programmed organism? --From publisher's description
more
fewer
Audience Level
0

1
Kids
General
Special
Audience level: 0.32 (from 0.02 for Kierkegaar ... to 0.56 for Kierkegaar ...)
Associated Subjects
Abraham--(Biblical patriarch)
Absurd (Philosophy)
Apologetics
Atonement--Biblical teaching
Authority--Religious aspects
Bible.--Genesis
Bible.--Gospels
Christianity--Philosophy
Christology
Divine commands (Ethics)
Ethics
Ethics, Modern
Faith
Faith and reason--Christianity
Faith--History of doctrines
Frygt og bæven (Kierkegaard, Søren)
God
Historicity of Jesus Christ
Incarnation
Incarnation--Biblical teaching
Isaac--(Biblical patriarch)
James, William,
Jesus Christ
Jewish ethics
Kærlighedens gerninger (Kierkegaard, Søren)
Kant, Immanuel,
Kierkegaard, Søren,
Knowledge, Theory of (Religion)
Love--Religious aspects--Christianity
Mystery
Natures of Jesus Christ
Paradox
Personalism
Philosophical anthropology
Philosophical theology
Philosophiske smuler (Kierkegaard, Søren)
Philosophy, Modern
Political science--Philosophy
Religion
Religion and ethics
Religion--Philosophy
Repetition (Philosophy)
Sacrifice of Isaac
Sefer Yeẓirah
Self (Philosophy)
Sin
Sin--Christianity
Subjectivity--Religious aspects
Theism
Theology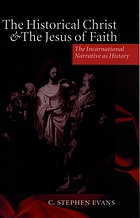 Alternative Names
Charles Stephen Evans

Evans, C. S. 1948-

Evans, C. Stephen

Evans C. Stephen 1948-....

Evans, Charles Stephen

Evans, Charles Stephen 1948-

Evans, Stephen

에반스, C. 스티븐

에반스, 스티븐

エヴァンス, C.S.

史提芬·伊宏思

Languages
Covers