Fantham, Elaine
Overview
| | |
| --- | --- |
| Works: | 215 works in 737 publications in 5 languages and 20,131 library holdings |
| Genres: | Poetry Georgics History Criticism, interpretation, etc Sources Records and correspondence Encyclopedias Biography Pastoral poetry Sayings |
| Roles: | Author, Translator, Editor, Honoree, Author of introduction, Contributor, Other, Annotator, Commentator |
| Classifications: | PA6807.G4, 873.01 |
Most widely held works by Elaine Fantham
Women in the classical world : image and text
by
Elaine Fantham
( Book )
32 editions published between
1994
and 2007 in
English
and
Greek, Modern
and held by 2,828 WorldCat member libraries worldwide
Information about women is scattered throughout the fragmented mosaic of ancient history. The vivid poetry of Sappho survived antiquity on remnants of damaged papyrus, riddled with gaps. The inscription on a beautiful fourth century B.C.E. grave praises the virtues of Mnesarete, an Athenian woman who died young, but we do not know if the grave's marble stele shows Mnesarete, or simply a ready-made design chosen by her family. We read that on one occasion in the fourth century a great number of Roman wives were given a collective public trial and found guilty of poisoning their husbands, but we can only guess whether these "poisonings" were invented, or were linked to a high occurrence of accidental food poisoning, or to something more sinister. Apart from the legends of Cleopatra, Dido, and Lucretia, and images of graceful maidens dancing on urns, the evidence about the lives of women of the classical world - visual, archaeological, and written - has remained little known and little understood. Now, the lavishly illustrated and meticulously researched Women in the Classical World lifts the curtain on the women of ancient Greece and Rome, from slaves and prostitutes, to Athenian housewives, to Rome's imperial family. The first book on classical women to give equal weight to written texts and artistic representations, it brings together a great wealth of materials - poetry, vase painting, legislation, medical treatises, architecture, religion and funerary art, women's ornaments, historical epics, political speeches, even ancient coins - to present women in the historical and cultural context of their time. Written by leading experts in the fields of ancient history and art history, women's studies, and Greek and Roman literature, the book's chronological arrangement allows the changing roles of women to unfold over a thousand year period, beginning in the eighth century B.C.E. The authors seek out and present ancient literature that preserves women's own voices. Both the art and the literature highlight women's creativity, sexuality and coming of age, marriage and child rearing, religious and public roles, and other themes. Fascinating chapters probe revealing aspects of the classical world: the ubiquitous reports of wild behavior on the part of Spartan and Etruscan women and the mythical Amazons; the changing views of the female body presented in male-authored gynecological treatises; the political and financial activities of women from all over Rome's empire; and the traces of upper and lower-class life in Pompeii, miraculously preserved by the eruption of Mount Vesuvius in 79 C.E. Provocative, surprising, filled with examples of the rich legacy of classical art, Women in the Classical World is a masterly foray into the past, and an important statement on the lives of women in ancient Greece and Rome
Ovid's Metamorphoses
by
Elaine Fantham
( )
12 editions published in
2004
in
English
and held by 1,424 WorldCat member libraries worldwide
This introduction to Ovid's Metamorphoses considers how Ovid defined and shaped his narrative, its cultural context, and its vivid depictions of the cruelty of jealous gods, the pathos of human love, and the imaginative fantasy of flight, monsters, magicand illusion
Letters from a Stoic : Epistulae morales ad Lucilium
by
Lucius Annaeus Seneca
( )
12 editions published in
2010
in
English
and held by 1,394 WorldCat member libraries worldwide
"The letters written by the Stoic philosopher and tragedian Seneca to his friend Lucilius are in effect moral essays, whose purpose is to reinforce Lucilius' struggle to achieve wisdom and serenity, uninfluenced by worldly emotions. Seneca advises his friend on how to do without what is superfluous, whether on the subject of happiness, riches, reputation, or the emotions. The letters include literary critical discussions, moral exhortation, exemplary heroes and episodes from Roman history, and a lurid picture of contemporary luxury. We learn about Seneca's household and estates and about life in the time of Nero; the topic of death is never far away."--Pub. desc
Roman readings : Roman response to Greek literature from Plautus to Statius and Quintilian
by
Elaine Fantham
( )
20 editions published between
2010
and 2011 in
English
and
German
and held by 1,364 WorldCat member libraries worldwide
This volume presents closely connected articles by Elaine Fantham, which deal with Roman responses to Greek literature on three major subjects: the history and criticism of Latin poetry and rhetoric, women in Roman life and dramatic poetry and the poetic representation of children in relation to their mothers and teachers. The volume discusses among others texts by Plautus, Terence, Cicero, Quintilian, Gellius and Ovid
Latin poets and Italian gods
by
Elaine Fantham
( )
13 editions published between
2000
and 2016 in
English
and held by 1,202 WorldCat member libraries worldwide
"Based on Elaine Fantham's 2004 Robson lectures, Latin Poets and Italian Gods reconstructs the response of Roman poets in the late republic and Augustan age to the rural cults of central Italy. Study of Roman gods is often limited to the grand equivalents of the Olympian Greek deities such as Jupiter, Mars, and Juno. However, real-life Italians gave a lot of their affection and loyalty to humbler gods with no Greek equivalent: local nymphs who supplied healing waters, the great Tiber river and other lesser rivers, the lusty garden god Priapus, and more
Apophthegmata
by
Desiderius Erasmus
( )
15 editions published between
2014
and 2015 in
English
and
Undetermined
and held by 1,126 WorldCat member libraries worldwide
"Assembled for the young Prince William of Cleves, Erasmus' Apophthegmata consists of thousands of sayings and anecdotes collected from Greek and Latin literature for the moral education of the future ruler. Betty I. Knott and Elaine Fantham's annotated translation of the aphorisms and Erasmus' commentary on them makes this once popular literary and educational text accessible to modern audiences. The introduction discusses the origins of the Apophthegmata, the contents of the collection, and Erasmus' sources."--pub. desc
The Roman world of Cicero's De oratore
by
Elaine Fantham
( )
28 editions published between
2004
and 2010 in
English
and held by 1,124 WorldCat member libraries worldwide
"The Roman World of Cicero's De Oratore aims to provide an accessible study of Cicero's first and fullest dialogue on the ideal orator-statesman. It illustrates the dialogue's achievement as a reflection of a civilized way of life and a brilliantly constructed literary unity, and considers the contribution made by Cicero's recommendations to the development of rhetoric and higher education at Rome. Because Cicero deliberately set his extended conversation in the generation of his childhood teachers, a study of the dialogue in its historical setting can show how the political and cultural life of this earlier period differed from Cicero's personal experience of the collapse of senatorial government, when the overwhelming power of the 'first triumvirate' forced him into political silence in the last decade of the Republic. After an introductory chapter reviewing Cicero's position on return from exile, chapters include a comparative study of the careers of M. Antonius and L. Licinius Crassus, protagonists of the dialogue, a discussion of Cicero's response to Plato's criticisms of rhetoric in the Gorgias and Phaedrus, and his debt to Aristotle's Rhetoric, analysis of the dialogue's treatment of Roman civil law, existing Latin structure and historical writing, Caesar Strabo's survey of the sources and application of humour, political eloquence in senate and contio, theories of direction and style, and the techniques of oral delivery. An epilogue looks briefly at Cicero's De re publica and Tacitus' Dialogus de oratoribus as reflections on the transformation of oratory and free (if oligarchic) republican government by debate to meet the context of the new autocracy."--Jacket
Virgil's Georgics
by
Publius Vergilius Maro
( )
11 editions published between
2006
and 2009 in
English
and held by 1,113 WorldCat member libraries worldwide
Rendered in an idiom drawn from present-day nature guides, gardening handbooks, how-to manuals, and scientific treatisesand in a style influenced by twentieth-century poetrythis bold new translation seeks to renew our appreciation of a work often relegated to the pigeonhole of didactic poetry about farming. In doing so, it reveals the Georgics as a remarkable window on Roman conceptions of the natural world and of the place of human life within itand also conveys a sense of how daring were Virgil's poetics in their day. Footnotes offer a wealth of information on mythology, agriculture, wildlife, geography, and astronomy while highlighting the technical, scientific, ethnographic, and other registers of the poem
Literary and educational writings, 7
by
Desiderius Erasmus
( )
15 editions published between
1989
and 2016 in
English
and held by 1,091 WorldCat member libraries worldwide
This final volume in the Literary and Educational Writings contains diverse woks spanning a generation
Roman literary culture : from Cicero to Apuleius
by
Elaine Fantham
( Book )
17 editions published between
1996
and 1999 in
English
and held by 823 WorldCat member libraries worldwide
Scholars of ancient literature have often focused on the works and lives of major authors rather than on such questions as how these works were produced and who read them and under what circumstances. In Roman Literary Culture Elaine Fantham fills that gap by examining the changing social and historical context of literary production in ancient Rome and its empire. Fantham discusses the habits of Roman readers and developments in their means of access to literature, from booksellers and copyists to pirated publications and libraries. She examines the issues of patronage and the utility of literature. She shows how the constraints of the physical object itself - the ancient "book"--Influenced the practice of both reading and writing. And she explores the ways in which ancient criticism and critical attitudes reflected cultural assumptions of the time
more
fewer
Audience Level
0

1
Kids
General
Special
Audience level: 0.26 (from 0.06 for Roman read ... to 0.72 for Seneca's T ...)
Related Identities
Associated Subjects
Aeneas--(Legendary character)
Aeneis (Virgil)
Agriculture
Aphorisms and apothegms
Augustus,--Emperor of Rome,
Calendar
Civilization, Classical
Civil War (Rome : 49-45 B.C.)
Conduct of life
Country life
De oratore (Cicero, Marcus Tullius)
Didactic poetry, Latin
Epic poetry, Latin
Erasmus, Desiderius,
Ethics
Fables, Latin
Families
Fasti (Ovid)
Fasts and feasts
Georgica (Virgil)
Gods, Roman, in literature
Greece
Greece--Farsala
Intellectual life
Julia,--daughter of Augustus, Emperor of Rome,
Latin language--Figures of speech
Latin literature
Latin poetry
Literature
Literature and history
Manners and customs
Metamorphoses (Ovid)
Metamorphosis in literature
Mythology, Classical, in literature
Oratory, Ancient
Pastoral poetry, Latin
Pharsalus, Battle of (Farsala, Greece : 48 B.C.)
Philosophy, Ancient
Political ethics
Politics and literature
Princesses
Religion
Religion and literature
Rhetoric, Ancient
Rites and ceremonies
Rome (Empire)
Seneca, Lucius Annaeus,
Stoics
Virgil
Women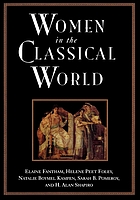 Covers
Alternative Names
Elaine Fantham britische Klassische Philologin

Elaine Fantham British classical philologist

Elaine Fantham Brits klassiek filologe

Elaine Fantham filologa, latinista e critica letteraria inglese

Fantham, E.

Fantham, E. 1933-

Fantham E. 1933-2016

Fantham, E. (Elaine), 1933-2016

Fantham, Elaine

Fantham, R. Elaine

Fantham, R. Elaine 1933-

Fantham R. Elaine‏ 1933-2016

Fantham, R. Elaine (Rosamund Elaine), 1933-2016

Fantham, Rosamund Elaine

Fantham, Rosamund Elaine 1933-

Fantham Rosamund Elaine‏ 1933-2016

Languages