Brown, Rajeswary Ampalavanar 1943-
Most widely held works by Rajeswary Ampalavanar Brown
The rise of the corporate economy in Southeast Asia
by
Rajeswary Ampalavanar Brown
( )
10 editions published between
2006
and 2010 in
English
and held by 490 WorldCat member libraries worldwide
"This book surveys the growth of large corporations in Southeast Asia, focusing in particular on corporate organization, methods of finance, the business environment and corporate governance. It details the different phases of corporate and financial development, particularly liberalization and globalization from the mid-1980s, the 1997 crisis, and subsequent attempts at liberalization and the reform of corporate governance."--book jacket
Malaysia
by
Keat Gin Ooi
( Book )
12 editions published between
1986
and 1998 in
English
and held by 335 WorldCat member libraries worldwide
Capital and entrepreneurship in South-East Asia
by
Rajeswary Ampalavanar Brown
( Book )
11 editions published between
1994
and 2014 in
English
and held by 241 WorldCat member libraries worldwide
This book traces the growth of capitalism in South East Asia between 1870 and 1941, a crucial element in understanding contemporary economic and political developments in the region. It focuses on three questions. Why was indigenous capitalism so weak in colonial South East Asia? What were the institutional weaknesses in an otherwise dominant Chinese capitalist class, and why did it fail to transform itself into a modern industrial elite? What was the impact of western colonialism and Japanese economic penetration on South East Asia's prospects for achieving sustainable economic growth?
Chinese big business and the wealth of Asian nations
by
Rajeswary Ampalavanar Brown
( Book )
9 editions published between
2000
and 2014 in
English
and held by 237 WorldCat member libraries worldwide
"The book draws upon unprecedented empirical detail relating to Chinese firms, their growth patterns, joint ventures with foreign capital and responses to technological change and competition, as well as contributing to debates on economic networks, the economics of trust and relations between business and the state in the global economy."--Jacket
Chinese business enterprise in Asia
( Book )
8 editions published in
1995
in
English
and held by 222 WorldCat member libraries worldwide
Since the emergence of Chinese multinationals in the Far East, a debate has arisen on the relationship between the rapid economic growth of the Pacific Rim and the nature of Chinese business enterprise. Just how far has Chinese business been instrumental in the economic transformation of the Far East? This volume looks at the development of Chinese business and management practices across Asia from the late nineteenth century. Experts examine how familism and informal networks have contributed to Chinese entrepreneurial success. They further demonstrate how effective these factors have been in overcoming restrictive state policies: through alliances with ethnic and international traders and connections between financial networks in Hong Kong, South East Asia, China and Australia
Islam in modern Thailand : faith, philanthropy and politics
by
Rajeswary Ampalavanar Brown
( Book )
10 editions published between
2013
and 2017 in
English
and held by 153 WorldCat member libraries worldwide
"This book addresses the complexity of Islam in Thailand, by focusing on Islamic charities and institutions affiliated to the mosque. By extrapolating through Islam and the waqf (Islamic charity) in different regions of Thailand the diversity in races and institutions, it demonstrates the regional contrast within Thai Islam. The book also underlines the importance of internal histories of these separate spaces, and the processes by which institutions and ideologies become entrenched. It goes on to look at the socio economic transformation that is taking place within the context of trading networks through Islamic institutions and civil networks linked to mosques, madrasas and regional power brokers"--
Chinese business enterprise
by
Rajeswary Ampalavanar Brown
( Book )
21 editions published in
1996
in
English
and held by 125 WorldCat member libraries worldwide
Charities in the Non-Western World : the development and regulation of indigenous and Islamic charities
by
Rajeswary Ampalavanar Brown
( Book )
9 editions published between
2013
and 2016 in
English
and held by 120 WorldCat member libraries worldwide
"This book looks at the operation of indigenous charities at a regional, localised and global level. Chapters focus on the adaptation, accountability and operation of charities across a wide range of jurisdictions from China to Indonesia, Thailand, Iran, South Africa, Sri Lanka, Lebanon and Turkey. It examines the ownership, participation and accountability of charities in a regional, localised and international context, and draws on the experiences and operation of charities"--
The Chinese and Indian corporate economies : a comparative history of their search for economic renaissance and globalization
by
Rajeswary Ampalavanar Brown
( )
7 editions published between
2015
and 2017 in
English
and held by 94 WorldCat member libraries worldwide
This is a compelling analysis of the corporate economies of China and India, which are having a huge impact not just on the international economy, but also in the geopolitical and international strategy sphere as a result of an accelerated globalisation by these two countries, which is unleashing powerful economic challenges to corporate structures, economic institutions and law worldwide. The big question is how after centuries of underdevelopment China and now India are emerging powerfully and pulling ahead of Western European economies. Analysing the role of the state and the adroit use of law, and their impact on the corporate evolution of both China and India, provides greater clarity and insight into why China has evolved as a manufacturing nation utilizing cheap abundant labour while India has not exploited such advantages but instead focused on IT and higher value industries, even abroad as Tata has demonstrated in the motor industry in Europe. Again while Chinese corporations have expanded abroad as an arm of the state into Asia, Middle East, Africa, Europe, Latin America and parts of the southern states of the USA, India has pushed principally into Europe through the efforts of powerful minority capitalists of Parsi and Gujerati background, overcoming technological gaps and differences through acquisitions and absorptions of existing corporations in particular industries, especially in steel, automobiles and textiles. In China, state owned corporations have been dominant. In India, though state owned enterprises have been powerful since 1951, it has been private capitalists with an established stronghold since the colonial period and even under the Socialist period from 1951-1991 who have been the more productive main actors both in India and abroad.--
more
fewer
Audience Level
0

1
Kids
General
Special
Audience level: 0.50 (from 0.08 for Malaysia / ... to 0.96 for The rise o ...)
Related Identities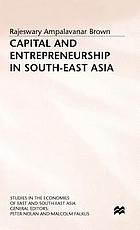 Covers
Alternative Names
Ampalavanar-Brown, Rajeswary 1943-

Ampalavanar, R. Brown 1943-

Ampalavanar, Rajeswary

Ampalavanar, Rajeswary 1943-

Ampalavanar, Rajeswary b.1943

Ampalavanar, Rajeswary Brown 1943-

Brown, R. Ampalavanar 1943-

Brown, Raj 1943-

Brown, Rajeswary A.

Brown, Rajeswary A. 1943-

Rajeswary Ampalavanar

Rajeswary Ampalavanar 1943-

Languages