Jena, P.
Most widely held works about P Jena
Most widely held works by P Jena
Clusters and nano-assemblies : physical and biological systems : Richmond, Virginia, U.S.A., 10-13 November, 2003
by
P Jena
( )
15 editions published in
2005
in
English
and held by 1,543 WorldCat member libraries worldwide
While the field of clusters and nano-structures in the physical sciences has been actively pursued only over the past two decades, nature has known the benefits of the nanoscale for a very long time. The focus of the International Symposium on Clusters and Nano-Assemblies: Physical and Biological Systems was to explore ways in which an understanding of the unique properties of nano-scale biological systems such as proteins, enzyme reactions, RNA, and DNA can help us design novel materials composed of inorganic nano-scale systems, and how techniques developed in the physical sciences can lead to a fundamental understanding of biological systems. Bringing together the expert contributions from the conference, this book deals with the fundamental science and technology of atomic clusters, nano-structures and their assemblies in physical and biological systems. It explores in fascinating detail the manner in which finite size, low dimensionality, and reduced symmetry affect the properties of nano-assemblies
Materials issues in a hydrogen economy : proceedings of the international symposium, Richmond, Virginia, USA, 12-15 November 2007
by
P Jena
( )
9 editions published in
2009
in
English
and held by 1,422 WorldCat member libraries worldwide
This proceedings of the International Symposium on Materials Issues in a Hydrogen Economy addresses fundamental materials science issues and challenges concerning the production, storage, and use of hydrogen. The volume also deals with safety and education issues. The contributors - researchers in physics, chemistry, materials science, and engineering - share their ideas and results to delineate outstanding materials problems in a hydrogen economy and to guide the future research
Physics and chemistry of small clusters
by
P Jena
( Book )
17 editions published in
1987
in
English
and held by 257 WorldCat member libraries worldwide
Recent advances in experimental techniques now enable researchers to produce in a laboratory clusters of atoms of desired composition from any of the elements of the periodic table. This has created a new area of research into novel materials since clusters cannot be regarded either as a "large" molecule or as a fragment of the bulk. Both experimental and theoretical studies are revealing unusual properties that are not ob­ served in solid state environments. The structures of micro-clusters are found to be significantly distorted from the most symmetric arrangement, some even exhibiting pentagonal symmetry commonly found in icosahedric structures. The unusual stability of certain clusters, now described as "magic number species", shows striking similarities with the nuclear shell structure. The relative stabilities of clusters depend not only on the composition of the clusters but also on their charged states. The studies on spontaneous fragmentation of mUltiply charged clusters, commonly referred to as Coulomb explosion, illustrate the role of electronic bonding mechanisms on stability of clusters. The effect of foreign atoms on geometry and stability of clusters and the interaction of gas atoms with clusters are showing promise for an indepth understanding of chemisorption and catalysis. The magnetic and optical properties are dependent not only on cluster size but also on its geometry. These findings have the potential for aiding industry in the area of micro-electronics and catalysis
Electronic structure and properties of hydrogen in metals
by
P Jena
( Book )
11 editions published between
1982
and 1983 in
English
and held by 225 WorldCat member libraries worldwide
Hydrogen is the smallest impurity atom that can be implanted in a metallic host. Its small mass and strong interaction with the host electrons and nuclei are responsible for many anomalous and interesting solid state effects. In addition, hydrogen in metals gives rise to a number of technological problems such as hydrogen embrittlement, hydrogen storage, radiation hardening, first wall problems associated with nuclear fusion reactors, and degradation of the fuel cladding in fission reactors. Both the fundamental effects and applied problems have stimulated a great deal of inter est in the study of metal hydrogen systems in recent years. This is evident from a growing list of publications as well as several international conferences held in this field during the past decade. It is clear that a fundamental understanding of these problems re quires a firm knowledge of the basic interactions between hydrogen, host metal atoms, intrinsic lattice defects and electrons. This understanding is made particularly difficult by hyrogen's small mass and by the large lattice distortions that accompany the hydrogenation process. The purpose of the "International Symposium on the Electronic Structure and Properties of Hydrogen in Metals" held in Richmond, Virginia, March 4-6, 1982 was to increase our fundamental under standing of hydrogen in metals. Such knowledge is essential in solving technologically important questions. The symposium con sisted of twenty-two invited papers and seventy-two contributed poster presentations and attracted nearly 150 participants from thirteen countries. The proceedings of this symposium constitute this book
Physics and chemistry of finite systems : from clusters to crystals
by
P Jena
( Book )
13 editions published between
1992
and 2013 in
English
and held by 161 WorldCat member libraries worldwide
Recent innovations in experimental techniques such as molecular and cluster beam epitaxy, supersonic jet expansion, matrix isolation and chemical synthesis are increasingly enabling researchers to produce materials by design and with atomic dimension. These materials constrained by sire, shape, and symmetry range from clusters containing as few as two atoms to nanoscale materials consisting of thousands of atoms. They possess unique structuraI, electronic, magnetic and optical properties that depend strongly on their size and geometry. The availability of these materials raises many fundamental questions as weIl as technological possibilities. From the academic viewpoint, the most pertinent question concerns the evolution of the atomic and electronic structure of the system as it grows from micro clusters to crystals. At what stage, for example, does the cluster look as if it is a fragment of the corresponding crystal. How do electrons forming bonds in micro-clusters transform to bands in solids? How do the size dependent properties change from discrete quantum conditions, as in clusters, to boundary constrained bulk conditions, as in nanoscale materials, to bulk conditions insensitive to boundaries? How do the criteria of classification have to be changed as one goes from one size domain to another? Potential for high technological applications also seem to be endless. Clusters of otherwise non-magnetic materials exhibit magnetic behavior when constrained by size, shape, and dimension. NanoscaIe metal particles exhibit non-linear opticaI properties and increased mechanical strength. SimiIarly, materials made from nanoscale ceramic particIes possess plastic behavior
Correlations in electronic and atomic fluids : August 1-3, 1989, ICTP, Trieste, Italy : conference in honor of Professor K.S. Singwi's 70th birthday
by
P Jena
( Book )
8 editions published in
1990
in
English
and held by 83 WorldCat member libraries worldwide
Local field effects in weacly to strongly interacing fermi systems; Applicability of the local field concept for the electron gas; Dynamic suscepitibity of a free electron gas in D dimensions and its analytic properties; Estimate of dynamic electron correlations by interpolations from sum rules; A novel approach to correlation effects in electron spectroscopies; On dynamic correlations in uniform electron liquid; The puzzling neutrinos; Molecular dynamics of supercooled Lennard-Jones liquids. Dynamical correlarion function and transport coefficients of dense fluids. Structural and percolative properties of ternary intercalates; Interatomic potential energy. Electron correlations and dieletric screening in a layered electron gas. Macroscopic quantum coherence; Many-polarom interaction effects in semicondutor microestructures; A cold big bang?; Remarks on density functional theory for superconductors; Graound state of the one-and-two-dimensional Hubbard model calculated by the method of Singwi, Tosi, and Sjolander; Superconducting correlations in the new high Tc systems; Nature of phonons and isotope effect in BA1-xkxBiO3; Electronic structure and stability of hydrogen pairing in metals; Density wave theory of Wigner cristalization. Electron-hole liquids in stressed Ge and many-body theories
more
fewer
Audience Level
0

1
Kids
General
Special
Audience level: 0.21 (from 0.01 for Materials ... to 0.99 for Jena, Puru ...)
Related Identities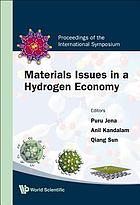 Covers
Alternative Names
Jena, P.

Jena, P. 1943-

Jena, Puru

Jena, Puru 1943-

Languages