Bieri, Peter 1944-
Most widely held works about Peter Bieri
Most widely held works by Peter Bieri
Transcendental arguments and science : essays in epistemology
by
Peter Bieri
( Book )
18 editions published between
1977
and 1979 in
English
and
Italian
and held by 407 WorldCat member libraries worldwide
The goal of the present volume is to discuss the notion of a 'conceptual framework' or 'conceptual scheme', which has been dominating much work in the analysis and justification of knowledge in recent years. More specifi­ cally, this volume is designed to clarify the contrast between two competing approaches in the area of problems indicated by this notion: On the one hand, we have the conviction, underlying much present-day work in the philosophy of science, that the best we can hope for in the justifi­ cation of empirical knowledge is to reconstruct the conceptual means actually employed by science, and to develop suitable models for analyzing conceptual change involved in the progress of science. This view involves the assumption that we should stop taking foundational questions of epistemology seriously and discard once and for all the quest for uncontrovertible truth. The result­ ing program of justifying epistemic claims by subsequently describing patterns of inferentially connected concepts as they are at work in actual science is closely connected with the idea of naturalizing epistemology, with concep­ tual relativism, and with a pragmatic interpretation of knowledge. On the other hand, recent epistemology tends to claim that no subsequent reconstruction of actually employed conceptual frameworks is sufficient for providing epistemic justification for our beliefs about the world. This second claim tries to resist the naturalistic and pragmatic approach to epistemology and insists on taking the epistemological sceptic seriously
Das Handwerk der Freiheit : über die Entdeckung des eigenen Willens
by
Peter Bieri
( Book )
41 editions published between
2001
and 2013 in 3 languages and held by 338 WorldCat member libraries worldwide
Was bedeutet es, frei zu sein? Gibt es eine absolute Freiheit des Willens? Der Philosoph Peter Bieri präsentiert die unterschiedlichsten Antworten auf die Frage der Willensfreiheit wie auf einer Bühne: In kleinen, immer wieder abgewandelten Szenen verstrickt er scheinbar zwingende Vorstellungen von Freiheit so lange in Widersprüche, bis sich am Ende die Prinzipien einer wirklichen Freiheit erkennen lassen. "Das Buch entdeckt die Freiheit, die wir haben - ob wir wollen oder nicht -, wieder neu. Es ist klar bis zur Schönheit und spannend wie ein Roman." Rüdiger Safranski
Eine Art zu leben : über die Vielfalt menschlicher Würde
by
Peter Bieri
( Book )
15 editions published between
2013
and 2015 in
German
and
Dutch
and held by 275 WorldCat member libraries worldwide
Die Würde ist das höchste Gut des Menschen. Doch was meinen wir eigentlich, wenn wir von Würde sprechen? Peter Bieris lang erwartetes neues Buch handelt von diesem zentralen Thema unseres Lebens. Mit einem einzigen Begriff ist die menschliche Würde nicht zu fassen. Bieri nähert sich ihr deshalb als Beobachter: An Beispielen aus dem Alltag und der Literatur entwickelt der Philosoph aus der Schweiz eine Vorstellung von Würde, die von unserem Umgang mit anderen und mit uns selbst abhängt. Würde, so stellt sich heraus, ist keine abstrakte Eigenschaft, sondern eine bestimmte Art zu leben. In wunderbar klarer Sprache entwickelt Bieri seine Philosophie: eine wahre Schule des Lebens
Analytische Philosophie des Geistes
by
Peter Bieri
( Book )
23 editions published between
1981
and 2007 in
German
and
Undetermined
and held by 261 WorldCat member libraries worldwide
Nachtzug nach Lissabon : Roman
by
Peter Bieri
( Book )
35 editions published between
2004
and 2013 in 12 languages and held by 249 WorldCat member libraries worldwide
Mitten im Unterricht verläßt ein Lehrer seine Schule und macht sich auf den Weg nach Lissabon, um den Spuren eines geheimnisvollen Autors zu folgen. Immer tiefer zieht es ihn hinein in dessen Aufzeichnungen und Reflexionen, die von den grundlegenden Erfahrungen des Lebens handeln. Und er trifft immer mehr Menschen, die von diesem ungewöhnlichen Menschen tief beeindruckt waren: ganz gleich ob sie ihn als Arzt, als Poeten oder als Kämpfer gegen die Diktatur kennengelernt haben. Doch kann man einfach so aus dem eigenen Leben ausbrechen?
Relationships between perception and action : current approaches
by
Odmar Neumann
( Book )
6 editions published in
1990
in
English
and held by 235 WorldCat member libraries worldwide
This book presents a multidisciplinary approach to the study of relationships between perception and action. It reflects the renewed interest in problems of action control that has emerged in psychology during the last decade and created a new theoretical climate bringing psychology closer to the biological sciences. Each chapter presents both a particular point of view and a comprehensive overview of recent findings relevant to the author's approach
Human dignity : a way of living
by
Peter Bieri
( Book )
10 editions published between
2016
and 2017 in
English
and held by 158 WorldCat member libraries worldwide
Dignity is humanity?s most prized possession. We experience the loss of dignity as a terrible humiliation: when we lose our dignity we feel deprived of something without which life no longer seems worth living. But what exactly is this trait that we value so highly? In this important new book, distinguished philosopher Peter Bieri looks afresh at the notion of human dignity. In contrast to most traditional views, he argues that dignity is not an innate quality of human beings or a right that we possess by virtue of being human. Rather, dignity is a certain way to lead one?s life. It is a pattern of thought, experience and action? in other words, a way of living. In Bieri?s account, there are three key dimensions to dignity as a way of living. The first is the way I am treated by others: they can treat me in a way that leaves my dignity intact or they can destroy my dignity. The second dimension concerns the way that I treat other people: do I treat them in a way that allows me to live a dignified life? The third dimension concerns the view that I have of myself: which ways of seeing and treating myself allow me to maintain a sense of dignity? In the actual flow of day-to-day life these three dimensions of dignity are often interwoven, and this accounts in part for the complexity of the situations and experiences in which our dignity is at stake. So, why did we invent dignity and what role does it play in our lives? As thinking and acting beings, our lives are fragile and constantly under threat. A dignified way of living, argues Bieri, is humanity?s way of coping with this threat. In our constantly endangered lives, it is important to stand our ground with confidence. Thus a dignified way of living is not any way of living: it is a particular way of responding to the existential experience of being under threat. It is also a particular way of answering the question: What kind of life do we wish to live? --
Wie wollen wir leben?
by
Peter Bieri
( Book )
19 editions published between
2011
and 2015 in
German
and
Korean
and held by 128 WorldCat member libraries worldwide
Wir wollen über unser Leben selbst bestimmen. Davon hängen unsere Würde und unser Glück ab. Doch was genau bedeutet das? Unser Denken, Fühlen und Tun ergibt sich aus den Bedingungen einer Lebensgeschichte. Was heißt es, dass wir trotzdem Einfluss auf unser Leben nehmen können, sodass es uns nicht einfach nur zustößt? Was für eine Rolle spielt dabei Selbsterkenntnis? Wann sind die Anderen eine Hilfe für Selbstbestimmung und wann ein Hindernis? Wie hängen Selbstbestimmung und kulturelle Identität zusammen? Und welche Bedeutung hat die Literatur für all das? Bieris Überlegungen in diesem Buch sind eine Fortführung seiner Betrachtungen in "Das Handwerk der Freiheit" (2001)
more
fewer
Audience Level
0

1
Kids
General
Special
Audience level: 0.79 (from 0.40 for Human Livi ... to 0.93 for Studieren, ...)
Related Identities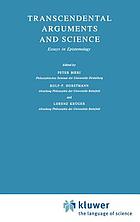 Covers
Alternative Names
Mercier, Pascal, 1944-
Bieri, P. 1944-

Bieri, P. 1944- (Peter)

Bieri, P. (Peter), 1944-

Bieri, Peter

Mersie, Paskal 1944-

Mersije, Paskal 1944-

비에리, 페터 1944-

Languages