Accardi, L. (Luigi) 1947-
Most widely held works by L Accardi
Quantum bio-informatics V : proceedings of the quantum bio-informatics 2011, Tokyo University of Science, Japan, 7-12 March 2011
by
L Accardi
( )
10 editions published in
2013
in
English
and held by 1,591 WorldCat member libraries worldwide
This volume is based on the fifth international conference of quantum bio-informatics held at the QBI Center of Tokyo University of Sciences. This volume provides a platform to connect mathematics, physics, information and life sciences, and in particular, research for new paradigm for information science and life science on the basis of quantum theory. The following topics are discussed: Cryptographic algorithms; Quantum algorithm and computation; Quantum entanglement; Quantum entropy and information dynamics; Quantum dynamics and time operator; Stochastic dynamics and white noise analysis; Brain activity; Quantum-like models and PD game; Quantum physics and superconductivity; Quantum tomography and sufficiency; Adaptation in plants; and Alignment of sequences
Quantum information and computing
by
L Accardi
( )
13 editions published in
2006
in
English
and held by 1,518 WorldCat member libraries worldwide
3 Examples of Relative Information for States4 Relative Information for Channels; References; On the Uniqueness Theorem in Quantum Information Geometry; 0 Introduction; 1 Extended Chentsov Theorem for noncommutative (finite-dimensional matrix) manifolds; 2 Derivation and Frechet differentiation; 3 Classical and quantum a-divergence; 4 Proof of the uniqueness for matrix manifolds-Main theorem in the nonparametric version; 5 Parametrization of the matrix manifold; 6 A Concluding Remark-on Tsallis statistics; References; Noncanonical Representations of a Multi-dimensional Brownian Motion
Quantum bio-informatics II : from quantum information to bio-informatics : Tokyo University of Science, Japan, 12-16 March 2008
by
L Accardi
( )
15 editions published in
2009
in
English
and held by 1,420 WorldCat member libraries worldwide
The purpose of this proceedings volume is to look for interdisciplinary bridges in mathematics, physics, information and life sciences, in particular, research for new paradigms for information and life sciences on the basis of quantum theory. The main areas in this volume are all related to one of the following subjects: (1) mathematical foundation of quantum mechanics, (2) quantum information, (3) quantum algorithm and computation, (4) quantum communication, (5) white noise analysis and quantum dynamics, (6) chaos dynamics and adaptive dynamics, (7) experimental studies of quantum computer, (8) bio-informatics and (9) genome analysis
Selected papers of Takeyuki Hida
by
Takeyuki Hida
( )
15 editions published between
2000
and 2001 in
English
and held by 1,382 WorldCat member libraries worldwide
"The topics discussed in this book can be classified into three parts:(i) Gaussian processes. The most general and in fact final representation theory of Gaussian processes is included in this book. This theory is still referred to often and its developments are discussed.(ii) White noise analysis. This book includes the notes of the series of lectures delivered in 1975 at Carleton University in Ottawa. They describe the very original idea of introducing the notion of generalized Brownian functionals (nowadays called "generalized white noise functionals", and sometimes "Hida distribution".(iii) Variational calculus for random fields. This topic will certainly represent one of the driving research lines for probability theory in the next century, as can be seen from several papers in this volume."
Quantum probability and related topics : proceedings of the 32nd conference, Levico Terme, Italy, 29 May - 2 June 2011
by
International Conference on Quantum Probability and Related Topics
( )
13 editions published between
1991
and 2013 in
English
and
Undetermined
and held by 1,214 WorldCat member libraries worldwide
This volume contains the current research in quantum probability, infinite dimensional analysis and related topics. Contributions by experts in these fields highlight the latest developments and interdisciplinary connections with classical probability, stochastic analysis, white noise analysis, functional analysis and quantum information theory. This diversity shows how research in quantum probability and infinite dimensional analysis is very active and strongly involved in the modern mathematical developments and applications. Tools and techniques presented here will be of great value to researchers
Quantum bio-informatics III : from quantum information to bio-informatics, Tokyo University of Science, Japan, 11-14 March 2009
by Conference on Quantum Bio-Informatics
( )
7 editions published in
2010
in
English
and held by 1,153 WorldCat member libraries worldwide
The purpose of this proceedings volume is to look for interdisciplinary bridges in mathematics, physics, information and life sciences, in particular, research for new paradigms for information and life sciences on the basis of quantum theory. The main areas in this volume are all related to one of the following subjects : (1) quantum information, (2) bio-informatics and (3) the interrelation between (1) and (2)
Quantum interacting particle systems : lecture notes of the Volterra-CIRM International School, Trento, Italy, 23-29 September 2000
by
Italy) Centro internazionale per la ricerca matematica (Trento
( )
14 editions published in
2002
in
English
and held by 1,142 WorldCat member libraries worldwide
The problem of extending ideas and results on the dynamics of infinite classical lattice systems to the quantum domain naturally arises in different branches of physics (nonequilibrium statistical mechanics, quantum optics, solid state ...) and new momentum from the development of quantum computer and quantum neural networks (which are in fact interacting arrays of binary systems) has been found. The stochastic limit of quantum theory allowed to deduce, as limits of the usual Hamiltonian systems, a new class of quantum stochastic flows which, when restricted to an appropriate Abelian subalgebra, produces precisely those interacting particle systems studied in classical statistical mechanics. Moreover, in many interesting cases, the underlying classical process "drives" the quantum one, at least as far as ergodicity or convergence to equilibrium are concerned. Thus many deep results concerning classical systems can be directly applied to carry information on the corresponding quantum system. The thermodynamic limit itself is obtained thanks to a technique (the four-semigroup method, new even in the classical case) which reduces the infinitesimal structure of a stochastic flow to that of four semigroups canonically associated to it (Chap. 1). Simple and effective methods to analyze qualitatively the ergodic behavior of quantum Markov semigroups are discussed in Chap. 2. Powerful estimates used to control the infinite volume limit, ergodic behavior and the spectral gap (Gaussian, exponential and hypercontractive bounds, classical and quantum logarithmic Sobolev inequalities ...) are discussed in Chap. 3
Quantum bio-informatics : from quantum information to bio-informatics ; Tokyo University of Science, Japan, 14-17 March 2007
by
L Accardi
( )
11 editions published in
2008
in
English
and held by 1,102 WorldCat member libraries worldwide
The purpose of this volume is examine bio-informatics and quantum information, which are growing rapidly at present, and to attempt to connect the two, with a view to enumerating and solving the many fundamental problems they entail. To this end, we look for interdisciplinary bridges in mathematics, physics, and information and life sciences. In particular, research into a new paradigm for information science and life science on the basis of quantum theory is emphasized
Quantum bioinformatics IV : from quantum information to bio-informatics : Tokyo University of Science, Japan, 10-13 March 2010
by Conference on Quantum Bio-Informatics
( )
6 editions published in
2011
in
English
and held by 1,011 WorldCat member libraries worldwide
Use of cryptographic ideas to interpret biological phenomena (and vice versa) / M. Regoli -- Discrete approximation to operators in white noise analysis / Si Si -- Bogoliubov type equations via infinite-dimensional equations for measures / V.V. Kozlov and O.G. Smolyanov -- Analysis of several categorical data using measure of proportional reduction in variation / K. Yamamoto [und weitere] -- The electron reservoir hypothesis for two-dimensional electron systems / K. Yamada [und weitere] -- On the correspondence between Newtonian and functional mechanics / E.V. Piskovskiy and I.V. Volovich -- Quantile-quantile plots : An approach for the inter-species comparison of promoter architecture in eukaryotes / K. Feldmeier [und weitere] -- Entropy type complexities in quantum dynamical processes / N. Watanabe -- A fair sampling test for Ekert protocol / G. Adenier, A. Yu. Khrennikov and N. Watanabe -- Brownian dynamics simulation of macromolecule diffusion in a protocell / T. Ando and J. Skolnick -- Signaling network of environmental sensing and adaptation in plants : Key roles of calcium ion / K. Kuchitsu and T. Kurusu -- NetzCope : A tool for displaying and analyzing complex networks / M.J. Barber, L. Streit and O. Strogan -- Study of HIV-1 evolution by coding theory and entropic chaos degree / K. Sato -- The prediction of botulinum toxin structure based on in silico and in vitro analysis / T. Suzuki and S. Miyazaki -- On the mechanism of D-wave high T[symbol] superconductivity by the interplay of Jahn-Teller physics and Mott physics / H. Ushio, S. Matsuno and H. Kamimura
more
fewer
Audience Level
0

1
Kids
General
Special
Audience level: 0.16 (from 0.00 for Quantum bi ... to 0.72 for Quantum pr ...)
Related Identities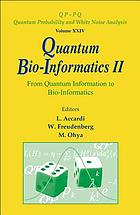 Covers
Alternative Names
Accardi, L.

Accardi, L. 1947-

Accardi, L. (Luigi)

Accardi, Luigi 1947-

Akarudi, Ruiji

Luigi Accardi Italiaans wiskundige

Luigi Accardi Italian mathematician

Luigi Accardi italienischer Mathematiker

Luigi Accardi matemático italiano

アカルディ, ルイジ

明出伊, 類似

Languages