Hargreaves, Andy
Most widely held works about Andy Hargreaves
Most widely held works by Andy Hargreaves
Teaching in the knowledge society : education in the age of insecurity
by
Andy Hargreaves
( Book )
33 editions published between
2003
and 2012 in 4 languages and held by 1,053 WorldCat member libraries worldwide
We are living in a defining moment, when the world in which teachers do their work is changing profoundly. In his latest book, Hargreaves proposes that we have a one-time chance to reshape the future of teaching and schooling and that we should seize this historic opportunity. Hargreaves sets out what it means to teach in the new knowledge society - to prepare young people for a world of creativity and flexibility and to protect them against the threats of mounting insecurity. He provides inspiring examples of schools that operate as creative and caring learning communities and shows how years of "soulless standardization" have seriously undermined similar attempts made by many nonaffluent schools. Hargreaves takes us beyond the dead-ends of standardization and divisiveness to a future in which all teaching can be a high-skill, creative, life-shaping mission because "the knowledge society requires nothing less."
Changing teachers, changing times : teachers' work and culture in the postmodern age
by
Andy Hargreaves
( Book )
33 editions published between
1993
and 2001 in
English
and held by 872 WorldCat member libraries worldwide
"The rules of the world are changing. It is time for the rules of teaching and teachers' work to change with them." This is the challenge which Andy Hargreaves sets out in his new book on teachers' work and culture in the postmodern world. Drawing on his current research with teachers at all levels, Hargreaves shows through their own vivid words what teaching is really like, how it is already changing, and why. He argues that the structures and cultures of teaching need to change even more if teachers are not to be trapped by guilt, pressed by time and overburdened by decisions imposed upon them. Provocative yet practical, this book is written for teachers and those who work with teachers, and for researchers who want to understand teaching better in the postmodern age
Finnish lessons : what can the world learn from educational change in Finland?
by
Pasi Sahlberg
( Book )
10 editions published between
2010
and 2012 in
English
and held by 852 WorldCat member libraries worldwide
The author traces the evolution of education policies in Finland and highlights how they differ from the United States and other industrialized countries. He shows how rather than relying on competition, choice, and external testing of students, education reforms in Finland focus on professionalizing teachers' work, developing instructional leadership in schools, and enhancing trust in teachers and schools. --from publisher description
What's worth fighting for in your school?
by
Michael Fullan
( Book )
34 editions published between
1992
and 2013 in 4 languages and held by 701 WorldCat member libraries worldwide
"Encouraging teachers and principals to think more deeply about school reform, individual responsibility, and collaborative culture, What's Worth Fighting For in Your School? inspires teachers and principals to act as moral change agents in fighting for positive reform." "In addition to its outstanding analysis of "total teachers" and school culture, this book provides action guidelines for teachers and for principals that are filled with insights that will help school educators take responsibility for reform." "In an effort to develop new mind sets, knowledge-bases, and day-to-day dispositions and actions that should characterize the education profession of the future, this book talks about how teachers can work together for positive change, how they can collaborate with others outside the classroom to improve what goes on within it, and how principals and other leaders can support their teachers to make this happen."--Jacket
Rethinking educational change with heart and mind
by
Andy Hargreaves
( Book )
12 editions published between
1997
and 2003 in
English
and
Spanish
and held by 639 WorldCat member libraries worldwide
Fundamental educational change is more difficult, complex, and controversial than the change professional literature has acknowledged. This Association for Supervision and Curriculum Development (ascd) yearbook is a collection of writings that address the difficulties of educational change. Following the foreword by Frances Faircloth Jones and the introduction by Andy Hargreaves, the chapters include: (1) "Rethinking Educational Change: Going Deeper and Wider in the Quest for Success" (Andy Hargreaves); (2) "Schooling and Family in the Postmodern World" (David Elkind); (3) "Equity Lessons from Detracking Schools" (Jeannie Oakes, Amy Stuart Wells, Susan Yonezawa, and Karen Ray); (4) "Students' Perspectives on School Improvement" (Jean Rudduck, Julia Day, and Gwen Wallace); (5)"Teachers, Time, and School Reform" (Nancy E. Adelman and Karen Panton Walking-Eagle); (6) "Failing Schools or Failing Systems?" (Kate Myers and Harvey Goldstein); (7) "Setting Goals in Turbulent Times" (Mike Schmoker); (8) "Rethinking Assessment and Accountability" (Lorna M. Earl and Paul G. LeMahieu); (9) "Collaborative Action Research for Educational Change" (Richard Sagor); (10) "Networks, Reform, and the Professional Development of Teachers" (Ann Lieberman and Maureen Grolnick); and (11) "Emotion and Hope: Constructive Concepts for Complex Times" (Michael Fullan). A list of ascd board of directors for 1996-97, review council members, and headquarters staff are included. Each chapter contains references. (Lmi)
Sustainable leadership
by
Andy Hargreaves
( Book )
15 editions published between
2005
and 2012 in
English
and held by 532 WorldCat member libraries worldwide
"In Sustainable Leadership, Andy Hargreaves and Dean Fink address one of the most important and often neglected aspects of leadership: sustainability
Understanding teacher development
by
Andy Hargreaves
( Book )
22 editions published between
1992
and 1996 in 4 languages and held by 512 WorldCat member libraries worldwide
The 12 chapters in this book interpret teacher development in relation to self-development, teacher reflection, teacher biographies, cultures of teaching, teacher careers, teachers' work, gender identity, and classroom practice. The collection begins with an introductory chapter (Andy Hargreaves and Michael G. Fullan) and continues with 11 additional chapters as follows: (2) "You Don't Have To Be a Teacher to Teach This Unit: Teaching, Technology and Control in the Classroom" (Michael W. Apple and Susan Jungck); (3) "Teacher Development and Gender Equity" (Heather-jane Robertson); (4) "Helping Teachers Develop" (Philip W. Jackson); (5) "Teachers as Designers in Self-directed Professional Development" (Christopher M. Clark); (6) "Classroom-based Teacher Development" (Dennis Thiessen); (7) "Sponsoring the Teacher's Voice: Teachers' Lives and Teacher Development (Ivor F. Goodson); (8) "Teacher Development and Instructional Mastery" (Michael Huberman); (9) "Contexts for Teacher Development: Insights from Teachers' Stories" (Danielle Raymond, Richard Butt, and David Townsend); (10) "Facilitating Teacher Self-development: Reflections on Experience" (Antoinette Obert and Susan Underwood); (11) "Understanding Reflection through Collaborative Research" (William Louden); and (12) "Cultures of Teaching: a Focus for Change." (Andy Hargreaves). (Ll)
What's worth fighting for out there?
by
Andy Hargreaves
( Book )
11 editions published in
1998
in
English
and
Spanish
and held by 468 WorldCat member libraries worldwide
"This final book in the What's Worth Fighting For? trilogy concludes that the relationship between those in the school and those outside it must be fundamentally reframed. In a world of growing complexity and rapid change, if educators are going to bring about significant improvements in teaching and learning within schools, they must forge strong, open, and interactive connections with communities beyond them. To do this, the authors urge teachers and principals to go "wider" by developing new relationships with parents, employers, universities, technology, and the broader profession. At the same time, educators must also go "deeper" into the heart of their own practice by rediscovering the passion and moral purpose that make teaching and learning exciting and effective. As in the other two books in this series, the authors provide guidelines for teachers and principals to help them expand and improve their thinking and practice, and to show policy makers and communities what they can do and why they should do it for the sake of the future of children and society."--Jacket
Learning to change : teaching beyond subjects and standards
by
Andy Hargreaves
( Book )
15 editions published between
2000
and 2002 in
English
and
German
and held by 465 WorldCat member libraries worldwide
The authors study 29 teachers in grades 7 and 8 from four school districts to determine how effectively those teachers are handling education reform efforts. Innovations such as integrated curriculum, common learning standards, and alternative assessments require more emotional demands and major investments of time and support
Professional capital : transforming teaching in every school
by
Andy Hargreaves
( Book )
19 editions published between
2012
and 2015 in
English
and held by 405 WorldCat member libraries worldwide
The authors set out a groundbreaking new agenda to transform the future of teaching and public education. Ideas-driven, evidence-based, and strategically powerful, Professional Capital combats the tired arguments and stereotypes of teachers and teaching. It includes action guidelines for classroom teachers, administrators, schools and districts, and state and federal leaders
more
fewer
Audience Level
0

1
Kids
General
Special
Audience level: 0.37 (from 0.10 for Changing t ... to 1.00 for Teaching a ...)
Related Identities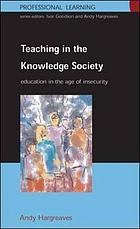 Alternative Names
Andy Hargreaves British academic

Hargreaves, Andrew

Hargreaves, Andrew 1951-

Hargreaves, Andy

하그리브스, 앤디

Languages
Covers