Grauwe, Paul de
Most widely held works by Paul de Grauwe
The economics of monetary union
by
Paul de Grauwe
( Book )
71 editions published between
2000
and 2016 in 3 languages and held by 1,458 WorldCat member libraries worldwide
"Fully revised and updated following monetary union in Europe, this textbook examines recent events from both economic and political perspectives, covering costs and benefits in a scrupulously balanced account. New topics are the conduct of monetary policy in Euroland and the position of the euro in financial markets." "Paul De Grauwe's analysis provides a readable account of all the crucial issues surrounding monetary union, and is ideal for all students of international economics, economic integration, and European economics."--Jacket
The economics of monetary integration
by
Paul de Grauwe
( Book )
60 editions published between
1992
and 2000 in 3 languages and held by 1,207 WorldCat member libraries worldwide
This expositive textbook on monetary integration looks at the costs and benefits of monetary union in Europe. The author examines such topical issues as whether there is a good economic case for countries to have separate currencies, and whether a nation increases its welfare when it abolishes its national currency and adopts the currency of a wider area. This leads naturally to questions concerning the size of an optimal monetary area - should this include the EC, the whole of Europe, or the whole world? The first part of the book focuses on complete monetary unions in which a common currency is substituted for national currencies. The second part looks at incomplete monetary unions and analyzes the operation of monetary systems in which national monetary authorities maintain their national currencies but agree to fix their exchange rates. This leads to an analysis of the European Monetary System and also examines the issues relating to the transition to a full monetary system. The book combines comprehensive exposition with discussion of recent historical events and theory and will prove invaluable to students
International money : post-war trends and theories
by
Paul de Grauwe
( Book )
47 editions published between
1988
and 2006 in
English
and held by 994 WorldCat member libraries worldwide
This is the second edition of Paul De Grauwe's history of international monetary relations. Significantly revised and expanded, it covers areas such as the EMS, fixed exchange rate systems and the chaos theory
Exchange rate economics : where do we stand?
by
Paul de Grauwe
( Book )
13 editions published between
2005
and 2016 in
English
and
Undetermined
and held by 376 WorldCat member libraries worldwide
"This book discusses the divergent theoretical and empirical paradigms used today for setting and predicting exchange rates; the chapters reflect current debates in the field. Some chapters base their analyses on the theoretical framework of representative and fully informed rational agents; others are grounded in the heterogeneity of agents who use different and incomplete sets of information. Still others chapters analyze empirical data to uncover the fundamental characteristics of exchange rates. Taken together, these competing analyses document the current state of exchange rate economics and point the way to a new consensus about how to predict and explain exchange rate movements."--Jacket
Exchange rate theory : chaotic models of foreign exchange markets
by
Paul de Grauwe
( Book )
17 editions published between
1993
and 1995 in
English
and held by 368 WorldCat member libraries worldwide
"Exchange Rate Theory presents a novel and elegant theory to explain the excessive variability of foreign exchange rate returns. The theory is novel in the sense that it focuses on interaction between market agents as the primary source of the variability in those speculative prices. It is shown that simple interactions between market participants using different information is sufficient to generate deterministic chaos." "In the first part of this book the authors survey existing exchange rate theories and ask whether these theories are useful in explaining actual exchange rate movements. They demonstrate that the 1970s were characterized by the belief that exchange rates could be understood by an analysis of the fundamentals (inflation rates, interest rates and monetary policy). Subsequently, this belief has all but disappeared but researchers have been content to analyze the statistical properties of exchange rates, abandoning the theory and the models." "The second part of the book uses chaos theory to construct an innovative framework for the understanding of exchange markets. These models, which integrate fundamentalism and chartism, create complex exchange rate movements which appear to be random. These models are used to explain several of the anomalies observed in exchange rate markets and to evaluate the possibility of exchange rate prediction."--BOOK JACKET
The exchange rate in a behavioral finance framework
by
Paul de Grauwe
( Book )
7 editions published in
2006
in
English
and held by 367 WorldCat member libraries worldwide
"This book provides an alternative view of the workings of foreign exchange markets. The authors' modeling approach is based on the idea that agents use simple forecasting rules and switch to those rules that have been shown to be the most profitable in the past. This selection mechanism is based on trial and error and is probably the best possible strategy in an uncertain world, the authors contend. It creates a rich dynamic in the foreign exchange markets and can generate bubbles and crashes. Sensitivity to initial conditions is a pervasive force in De Grauwe and Grimaldi's model. It explains why large exchange-rate changes and volatility clustering occur. It also has important implications for understanding how the news affects the exchange rate. De Grauwe and Grimaldi conclude that news in fundamentals has an unpredictable effect on the exchange rate. Sometimes, they maintain, it alters the exchange rate considerably; at other times it has no effectwhatsoever. The authors also use their model to analyze the effects of official interventions in the foreign exchange market. They show that simple intervention rules of the "leaning-against-the-wind" variety can be effective in eliminating bubbles and crashes in the exchange rate. They further demonstrate how, quite paradoxically, by intervening in the foreign exchange market the central bank makes the market look more efficient. Clear and comprehensive, The Exchange Rate in a Behavioral Finance Framework is a must-have for analysts in foreign exchange markets as well as students of international finance and economics."--Publisher's website
Lectures on behavioral macroeconomics
by
Paul de Grauwe
( Book )
10 editions published in
2012
in
English
and held by 291 WorldCat member libraries worldwide
In mainstream economics, and particularly in New Keynesian macroeconomics, the booms and busts that characterize capitalism arise because of large external shocks. The combination of these shocks and the slow adjustments of wages and prices by rational agents leads to cyclical movements. In this book, Paul De Grauwe argues for a different macroeconomics model--one that works with an internal explanation of the business cycle and factors in agents' limited cognitive abilities. By creating a behavioral model that is not dependent on the prevailing concept of rationality, De Grauwe is better able to explain the fluctuations of economic activity that are an endemic feature of market economies. This new approach illustrates a richer macroeconomic dynamic that provides for a better understanding of fluctuations in output and inflation. De Grauwe shows that the behavioral model is driven by self-fulfilling waves of optimism and pessimism, or animal spirits. Booms and busts in economic activity are therefore natural outcomes of a behavioral model. The author uses this to analyze central issues in monetary policies, such as output stabilization, before extending his investigation into asset markets and more sophisticated forecasting rules. He also examines how well the theoretical predictions of the behavioral model perform when confronted with empirical data. Develops a behavioral macroeconomic model that assumes agents have limited cognitive abilities Shows how booms and busts are characteristic of market economies. Explores the larger role of the central bank in the behavioral model. Examines the destabilizing aspects of asset markets
more
fewer
Audience Level
0

1
Kids
General
Special
Audience level: 0.56 (from 0.04 for Choosing a ... to 0.76 for The Europe ...)
Related Identities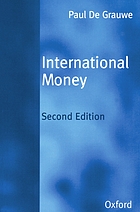 Alternative Names
De Grauwe, Paul.

De Grauwe, Paul 1946-

DeGrauwe, P. 1946-

DeGrauwe, Paul 1946-

Grauwe, P. de

Grauwe, P. de (Paul)

Grauwe Paul De

Grauwe, Paul de 1946-

Paul De Grauwe Belgian economist

Paul De Grauwe belgischer Wirtschaftswissenschaftler und Hochschullehrer

Paul De Grauwe econoom uit België

グラウウェ, ポール・デ

グラウエ, ポール・デ

グローブ, ポール・ド

ポール・デ・グラウウェ

Languages
Covers