Farber, David R.
Most widely held works by David R Farber
Chicago '68
by
David R Farber
( Book )
28 editions published between
1985
and 2014 in
English
and
Undetermined
and held by 1,529 WorldCat member libraries worldwide
" ... Chicago '68 reconstructs the 1968 Democratic Convention in Chicago--an epochal moment in American cultural and political history. By drawing on a wide range of sources, Farber tells and retells the story of the protests in three different voices, from the perspectives of the major protagonists--the Yippies, the National Mobilization to End the War, and Mayor Richard J. Daley and his police. He brilliantly recreates all the excitement and drama, the violently charged action and language of this period of crisis, giving life to the whole set of cultural experiences we call "the sixties."--Publishers description
The Columbia guide to America in the 1960s
by
David R Farber
( Book )
12 editions published between
2001
and 2003 in
English
and held by 1,446 WorldCat member libraries worldwide
A guide to the 1960s, providing a brief overview of the decade; ten essays that examine some of the most significant issues of the era; alphabetically arranged entries that look at some of the most notable people, events, and movements of the sixties; relevant facts, figures, and opinions; a brief chronology; and an annotated bibliography
The age of great dreams : America in the 1960s
by
David R Farber
( Book )
16 editions published between
1994
and 2013 in
English
and held by 1,121 WorldCat member libraries worldwide
In this absorbing new book, David Farber gives us the history of our collective and individual memories of the 1960s: the brilliant colors of revolt and rapture, of flames and raised fists, of napalm and tear gas, of people desperate to make history even as others fought fiercely to stop them. More than thirty years after the assassination of John F
Taken hostage : the Iran hostage crisis and America's first encounter with radical Islam
by
David R Farber
( Book )
10 editions published between
2004
and 2006 in
English
and held by 1,105 WorldCat member libraries worldwide
A behind-the-scenes examination of the Iran Hostage Crisis paints a portrait of the events leading up to the ordeal as a means for understanding it, drawing parallels to the current war on terrorism. On November 4, 1979, Iranian militants stormed the United States Embassy in Tehran and took sixty-six Americans captive. Thus began the Iran Hostage Crisis, an affair that captivated the American public for 444 days and marked America's first confrontation with the forces of radical Islam. Using hundreds of recently declassified government documents, historian David Farber looks at the Hostage Crisis, examining its lessons for America's contemporary war on terrorism. Farber's narrative looks beyond the day-to-day circumstances of the crisis, using the events leading up to the ordeal as a means for understanding it. The book paints a portrait of the 1970s in the United States as an era of failed expectations in a nation plagued by uncertainty and anxiety. It reveals an American government ill prepared for the fall of the Shah of Iran and unable to reckon with the Ayatollah Khomeini and his militant Islamic followers. Farber's account is filled with fresh insights regarding the central players in the crisis: Khomeini emerges as an astute strategist, single-mindedly dedicated to creating an Islamic state. The Americans' student-captors appear as less-than-organized youths, having prepared for only a symbolic sit-in with just a three-day supply of food. ABC news chief Roone Arledge, newly installed and eager for ratings, is cited as a critical catalyst in elevating the hostages to cause célèbre status. Throughout the book there emerge eerie parallels to the current terrorism crisis. Then as now, Farber demonstrates, politicians failed to grasp the depth of anger that Islamic fundamentalists harbored toward the United States, and Americans dismissed threats from terrorist groups as the crusades of ineffectual madmen. Taken Hostage provides a chilling reminder that the past is only prologue
The Sixties : from memory to history
by
David R Farber
( Book )
16 editions published between
1994
and 1998 in
English
and
Undetermined
and held by 1,070 WorldCat member libraries worldwide
Overview: This collection of original essays represents some of the most exciting ways in which historians are beginning to paint the 1960s onto the larger canvas of American history. While the first literature about this turbulent period was written largely by participants, many of the contributors to this volume are young scholars who came of age intellectually in the 1970s and 1980s and thus write from fresh perspectives. The essayists ask fundamental questions about how much America really changed in the 1960s and why certain changes took place. In separate chapters, they explore how the great issues of the decade-the war in Vietnam, race relations, youth culture, the status of women, the public role of private enterprise-were shaped by evolutions in the nature of cultural authority and political legitimacy. They argue that the whirlwind of events and problems we call the Sixties can only be understood in the context of the larger history of post-World War II America
The rise and fall of modern American conservatism : a short history
by
David R Farber
( Book )
12 editions published between
2010
and 2012 in
English
and held by 890 WorldCat member libraries worldwide
This book tells the gripping story of perhaps the most significant political force of our time through the lives and careers of six leading figures at the heart of the movement. The author traces the history of modern conservatism from its revolt against New Deal liberalism, to its breathtaking resurgence under Ronald Reagan, to its spectacular defeat with the election of Barack Obama. He paints vivid portraits of Robert Taft, William F. Buckley Jr., Barry Goldwater, Phyllis Schlafly, Ronald Reagan, and George W. Bush. He shows how these outspoken, charismatic, and frequently controversial conservative leaders were united by a shared insistence on the primacy of social order, national security, and economic liberty. He also demonstrates how they built a versatile movement capable of gaining and holding power, from Taft's opposition to the New Deal to Buckley's founding of the National Review as the intellectual standard bearer of modern conservatism; from Goldwater's crusade against leftist politics and his failed 1964 bid for the presidency to Schlafly's rejection of feminism in favor of traditional gender roles and family values; and from Reagan's city upon a hill to conservatism's downfall with Bush's ambitious presidency. This book provides rare insight into how conservatives captured the American political imagination by claiming moral superiority, downplaying economic inequality, relishing bellicosity, and embracing nationalism. This concise and accessible history reveals how these conservative leaders discovered a winning formula that enabled them to forge a powerful and formidable political majority
What they think of us : international perceptions of the United States since 9/11
by
David R Farber
( Book )
16 editions published between
2007
and 2009 in
English
and held by 815 WorldCat member libraries worldwide
"It has never been more important for Americans to understand why the world both hates and loves the United States. In What They Think of Us, a group of writers from the Middle East, Europe, Asia, and Latin America describes the world's profoundly ambivalent attitudes toward the United States - before and since 9/11"--Jacket
Sloan rules : Alfred P. Sloan and the triumph of General Motors
by
David R Farber
( Book )
7 editions published between
2002
and 2004 in
English
and held by 756 WorldCat member libraries worldwide
"Alfred P. Sloan Jr. became the president of General Motors in 1923 and stepped down as its CEO in 1946. During this time, he led GM past the Ford Motor Company and on to international business triumph by virtue of his brilliant managerial practices and his insights into the new consumer economy he and GM helped to produce. Bill Gates has said that Sloan's 1964 management tome, My Years with General Motors, "is probably the best book to read if you want to read only one book about business." And if you want to read only one book about Sloan, that book should be historian David Farber's Sloan Rules." "Here, for the first time, is a study of both the difficult man and the pathbreaking executive. Sloan Rules reveals the GM genius as not only a driven manager of men, machines, money, and markets but also a passionate and not always wise participant in the great events of his day. Sloan, for example, reviled Franklin Roosevelt and the New Deal; he firmly believed that politicians, government bureaucrats, and union leaders knew next to nothing about the workings of the new consumer economy, and he did his best to stop them from intervening in the private enterprise system. He was instrumental in transforming GM from the country's largest producer of cars into the mainstay of America's "Arsenal of Democracy" during World War II; after the war, he bet GM's future on renewed American prosperity and helped lead the country into a period of economic abundance. Through his business genius, his sometimes myopic social vision, and his vast fortune, Sloan was an architect of the corporate-dominated global society we live in today."--Jacket
America in the seventies
by
Beth L Bailey
( Book )
6 editions published in
2004
in
English
and held by 574 WorldCat member libraries worldwide
The first strange place : the alchemy of race and sex in World War II Hawaii
by
Beth L Bailey
( Book )
9 editions published between
1992
and 2014 in
English
and held by 573 WorldCat member libraries worldwide
Hundreds of thousands of men and women went to Hawaii during World War II expecting a Hollywood image of "paradise." What they found was radically different : a complex crucible in which diverse elements--social, racial, sexual--were mingled and transmuted in the heat and strain of war
more
fewer
Audience Level
0

1
Kids
General
Special
Audience level: 0.25 (from 0.09 for Chicago '6 ... to 0.75 for Jobs To Be ...)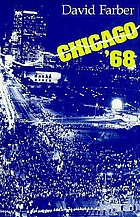 Alternative Names
Farber, Dave

Farber, David.

Farber David 1956-....

Farber, David R.

Farber, David Rosenthal.

Farber, David Rosenthal 1956-

Rosenthal-Farber, David 1956-

Languages
Covers