Reuter, Peter 1944-
Most widely held works by Peter Reuter
Drug war heresies : learning from other vices, times, and places
by
Robert J MacCoun
( Book )
16 editions published in
2001
in
English
and held by 1,086 WorldCat member libraries worldwide
(Publisher-supplied data) This book provides the first multidisciplinary and nonpartisan analysis of how the United States should decide on the legal status of cocaine, heroin and marijuana. It draws on data about the experiences of Western European nations with less punitive drug policies as well as new analyses of America's experience with legal cocaine and heroin a century ago, and of America's efforts to regulate gambling, prostitution, alcohol and cigarettes. It offers projections on the likely consequences of a number of different legalization regimes and shows that the choice about how to regulate drugs involves complicated tradeoffs among goals and conflict among social groups. The book presents a sophisticated discussion of how society should deal with the uncertainty about the consequences of legal change. Finally, it explains, in terms of individual attitudes toward risk, why it is so difficult to accomplish substantial reform of drug policy in America
Chasing dirty money : the fight against money laundering
by
Peter Reuter
( Book )
10 editions published in
2004
in
English
and held by 490 WorldCat member libraries worldwide
Originally developed to reduce drug trafficking, efforts to combat money foundering have broadened over the years to address other crimes and, most recently, terrorism. In this study, the authors look at the scale and characteristics of money laundering, describe and assess the current anti-money laundering regime, and make proposals for its improvement. -- From back cover
The world heroin market : can supply be cut?
by
Letizia Paoli
( Book )
16 editions published in
2009
in
English
and held by 483 WorldCat member libraries worldwide
Draws on a five-year-long research project consisting of fieldwork in six Asian countries, Columbia, and Turkey to analyze the world heroin market in the twenty-first century and explain why many believe there is little chance of shrinking the global supply of heroin
Options for restructuring the Safe and Drug-Free Schools and Communities Act
by
Peter Reuter
( Book )
15 editions published in
2001
in
English
and held by 383 WorldCat member libraries worldwide
This report synthesizes the findings of a review of the structure and performance of the Safe and Drug-Free Schools and Communities Act (SDFSCA) and assesses options for reforming it. The Act provides for a $600-million-per-year program of grants to states, which pass the money on to school districts for programs aimed at reducing school violence and drug abuse. However, the formula by which money is disbursed does not focus on the schools most in need of help, and it spreads the money too thinly. Moreover, the guidelines for expenditure permit schools to use the funds for programs that are unproven, and the legislation gives the federal government limited ability to foster effective programs. The SDFSCA program has not been credibly evaluated, but it is widely thought to have accomplished little. Yet the problems it addresses are so serious and widespread that the federal government cannot reasonably afford to abandon its commitment. Few proposals for reform have been offered, and only the one put forth by the Clinton administration is currently fully developed. That proposal moves in the right direction, but it addresses only some of the ways in which the program could be improved. This report suggests criteria for judging reform options and presents ways in which the proposal under discussion could be strengthened
Cross-national drug policy
( Book )
6 editions published in
2002
in
English
and held by 350 WorldCat member libraries worldwide
Synopsis: While citizens experiment with illegal drugs, their governments experiment with regulations to prohibit drugs. Scholars, analysts, and policy makers who know what legal prohibitions other countries have tried and found successful will have a better chance of crafting effective drug policy for their countries. This special issue of The Annals describes the experiences of eleven countries: Australia, Canada, Columbia, Denmark, France, Iran, Jamaica, Mexico, Portugal, Russia, and Sweden. Articles are grouped by geography and wealth: the wealthy West, the western hemisphere, and the transition countries. The drug problems of wealthy Western nations have generally worsened since the 1960s. Some have no clearly articulated vision behind their drug policy (e.g. Denmark); others have tough policies (e.g. Sweden). France and Portugal both recently instituted sharp changes in drug policy. While no outcome results are yet available from Portugal, France has experience a huge increase in the number of users in treatment. Australia's strong harm-reduction policy remains in place despite increasing heroin deaths and other drug-related problems. U.S. consumption and U.S. international drug policies affect western hemisphere countries' policy as well as generate problems for them. Although Mexican drug use remains at modest levels, the country faces violent and powerful criminal groups. The groups' creation is related to Mexico's role as the principal source and primary transshipment route for drugs bound for the U.S. IN Jamaica, another route for cocaine shipped to the U.S. and another focus of U.S. international drug policy, drug trafficking has exacerbated the long-standing problem of politically related gang violence by increasing the moneys and weapons involved. Drug use is a relatively minor concern of Columbian policy, also under U.S. pressure; instead, it focuses on trafficking and related corruption and violence. Iran and Russia are countries in transition. Contending with fundamental economic and social change following the collapse of the Soviet Union, Russia has had little political debate regarding its highly intolerant drug policy. Iran's drug policies have frequently shifted during its long history of dealing with opiate abuse, from harsh punishment to regulation of use and back again. Most recently, more therapeutically oriented approaches have been tried. Two articles address geographically broader issues. One shows how U.S. politicians distorted results from a study of needle exchange in Vancouver. The other discusses creation of a new regulatory regime for governing developed nations' banking systems, in the belief that illegal drugs account for a substantial fraction of suspicious financial transactions, particularly across national borders
Designing safer products : corporate responses to product liability law and regulation
by
George C Eads
( Book )
8 editions published between
1983
and 1985 in
English
and held by 340 WorldCat member libraries worldwide
Analyzes ways in which firms have responded to recent changes in pressures to design safer products, using interviews with product safety officials in major manufacturers and extensive analysis of legal and scholarly literatures. Shifts to strict liability and more stringent regulation during the last 15 years have increased pressure to invest in safety assurance procedures, as evidenced by creation of new corporate product safety units. Regulation has been of more questionable effectiveness than has strict liability in inducing better design practices. Argues that federal product liability legislation will have marginal effect, despite the current variation in state law on the matter. Discusses the factors that influence the effectiveness of corporate product safety units and suggests that combining product safety with quality assurance may be the optimal strategy for a firm
An analytic assessment of U.S. drug policy
by
David Boyum
( Book )
5 editions published in
2005
in
English
and held by 304 WorldCat member libraries worldwide
"In this book, David Boyum and Peter Reuter provide an assessment of how well the massive investment of tax dollars and government authority is working. Using a market framework, the book discusses the nature and effectiveness of efforts to tackle the nation's drug problems. Drug policy has become increasingly punitive, with the number of drug offenders in jail and prison growing tenfold between 1980 and 2003. Nevertheless, there is strikingly little evidence that tougher law enforcement can materially reduce drug use. By contrast, drug treatment services remain in short supply, even though research indicates that treatment expenditures easily pay for themselves in terms of reduced crime and improved productivity."--Jacket
Sealing the borders : the effects of increased military participation in drug interdiction
by
Peter Reuter
( Book )
9 editions published in
1988
in
English
and held by 212 WorldCat member libraries worldwide
Rising concern with drug use in the United States has led to increased emphasis on the interdiction of drugs before they reach the country. The military services are now being asked to assume a substantial share of the burden of this interdiction. This report analyzes the consequences of greater stringency in drug interdiction efforts, focusing particularly on how such increased stringency might influence the consumption of cocaine and marijuana. The analysis strongly suggests that a major increase in interdiction activities, even including the military, is unlikely to significantly reduce drug consumption in the United States
more
fewer
Audience Level
0

1
Kids
General
Special
Audience level: 0.36 (from 0.03 for Budgeting ... to 0.61 for A simple e ...)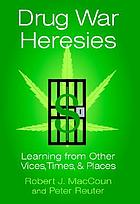 Alternative Names
Reuter, P. 1944-

Reuter, Peter

Reuter, Peter H.

Reuter, Peter H. 1944-

Reuter, Peter Henry 1944-

Reuter, Peter W. 1944-

Languages
Covers