Cornwell, John 1940-
Most widely held works about John Cornwell
more
fewer
Most widely held works by John Cornwell
Hitler's pope : the secret history of Pius XII
by
John Cornwell
( Book )
50 editions published between
1999
and 2013 in 4 languages and held by 2,874 WorldCat member libraries worldwide
Examines the papacy of Eugenio Pacelli, Pius XII, pontiff from 1939 to 1958, discussing his failure to speak out against Hitler's actions during World War II, and charging that the Pope's behavior was consistent with his dedication to enhancing his own power and his personal antipathy toward the Jews
Hitler's scientists : science, war, and the devil's pact
by
John Cornwell
( Book )
11 editions published between
2003
and 2013 in
English
and
Thai
and held by 1,598 WorldCat member libraries worldwide
In Hitler's Scientists, British historian John Cornwell explores German scientific genius in the first half of the twentieth century and shows how Germany's early lead in the new physics led to the discovery of atomic fission, which in turn led the way to the atom bomb, and how the ideas of Darwinism were hijacked to create the lethal doctrine of racial cleansing
Breaking faith : the Pope, the people, and the fate of Catholicism
by
John Cornwell
( Book )
11 editions published between
2001
and 2002 in
English
and
Portuguese
and held by 879 WorldCat member libraries worldwide
"Cornwell probes beyond the statistics--the rising incidents of priestly pedophilia, the falling number of people attending church, the bizarre calculations behind the Vatican's saint-naming procedure--to reveal the everyday crises on the parish level: the dilemma of the gay or divorced Catholic who wants to remain in the Church; the forced hypocrisy on sexual conduct and abortion; the vexed role of women."--Jacket
The Pontiff in winter : triumph and conflict in the reign of John Paul II
by
John Cornwell
( Book )
18 editions published between
2004
and 2013 in
English
and held by 844 WorldCat member libraries worldwide
Presents the life story of Pope John Paul II, with an assessment of the achievements and failings which have made him such a controversial figure in the first decade of the twenty-first century
The power to harm : mind, medicine, and murder on trial
by
John Cornwell
( Book )
13 editions published between
1995
and 2014 in
English
and
Undetermined
and held by 622 WorldCat member libraries worldwide
Joseph Wesbecker had been on disability leave for a year, taking Prozac for severe depression, when he killed or wounded twenty people in the plant where he had worked. Cornwell presents the story of the subsequent trial of the drug company Eli Lilly
Nature's imagination : the frontiers of scientific vision
( Book )
8 editions published in
1995
in
English
and held by 570 WorldCat member libraries worldwide
"A person is not explainable in molecular, field-theoretical, or physiological terms alone." With that declaration, Nobel laureate Gerald M. Edelman goes straight to the heart of Nature's Imagination, a vibrant and important collection of essays by some of the world's foremost scientists. Ever since the Enlightenment, the authors write, science has pursued reductionism: the idea that the whole can be understood by examining and explaining each of its parts. But as this book shows, scientists in every discipline are reaching for a new paradigm that accounts for the whole - from the individual person to the universe itself. Nature's Imagination gathers together the work of thirteen leading mathematicians, astronomers, neuroscientists, and philosophers, as they discuss the revolution sweeping the sciences. Here Roger Penrose, Oliver Sacks, John Barrow, Gregory Chaitin, Maragret Boden, and others explore how and why classic reductionism is falling by the wayside in their own fields. As Freeman Dyson writes in the introduction, science is an art form, not a philosophical method, and it is always in search of new tools. Reductionism has done its work, and scientists are in search of another. Roger Penrose offers a fascinating account of irreducibility in mathematics, starting with the example of an impossible triangle - a drawing of a triangular object twisted so that could not exist in three dimensions. He breaks the triangle into three parts, showing that each corner is physically possible; only in combination is the triangle impossible. Both Penrose and mathematician Gregory Chaitin explore Godel's incompleteness theorem - as does John Barrow, who explains that Chaitin's proof of the theorem shows that, if we ever arrive at a Theory of Everything, there may be a still deeper and simpler unifying theory beyond that. Other contributors discuss the changing thinking in neuroscience, and the limitations of a mechanical view of the mind: as Oliver Sacks writes, "if we are to have a model or theory of mind as this actually occurs in living creatures in the world, it may have to be radically different from anything like a computational one." In addition, this volume includes staunch defenders of the classic scientific approach, such as Peter Atkins ("The omnicompetence of science, and in particular the simplicity its reductionist insight reveals, should be accepted as a working hypothesis until, if ever, it is proved inadequate"). The advance of science has been so startlingly swift in the last century that it has begun to approach limits never dreamed of before. This remarkable volume captures the latest thinking on where we must turn if we are to truly understand ourselves and the universe we live in
Newman's unquiet grave : the reluctant saint
by
John Cornwell
( Book )
9 editions published between
2010
and 2011 in
English
and held by 500 WorldCat member libraries worldwide
Newman was the most brilliant and controversial churchman of the Victorian Age. Cornwell explores the questions of Newman's emotional life, while drawing a complex warts-and-all portrait of "a literary workaholic."
Explanations : styles of explanation in science
by
John Cornwell
( Book )
16 editions published between
2004
and 2012 in
English
and
Undetermined
and held by 440 WorldCat member libraries worldwide
Scientists often talk about the search for meaning, and about explanations that can make sense of the universe. But what do we mean by this, and what information do these explanations give us? This title addresses this problem, to provoke and inspire reflection on how and why we explain things the way we do
The dark box : a secret history of confession
by
John Cornwell
( Book )
7 editions published in
2014
in
English
and held by 427 WorldCat member libraries worldwide
A bestselling journalist exposes the connection between the Catholic Church's sexual abuse crisis and the practice of confession. Confession is a crucial ritual of the Catholic Church, offering absolution of sin and spiritual guidance to the faithful. Yet this ancient sacrament has also been a source of controversy and oppression, culminating, as prize-winning historian John Cornwell reveals in The Dark Box, with the scandal of clerical child abuse. Drawing on extensive historical sources, contemporary reports, and first-hand accounts, Cornwell takes a hard look at the long evolution of confession. The papacy made annual, one-on-one confession obligatory for the first time in the 13th century. In the era that followed, confession was a source of spiritual consolation as well as sexual and mercenary scandal. During the 16th century, the Church introduced the confession box to prevent sexual solicitation of women, but this private space gave rise to new forms of temptation, both for penitents and confessors. Yet no phase in the story of the sacrament has had such drastic consequences as a historic decree by Pope Pius X in 1910. In reaction to the spiritual perils of the new century, Pius sought to safeguard the Catholic faithful by lowering the age at which children made their first confession from their early teens to seven, while exhorting all Catholics to confess frequently instead of annually. This sweeping, inappropriately early imposition of the sacrament gave priests an unprecedented and privileged role in the lives of young boys and girls -- a role that a significant number would exploit in the decades that followed. A much-needed account of confession's fraught history, The Dark Box explores the sources of the sacrament's harm and shame, while recognizing its continuing power to offer consolation and reconciliation. - Publisher
more
fewer
Audience Level
0

1
Kids
General
Special
Audience level: 0.31 (from 0.02 for Philosophe ... to 0.98 for Złodziej w ...)
Associated Subjects
Apologetics
Cardinals
Catholic Church
Confession
Cornwell, John,
Cotton College
Critics
Diplomatic relations
Eli Lilly and Company
England
England--Devon
Europe
Explanation
Faith
Fluoxetine
Foreign news
Germany
God delusion (Dawkins, Richard)
God--Proof
Great Britain
International relations
John Paul--I,--Pope,
John Paul--II,--Pope,
Kentucky--Louisville
Miracles
Mysticism--Catholic Church
Newman, John Henry,
Papacy
Pharmaceutical industry--Corrupt practices
Pius--XII,--Pope,
Poets, English
Politics and government
Popes
Reductionism
Relations with Jews
Revolutionaries
Science
Science and state
Science--Philosophy
Scientists
Seminarians
Standard Gravure (Printing firm)
Theologians
Trials (Murder)
Trials (Products liability)
United States
Universities and colleges--Alumni and alumnae
Visions
Wesbecker, Joseph T.--(Joseph Thomas),
World War (1939-1945)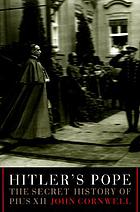 Alternative Names
Cornwell, J. 1940-

Cornwell John

Cornwell, John 1941-...

John Cornwell Brits journalist

John Cornwell englischer Journalist und Buchautor

John Cornwell journaliste et auteur anglais

Kornvels, Džons 1940-

جان کرنول ژورنالیست و نویسنده بریتانیایی

콘웰, 존 1940-

コーンウェル, ジョン

Languages
Covers