Goold, G. P.
Overview
| | |
| --- | --- |
| Works: | 498 works in 1,073 publications in 7 languages and 9,393 library holdings |
| Genres: | Poetry Elegiac poetry, Latin Criticism, interpretation, etc Fiction Didactic poetry, Latin Epic poetry, Latin Records and correspondence Bibliography History Software |
| Roles: | Editor, Translator, Author, Other, Adapter, Publisher, Publishing director, Author of introduction, Contributor |
| Classifications: | PA6156, 871 |
Most widely held works by G. P Goold
Elegies / Propertius ; edited and translated by G.P. Goold
by
Sextus Propertius
( Book )
29 editions published between
1990
and 2015 in 5 languages and held by 861 WorldCat member libraries worldwide
The passionate and dramatic elegies of Propertius (c. 50-soon after 16 BCE) gained him a reputation as one of Rome's finest love poets. He portrays the uneven course of his love affair with Cynthia and also tells us much about the society of his time, then in later poems turns to the legends of ancient Rome
Callirhoe
by
Chariton
( Book )
23 editions published between
1994
and 2015 in 4 languages and held by 792 WorldCat member libraries worldwide
Chariton's Callirhoe, subtitled "Love Story in Syracuse," is the oldest extant novel. It is a fast-paced historical romance with ageless charm. Chariton narrates the adventures of a strikingly beautiful young bride named Callirhoe, beginning with her abduction by pirates - adventures that take her as far as the court of the Persian king Artaxerxes and involve shipwrecks, several ardent suitors, an embarrassing pregnancy, the hazards of war, and a happy ending. Animated dialogue captures dramatic situations, and the novelist takes us on picturesque travels. His skill makes us enthralled spectators of plots and counter-plots, at trials and a crucifixion, inside a harem, among the admiring crowd at weddings, and at battles on land and sea. This enchanting tale is here made available for the first time in an English translation facing the Greek text. In his Introduction G.P. Goold establishes the book's date in the first century A.D. and relates it to other ancient fiction
Catullus
by
Gaius Valerius Catullus
( Book )
44 editions published between
1913
and 2005 in 4 languages and held by 770 WorldCat member libraries worldwide
Enth.: <Carmina> / Catullus. <Elegiae> / Tibullus. Pervigilium veneris / <Tiberianus>
Virgil
by
Virgil
( Book )
35 editions published between
1934
and 2015 in
English
and
Latin
and held by 669 WorldCat member libraries worldwide
Virgil (70-19 BCE) was a poet of immense virtuosity and influence. His Eclogues deal with bucolic life and love, his Georgics with tillage, trees, cattle, and bees. His Aeneid is an epic on the theme of Rome's origins. Poems of the Appendix Vergiliana are traditionally, but in most cases probably wrongly, attributed to Virgil
Ovid. Metamorphoses
by
Ovid
( Book )
15 editions published between
1916
and 1994 in
English
and
Latin
and held by 553 WorldCat member libraries worldwide
In his most influential work, the Metamorphoses, Ovid (43 BCE-17 CE) weaves a hexametric whole from a huge range of myths, which are connected by the theme of change and ingeniously linked as the narrative proceeds from earliest creation to transformation in Ovid's own time
Astronomica
by
Marcus Manilius
( Book )
71 editions published between
1885
and 2006 in 5 languages and held by 544 WorldCat member libraries worldwide
Astronomica, a Latin didactic poem in five books, begins with an account of celestial phenomena, and then proceeds to treat of the signs of the zodiac and the twelve temples; there follow instructions for calculating the horoscoping degree, and details of chronocrators, decans, injurious degrees, zodiacal geography, paranatellonta, and other technical matters. Besides exhibiting great virtuosity in rendering mathematical tables and diagrams in verse form, the poet writes with some passion about his Stoic beliefs and shows much wit and humour in his character sketches of persons born under particular stars. Perhaps taking a lead from Virgil in his Georgics, Manilius abandons the proportions of his last book to narrate the story of Perseus and Andromeda at considerable length. In spite of its undoubted elegance, the Astronomica is a difficult work, and this edition provides in addition to the first English prose translation a full guide to the poem, with copious explanatory notes and illustrative figures.-- jacket
Catullus
by
D. F. S Thomson
( Book )
24 editions published between
1913
and 2015 in 4 languages and held by 521 WorldCat member libraries worldwide
Catullus (84-54BCE) couples consummate poetic artistry with intensity of feeling. Tibullus (c. 54-19 BCE) proclaims love for "Delia" and "Nemesis" in elegy. The beautiful verse of the Pervigilium Veneris (fourth century CE?) celebrates a spring festival in honour of the goddess of love. Catullus (Gaius Valerius, 84-54 BCE), of Verona, went early to Rome, where he associated not only with other literary men from Cisalpine Gaul but also with Cicero and Hortensius. His surviving poems consist of nearly sixty short lyrics, eight longer poems in various metres, and almost fifty epigrams. All exemplify a strict technique of studied composition inherited from early Greek lyric and the poets of Alexandria. In his work we can trace his unhappy love for a woman he calls Lesbia; the death of his brother; his visits to Bithynia; and his emotional friendships and enmities at Rome. For consummate poetic artistry coupled with intensity of feeling Catullus's poems have no rival in Latin literature. Tibullus (Albius, ca. 54-19 BCE), of equestrian rank and a friend of Horace, enjoyed the patronage of Marcus Valerius Messalla Corvinus, whom he several times apostrophizes. Three books of elegies have come down to us under his name, of which only the first two are authentic. Book 1 mostly proclaims his love for "Delia," Book 2 his passion for "Nemesis." The third book consists of a miscellany of poems from the archives of Messalla; it is very doubtful whether any come from the pen of Tibullus himself. But a special interest attaches to a group of them which concern a girl called Sulpicia: some of the poems are written by her lover Cerinthus, while others purport to be her own composition. The Pervigilium Veneris, a poem of not quite a hundred lines celebrating a spring festival in honour of the goddess of love, is remarkable both for its beauty and as the first clear note of romanticism which transformed classical into medieval literature. The manuscripts give no clue to its author, but recent scholarship has made a strong case for attributing it to the early fourth-century poet Tiberianus
Ovid
by
Ovid
( Book )
67 editions published between
1916
and 2007 in 3 languages and held by 491 WorldCat member libraries worldwide
Eerste deel van een tweedelige tekstuitgave van de Latijnse bundel verhalen over gedaanteverwisselingen; met Engelse vertaling en voetnoten
The art of love and other poems
by
Ovid
( Book )
22 editions published between
1979
and 2006 in 3 languages and held by 489 WorldCat member libraries worldwide
Tristia ; Ex Ponto
by
Ovid
( Book )
14 editions published between
1988
and 2015 in
English
and
Latin
and held by 433 WorldCat member libraries worldwide
In the melancholy elegies of the Tristia and the Ex Ponto, Ovid (43 BCE-17 CE) writes as from exile in Tomis on the Black sea, appealing to such people as his wife and the emperor. Ovid (Publius Ovidius Naso, 43 BCE-17 CE), born at Sulmo, studied rhetoric and law at Rome. Later he did considerable public service there, and otherwise devoted himself to poetry and to society. Famous at first, he offended the emperor Augustus by his Ars Amatoria, and was banished because of this work and some other reason unknown to us, and dwelt in the cold and primitive town of Tomis on the Black Sea. He continued writing poetry, a kindly man, leading a temperate life. He died in exile. Ovid's main surviving works are the Metamorphoses, a source of inspiration to artists and poets including Chaucer and Shakespeare; the Fasti, a poetic treatment of the Roman year of which Ovid finished only half; the Amores, love poems; the Ars Amatoria, not moral but clever and in parts beautiful; Heroides, fictitious love letters by legendary women to absent husbands; and the dismal works written in exile: the Tristia, appeals to persons including his wife and also the emperor; and similar Epistulae ex Ponto. Poetry came naturally to Ovid, who at his best is lively, graphic and lucid. The Loeb Classical Library edition of Ovid is in six volumes
more
fewer
Audience Level
0

1
Kids
General
Special
Audience level: 0.50 (from 0.19 for Catullus / ... to 0.76 for Interpreti ...)
Related Identities
Associated Subjects
Aeneas--(Legendary character)
Agriculture
Astrology
Astronomy
Astronomy, Ancient
Calendar
Calendar, Roman
Caria
Catullus, Gaius Valerius
Country life
Didactic poetry, Latin
Elegiac poetry, Latin
Epic poetry, Latin
Epigrams, Latin
Epistolary poetry, Latin
Erotic poetry, Latin--Translations into English
Exiles
Fables, Latin
Fasts and feasts
Greek fiction
Greek literature
Incantations
Latin language
Latin literature
Latin poetry
Legends
Literature
Love-letters
Love poetry, Latin
Malalas, John,
Manilius, Marcus
Man-woman relationships
Metamorphosis
Metamorphosis--Mythology
Mythology, Classical
Ovid,
Pastoral poetry, Latin
Pervigilium Veneris
Poets, Latin
Propertius, Sextus
Rites and ceremonies
Rome (Empire)
Seduction
Slaves
Stoics
Syracuse (Italy)
Tibullus
Trojan War
Virgil
Women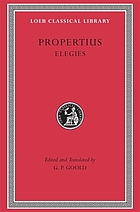 Alternative Names
George P. Goold britischer Klassischer Philologe

George Patrick Goold

Goold, G. P.

Goold, G. P. 1922-

Goold, G. P. 1922-2001

Goold, G. P. (George Patrick), 1922-

Goold, George P.

Goold, George Patrick

Goold, George Patrick 1922-2001

Goold, Georgius Patricius.

Goold, Georgius Patricius 1922-2001

Languages
Covers