Booth, Alan 1935-2015
Most widely held works by Alan Booth
A generation at risk : growing up in an era of family upheaval
by
Paul R Amato
( Book )
17 editions published between
1997
and 2009 in
English
and held by 1,149 WorldCat member libraries worldwide
Based on a unique fifteen-year study begun in 1980, the book considers parents' socioeconomic resources, their gender roles and relations, and the quality and stability of their marriages. It then examines children's relations with their parents, their intimate and broader social affiliations, and their psychological well-being. The authors provide rare insight into how both familial and historical contexts affect young people as they make the transition to adulthood. Perhaps surprising is the authors' finding that, in this era of shifting gender roles, children who grow up in traditional father-breadwinner, mother-homemaker families and those in more egalitarian, role-sharing families apparently turn out the same. Also striking are the beneficial influence of parental education on children and the troubling long-term impact of marital conflict and divorce--an outcome that prompts the authors to suggest policy measures that encourage marital quality and stability
Stepfamilies : who benefits? who does not?
by
Alan Booth
( Book )
15 editions published between
1994
and 2014 in
English
and
Undetermined
and held by 420 WorldCat member libraries worldwide
Stepfamilies represent an increasing number of American households and shape the upbringing of countless stepchildren. Despite their prominence in society, our knowledge about these families is very limited. To address this deficit, the editors have drawn together the work of 16 nationally known scholars to deal with four questions: * Marriages that create stepfamilies: Why do they occur? Fail? Succeed? * How do stepfamilies function as child rearing environments? * How do stepfamilies function as sources of support in later life? * Building research and
Family-school links : how do they affect educational outcomes?
by
Alan Booth
( Book )
17 editions published between
1995
and 2013 in
English
and
Undetermined
and held by 408 WorldCat member libraries worldwide
This book explores issues related to the links between families and schools and how they affect children's educational achievement, and is organized as follows: Part 1, titled "Families and Schools: How Can They Work Together To Promote Children's School Success?" Contains the following chapters: chapter 1, "Family Involvement in Chidrens' and Adolescents' Schooling" (Jacquelynne S. Eccles and Rena D. Harold); chapter 2, "The Structural Context of Family-School Relations" (Sanford M. Dornbusch and Kristan L. Glasgow); chapter 3, "Parents as Full Partners in Education" (Norris M. Haynes and Michael Ben-Avie); and chapter 4, "Assessing Parent Involvement in Schooling: a Critical Analysis" (Annette Lareau). Part 2, titled "How Do School Processes Affect Children and Their Families?" Contains the following chapters: chapter 5, "Schools and Children at Risk" (Karl L. Alexander and Doris R. Entwisle); chapter 6, "Inequality in Educational Achievement: Families Are the Source, but Are Schools a Prophylactic?" (Thomas D. Cook); chapter 7, "Effects of Schooling on Children and Families" (Adam Gamoran); chapter 8, "Schools, Children at Risk, and Suffessful Interventions" (Claude Goldenberg); and chapter 9, "Further Comments on Seasonal Learning" (Doris R. Entwisle and Karl L. Alexander). Part 3, titled "How is Changing Family Structure Affecting School Outcomes?" Consists of: chapter 10, "Family Change and Student Achievement: What We Have Learned, What It Means for Schools" (Nicholas Zill); chapter 11, "Changes in Families and Trends in Schooling" (Robert D. Mare); chapter 12, "Family Composition, Family Interaction, and Children's Academic and Behavior Problems: Interpreting the Data" (Elizabeth G. Menaghan); and chapter 13, "Toward a Balanced View of Family Change" (Fiane Scott-Jones). Part 4 titled: "Building Research and Policy Agendas: New Directions" contists of: chapter 14, "Perspectives and Previews on Research and Policy for School, Family, and Community Partnerships" (Joyce L. Epstein); chapter 15, "New National Directions in Research and Policy" (Oliver C. Moles); chapter 16, "Research and Practical Application for School, Family, and Community Partnerships" (Gary M. Lloyd); chapter 17, "Family Diversity, Intellectual Inequality, and Academic Achievement Among American Children (Daniel T. Lichter); and chapter 18, "Family-School Links: An Overview" (Karen L. Bierman). Includes and author index and a subject index. (Sd)
Does it take a village? : community effects on children, adolescents, and families
by
Alan Booth
( Book )
12 editions published between
1999
and 2001 in
English
and held by 390 WorldCat member libraries worldwide
Does It Take a Village? focuses on the mechanisms that link community characteristics to the functioning of the families and individuals within them--community norms, economic opportunities, reference groups for assessing relative deprivation, and
Work-family challenges for low-income parents and their children
by
Ann C Crouter
( Book )
10 editions published between
2004
and 2014 in
English
and held by 365 WorldCat member libraries worldwide
The area of work and family is a hot topic in the social sciences and appeals to scholars in a wide range of disciplines. There are few edited volumes in this area, however, and this may be the only one that focuses on low-income families--a particularly important group in this era of welfare-to-work policy. Interdisciplinary in nature, the volume brings together contributors from the fields of psychology, social work, sociology, demography, economics, human development and family studies, and public policy. It presents important work-family topics from the point of view of low-income families
Child care in the 1990s : trends and consequences
by
Alan Booth
( Book )
12 editions published between
1992
and 2014 in
English
and
Undetermined
and held by 348 WorldCat member libraries worldwide
Bringing together professionals from sociology, economics, psychology, and family studies, this volume presents papers from a symposium on child care that sought answers to each of the four questions listed in the table of contents. A lead speaker provided an answer, and discussants had a chance to critique the main presentation and set forth their own views. Each session also included a policy person to deal with issues from an applied perspective. The lead papers, review papers, and rejoinders constitute the contents of this volume. Interdisciplinary in scope, it deals with the central issue
Couples in conflict
by
Alan Booth
( Book )
20 editions published between
2001
and 2016 in
English
and held by 339 WorldCat member libraries worldwide
This classic volume provides a solid foundation for thinking about creative ways in which our society can work to prevent or minimize destructive couple conflict and enhance couples'abilities to constructively handle their differences. A common thread throughout is that constructive conflict and negotiation are beneficial for relationships. The new introduction provides an overview of how this classic text is still relevant today. Divided into four parts, this book: •addresses the societal and bio-evolutionary underpinnings of couple conflict; •presents the interpersonal roots of couple conflict and the consequences for individuals and couples; •discusses what effects couple conflict have on children and how individual differences in children moderate these effects; •outlines policies and programs that address couple conflict; and • concludes with an essay that pulls these four themes together and points to new directions for research and program efforts. This book serves as a supplement in graduate or advanced undergraduate courses on interpersonal relationships, couples and/or family and conflict, divorce, couples and/or family therapy taught in human development and family studies, clinical or counseling psychology, social work, sociology, and communications and it is also a helpful compendium for researchers and clinicians/counselors interested in couple conflict
more
fewer
Audience Level
0

1
Kids
General
Special
Audience level: 0.26 (from 0.03 for Religious ... to 0.53 for Urban crow ...)
Related Identities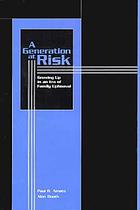 Alternative Names
Booth, Alan

Booth, Allan 1935-

Languages
Covers