Newman, Graeme R.
Most widely held works by Graeme R Newman
Outsmarting the terrorists
by
R. V. G Clarke
( )
8 editions published in
2006
in
English
and held by 1,019 WorldCat member libraries worldwide
Given that the war on terror is currently being fought the way crime typically is-after the fact-this country cannot protect its citizens from future terrorist events solely in this way. Instead, measures must be taken to actually stop terrorists before they can attack. Here, the authors argue that government anti-terrorism policy must pay much more attention to reducing opportunities for terrorist attacks by protecting vulnerable targets, controlling the tools and weapons used by terrorists, and by removing the conditions of everyday life that make these attacks possible. While some of this work is done on an ad hoc basis, there are no recognized methods to guide the work, there is limited experience on which to draw, and the government has no trained professionals to oversee the work. In this book, the authors address these deficiencies, and lay out a systematic approach for reducing opportunities for terrorism. The current "take-them-out mindset" may be the main reason why reducing opportunities for terrorism has been so neglected by governments, but another important reason is that the task seems so overwhelmingly difficult. How can we possibly protect every vulnerable target or person? How can we control all the everyday tools that terrorists must use in carrying out their attacks? How can we control their weapons when we cannot even keep guns out the hands of ordinary criminals? In this book, the authors show that these tasks are indeed manageable. They take readers through the methods for preventing terrorism and the policies that will assist in this important work. They show that in order to protect the country from terrorists, security forces must do what the terrorists do: identify vulnerable targets, analyze their specific weaknesses, consider the tools and weapons needed to attack, and assess access to the targets. Once these steps are taken, security agencies can then provide appropriate protection, limit accessibility, anticipate the forces needed to combat a potential attack, and plan carefully for an attack if it does occur. By "outsmarting the terrorists" security forces undertake the same analysis of vulnerabilities and opportunities that terrorists themselves undertake in planning their operations, and can more effectively defeat them before they strike. This books shows how this approach works and can succeed
Crime and punishment around the world
( )
7 editions published between
2010
and 2011 in
English
and held by 986 WorldCat member libraries worldwide
Explores crime and punishment throughout the world through the eyes of leading experts, local authors and scholars, and government officials
The punishment response
by
Graeme R Newman
( Book )
25 editions published between
1978
and 2017 in
English
and held by 876 WorldCat member libraries worldwide
"Punishment occupies a central place in our lives and attitudes. We suffer a profound ambivalence about its moral consequences. Persons who have been punished or are liable to be punished have long objected to the legitimacy of punishment. We are all objects of punishment, yet we are also its users. Our ambivalence is so profound that not only do we punish others, but we punish ourselves as well. We view those who submit too willingly to punishment as obedient verging on the groveling coward, and we view those who resist punishment as disobedient, rebels. In The Punishment Response Graeme Newman describes the uses of punishment and how these uses change over time. Some argue that punishment promotes discrimination and divisiveness in society. Others claim that it is through punishment that order and legitimacy are upheld. It is important that punishment is understood as neither one nor the other; it is both. This point, simple though it seems, has never really been addressed. This is why Newman claims we wax and wane in our uses of punishment; why punishing institutions are clogged by bureaucracy; why the death penalty comes and goes like the tide. Graeme Newman emphasizes that punishment is a cultural process and also a mechanism of particular institutions, of which criminal law is but one. Because academic discussions of punishment have been confined to legalistic preoccupations, much of the policy and justification of punishment have been based on discussions of extreme cases. The use of punishment in the sphere of crime is an extreme unto itself, since crime is a minor aspect of daily life. The uses of punishment, and the moral justifications for punishment within the family and school have rarely been considered, certainly not to the exhaustive extent that criminal law has been in this outstanding work."--Provided by publisher
Designing out crime from products and systems
by
R. V. G Clarke
( )
11 editions published between
2005
and 2010 in
English
and
Undetermined
and held by 818 WorldCat member libraries worldwide
This anthology provides the first comprehensive and comparative international overview of effective approaches to "designing out" crime from products and services. Prominent criminologists and scholars of design analyze the lessons derived from a wide range of successful design-against-crime initiatives worldwide, including (among many others): technologies that have dramatically decreased cell phone "cloning" in the U.S.; the fitting of immobilizers to prevent car theft; adoption of tamper-resistant product packaging; the redesign of banknotes to block counterfeiting; account verification technology to minimize credit card fraud; and the use of hard-to-shatter glass to reduce injuries in bar brawls.--[Résumé de l'éditeur]
Comparative deviance : perception and law in six cultures
by
Graeme R Newman
( Book )
25 editions published between
1976
and 2017 in
English
and
Undetermined
and held by 780 WorldCat member libraries worldwide
""Comparative Deviance" represents a systematic attempt to survey public perceptions of deviant behavior cross-culturally: in India, Indonesia, Iran, Italy, Yugoslavia and the United States. There is extensive diversity in both law and perception concerning such deviances as taking drugs, homosexuality, and abortion, yet there is evidence for a basically invariant structure in perception of deviance across all cultures. Within the countries studied in this volume, Geraeme Newman discovers that the strength of religious belief and urban rural background accounted for major differences in the perception of deviance - when differences were identified. Contrary to popular academic opinion in the United States, Newman finds that those countries with the most liberal laws on deviance (i.e., the least punitive sanctions) are also those highly economically developed and least totalitarian (United States and Italy). But when public opinion is considered, the public favors harsher punishments than the law provides. In contrast, in the developing countries of India, Iran and Indonesia, where penal sanctions are more severe, public opinion is much more liberal. The crucial question is the role criminal law plays in the process of modernization: whether law is a stable cultural influence, round which public opinion wavers in a startling fashion, depending on the stage of modernization. These findings challenge many assumptions of conflict theory in sociology, of cultural relativism in anthropology, and of ethical relativism in moral philosophy. All findings are examined in relation to research on modernization, social development, and the evolution of law. These fundamental issues are thus important to many different disciplines across the board."--Provided by publisher
Policing terrorism : an executive's guide
by
Graeme R Newman
( Book )
7 editions published between
2008
and 2010 in
English
and held by 654 WorldCat member libraries worldwide
Description from Brief 01: It has been said that 9/11 changed everything. This is certainly true for local police agencies and other chiefs. It is increasingly clear that federal agencies, such as the FBI and the US Secret Service, can no longer work alone in protecting the United States from further attack. Rather, they must work in partnership with other public and private agencies, and most important, with local police. Local police can identify potential terrorists living or operating in their jurisdictions, they can help protect vulnerable targets, and they can coordinate the first response to terror attacks. These are heavy new responsibilities that significantly expand the workload of already busy departments. Many departments welcome these new responsibilities, but they cannot be shrugged off because elected officials and the public will increasingly expect their police to be prepared
Understanding violence
by
Graeme R Newman
( Book )
11 editions published in
1979
in
English
and
Undetermined
and held by 468 WorldCat member libraries worldwide
Global report on crime and justice
( Book )
9 editions published in
1999
in
English
and held by 412 WorldCat member libraries worldwide
Research and data gathered by the UN Centre for International Crime Prevention. The work combines a wealth of information about crime and justice from UN member states and beyond, and presents emerging crime trends and operations of criminal justice systems on a comparative basis
more
fewer
Audience Level
0

1
Kids
General
Special
Audience level: 0.33 (from 0.01 for Crime and ... to 0.64 for Varieties ...)
Related Identities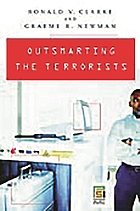 Covers
Alternative Names
Newman, G. F.

Newman, G. R.

Newman, G. R 1939-

Newman, G. R. (Graeme R.)

Newman, Graeme.

Newman, Graeme 1939-

Newman, Graeme R.

Newman, Graeme Reginald 1939-

Newman, Greame 1939-

Languages