Kotlikoff, Laurence J.
Most widely held works by Laurence J Kotlikoff
The coming generational storm : what you need to know about America's economic future
by
Laurence J Kotlikoff
( )
32 editions published between
2004
and 2005 in
English
and held by 3,747 WorldCat member libraries worldwide
"In 2030, as 77 million baby boomers hobble into old age, walkers will outnumber strollers; there will be twice as many retirees as there are today but only 18 percent more workers. How will America handle this demographic overload? How will Social Security and Medicare function with fewer working taxpayers to support these programs? According to Laurence Kotlikoff and Scott Burns, if our government continues on the course it has set, we'll see skyrocketing tax rates, drastically lower retirement and health benefits, high inflation, a rapidly depreciating dollar, unemployment, and political instability. The government has lost its compass, say Kotlikoff and Burns, and the current administration is heading straight into the coming generational storm." "But don't panic. To solve a problem you must first understand it. Kotlikoff and Burns take us on a guided tour of our generational imbalance, first introducing us to the baby boomers - their long retirement years and "the protracted delay in their departure to the next world." Then there's the "fiscal child abuse" that will double the taxes paid by the next generation. There's also the "deficit delusion" of the under-reported national debt. And none of this, they say, will be solved by any of the popularly touted remedies: cutting taxes, technological progress, immigration, foreign investment, or the elimination of wasteful government spending." "So how can the United States avoid this demographic/fiscal collision? Kotlikoff and Burns propose bold new policies, including meaningful reforms of Social Security and Medicare. Their proposals are simple, straightforward, and geared to attract support from both political parties. But just in case our elected officials won't take the political risk to chart a new direction, Kotlikoff and Burns also offer a "life jacket"--Guidelines for individuals to protect their financial health and retirement."--Jacket
The healthcare fix : universal insurance for all Americans
by
Laurence J Kotlikoff
( )
15 editions published in
2007
in
English
and held by 2,516 WorldCat member libraries worldwide
Proposes a universal health insurance plan for the U.S., in which each American would receive an annual voucher for health insurance, the amount based on his or her current medical condition
Get what's yours : the secrets to maxing out your social security
by
Laurence J Kotlikoff
( Book )
14 editions published between
2015
and 2016 in
English
and held by 1,774 WorldCat member libraries worldwide
"Learn the secrets to maximizing your Social Security benefits and earn up to thousands of dollars more each year with expert advice that you can't get anywhere else. Want to know how to navigate the forbidding maze of Social Security and emerge with the highest possible benefits? You could try reading all 2,728 rules of the Social Security system (and the thousands of explanations of these rules), but Kotlikoff, Moeller, and Solman explain Social Security benefits in an easy to understand and user-friendly style. What you don't know can seriously hurt you: wrong decisions about which Social Security benefits to apply for cost some individual retirees tens of thousands of dollars in lost income every year. How many retirees or those nearing retirement know about such Social Security options as file and suspend (apply for benefits and then don't take them)? Or start stop start (start benefits, stop them, then re-start them)? Or--just as important--when and how to use these techniques? Get What's Yours covers the most frequent benefit scenarios faced by married retired couples, by divorced retirees, by widows and widowers, among others. It explains what to do if you're a retired parent of dependent children, disabled, or an eligible beneficiary who continues to work, and how to plan wisely before retirement. It addresses the tax consequences of your choices, as well as the financial implications for other investments. Many personal finance books briefly address Social Security, but none offers the thorough, authoritative, yet conversational analysis found here. You've paid all your working life for these benefits. Now, get what's yours"--
Generational accounting around the world
by
Alan J Auerbach
( )
22 editions published between
1998
and 2007 in
English
and held by 1,676 WorldCat member libraries worldwide
Mounting government obligations and aging populations raise very serious concerns about the fiscal burdens left to future generations. Generational accounting, a method of long-term fiscal planning and analysis, directly measures these burdens as well as the costs of lowering them. The volume combines the latest and most extensive country-by-country generational analyses with a comprehensive review of generational accounting's innovative methodology and a devastating critique of conventional deficit accounting
The clash of generations : saving ourselves, our kids, and our economy
by
Laurence J Kotlikoff
( )
18 editions published between
2012
and 2014 in
English
and held by 1,673 WorldCat member libraries worldwide
The United States is bankrupt, flat broke. Thanks to accounting that would make Enron blush, America's insolvency goes far beyond what our leaders are disclosing. The United States is a fiscal basket case, in worse shape than the notoriously bailed-out countries of Greece, Ireland, and others. How did this happen? In The Clash of Generations, experts Laurence Kotlikoff and Scott Burns document our six-decade, off-balance-sheet, unsustainable financing scheme. They explain how we have balanced our longer lives on the backs of our (relatively few) children. At the same time, we've been on a consumption spree, saving and investing less than nothing. And that's not to mention the evisceration of the middle class and a financial system that has proven it can't be trusted. Kotlikoff and Burns outline grassroots strategies for saving ourselves--and especially our children--from what could be a truly catastrophic financial collapse. Kotlikoff and Burns sounded the alarm in their widely acclaimed The Coming Generational Storm, but politicians didn't listen. Now the need for action is even more urgent. It's up to us to demand radical reform of our tax system, our healthcare system, and our Social Security system, and to insist on better paths to investment return than those provided by Wall Street (mis)managers. Kotlikoff and Burns's "Purple Plans" (so called because they will appeal to both Republicans and Democrats) have been endorsed by a who's who of economists and offer a new way forward; and their revolutionary investment strategy for individuals replaces the idea of financial capital with "life decision capital." Of course, we won't be doing all this just for ourselves. We need to fix America's fiscal mess before our kids inherit it
Essays on saving, bequests, altruism, and life-cycle planning
by
Laurence J Kotlikoff
( )
14 editions published between
2000
and 2016 in
English
and held by 1,613 WorldCat member libraries worldwide
This collection of essays, coauthored with other distinguished economists, offers new perspectives on saving, intergenerational economic ties, retirement planning, and the distribution of wealth. The book links life-cycle microeconomic behavior to important macroeconomic outcomes, including the roughly 50 percent postwar decline in America's rate of saving and its increasing wealth inequality. The book traces these outcomes to the government's five-decade-long policy of transferring, in the form of annuities, ever larger sums from young savers to old spenders. The book presents new theoretical and empirical analyses of altruism that rule out the possibility that private intergenerational transfers have offset those by the government.While rational life-cycle behavior can explain broad economic outcomes, the book also shows that a significant minority of households fail to make coherent life-cycle saving and insurance decisions. These mistakes are compounded by reliance on conventional financial planning tools, which the book compares with Economic Security Planner (ESPlanner), a new life-cycle financial planning software program. The application of ESPlanner to U.S. data indicates that most Americans approaching retirement age are saving at much lower rates than they should be, given potential major cuts in Social Security benefits
Generational policy
by
Laurence J Kotlikoff
( )
26 editions published between
2001
and 2004 in
English
and held by 1,315 WorldCat member libraries worldwide
Lectures presented at the Universidad Torcuato de Tella in Buenos Aires. Discusses how generational policy works and relates it to Argentina's government policies
Pensions in the American economy
by
Laurence J Kotlikoff
( )
20 editions published between
1983
and 2014 in
English
and held by 1,190 WorldCat member libraries worldwide
Small-business owners and civil servants to pension fund specialists, will find in it essential information about this increasingly important part of labor compensation and retirement finances
Generational accounting : knowing who pays, and when, for what we spend
by
Laurence J Kotlikoff
( Book )
22 editions published between
1989
and 1993 in
English
and held by 643 WorldCat member libraries worldwide
Amid the ongoing debate about today's pressing economic problems, far too little attention is being paid to the implications of current economic policies for the future. Laurence J. Kotlikoff shows in this alarming and important book, that if current policies are left unchanged, unborn generations of Americans will pay significantly higher taxes - at least 20% higher - than we do today. Furthermore, according to Kotlikoff, these policies could have devastating effects not only on the next generation but also on the baby boomers themselves, whose economic future is critically dependent on sound management of the Social Security system as we become an older society. In this searing indictment of conventional economic policy, Kotlikoff demonstrates that our nation has lost its direction by sacrificing long-range economic responsibility for short-term budget gimmickry. In Kotlikoff's proposed new fiscal measure, called generational accounting, already widely admired by key figures in government and public finance, he offers an entirely new way of assessing the government's economic actions as they affect current and future generations. By providing a long-needed discipline for economic policies that typically focus on immediate benefits, and ignore the lasting consequences of government behavior, his proposal enables policy makers as well as the public to see who pays, and when, for what the government spends. Senator Bill Bradley, in letters to the Comptroller General of the United States, and to the Director of the Congressional Budget Office, has recommended that the United States adopt generational accounting. Says Bradley, "Generational accounting forces us to confront the future implications of current policies in a systematic way, by imposing a longer-term perspective on fiscal policy." Kotlikoff boldly articulates the point that many Americans already intuitively understand: the deficit number usually cited is an arbitrary accounting figure manipulated by public officials to serve their political objectives but has no real economic content. In failing to give a proper account of its fiscal actions, the government, Kotlikoff shows, has left citizens completely uninformed as to how they will fare overtime, as changing demographics continue to work their effects on the public pocketbook. Kotlikoff warns that unless greater accountability in the making of economic policy is introduced, America faces the danger of declining into a society of injustice and intergenerational resentment
What determines savings?
by
Laurence J Kotlikoff
( Book )
12 editions published in
1989
in
English
and held by 628 WorldCat member libraries worldwide
What determines savings? The question is timely and important. The U.S. saving rate is less than half of Japan, Germany and other developed countries. This imbalance in saving rates is responsible in the large part for the imbalance in international trade. This book examines an array of key determinants of wealth accumulation, including bequest and precautionary saving motives, the length of retirement, demographics, the tax structure, social security, and insurance institutions
more
fewer
Audience Level
0

1
Kids
General
Special
Audience level: 0.18 (from 0.03 for Essays on ... to 0.70 for The effect ...)
Related Identities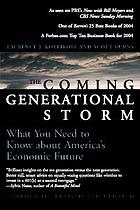 Covers
Alternative Names
Koflikoff, Lawrence J.

Koflikoff, Lawrence J. 1951-

Kotlikoff, L.

Kotlikoff, L. 1951-

Kotlikoff, L. J. 1951-

Kotlikoff, Larry 1951-

Kotlikoff, Laurence.

Kotlikoff, Laurence 1951-

Kotlikoff, Laurence J.

Kotlikoff, Laurence Jacob 1951-

Kotlikoff, Lawrence J.

Kotlikoff, Lawrence J. 1951-

Kotlikoff, Lourens

Kotlikoff, Lourens 1951-

Laurence Kotlikoff Amerikaans econoom

Laurence Kotlikoff economista estadounidense

Laurence Kotlikoff économiste américain

Котликофф Л.

Котликофф Лоренс

Котликофф, Лоуренс

لورينس كوتليكوف عالم اقتصاد أمريكي

코틀리코프, 로런스 J

コトリコフ, ローレンス

勞倫斯·克里寇夫

Languages