Salkind, Neil J.
Most widely held works by Neil J Salkind
Statistics for people who (think they) hate statistics
by
Neil J Salkind
( Book )
25 editions published between
2000
and 2014 in
English
and held by 2,106 WorldCat member libraries worldwide
This edition shows the students how to install the Excel Analysis ToolPak option (free) to earn access to a host of new and very useful analytical techniques
Exploring research
by
Neil J Salkind
( Book )
63 editions published between
1991
and 2017 in 3 languages and held by 1,239 WorldCat member libraries worldwide
"Salkind's clear, straightforward writing makes this introduction to research methods unusually accessible. Aimed primarily at social science majors from the undergraduate to the graduate level, Exploring Research treats all of the topics covered in the standard research methods course." "New in the Edition: Two new chapters on Writing a Research Proposal and Writing a Research Manuscript, chapter three includes extensive information detailing how to use the internet to complete research in the behavioral and social sciences, a new appendix covering the basic features of SPSS, and new readings and additional exercises are offered at the end of each chapter"--
Using SPSS for Windows and Macintosh : analyzing and understanding data
by
Samuel B Green
( Book )
60 editions published between
1997
and 2016 in
English
and
Swedish
and held by 1,094 WorldCat member libraries worldwide
Will help anyone use SPSS to successfully analyze data, interpret results, and describe findings. This complete introductory guide to SPSS has been thoroughly updated for the software's latest versions for Windows and Macintosh. It has also been revised throughout for greater accessibility, simplicity, and ease of use. The book provides step-by-step walkthroughs of every basic SPSS and statistical technique, along with tips, examples, exercises, and extensive pedagogical support designed to promote rapid learning. Coverage includes: mastering the SPSS interface; creating and working with data files; defining and creating variables; working with data, charts, and output; univariate descriptive statistics; univariate and multivariate analyses; correlation, regression, and discriminate analysis; scaling and nonparametric procedures; and more. For everyone who wants to master the latest versions of SPSS. SPSS is used in a wide range of markets, including psychology and other areas of scientific research; marketing and surveys; financial services and insurance; education; government; telecommunications; and beyond
Treating mental disorders : a guide to what works
by
Peter E Nathan
( Book )
8 editions published between
1999
and 2006 in
Spanish
and
English
and held by 879 WorldCat member libraries worldwide
"For layperson and professional alike, Treating Mental Disorders: A Guide to What Works offers a comprehensive and highly readable compendium of the best psychotherapeutic and drug treatments available today." "Devoting chapters to thirteen types of mental disorders, Peter E. Nathan, Jack M. Gorman, and Neil J. Salkind employ a question-and-answer format to clearly communicate the latest knowledge on the wide variety of treatments available today. Each chapter discusses the definition and diagnosis of a particular disorder and then emphasizes which treatments work best, considering both psychotherapies and drug options, combinations of the two, as well as the pros and cons of each therapy." "Treating Mental Disorders is the best place to start for anyone seeking help for any number of mental disorders and an essential reference for psychologists, psychiatrists, social workers, and anyone else involved in providing treatment for mental illness."--Jacket
An introduction to theories of human development
by
Neil J Salkind
( Book )
28 editions published between
1981
and 2004 in
English
and
Greek, Modern
and held by 826 WorldCat member libraries worldwide
"An Introduction to Theories of Human Development examines the development process, looking at the series of changes that occur as a result of an interaction between biological and environmental factors. Why might our behavior as adults be so different from when we were infants? Why and how does one stage of development follow the next? Are the changes that we experience abrupt in nature or smooth and predictable? Author Neil J. Salkind reflects on such critical questions to help readers understand what happens along the way as one develops from infancy through later life."--Jacket
Handbook of research design and social measurement
by
Delbert C Miller
( Book )
17 editions published in
2002
in
English
and held by 794 WorldCat member libraries worldwide
This handbook contains hundreds of new references on the assessment of important sociological variables as well as updated references to the latest topics in statistical analysis and computer applications
Encyclopedia of human development
( Book )
14 editions published between
2005
and 2007 in
English
and held by 706 WorldCat member libraries worldwide
Deductive reasoning, Deferred imitation, Delinquency, Dementia, Dependent variable, Depression, Development, Developmental direction, Developmental disabilities, Developmental psychopathology, Developmental quotient, Diabetes Diagnostic and Statistical Manual of Mental Disorders, Dialectical thought, Dieting, Disasters, Discipline, Disgust, Distance learning, Divergent thinking, Divorce, Divorce mediation, Domestic violence, Donor insemination, Down syndrome, Drug abuse, Drunk driving, Dual earner households, Dying, Dynamical systems, Dyslexia, Early childhood, Early intervention programs, Eating disorders, Echolalia, Ecological theory, Ego, Ego development, Ego centrism, Elder abuse, Elder maltreatment, Elder neglect, Elderhostel programs, Electra and Oedipal complexes, Electroencephalogram (EEG), Embryo, Emerging adulthood, Emotional development, Emotional intelligence, Empathy, Empty nest, Endocrine disruptors, English as a second language (ESL), Epilepsy, Equilibration, Erectile dysfunction, Erik Erikson, Estrogen, Ethical standards of research, Ethnic cleansing, Ethnic identity, Ethology, Euthanasia, Executive functioning, Exercise, Experiment, Experimental group, Experimental method, Extended family, Extinction, Extramarital sex, Failure to thrive, False memories, Family size, Fathers, Fetal medicine, Fetus, Fine motor control, Fine motor development, Firearms, Five factor model of personality, Five to seven shift, John Flavell, Fluid intelligence, Formal operational period, Foster care, Fragile X syndrome, Framingham Study, Fraternal twins, Sigmund Freud, Friendship, Funerals, Gamete, Gangs, Howard Gardner, Gateway drug
Encyclopedia of measurement and statistics
by N Salkind
( Book )
22 editions published between
2006
and 2011 in
English
and held by 631 WorldCat member libraries worldwide
"The study of measurement and statistics can be less than inviting. However, in fields as varying as education, politics, and health care, assessment and the use of measurement and statistics have become integral parts of almost every activity undertaken. These activities require the organization of ideas, the generation of hypotheses, the collection of data, and the interpretation, illustration, and analysis of data. No matter where educated people look, this critical analysis is more important than ever in an age where information - and lots of it - is readily available. The Encyclopedia of Measurement and Statistics presents state-of-the-art information and ready-to-use facts from the fields of measurement and statistics in an unintimidating style. The ideas and tools contained in these pages are approachable and can be invaluable for understanding our very technical world and the increasing flow of information. Although there are references that cover statistics and assessment in depth, none provides as comprehensive a resource in as focused and accessible a manner as the two volumes of this encyclopedia. Through approximately 500 contributions, experts provide an overview and an explanation of the major topics in these two areas. Key Features Covers every major facet of these two different, but highly integrated disciplines - from mean, mode, and median to reliability, validity, significance, correlation, and much more - all without overwhelming the informed reader Offers cross-disciplinary coverage, with contributions from and applications to the fields of Psychology, Education, Sociology, Human Development, Political Science, Business and Management, Public Health, and others Provides cross-reference terms, a brief listing of further readings, and Web site URLs following most entries, as well as an extensive set of appendices and an annotated list of organizations relevant to measurement and statistics Appendices Features Appendix A is a guide to basic statistics for those readers who might like an instructional step-by-step presentation of basic concepts in statistics and measurement Appendix B is a table of critical values used in hypothesis testing and an important part of any reference in this area Appendix C represents a collection of some important and useful measurement and statistics Internet sites A primary goal of creating this set of volumes is to open up the broad discipline of measurement and statistics to a wider and more general audience than usual. Edited by bestselling author Neil J. Salkind, this encyclopedia is specifically designed to appeal to beginning and intermediate-level students, practitioners, researchers, and consumers of information. It is a welcome addition to any academic library." http://www.loc.gov/catdir/enhancements/fy0657/2006011888-d.html
Encyclopedia of educational psychology
by Dr. Neil J Salkind
( Book )
19 editions published in
2008
in
English
and held by 597 WorldCat member libraries worldwide
The field of educational psychology draws from a variety of diverse disciplines including human development across the life span, measurement and statistics, learning and motivation, and teaching. And within these different disciplines, many other fields are featured including psychology, anthropology, education, sociology, public health, school psychology, counseling, history, and philosophy. In fact, when taught at the college or university level, educational psychology is an ambitious course that undertakes the presentation of many different topics all tied together by the theme of how the individual can best function in an "educational" setting, loosely defined as anything from pre-school through adult education
100 questions (and answers) about research methods
by
Neil J Salkind
( Book )
8 editions published between
2011
and 2012 in
English
and held by 534 WorldCat member libraries worldwide
Overview: How do I create a good research hypothesis? How do I know when my literature review is finished? What is the difference between a sample and a population? What is power and why is it important? In an increasingly data-driven world, it is more important than ever for students as well as professionals to better understand the process of research. This invaluable guide answers the essential questions that students ask about research methods in a concise and accessible way
more
fewer
Audience Level
0

1
Kids
General
Special
Audience level: 0.36 (from 0.00 for SAGE direc ... to 0.50 for Exploring ...)
Related Identities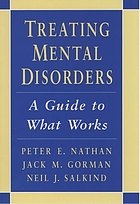 Alternative Names
Salkind, Neil.

Salkind, Neil 1947-

Salkind, Neil J.

Languages
Covers