Goldstein, Melvyn C.
Most widely held works by Melvyn C Goldstein
The snow lion and the dragon : China, Tibet, and the Dalai Lama
by
Melvyn C Goldstein
( )
31 editions published between
1997
and 2005 in
English
and
Italian
and held by 3,363 WorldCat member libraries worldwide
"Tensions over the "Tibet Question" - the political status of Tibet - are escalating every day. The Dalai Lama has gained broad international sympathy in his appeals for autonomy from China, yet the Chinese government maintains a hard-line position against it. What is the history of the conflict? Can the two sides come to an acceptable compromise?" "Drawing upon his deep knowledge of the Tibetan culture and people, Goldstein takes us through the history of Tibet, concentrating on the political and cultural negotiations over the status of Tibet from the turn of the century to the present. He describes the role of Tibet in Chinese politics, the feeble and conflicting responses of foreign governments, overtures and rebuffs on both sides, and the nationalistic emotions that are inextricably entwined in the political debate. Ultimately, he presents a plan for a reasoned compromise, identifying key aspects of the conflict and appealing to the United States to play an active diplomatic role."--BOOK JACKET
Buddhism in contemporary Tibet : religious revival and cultural identity
by
Matthew Kapstein
( )
16 editions published between
1998
and 1999 in
English
and held by 2,468 WorldCat member libraries worldwide
"Following the upheavals of the Cultural Revolution, the People's Republic of China gradually permitted the renewal of religious activity. Tibetans, whose traditional religious and cultural institutions had been decimated during the preceding two decades, took advantage of the decisions of 1978 to begin a Buddhist renewal that is one of the most extensive and dramatic examples of religious revitalization in contemporary China. The nature of that revival is the focus of this book. Four leading specialists in Tibetan anthropology and religion conducted case studies in the Tibet autonomous region and among the Tibetans of Sichuan and Qinghai provinces. There they observed the revival of the Buddhist heritage in monastic communities and among laypersons at popular pilgrimages and festivals. Demonstrating how that revival must contend with tensions between the Chinese state and aspirations for greater Tibetan autonomy, the authors discuss ways that Tibetan Buddhists are restructuring their religion through a complex process of social, political, and economic adaptation. Buddhism has long been the main source of Tibetans' pride in their culture and country. These essays reveal the vibrancy of that ancient religion in contemporary Tibet and also the problems that religion and Tibetan culture in general are facing in a radically altered world."--Back cover
A history of modern Tibet
by
Melvyn C Goldstein
( )
39 editions published between
1989
and 2012 in
English
and held by 2,429 WorldCat member libraries worldwide
This is an excellent, illuminating book, in line with Goldstein's preceding volume. It is both superbly researched and highly readable, thanks to the author's admirable capacity to weave significan not quotations and documents into his narrative. This said, a couple of issues may be raised. 1st and almost all important, in analyzing this chunk of Tibetan history Goldstein adopts a consistent approach, reflecting his views. This is fully acceptable, however sometimes1gets the impression that the author's perspective has become static and schematic, as if he had partially lost his previous sensitivity to the events on the ground. The previous volume's extraordinarily vivid image of Lhasa's life and society is no longer there and the author seems to have become somewhat estranged from Tibetan mentality. Second, while it is impossible for anyone to fully grasp the complexity of Tibetan life and culture, Goldstein's relative indifference to its essential religious dimension is quite apparent here
A Tibetan revolutionary : the political life and times of Bapa Phüntso Wangye
by
Melvyn C Goldstein
( )
15 editions published between
2004
and 2006 in
English
and held by 2,315 WorldCat member libraries worldwide
This is the as-told-to political autobiography of Phuntso Wangye (Phunwang), one of the most important Tibetan revolutionary figures of the twentieth century. Phunwang began his activism in school, where he founded a secret Tibetan Communist Party. He was expelled in 1940, and for the next nine years he worked to organize a guerrilla uprising against the Chinese who controlled his homeland. In 1949, he merged his Tibetan Communist Party with Mao's Chinese Communist Party. He played an important role in the party's administrative organization in Lhasa and was the translator for the young Dalai Lama during his famous 1954-55 meetings with Mao Zedong. In the 1950s, Phunwang was the highest-ranking Tibetan official within the Communist Party in Tibet. Though he was fluent in Chinese, comfortable with Chinese culture, and devoted to socialism and the Communist Party, Phunwang's deep commitment to the welfare of Tibetans made him suspect to powerful Han colleagues. In 1958 he was secretly detained; three years later, he was imprisoned in solitary confinement in Beijing's equivalent of the Bastille for the next eighteen years. Informed by vivid firsthand accounts of the relations between the Dalai Lama, the Nationalist Chinese government, and the People's Republic of China, this absorbing chronicle illuminates one of the world's most tragic and dangerous ethnic conflicts at the same time that it relates the fascinating details of a stormy life spent in the quest for a new Tibet
The struggle for modern Tibet : the autobiography of Tashi Tsering
by
Melvyn C Goldstein
( )
21 editions published between
1997
and 2015 in
English
and held by 1,739 WorldCat member libraries worldwide
This captivating autobiography by a Tibetan educator and former political prisoner is full of twists and turns. Born in 1929 in a Tibetan village, Tsering developed a strong dislike of his country's theocratic ruling elite. As a 13-year-old member of the Dalai Lama's personal dance troupe, he was frequently whipped or beaten by teachers for minor infractions. A heterosexual, he escaped by becoming a drombo, or homosexual passive partner and sex-toy, for a well-connected monk. After studying at the University of Washington, he returned to Chinese-occupied Tibet in 1964, convinced that Tibet cou
A history of modern Tibet, 1913-1951 : the demise of the Lamaist state
by
Melvyn C Goldstein
( Book )
39 editions published between
1989
and 2015 in 3 languages and held by 1,231 WorldCat member libraries worldwide
"The 'Tibetan Question, ' the nature of Tibet's political status vis-a-vis China, has been the subject of often bitterly competing views while the facts of the issue have not been fully accessible to interested observers. While one faction has argued that Tibet was, in the main, historically independent until it was conquered by the Chinese Communists in 1951 and incorporated into the new Chinese state, the other faction views Tibet as a traditional part of China that split away at the instigation of the British after the fall of the Manchu Dynasty and was later dutifully reunited with "New China" in 1951. In contrast, this comprehensive study of modern Tibetan history presents a detailed, non-partisan account of the demise of the Lamaist state. Drawing on a wealth of British, American, and Indian diplomatic records; first- hand-historical accounts written by Tibetan participants; and extensive interviews with former Tibetan officials, monastic leaders, soldiers, and traders, Goldstein meticulously examines what happened and why. He balances the traditional focus on international relations with an innovative emphasis on the intricate web of internal affairs and events that produced the fall of Tibet. Scholars and students of Asian history will find this work an invaluable resource and interested readers will appreciate the clear explanation of highly polemicized, and often confusing, historical events."--Publisher's description
A history of modern Tibet
by
Melvyn C Goldstein
( )
15 editions published between
2013
and 2014 in
English
and held by 1,066 WorldCat member libraries worldwide
"It is not possible to fully understand contemporary politics between China and the Dalai Lama without understanding what happened in the 1950's. The third volume in Melvyn Goldstein's History of Modern Tibet series, examines the critical years of 1955 through 1957. During this period, the Preparatory Committee for a Tibet Autonomous Region was inaugurated in Lhasa, and a major Tibetan uprising occurred in Sichuan Province. Jenkhentsisum, a Tibetan anti-communist émigré group, emerged as an important player with secret links to Indian Intelligence, the Dalai Lama's Lord Chamberlain, the United States, and Taiwan. And in Tibet, Fan Ming, the acting head of the CCP's office in Lhasa, launched the "Great Expansion," which recruited many thousands of Han Cadres to Lhasa in preparation for beginning democratic reforms, only to be stopped decisively by Mao Zedong's "Great Contraction" which sent them back to China and ended talk of reforms in Tibet for the foreseeable future. In Volume III, Goldstein draws on never-before seen Chinese government documents, published and unpublished memoirs and diaries, and invaluable in-depth interviews with important Chinese and Tibetan participants (including the Dalai Lama) to offer a new level of insight into the events and principal players of the time. Goldstein corrects factual errors and misleading stereotypes in the history, and uncovers heretofore unknown information on the period to reveal in depth a nuanced portrait of Sino-Tibetan relations that goes far beyond anything previously imagined"--
On the Cultural Revolution in Tibet : the Nyemo Incident of 1969
by
Melvyn C Goldstein
( )
13 editions published between
2008
and 2010 in
English
and held by 953 WorldCat member libraries worldwide
"Among the conflicts to break out during the Cultural Revolution in Tibet, the most famous took place in the summer of 1969 in Nyemo, a county to the south and west of Lhasa. In this incident, hundreds of villagers formed a mob led by a young nun who was said to be possessed by a deity associated with the famous warrior-king Gesar. In their rampage the mob attacked, mutilated, and killed county officials and villagers as well as locally stationed People's Liberation Army troops. This groundbreaking book, the first on the Cultural Revolution in Tibet, revisits the Nyemo incident, which has long been romanticized as the epitome of Tibetan nationalist resistance against China. Melvyn C. Goldstein, Ben Jiao, and Tanzen Lhundrup demonstrate that far from being a spontaneous battle for independence, this violent event was actually part of a struggle between rival revolutionary groups and was not ethnically based. Drawing on extensive firsthand interviews with surviving participants as well as on unpublished Chinese documents, On the Cultural Revolution in Tibet proffers a sober assessment of human malleability and challenges the tendency to view every sign of unrest in Tibet in ethnonationalist terms."--Jacket
more
fewer
Audience Level
0

1
Kids
General
Special
Audience level: 0.16 (from 0.05 for A Tibetan ... to 0.89 for Die Nomade ...)
Related Identities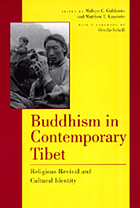 Covers
Alternative Names
Geercitan, Meierwen C.

Geercitan, Meierwen C. 1938-

Gholḍ-si-ṭain, Mel-win Si

Gholḍ-si-ṭain, Mel-win Si 1938-

Goldstein, Mel 1938-

Goldstein, Melvyn

Goldstein, Melvyn 1938-

Goldstein, Melvyn C.

Mel-win, dgol-da sutāin

Melvyn Goldstein Amerikaans antropoloog

Melvyn Goldstein US-amerikanischer Anthropologe und Tibet-Wissenschaftler

골드스타인, 멜빈 C

ゴールドスタイン, M. C.

ゴールドスタイン, メルヴィン・C.

戈尓斯坦, 梅

戈尔斯坦, 梅 1938-

戈爾斯坦梅爾文

梅爾文·戈爾斯坦

Languages