Lawrence, Bruce B.
Overview
| | |
| --- | --- |
| Works: | 142 works in 408 publications in 8 languages and 17,053 library holdings |
| Genres: | Criticism, interpretation, etc History Comparative studies Prayers and devotions Biography Commentaries Manuscripts Quotations |
| Roles: | Author, Editor, Author of introduction, Instrumentalist, Publishing director, Other, Creator, Translator, Narrator |
| Classifications: | D16.7, 901 |
Most widely held works about Bruce B Lawrence
Most widely held works by Bruce B Lawrence
The Qur'an : a biography
by
Bruce B Lawrence
( Book )
37 editions published between
2006
and 2014 in 7 languages and held by 1,782 WorldCat member libraries worldwide
An authoritative introduction to the sacred text reveals how it represents Islam, describing the origins of the faith in seventh-century Arabia while offering insight into how the Qur'an remains a pivotal influence on modern society and politics
Defenders of God : the fundamentalist revolt against the modern age
by
Bruce B Lawrence
( Book )
29 editions published between
1989
and 1999 in
English
and held by 1,368 WorldCat member libraries worldwide
Today's media are rife with stories of modern-day defenders of God--Christian, Jew, and Muslim--in revolt against what they feel to be the modern rejection of God's teaching as revealed in their sacred texts. Historian Bruce Lawrence has written the first comparative study to make sense of these contemporary zealots. He argues that fundamentalism is not simply an anachronistic religious revival that will soon fade from the world scene, but rather a burgeoning global movement that we ignore at our peril. Lawrence explains the nature of fundamentalism; he details its manifestation in Islam, Judaism, and Christianity; and he asserts that fundamentalism is at the heart of the modern world: "Fundamentalists do not deny or disregard modernity; they protest as moderns against the heresies of the modern age." They use science, technology, and the mass media for their own ends, yet they reject scientific and technological theories that dilute what they believe to be absolute truths. "Without certitude, the world is doomed. With it, salvation (for some) is assured."--Publisher description
Shattering the myth : Islam beyond violence
by
Bruce B Lawrence
( Book )
15 editions published between
1998
and 2000 in
English
and held by 1,096 WorldCat member libraries worldwide
Islam is often portrayed, especially in Western media, as an alien, violent, hostile, and monolithic religion, whose adherents are intent upon battling nonbelievers throughout the world. Shattering the Myth demonstrates that these conceptions more accurately reflect the bias of Western reporters than they do the realities of contemporary Islam. Westerners are barraged by images of violence that usually originate from armed confrontations in one small corner of the world
Messages to the world : the statements of Osama Bin Laden
by
Osama Bin Laden
( Book )
7 editions published in
2005
in
English
and held by 952 WorldCat member libraries worldwide
Presents annotated English translations of the Arabic texts of statements made by Osama bin Laden between 1994 and 2004, including his comments on the terrorist attacks on the U.S. in 2001, and the wars in Afghanistan and Iraq
Who is Allah?
by
Bruce B Lawrence
( Book )
15 editions published between
2013
and 2016 in
English
and held by 573 WorldCat member libraries worldwide
"This vivid introduction to the heart of Islam offers a unique approach to understanding Allah, the central focus of Muslim religious expression. Drawing on history, culture, theology, politics, and the media, Bruce B. Lawrence identifies key religious practices by which Allah is revered and remembered, illuminating how the very name of Allah is interwoven into the everyday experience of millions of Muslims. For Muslims, as for adherents of other religions, intentions as well as practices are paramount in one's religious life. Lawrence elucidates how public utterances, together with private pursuits, reflect the emotive, sensory, and intellectual aspirations of the devout. Ranging from the practice of the tongue (speaking) to practices in cyberspace (online religious activities), Lawrence explores how Allah is invoked, defined, remembered, and also debated. While the practice of the heart demonstrates how Allah is remembered in Sufism, the mystical branch of Islam, the practice of the mind examines how theologians and philosophers have defined Allah in numerous contexts, often with conflicting aims. The practice of the ear marks the contemporary period, in which Lawrence locates and then assesses competing calls for jihad, or religious struggle, within the cacophony of an immensely diverse umma, the worldwide Muslim community." from publisher's website
New faiths, old fears : Muslims and other Asian immigrants in American religious life
by
Bruce B Lawrence
( Book )
8 editions published between
2002
and 2004 in
English
and held by 539 WorldCat member libraries worldwide
"As a result of immigration from Asia in the wake of the passage of the 1965 Hart-Celler Immigration Act, the fastest-growing religions in America - faster than all Christian groups combined - are Islam, Hinduism, Buddhism, and Sikhism. In this remarkable book, a leading scholar of religion asks how these new faiths have changed or have been changed by the pluralist face of American civil society. How have these new religious minorities been affected by the deep-rooted American ambivalence toward foreign traditions?" "Bruce Lawrence casts a comparativist eye on the American religious scene and explores the ways in which various groups of Asian immigrants have, and sometimes have not, been integrated into the American polity. In the process, he offers several important correctives. Too often, Lawrence argues, profiles of Asian American experience focus exclusively on immigrants from East Asia, to the exclusion of South Asian and West Asian voices. New Faiths, Old Fears seeks to make all Asians equally important and to break free of traditional geographic markers, most reflecting nineteenth-century imperial values, that artificially divide the people of the "Middle East" from the rest of Asia, with whom they share certain religious and cultural ties. Iranian Americans, in particular, emerge as a vital bridge group whose experience tells us much about how Asians of many different backgrounds have found their way in their new nation."--Jacket
Muslim networks from Hajj to hip hop
( Book )
9 editions published in
2005
in
English
and held by 512 WorldCat member libraries worldwide
Crucial to understanding Islam is a recognition of the role of Muslim networks. The earliest networks were Mediterranean trade routes that quickly expanded into transregional paths for pilgrimage, scholarship, and conversion, each network complementing and reinforcing the others. This volume selects major moments and key players from the seventh century to the twenty-first that have defined Muslim networks as the building blocks for Islamic identity and social cohesion. Although neglected in scholarship, Muslim networks have been invoked in the media to portray post-9/11 terrorist groups. Here, thirteen essays provide a long view of Muslim networks, correcting both scholarly omission and political sloganeering. New faces and forces appear, raising questions never before asked. What does the fourteenth-century North African traveler Ibn Battuta have in common with the American hip hopper Mos Def? What values and practices link Muslim women meeting in Cairo, Amsterdam, and Atlanta? How has technology raised expectations about new transnational pathways that will reshape the perception of faith, politics, and gender in Islamic civilization? This book invokes the past not only to understand the present but also to reimagine the future through the prism of Muslim networks, at once the shadow and the lifeline for the umma, or global Muslim community
On violence : a reader
( Book )
9 editions published in
2007
in
English
and held by 458 WorldCat member libraries worldwide
This anthology brings together classic perspectives on violence, putting into productive conversation the thought of well-known theorists and activists, and proceeds from the editor's contention that violence is always historically contingent; it must be contextualized to be understood
The Muqaddimah; an introduction to history
by
Ibn Khaldūn
( Book )
13 editions published between
1967
and 2015 in
English
and held by 344 WorldCat member libraries worldwide
"The Muqaddimah, often translated as "Introduction" or "Prolegomenon," is the most important Islamic history of the premodern world. Written by the great fourteenth-century Arab scholar Ibn Khaldun (d. 1406), this monumental work laid down the foundations of several fields of knowledge, including philosophy of history, sociology, ethnography, and economics. The first complete English translation, by the eminent Islamicist and interpreter of Arabic literature Franz Rosenthal, was published in three volumes in 1958 as part of the Bollingen Series and received immediate acclaim in America and abroad. A one-volume abridged version of Rosenthal's masterful translation was first published by Princeton University Press in 1969." "This new edition of the abridged version, with the addition of a key section of Rosenthal's own introduction to the three-volume edition, and with a new introduction by Bruce B. Lawrence, will reintroduce this seminal work to twenty-first-century students and scholars of Islam and of medieval and ancient history."--Jacket
more
fewer
Audience Level
0

1
Kids
General
Special
Audience level: 0.30 (from 0.03 for Beyond Tur ... to 0.82 for [Bruce Law ...)
Related Identities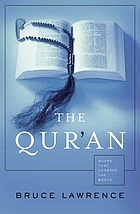 Alternative Names
Bruce B. Lawrence

Lārans, Brūs 1941-

Lawrence, Bruce.

Lawrence, Bruce 1941-

Lawrence, Bruce B.

Lawrence, Bruce B. 1941-

Lawrence, Bruce Bennett 1941-

بروس ب. لورانس

ブルース・ローレンス

ローレンス, ブルース

Languages
Covers