Mosher, Steven W.
Most widely held works about Steven W Mosher
Most widely held works by Steven W Mosher
Broken earth : the rural Chinese
by
Steven W Mosher
( Book )
27 editions published between
1983
and 2014 in 4 languages and held by 1,264 WorldCat member libraries worldwide
The author examines Chinese village life in the Peoples̕ Republic during the 1980s̕
A mother's ordeal : one woman's fight against China's one-child policy
by
Steven W Mosher
( Book )
18 editions published between
1990
and 1995 in
English
and held by 867 WorldCat member libraries worldwide
This dramatic narrative, told in the voice of a former population-control worker, reveals the steep price that China has exacted from its people to achieve its stunning decline in birthrate. Chi An, a serious student and dedicated party activist from Shenyang, Manchuria, was trained as a nurse during the Cultural Revolution. When the Chinese government launched its sweeping family-planning campaign during the early 1980s, Chi An - then a young mother - was recruited as a population-control worker. She was trained to enforce the "one-couple, one-child" policy through coercive peer counseling, pressuring uncooperative women to "think clear" about their pregnancies. She hunted down runaway women who were "illegally pregnant" and helped administer forced sterilizations, late-term abortions, and in cases where women carried their illegal fetuses to term, lethal injections at birth. Disturbed by a series of harrowing "birth-control" experiences, Chi An applied for a visa to join her husband, who was studying at a university in the U.S. Not long after she arrived in America, the tables were turned: Chi An found herself pregnant. Since Chi An and her family planned to return to China, she was forced to seek permission from Chinese officials to have a second child. The Chinese authorities responded with a resounding no, insisting that Chi An "fix this problem as soon as possible." After much anguished debate, Chi An and her husband decided to cut their ties to their homeland and applied to the U.S. government for asylum. America was not responsive and, instead, initiated deportation procedures. China expert Steven Mosher stepped in, helping Chi An win her case and ultimately effecting a policy change that protects families in similar situations. In a deeply compelling account that recreates the struggles of one woman from the other side of the globe, A Mother's Ordeal illuminates a successful, if frightening, program that is just beginning to make headlines in the West. At the same time it sheds significant light on the larger issue of choice, which is at the forefront of American political debate
China misperceived : American illusions and Chinese reality
by
Steven W Mosher
( Book )
13 editions published between
1990
and 1992 in
English
and
Undetermined
and held by 836 WorldCat member libraries worldwide
In this historical overview, the author, one of the first Westerners permitted to live in rural China, argues that the USA has consistently misinterpreted China for many years. He traces the distortions that led the US first to cringe at the "Yellow Peril", then to acclaim the new "Maoist Man."
Hegemon : China's plan to dominate Asia and the world
by
Steven W Mosher
( Book )
7 editions published between
2000
and 2002 in
English
and held by 402 WorldCat member libraries worldwide
"Mosher shows how the concept of the Hegemon, a political order based on naked power, was developed by Chinese strategists 2,800 years ago. As it evolved over the next six centuries, it came to mean that total control of a state's population and resources would be concentrated in the hands of a "hegemon-king" who would use it to establish his "hegemon-power" over all the states in the known world." "In Hegemon, Mosher analyzes the importance of power in Chinese history and state-craft, where its exercise became something like an art form."--Jacket
Population control : real costs, illusory benefits
by
Steven W Mosher
( Book )
16 editions published between
2008
and 2017 in
English
and
Undetermined
and held by 387 WorldCat member libraries worldwide
"For over half a century, policymakers committed to population control have perpetrated a gigantic, costly, and inhumane fraud upon the human race. They have robbed people of the developing countries of their progeny and the people of the developed world of their pocketbooks. Determined to stop population growth at all costs, those Mosher calls "population controllers" have abused women, targeted racial and religious minorities, undermined primary health care programs, and encouraged dictatorial actions if not dictatorship. They have skewed the foreign aid programs of the United States and other developed countries in an anti-natal direction, corrupted dozens of well-intentioned nongovernmental organizations, and impoverished authentic development programs. Blinded by zealotry, they have even embraced the most brutal birth control campaign in history: China's infamous one-child policy, with all its attendant horrors." "Movements with billions of dollars at their disposal, not to mention thousands of paid advocates, do not go quietly to their graves. Moreover, many in the movement are not content to merely achieve zero population growth, they want to see negative population numbers. In their view, our current population should be reduced to one or two billion or so. Given that even modest population decline may have serious economic and societal consequences, their publicly funded war on people should be ended now."--Jacket
The United States and the Republic of China : democratic friends, strategic allies, and economic partners
by
Steven W Mosher
( Book )
9 editions published between
1991
and 2017 in
English
and held by 262 WorldCat member libraries worldwide
"What is the current state of relations between the United States and the Republic of China on Taiwan and how might they be improved? These were the broad questions addressed at a conference co-sponsored by the Claremont Institute's Asian Studies Center and the Institute of International Relations in Los Angeles in 1989. This volume, which brings together the papers presented by American and Chinese scholars, diplomats, and businessmen, considers the current international status of the Republic of China and its economic and strategic partnership with the United States."--BOOK JACKET. "Despite the Carter administration's 1978 decision to officially recognize the Communist government on mainland China, unofficial ties between the United States and Taiwan are stronger now than ever, due in part to Taiwan's economic progress. The island is no longer simply a source of well-made, low-tech manufactured goods. It is competing with Japan and South Korea to provide high-tech items to its customers around the world. Per capita income on Taiwan has risen steadily since 1949, and promises to continue upward. In the hands of Taiwan's knowledgeable population, this capital is yielding profits of its own. During the late 1980s, Taiwanese investment in the United States reached significant levels and is certain to accelerate during the 1990s. In the interest of mutual security, the United States and the Republic of China have continued to cooperate closely. Working under the Taiwan Relations Act of 1979, both countries have kept Taiwan's military defenses strong and ensured stability in the entire region."--BOOK JACKET. "For all their mutual interests, it is a common commitment to the principles of free government that binds the U.S. and Taiwan and transcends differences in the realm of perceived expediency. We have been recently and brutally reminded of the severe limitations that differences of underlying principle impose upon America's relations with the People's Republic of China. The Tiananmen Massacre underscored the special and abiding bond between America and Taiwan. This volume serves to illuminate that bond. It will be of interest to sinologists, economists, and foreign policy analysts."--BOOK JACKET
Bully of Asia : why China's dream is the new threat to world order
by
Steven W Mosher
( Book )
7 editions published in
2017
in
English
and held by 236 WorldCat member libraries worldwide
"Steven Mosher exposes the resurgent aspirations of the would-be hegemon-and the roots of China's will to domination in its five-thousand-year history of ruthless conquest and assimilation of other nations, brutal repression of its own people, and belligerence toward any civilization that challenges its claim to superiority."--Provided by publisher
Korea in the 1990s : prospects for unification
( Book )
6 editions published between
1991
and 1992 in
English
and held by 214 WorldCat member libraries worldwide
"For the first time since the conclusion of the Korean Civil War--which branched out to include the United States as a key player in a solution based on partition--the issue of Korean reunification is on the diplomatic, political, and economic agenda. To be sure, the very issue of which elements come first in such a move are themselves part of the strategies and tactics of both sides of the Korean geographical divide."--BOOK JACKET. "In this volume, leading experts come together to discuss this issue in a careful and reasoned manner. With the reunification of Germany now underway, a great deal of attention is being paid to the Korean efforts in the same direction. While the disintegration of world communism is a necessary condition for reunification, the consensus is that such a development is not a sufficient condition."--BOOK JACKET. "Hy-Sang Lee and Kihwan Kim examine those structural and tactical factors that inhibit economic cooperation, despite past windows of opportunities in such a consensual direction. Kwang Soo Choi, Kyongsoo Lho, and Yong-Sup Han look at the security concerns of both North and South Korea. While each displays a different emphasis and argues for a different timetable, they all point to the same factors at work moving toward reunification. The essays on political issues by Kong Dan Oh and Steven Mosher are unique in their emphasis on how political communication and scholarly exchanges serve as strategies of rapprochement and democratization."--BOOK JACKET. "The concern of Korea in the 1990s is not simply to argue the case for or against reunification of Korea, but the need to move forward in such a way as to safeguard a democratic future for the South and open up the tragically closed and stagnant society created in the North. In this regard, the contributors examine a variety of foreign as well as domestic policy concerns that need to be cleared away as a prelude to reunification. This is a serious effort, well worth the attention of Asian area experts, international policy researchers, and students of political systems and economic structures alike."--BOOK JACKET
Contraception and persecution
by
Charles E Rice
( Book )
2 editions published in
2014
in
English
and held by 157 WorldCat member libraries worldwide
Contraceptive sex," wrote social science researcher Mary Eberstadt in 2012, "is the fundamental social fact of our time." In this important and pointed book, Charles E. Rice, of the Notre Dame Law School, makes the novel claim that the acceptance of contraception is a prelude to persecution. He makes the striking point that contraception is not essentially about sex. It is a First Commandment issue: Who is God? It was at the Anglican Lambeth Conference of 1930 when for the first time a Christian denomination said that contraception could ever be a moral choice. The advent of the Pill in the 1960s made the practice of contraception practically universal. This involved a massive displacement of the Divine Law as a normative measure of conduct, not only on sex but across the board. Nature abhors a vacuum. The State moved in to occupy the place formerly held by God as the ultimate moral Lawgiver. The State put itself on a collision course with religious groups and especially with the Catholic Church, which continues to insist on that traditional teacher. A case in point is the Obama Regime's Health Care Mandate, coercing employees to provide, contrary to conscience, abortifacients and contraceptives to their employees. The first chapter describes that Mandate, which the Catholic bishops have vowed not to obey. Rice goes on to show that the duty to disobey an unjust law that would compel you to violate the Divine Law does not confer a general right to pick and choose what laws you will obey. The third chapter describes the "main event," which is the bout to determine whether the United States will conform its law and culture to the homosexual (LGBTQ) lifestyle in all its respects. "The main event is well underway and LGBTQ is well ahead on points." Professor Rice follows with a clear analysis of the 2013 Supreme Court decision on same-sex marriage. Part 2 presents some "underlying causes" of the accelerating persecution of the Catholic Church. The four chapter headings in this part outline the picture: The Dictatorship of Relativism; Conscience Redefined; The Constitution: Moral Neutrality; and The Constitution: Still Taken Seriously? The answer to the last question, as you might expect, is: No. Part 3: the controversial heart of the book, presents contraception as "an unacknowledged cause" of persecution. The first chapter argues that contraception is not just a "Catholic issue." The next chapter describes the "consequences" of contraception and the treatment of women as objects. The third chapter spells out in detail the reality that contraception is a First Commandment issue and that its displacement of God as the ultimate moral authority opened the door for the State to assume that role, bringing on a persecution of the Church. The last chapter, "A Teaching Untaught," details the admitted failure of the American Catholic bishops to teach Pope Paul VI's 1968 encyclical, Humanae Vitae. But Rice offers hope that the bishops are now getting their act together Part 4: offers as a "response" to the persecution of the Church three remedies: Speak the Truth with clarity and charity; Trust God; and, most important, Pray. As the last sentence in the book puts it: "John Paul II wrote in a letter to U.S. bishops in 1993: 'America needs much prayer - lest it lose its soul.' This readable and provocative book is abundantly documented with a detailed index of names and subjects
more
fewer
Audience Level
0

1
Kids
General
Special
Audience level: 0.39 (from 0.31 for Zhong guo ... to 0.94 for Die malthu ...)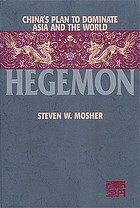 Covers
Alternative Names
Mao, Sidi 1948-

Mosher, Steve 1948-

Mosher, Steven

Mosher, Steven W.

Mosher, Steven Westley 1948-

Steven W. Mosher American social scientist

Steven W. Mosher Amerikaans schrijver

Steven W. Mosher US-amerikanischer Sozialwissenschaftler

모셔, 스티븐 W. 1948-

モーシャー, スティーブン・W

モッシャ-, スティ-ブン W. 1948-

モッシャー, スティーブン・W

毛思迪 美國社會學者

Languages