Mosher, Steven W.
Most widely held works about Steven W Mosher
Most widely held works by Steven W Mosher
Broken earth : the rural Chinese
by
Steven W Mosher
( Book )
27 editions published between
1983
and 2014 in 4 languages and held by 1,312 WorldCat member libraries worldwide
The author examines Chinese village life in the Peoples̕ Republic during the 1980s̕
China misperceived : American illusions and Chinese reality
by
Steven W Mosher
( Book )
10 editions published between
1990
and 1992 in
English
and held by 847 WorldCat member libraries worldwide
In this historical overview, the author, one of the first Westerners permitted to live in rural China, argues that the USA has consistently misinterpreted China for many years. He traces the distortions that led the US first to cringe at the "Yellow Peril", then to acclaim the new "Maoist Man."
Hegemon : China's plan to dominate Asia and the world
by
Steven W Mosher
( Book )
7 editions published between
2000
and 2002 in
English
and held by 420 WorldCat member libraries worldwide
"Mosher shows how the concept of the Hegemon, a political order based on naked power, was developed by Chinese strategists 2,800 years ago. As it evolved over the next six centuries, it came to mean that total control of a state's population and resources would be concentrated in the hands of a "hegemon-king" who would use it to establish his "hegemon-power" over all the states in the known world." "In Hegemon, Mosher analyzes the importance of power in Chinese history and state-craft, where its exercise became something like an art form."--Jacket
Population control : real costs, illusory benefits
by
Steven W Mosher
( Book )
7 editions published between
2008
and 2009 in
English
and
Undetermined
and held by 313 WorldCat member libraries worldwide
"For over half a century, policymakers committed to population control have perpetrated a gigantic, costly, and inhumane fraud upon the human race. They have robbed people of the developing countries of their progeny and the people of the developed world of their pocketbooks. Determined to stop population growth at all costs, those Mosher calls "population controllers" have abused women, targeted racial and religious minorities, undermined primary health care programs, and encouraged dictatorial actions if not dictatorship. They have skewed the foreign aid programs of the United States and other developed countries in an anti-natal direction, corrupted dozens of well-intentioned nongovernmental organizations, and impoverished authentic development programs. Blinded by zealotry, they have even embraced the most brutal birth control campaign in history: China's infamous one-child policy, with all its attendant horrors." "Movements with billions of dollars at their disposal, not to mention thousands of paid advocates, do not go quietly to their graves. Moreover, many in the movement are not content to merely achieve zero population growth, they want to see negative population numbers. In their view, our current population should be reduced to one or two billion or so. Given that even modest population decline may have serious economic and societal consequences, their publicly funded war on people should be ended now."--Jacket
Contraception and persecution
by
Charles E Rice
( Book )
1 edition published in
2014
in
English
and held by 107 WorldCat member libraries worldwide
Contraceptive sex," wrote social science researcher Mary Eberstadt in 2012, "is the fundamental social fact of our time." In this important and pointed book, Charles E. Rice, of the Notre Dame Law School, makes the novel claim that the acceptance of contraception is a prelude to persecution. He makes the striking point that contraception is not essentially about sex. It is a First Commandment issue: Who is God? It was at the Anglican Lambeth Conference of 1930 when for the first time a Christian denomination said that contraception could ever be a moral choice. The advent of the Pill in the 1960s made the practice of contraception practically universal. This involved a massive displacement of the Divine Law as a normative measure of conduct, not only on sex but across the board. Nature abhors a vacuum. The State moved in to occupy the place formerly held by God as the ultimate moral Lawgiver. The State put itself on a collision course with religious groups and especially with the Catholic Church, which continues to insist on that traditional teacher. A case in point is the Obama Regime's Health Care Mandate, coercing employees to provide, contrary to conscience, abortifacients and contraceptives to their employees. The first chapter describes that Mandate, which the Catholic bishops have vowed not to obey. Rice goes on to show that the duty to disobey an unjust law that would compel you to violate the Divine Law does not confer a general right to pick and choose what laws you will obey. The third chapter describes the "main event," which is the bout to determine whether the United States will conform its law and culture to the homosexual (LGBTQ) lifestyle in all its respects. "The main event is well underway and LGBTQ is well ahead on points." Professor Rice follows with a clear analysis of the 2013 Supreme Court decision on same-sex marriage. Part 2 presents some "underlying causes" of the accelerating persecution of the Catholic Church. The four chapter headings in this part outline the picture: The Dictatorship of Relativism; Conscience Redefined; The Constitution: Moral Neutrality; and The Constitution: Still Taken Seriously? The answer to the last question, as you might expect, is: No. Part 3: the controversial heart of the book, presents contraception as "an unacknowledged cause" of persecution. The first chapter argues that contraception is not just a "Catholic issue." The next chapter describes the "consequences" of contraception and the treatment of women as objects. The third chapter spells out in detail the reality that contraception is a First Commandment issue and that its displacement of God as the ultimate moral authority opened the door for the State to assume that role, bringing on a persecution of the Church. The last chapter, "A Teaching Untaught," details the admitted failure of the American Catholic bishops to teach Pope Paul VI's 1968 encyclical, Humanae Vitae. But Rice offers hope that the bishops are now getting their act together Part 4: offers as a "response" to the persecution of the Church three remedies: Speak the Truth with clarity and charity; Trust God; and, most important, Pray. As the last sentence in the book puts it: "John Paul II wrote in a letter to U.S. bishops in 1993: 'America needs much prayer - lest it lose its soul.' This readable and provocative book is abundantly documented with a detailed index of names and subjects
Zhong guo : xin ba quan
by
Steven W Mosher
( Book )
2 editions published in
2001
in
Chinese
and held by 44 WorldCat member libraries worldwide
Jie : yi ge Zhongguo fu nü di zi bai
by
Steven W Mosher
( Book )
2 editions published in
1994
in
Chinese
and held by 32 WorldCat member libraries worldwide
Om sygeplejersken Chi An Yang (f. 1949), der, i forbindelse med Kinas politik for befolkningskontrol, arbejder med at overtale kvinder til abort og tvangssterilisation. Hun bliver selv et offer, da hun venter sit andet barn
China attacks : a novel
by
Chuck DeVore
( Book )
3 editions published between
2000
and 2001 in
English
and held by 27 WorldCat member libraries worldwide
more
fewer
Audience Level
0

1
Kids
General
Special
Audience level: 0.38 (from 0.31 for China misp ... to 0.95 for Die malthu ...)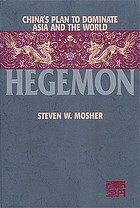 Alternative Names
Mao, Sidi 1948-

Mosher, Steve 1948-

Mosher, Steven

Mosher, Steven W.

Steven W. Mosher American social scientist

Steven W. Mosher Amerikaans schrijver

모셔, 스티븐 W

モーシャー, スティーブン・W

モッシャ-, スティ-ブン W

モッシャー, スティーブン・W

Languages
Covers