Cronon, William
Most widely held works about William Cronon
more
fewer
Most widely held works by William Cronon
Changes in the land : Indians, colonists, and the ecology of New England
by
William Cronon
( Book )
52 editions published between
1983
and 2013 in
English
and held by 2,417 WorldCat member libraries worldwide
An ecological history of colonial New England, looking at how the shift from Indian to European dominance affected the plant and animal communities of the region
Nature's metropolis : Chicago and the Great West
by
William Cronon
( Book )
21 editions published between
1991
and 1997 in
English
and held by 1,851 WorldCat member libraries worldwide
Argues that the American frontier and city developed together by focusing on Chicago and tracing its roots from Native American habitation to its transformation by white settlement and development
Public power, private dams : the Hells Canyon High Dam controversy
by
Karl Boyd Brooks
( )
5 editions published between
2006
and 2009 in
English
and held by 1,316 WorldCat member libraries worldwide
"With Public Power, Private Dams, Karl Brooks makes an important contribution not only to the history of the Pacific Northwest and the region's anadromous fisheries but also to the environmental history of the United States in the period after World War II."--Jacket
Dreaming of sheep in Navajo country
by
Marsha L Weisiger
( )
11 editions published between
2009
and 2011 in
English
and held by 1,193 WorldCat member libraries worldwide
Dreaming of Sheep in Navajo Country offers a fresh interpretation of the history of Navajo (Dine) pastoralism. The dramatic reduction of livestock on the Navajo Reservation in the 1930s - when hundreds of thousands of sheep, goats, and horses were killed - was an ambitious attempt by the federal government to eliminate overgrazing on an arid landscape and to better the lives of the people who lived there. Instead, the policy was a disaster, resulting in the loss of livelihood for Navajos - especially women, the primary owners and tenders of the animals - without significant improvement of the grazing lands. Livestock on the reservation increased exponentially after the late 1860s as more and more people and animals, hemmed in on all sides by Anglo and Hispanic ranchers, tried to feed themselves on an increasingly barren landscape. At the beginning of the twentieth century, grazing lands were showing signs of distress. As soil conditions worsened, weeds unpalatable for livestock pushed out nutritious native grasses, until by the 1930s federal officials believed conditions had reached a critical point. Well-intentioned New Dealers made serious errors in anticipating the human and environmental consequences of removing or killing tens of thousands of animals. Environmental historian Marsha Weisiger examines the factors that led to the poor condition of the range and explains how the Bureau of Indian Affairs, the Navajos, and climate change contributed to it. Using archival sources and oral accounts, she describes the importance of land and stock animals in Navajo culture. By positioning women at the center of the story, she demonstrates the place they hold as significant actors in Native American and environmental history. Dreaming of Sheep in Navajo Country is a compelling and important story that looks at the people and conditions that contributed to a botched policy whose legacy is still felt by the Navajos and their lands today. -- Publisher's website
Under an open sky : rethinking America's Western past
by
William Cronon
( Book )
16 editions published between
1992
and 1993 in
English
and held by 1,077 WorldCat member libraries worldwide
"The history of the American West is being transformed by exciting new ideas, new questions, new scholarship. For many years this field was dominated by popular images of the lone cowboy and the savage Indian, and by Frederick Jackson Turner's concept of the frontier as a steadily advancing source of democracy and social renewal. But now historians and even the merchants of popular culture are reshaping our views of the frontier and the West by taking up a rich array of new subjects, including the stories of diverse peoples as well as the history of the land itself. A new generation of scholars is reformulating the broader questions also: what was the significance of the frontier in American history? what are the bases of western identity? what themes connect the twentieth-century West to its more distant past?" "The transformation of western history continues to be an open-ended, turbulent process. The original essays in this volume are reports from the frontier of change. In their diverging assumptions and conclusions, they reflect the vitality of this field. They succeed when they make the case for new questions and suggest possible answers. They advocate no single agenda. But taken together they well represent the passion and high craft with which scholars are creating a new western history."--Jacket
The lost wolves of Japan
by
Brett L Walker
( )
12 editions published between
2005
and 2009 in
English
and held by 981 WorldCat member libraries worldwide
Annotation
The wilderness writings of Howard Zahniser
by
Howard Zahniser
( )
3 editions published in
2014
in
English
and held by 978 WorldCat member libraries worldwide
"Howard Zahniser (1906-1964), executive secretary of The Wilderness Society and editor of The Living Wilderness from 1945 to 1964, is arguably the person most responsible for drafting and promoting the Wilderness Act in 1964. The act, which created the National Wilderness Preservation System, was the culmination of Zahniser's years of tenacious lobbying and his work with conservationists across the nation. In 1964, fifty-four wilderness areas in thirteen states were part of the system; today the number has grown to 757 areas, protecting more than a hundred million acres in forty-four states and Puerto Rico. Zahniser's passion for wild places and his arguments for their preservation were communicated through radio addresses, magazine articles, speeches, and congressional testimony. An eloquent and often poetic writer, he seized every opportunity to make the case for the value of wilderness to people, communities, and the nation.^
Tangled roots : the Appalachian Trail and American environmental politics
by
Sarah Mittlefehldt
( )
6 editions published in
2013
in
English
and held by 971 WorldCat member libraries worldwide
The Appalachian Trail, a thin ribbon of wilderness running through the densely populated eastern United States, offers a refuge from modern society and a place apart from human ideas and institutions. But as environmental historian and thru-hiker Sarah Mittlefehldt argues, the trail is also a conduit for community engagement and a model for public-private cooperation and environmental stewardship. In Tangled Roots, Mittlefehldt tells the story of the trail's creation. The project was one of the first in which the National Park Service attempted to create public wilderness space within heavily populated, privately owned lands. Originally a regional grassroots endeavor, under federal leadership the trail project retained unprecedented levels of community involvement. As citizen volunteers came together and entered into conversation with the National Parks Service, boundaries between "local" and "nonlocal," "public" and "private," "amateur" and "expert" frequently broke down. Today, as Mittlefehldt tells us, the Appalachian Trail remains an unusual hybrid of public and private efforts and an inspiring success story of environmental protection. Sarah Mittlefehldt is assistant professor of environmental studies at Green Mountain College."Tangled Roots makes a contribution to the literature of environmental conservation history that is as unusual as the trail itself. In a gentle, approachable, and engaging style it tells the history of one of the most important and beloved conservation initiatives in American history and at the same time comments on a wide range of subjects in ways that are both insightful and fresh."--James Feldman, author of A Storied Wilderness"Tangled Roots will find readership among environmental and forest historians and will end up on the Christmas lists and in the backpacks of the trail's many fans. It is original and well-researched, ranging the length of the trail and lingering in one or another spot to explore representative or illuminating developments." --Kathryn Newfont, author of Blue Ridge Commons"This superb history of the construction and management of the Appalachian Trail not only narrates the creation of the most famous long-distance hiking trail in modern America; it also offers a cautionary tale about the changing roles of private landowners, volunteer hiking enthusiasts, land managers, and federal agencies in the oversight of that trail. In so doing, Sarah Mittlefehldt beautifully illustrates the changing environmental politics of the twentieth century in a book whose implications extend far beyond the AT." --William Cronon"
Discovered lands, invented pasts : transforming visions of the American West
by
Jules David Prown
( Book )
2 editions published in
1992
in
English
and held by 910 WorldCat member libraries worldwide
"Publication of this book will coincide with an exhibition organized by the Yale University Art Gallery and the Gilcrease Museum in Tulsa, Oklahoma, opening at the Buffalo Bill Historical Center in Cody, Wyoming."--Jacket
more
fewer
Audience Level
0

1
Kids
General
Special
Audience level: 0.23 (from 0.08 for The wilder ... to 0.99 for "Scholar a ...)
Related Identities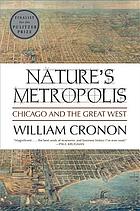 Covers
Alternative Names
Cronon, Bill

Cronon, Bill, 1954-

Cronon, William

Cronon, William Bill 1954-

Cronon, William J.

William Cronon

William Cronon Amerikaans geograaf

William Cronon historian

William Cronon US-amerikanischer Umwelthistoriker und Autor

クロノン, ウィリアム

Languages