Livio, Mario 1945-
Most widely held works by Mario Livio
The golden ratio : the story of phi, the world's most astonishing number
by
Mario Livio
( Book )
31 editions published between
2002
and 2018 in 3 languages and held by 2,376 WorldCat member libraries worldwide
Throughout history, thinkers from mathematicians to theologians have pondered the mysterious relationship between numbers and the nature of reality. In this fascinating book, the author tells the tale of a number at the heart of that mystery: phi, or 1.6180339887 ... This curious mathematical relationship, widely known as "The Golden Ratio," was discovered by Euclid more than two thousand years ago because of its crucial role in the construction of the pentagram, to which magical properties had been attributed. Since then it has shown a propensity to appear in the most astonishing variety of places, from mollusk shells, sunflower florets, and rose petals to the shape of the galaxy. Psychological studies have investigated whether the Golden Ratio is the most aesthetically pleasing proportion extant, and it has been asserted that the creators of the Pyramids and the Parthenon employed it. It is believed to feature in works of art from Leonardo da Vinci's Mona Lisa to Salvador Dali's The Sacrament of the Last Supper, and poets and composers have used it in their works. It has even been found to be connected to the behavior of the stock market! This book is a captivating journey through art and architecture, botany and biology, physics and mathematics. It tells the human story of numerous phi-fixated individuals, including the followers of Pythagoras who believed that this proportion revealed the hand of God; astronomer Johannes Kepler, who saw phi as the greatest treasure of geometry; such Renaissance thinkers as mathematician Leonardo Fibonacci of Pisa; and such masters of the modern world as Goethe, Cezanne, Bartok, and physicist Roger Penrose. Wherever his quest for the meaning of phi takes him, the author reveals the world as a place where order, beauty, and eternal mystery will always coexist
The accelerating universe : infinite expansion, the cosmological constant, and the beauty of the cosmos
by
Mario Livio
( )
12 editions published between
2000
and 2001 in
English
and held by 1,906 WorldCat member libraries worldwide
"In one of the most surprising and important findings in cosmology in the century, astronomers recently discovered that the universe may be expanding at an ever-increasing rate." "As astrophysicist Mario Livio explains in this book, most cosmologists have long believed that the universe will expand at a gradually decreasing rate until the expansion effectively stops. The discovery that the expansion appears in fact to be speeding up - and therefore that the universe will keep expanding faster and faster for infinity - throws the view of a perfectly balanced "beautiful universe" into question." "Mario Livio introduces readers to the "old cosmology," which culminated in the view of the perfectly balanced universe, and then presents all of the ideas being explored by cosmologists in the "new cosmology" as they come to terms with the discovery of acceleration. Offering clear explanations of all the key concepts and theoretical ideas, Livio is a guide through this exciting frontier in science today."--Jacket
Is God a mathematician?
by
Mario Livio
( Book )
41 editions published between
2009
and 2017 in 11 languages and held by 1,688 WorldCat member libraries worldwide
This fascinating exploration of the great discoveries of history's most important mathematicians seeks an answer to the eternal question: Does mathematics hold the key to understanding the mysteries of the physical world?
The dark universe : matter, energy and gravity : proceedings of the Space Telescope Science Institute Symposium, held in Baltimore, Maryland, April 2-5, 2001
by
Space Telescope Science Institute (U.S.)
( )
14 editions published between
2003
and 2010 in
English
and held by 1,325 WorldCat member libraries worldwide
"This timely volume presents specially written articles by world experts at an international conference at the Space Telescope Science Institute. The goal of the meeting was to assemble physicists and astronomers working on all aspects of dark matter and theories of gravity. Topics covered include Nucleosynthesis, Hot Gas in Clusters, MACHOs, WIMPs, Rotation Curves, Gravitational Lensing Neutrinos, Large Scale Flows, Dwarf Spheroidals, Cosmological Parameters from Supernovae, the Cosmic Microwave Background, the Cosmological Constant, and Theories of Gravity"--Publisher description
Why? : what makes us curious
by
Mario Livio
( Book )
11 editions published between
2017
and 2018 in
English
and
Italian
and held by 866 WorldCat member libraries worldwide
"This is a fascinating examination of perhaps our most human characteristic, our innate curiosity, our deep desire to know why. Why are we more distracted by a cell-phone conversation, where we can hear only one side of the dialogue, than by an overheard argument between two people? Are children more curious than adults? What is the source of the morbid curiosity that causes bystanders to gather at crime scenes or traffic accidents? What evolutionary purpose does curiosity serve? How does our mind choose what to be curious about? Why? explores these and many other intriguing questions. Curiosity is essential to creativity. It is a necessary ingredient in so many art forms, from mystery novels and film dramas to painting, sculpture, and music. It is the principal driver of science, and yet there is no scientific consensus on why we humans are so curious or about the precise mechanisms in our brain that are responsible for curiosity. Mario Livio investigates curiosity through the lives of such paragons of inquisitiveness as Leonardo da Vinci and Richard Feynman. He interviewed a range of exceptionally curious people from an astronaut with degrees in statistics, medicine, and literature to a rock guitarist with a PhD in astrophysics. Because of Livio's own insatiable curiosity, Why? is an irresistible and entertaining book that will captivate anyone who is curious about curiosity."--Jacket
The great math mystery
by
Mario Livio
( Visual )
2 editions published in
2015
in
English
and held by 584 WorldCat member libraries worldwide
Astrophysicist Mario Livio, along with a colorful cast of mathematicians, physicists, and engineers, follow math from Pythagoras to Einstein and beyond, all leading to the ultimate riddle: Is math an invention or a discovery? Humankind's clever trick, or the language of the universe? Join Nova for a mathematical mystery tour, a provocative exploration of math's astonishing power across the centuries
Black Holes
by
Mario Livio
( )
2 editions published in
2011
in
English
and held by 382 WorldCat member libraries worldwide
A collection of review papers exploring the astrophysics of black holes, providing an invaluable resource for researchers and graduate students
more
fewer
Audience Level
0

1
Kids
General
Special
Audience level: 0.23 (from 0.02 for The dark u ... to 0.70 for Interactin ...)
Associated Subjects
Astronomical spectroscopy
Astronomy--Research
Astrophysics
Cosmology
Curiosity
Dark matter (Astronomy)
Darwin, Charles,
Diophantine analysis
Discoveries in science
Double stars
Einstein, Albert,
Emission spectroscopy
Errors, Scientific
Exobiology
Extrasolar planets
Galaxies--Observations
Galois, Évariste,
Galois theory
Gamma ray bursts
Geometry, Plane
Golden section
Group theory
Hoyle, Fred,
Hubble Space Telescope (Spacecraft)
Kelvin, William Thomson,--Baron,
Life on other planets
Life--Origin
Logic, Symbolic and mathematical
Mathematicians--Psychology
Mathematics
Mathematics--Philosophy
Osterbrock, Donald E
Outer space--Hubble Deep Field
Pauling, Linus,
Relativistic astrophysics
Science
Science--Methodology
Scientists
Seaton, M. J
Space plasmas
Stars--Evolution
Stars with planets
Supernovae
Symmetric functions
Symmetry
Symmetry (Mathematics)
Telescopes
Ultraviolet astronomy
Ultraviolet radiation
Ultraviolet spectroscopy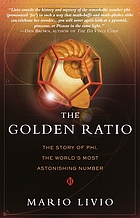 Covers
Alternative Names
Livio, M.

Livio, M. 1945-...

Livio, M. (Mario)

Livio, M. (Mario), 1945-

Livio, Mario

Livyo, Maryo.

Livyo, Maryo 1945-...

Mario Livio

Mario Livio astrofisico e divulgatore scientifico israeliano

Mario Livio Astronomer and popular science author

Mario Livio astronoom uit Israël

Mario Livio israelischer Astrophysiker und Autor

Ливио, Марио астрофизик, популяризатор науки

ליביו, מריו 1945-

מריו ליביו

מריו ליביו אסטרופיסיקאי וסופר ישראלי

ماريو ليفيو

ماریۆ لیڤیۆ

리비오, 마리오 1945-

リヴィオ, マリオ

Languages