Nowotny, Helga
Most widely held works by Helga Nowotny
Time : the modern and postmodern experience
by
Helga Nowotny
( Book )
45 editions published between
1989
and 2015 in 4 languages and held by 678 WorldCat member libraries worldwide
This book represents a major contribution to the understanding of time, giving particular attention to time in relation to modernity. The development of industrialism, the author points out, was based upon a linear and abstract conception of time. Today we see that form of production, and the social institutions associated with it, supplanted by flexible specialization and just-in-time production systems. New information and communication technologies have made a fundamental impact here. But what does all this mean for temporal regimes? How can we understand the transformations of time and space involved in the bewildering variety of options on offer in a postmodern world? The author provides an incisive analysis of the temporal implications of modern communications. She considers the implications of worldwide simultaneous experience, made possible by satellite technologies, and considers the reorganization of time involved in the continuous technological innovation that marks our era. In this puzzling universe of action, how does one achieve 'a time of one's own'? The discovery of a specific time perspective centred in the individual, she shows, expresses a yearning for forms of experience that are subversive of established institutional patterns. This brilliant study, which has already become a classic in Germany, will be of interest to students and professionals working in the areas of social theory, sociology, politics and anthropology
Re-thinking science : knowledge and the public in an age of uncertainty
by
Helga Nowotny
( Book )
36 editions published between
2000
and 2013 in
English
and
Portuguese
and held by 471 WorldCat member libraries worldwide
Re-Thinking Science presents an account of the dynamic relationship between society and science. Despite the mounting evidence of a much closer, interactive relationship between society and science, current debate still seems to turn on the need to maintain a 'line' to demarcate them. The view persists that there is a one-way communication flow from science to society - with scant attention given to the ways in which society communicates with science. The authors argue that changes in society now make such communications both more likely and more numerous, and that this is transforming science not only in its research practices and the institutions that support it but also deep in its epistemological core. To explain these changes, Nowotny, Scott and Gibbons have developed an open, dynamic framework for re-thinking science. The authors conclude that the line which formerly demarcated society from science is regularly transgressed and that the resulting closer interaction of science and society signals the emergence of a new kind of science: contextualized or context-sensitive science. The co-evolution between society and science requires a more or less complete re-thinking of the basis on which a new social contract between science and society might be constructed. In their discussion the authors present some of the elements that would comprise this new social contract
Insatiable curiosity : innovation in a fragile future
by
Helga Nowotny
( Book )
25 editions published between
2005
and 2014 in
English
and
German
and held by 404 WorldCat member libraries worldwide
"Curiosity is the main driving force behind scientific activity. Scientific curiosity, insatiable in its explorations, does not know what it will find, or where it will lead. Science needs autonomy to cultivate this kind of untrammeled curiosity; innovation, however, responds to the needs and desires of society. Innovation, argues influential European science studies scholar Helga Nowotny, tames the passion of science, harnessing it to produce "deliverables." Science brings uncertainties; innovation successfully copes with them. Society calls for both the passion for knowledge and its taming. This ambivalence, Nowotny contends, is an inevitable result of modernity."
Naked genes : reinventing the human in the molecular age
by
Helga Nowotny
( Book )
14 editions published between
2010
and 2014 in
English
and held by 362 WorldCat member libraries worldwide
The molecular life sciences are making visible what was once invisible. Yet the more we learn about our own biology, the less we are able to fit this knowledge into an integrated whole. Life is divided into new sub-units and reassembled into new forms: from genes to clones, from embryonic stages to the building-blocks of synthetic biology. Extracted from their scientific and social contexts, these new entities become not only visible but indeed "naked": ready to assume an essential status of their own and take on multiple values and meanings as they pass from labs to courts, from patent offices to parliaments and back. In Naked Genes, leading science scholar Helga Nowotny and molecular biologist Giuseppe Testa examine the interaction between these dramatic advances in the life sciences and equally dramatic political reconfigurations of our societies. Considering topics ranging from assisted reproduction and personalized medicine to genetic sports doping, they reveal both surprising continuities and radical discontinuities between the latest advances in the life sciences and long-standing human traditions
After the breakthrough : the emergence of high-temperature superconductivity as a research field
by
Helga Nowotny
( Book )
16 editions published between
1996
and 2011 in
English
and
French
and held by 315 WorldCat member libraries worldwide
The authors analyze the emergence of this new research field and the way its development was shaped by scientists and science policy makers. They also examine the various institutional and national settings in which the research was undertaken as well as considering the scientific backgrounds and motivations of researchers who entered the field following the original discovery. The industrial connection and the general belief in promises about potential future applications were important elements in strategies devised to obtain funding. A remarkable factor in this process was the role played by the media. The sustained attention that followed the discovery of high-temperature superconductivity resulted in it being seen as the symbol of a new technological frontier
The public nature of science under assault : politics, markets, science and the law
by
Helga Nowotny
( Book )
17 editions published between
2005
and 2010 in
English
and held by 260 WorldCat member libraries worldwide
"Science has developed from being a self-evident public good to being highly valued in other contexts for different reasons: strengthening the economic competitiveness and, especially in high-tech fields, as a financial investment for future gains. This has been accompanied by a shift from public to private funding with intellectual property rights gaining importance. But in contemporary democracies citizens have also begun to voice their concerns about science and technology related risks, demanding greater participation in decision-making and in the setting of research priorities. The book examines the legal issues and responses vis-a-vis these transformations of the nature of public science. It discusses their normative content as well as the responses and inherent limitations of the law in meeting these challenges."--Jacket
The cunning of uncertainty
by
Helga Nowotny
( Book )
14 editions published between
2015
and 2017 in
English
and held by 217 WorldCat member libraries worldwide
Uncertainty is interwoven into human existence. It is a powerful incentive in the search for knowledge and an inherent component of scientific research. We have developed many ways of coping with uncertainty. We make promises, manage risks and make predictions to try to clear the mists and predict ahead. But the future is inherently uncertain - and the mist that shrouds our path an inherent part of our journey. The burning question is whether our societies can face up to uncertainty, learn to embrace it and whether we can open up to a constantly evolving future.--
more
fewer
Audience Level
0

1
Kids
General
Special
Audience level: 0.60 (from 0.07 for Insatiable ... to 0.91 for Wissenscha ...)
Related Identities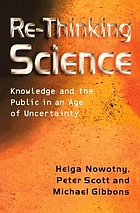 Alternative Names
Helga Nowotny aŭstra sociologino

Helga Nowotny Austrian sociologist

Helga Nowotny österreichische Soziologin, Vize-Präsidentin des ERC Scientific Council

Helga Nowotny socióloga austríaca

Helga Nowotny sociologe uit Oostenrijk

Helga Nowotny sociologue autrichienne

Nowotny, H.

Nowotny, H. (Helga)

Nowotny, Helga

Χέλγκα Νοβότνι

Хельга Новотни

Хельга Новотны

海尔格·诺沃特尼

Languages
Covers