D'Souza, Dinesh 1961-
Most widely held works about Dinesh D'Souza
Most widely held works by Dinesh D'Souza
Illiberal education : the politics of race and sex on campus
by
Dinesh D'Souza
( Book )
20 editions published between
1991
and 1992 in
English
and held by 2,426 WorldCat member libraries worldwide
American universities are once again the scene of angry controversy. This time it is the politics of race and sex that has sparked a wave of bitter confrontations. Some of these disputes have made national headlines; many more go unreported. They may appear to be unrelated cases of excessive zeal. But as the author argues in this firsthand report from today's deeply troubled American campus, the conflicts are the fruit of a coherent ideology that seeks to thrust the university into the vanguard of social reform and to establish a model "multicultural community."
What's so great about America
by
Dinesh D'Souza
( Book )
22 editions published between
2001
and 2015 in 3 languages and held by 1,687 WorldCat member libraries worldwide
America is under attack as never before. Not only from foreign terrorists, but also from within. Islamic terrorists declare America the "Great Satan." Many Europeans complain about America spreading its cultural wasteland. And perhaps worst of all, here in our own country, those on the political Left still blame America for every ill in the world. Left-wing multiculturalism -- dominant in our own schools and universities -- teaches students that Western and American culture is no better than, and probably worse than, Third World cultures. Does this imply the death of the West? Quite the opposite, says the author. In his new book he takes on all of America's critics and proves them wrong. The author claims that the flood of immigrants coming to America proves that our values, our system, our freedoms, and our culture are irresistible and superior. The problem, he asserts, is our own inability or refusal to celebrate what makes America great. He takes the alleged "sins of the West" and debunks the myths propagated by the Left: 1. Slavery? The West is unique not in having slavery but in abolishing it. 2. Colonialism? The author, an immigrant from India, gives two cheers for British colonialism, pointing out that the sons and daughters of colonists are the beneficiaries of Western law, culture, education, opportunity, and prosperity. 3. Decadence? Who is truly virtuous, he asks, a society that enforces Talibanic edicts or the West, where virtue is a free-will choice? Where else in the world has the value and potential of the individual been more fully realized than in America? In the aftermath of the September 11 attacks on our country, there is a clear understanding of the moral basis of Western civilization is needed now more than ever. This book offers a powerful defense for America and exposes the truth about who our enemies really are
America : imagine a world without her
by
Dinesh D'Souza
( Book )
10 editions published between
2012
and 2015 in
English
and held by 1,399 WorldCat member libraries worldwide
Is America a source of pride, as Americans have long held, or shame, as Progressives allege? Beneath an innocent exterior, are our lives complicit in a national project of theft, expropriation, oppression, and murder, or is America still the hope of the world? D'Souza offers a passionate and sharply reasoned defense of America, knocking down every important accusation made by Progressives against our country
Ronald Reagan : how an ordinary man became an extraordinary leader
by
Dinesh D'Souza
( Book )
14 editions published between
1997
and 2004 in
English
and
Czech
and held by 1,385 WorldCat member libraries worldwide
A look at how Ronald Reagan, a former actor who seemed to be apart from the daily operations of the government, was able to change the political landscape in such a way as to make a permanent impact on both America and the world
What's so great about Christianity
by
Dinesh D'Souza
( Book )
20 editions published between
2007
and 2010 in 4 languages and held by 1,315 WorldCat member libraries worldwide
Examines the assumptions of Christianity and atheism, and argues, among other issues, that Christianity explains what modern science tells us about the universe and our origins better than atheism
The roots of Obama's rage
by
Dinesh D'Souza
( Book )
13 editions published between
2010
and 2012 in
English
and
Chinese
and held by 1,287 WorldCat member libraries worldwide
Bestselling author D'Souza exposes how Obama's Hobbesian philosophy towards government is threatening not only economic and personal freedom, but America's national sovereignty as well
Obama's America : unmaking the American dream
by
Dinesh D'Souza
( Book )
11 editions published between
2012
and 2014 in
English
and held by 1,204 WorldCat member libraries worldwide
In this blockbuster follow-up to the "New York Times"--Bestseller "The Roots of Obama's Rage," D'Souza reveals how President Obama's recent actions prove his anti-colonialist roots and predicts how much worse America will be if President Obama wins a second term
The enemy at home : the cultural left and its responsibility for 9/11
by
Dinesh D'Souza
( Book )
12 editions published between
2007
and 2013 in
English
and held by 1,202 WorldCat member libraries worldwide
The culture wars at home and the global war on terror are usually viewed as separate problems. Author D'Souza makes the claim that terrorist acts around the world can be directly traced to the ideas and attitudes perpetrated by America's cultural left. D'Souza shows that American liberals are responsible for fostering a culture that angers and repulses not just Muslims but also traditional and religious societies around the world. He argues that it is not our exercise of freedom that enrages our enemies, but our abuse of that freedom--from the sexual liberty of women to the support of gay marriage, birth control, and no-fault divorce, to the aggressive exportation of our vulgar, licentious popular culture. It is only by curtailing the left's attacks on religion, family, and traditional values that we can persuade moderate Muslims and others around the world to cooperate with us and shun the extremists in their own countries
Hillary's America : the secret history of the Democratic Party
by
Dinesh D'Souza
( Book )
8 editions published in
2016
in
English
and held by 1,098 WorldCat member libraries worldwide
Dinesh D'Souza has a warning: We are on the brink of losing our country forever. After eight years of Obama, four years -- or possibly eight years -- of Hillary Clinton as president of the United States would so utterly transform America as to make it unrecognizable. No more will America be a land of opportunity. Instead, it will be a land of rapacious crony capitalism, run solely for the benefit of friends of the Obamas and the Clintons and the Democratic Party. It will, in fact, be the fulfillment of a dream the Democratic Party has had from the beginning ... a dream of stealing America for the politically favored few. D'Souza presents the sordid truth about Hillary and the secret history of the Democratic Party, including how Democrats transitioned from pro-slavery to pro-enslavement; the long-standing Democratic political war against women; how Hillary Clinton's political mentor was, literally, a cold-blooded gangster; how the Clintons and other Democrats see foreign policy not in terms of national interest, but in terms of personal profit; how Democratically controlled cities have turned into hotbeds of crime and corruption; and much, much more
Life after death : the evidence
by
Dinesh D'Souza
( Book )
17 editions published between
2009
and 2015 in 3 languages and held by 1,020 WorldCat member libraries worldwide
Drawing on some of the most powerful theories and trends in physics, biology, philosophy, and psychology, D'Souza concludes that belief in life after death offers depth and significance to this life
more
fewer
Audience Level
0

1
Kids
General
Special
Audience level: 0.18 (from 0.10 for America : ... to 0.33 for Stealing A ...)
Associated Subjects
Academic freedom
Affirmative action programs
Anti-Americanism
Christianity--Essence, genius, nature
Civilization
Civilization, Modern--American influences
Civilization, Western
Clinton, Hillary Rodham
D'Souza, Dinesh,
Democratic Party (U.S.)
Diplomatic relations
Discrimination in higher education
Economic history
Education, Higher--Curricula
Education, Higher--Political aspects
Education, Humanistic
Educational equalization
Ethics
Future life--Christianity
Immortality
Influence (Literary, artistic, etc.)
International relations
Islamic countries
Liberalism
Minorities--Education (Higher)
Multicultural education
National characteristics, American
Nationalsozialistische Deutsche Arbeiter-Partei
Near-death experiences
Obama, Barack
Political and social views
Political corruption
Political culture
Political ethics
Politics, Practical
Politics and government
Popular culture--Moral and ethical aspects
Presidential candidates
Presidents
Presidents--Election
Reagan, Ronald
Right and left (Political science)
Social conditions
Student movements
United States
Values
War on Terrorism (2001-2009)
Wealth--Moral and ethical aspects
Women presidential candidates
World politics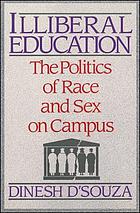 Alternative Names
D Souza, D.

D. Süza, Deniš 1961-

De. Suosa, Dineixi 1961-

Dinesh D'Souza US-amerikanischer Autor und Redner

Dinesh D'Souza

Dinesh D'Souza 1961-....

Dinesh D'Souza Amerikaans politiek commentator

Dinesh D'Souza Indian-American political commentator, filmmaker, author

Souza, Dinesh d'.

Souza Dinesh D' 1961-....

Süza, Deniš D. 1961-

דינש ד'סוזה

دينيش دسوزا

디네시 더수자

ディネシュ・ドゥスーザ

德 索萨, 迪内希 1961-

Languages
Covers