McGrath, Alister E. 1953-
Most widely held works about Alister E McGrath
more
fewer
Most widely held works by Alister E McGrath
Iustitia Dei : a history of the Christian doctrine of justification
by
Alister E McGrath
( )
71 editions published between
1986
and 2015 in
English
and
Latin
and held by 3,770 WorldCat member libraries worldwide
"The Christian doctrine of justification is of immense interest to historians and theologians, and continues to be of major importance in modern ecumenical discussions. The present work appeared in its first edition in 1986, and rapidly became the leading reference work on the subject. Its many acclaimed features include a detailed assessment of the semantic background of the concept in the Ancient Near East, a thorough examination of the doctrine of the medieval period, and especially careful analysis of its development during the critical years of the sixteenth century. The third edition thoroughly updates the work, adding new material where necessary, and responding to the latest developments in scholarly literature. It will be an essential resource for all concerned with the development of Christian doctrine, the history of the Reformation debates on the identity of Christianity, and modern discussions between Protestants and Roman Catholics over the nature of salvation."--Jacket
Reformation thought : an introduction
by
Alister E McGrath
( Book )
82 editions published between
1988
and 2012 in 3 languages and held by 2,634 WorldCat member libraries worldwide
"Reformation Thought is an introductory guide for theology and history students seeking to understand the central ideas of the European Reformation. Based on Dr. McGrath's considerable experience of teaching Reformation studies, this text requires no prior knowledge of Christian theology."--Jacket
Christian theology : an introduction
by
Alister E McGrath
( Book )
88 editions published between
1994
and 2017 in 5 languages and held by 2,449 WorldCat member libraries worldwide
"Christian Theology: An Introduction is internationally acknowledged to be among the leading textbooks in Christian theology. This new edition retains all of the highly acclaimed features of the first two editions, and incorporates important new material. Using accessible language, the text assumes no prior knowledge of Christian theology, and introduces the key ideas, debates, personalities, and schools of thought clearly and accurately." "The third edition has been developed in response to feedback from users. Material relating to Roman Catholic and Orthodox theology has been added, as well as additional illustrative material. Some chapters have also been restructured to allow for easier study. Part II has been expanded and rearranged to allow the inclusion of additional material relating to philosophical theology. Bibliographies have been expanded and updated for every chapter." "Avoiding any form of denominational or theological bias, this essential textbook provides full coverage of the first 2,000 years of Christian theological debate, including substantial coverage of historical theology, philosophical theology, and systematic theology. An extensive glossary of theological terms is included, as well as an updated guide to theological resources on the Internet."--Jacket
In the beginning : the story of the King James Bible and how it changed a nation, a language, and a culture
by
Alister E McGrath
( Book )
30 editions published between
2001
and 2011 in
English
and held by 2,190 WorldCat member libraries worldwide
"The King James Bible is the most familiar and widely read Bible translation in the world, recognized for centuries as both a religious and literary classic. But the origins of this masterpiece are far from what one might expect, and its beginnings lie in murder, deceit, bitter political feuds, and religious conflicts so intense they threatened the unity of England. The struggle to translate the Bible into English was a passionate cause, in the name of which crusaders fought, were imprisoned, and were sometimes even executed - like William Tyndale, whose efforts to translate the New Testament into English led him to a gruesome death. Now, Alister McGrath explores the origins of this monumental work and delves into the forces that brought it into being, illuminating a particularly volatile and culturally rich period in European history."
The Blackwell encyclopedia of modern Christian thought
by
Alister E McGrath
( )
43 editions published between
1993
and 2010 in
English
and held by 2,152 WorldCat member libraries worldwide
The Blackwell Encyclopedia of Modern Christian Thought is an authoritative and readable reference source for all interested in the development of Christian thought from the dawn of the Enlightenment to the present day. The Encyclopedia includes substantial review essays dealing with the development of central themes of Christian thought, including the doctrine of God, the person and work of Christ, and Christian understandings of other religions. The book allows easy access to the distinctive ideas of the major schools of thought that have emerged within Christianity during this period, such as liberation theology, evangelicanism and liberalism. The work also includes substantial material relating to Christian biblical interpretation, ethics, economic thought, political theory, aesthetics, music and philosophy. One of the most distinctive features of the Encyclopedia is its thorough survey of regional developments during the period. The Encyclopedia includes major articles on the development of Christian thought in Australia, Canada, China, Germany, Holland, India, Japan, Korea, Scandinavia, South Africa, the United Kingdom and the United States, wherever possible compiled by scholars living and working in the regions concerned. The book also includes material on neglected yet significant themes, such as Arab Christianity. Additionally, it covers the impact of the sciences upon Christian thought during this seminal period, with major survey articles dealing individually with biological, physical, psychological and social science
Science & religion : an introduction
by
Alister E McGrath
( )
31 editions published between
1998
and 2013 in
English
and held by 2,144 WorldCat member libraries worldwide
This text looks at the historical, theological, philosophical & scientific aspects of the interaction of science & religion. It includes issues raised by Richard Dawkins concerning evolution, and the anthropic principle in relation to cosmology
The Dawkins delusion : atheist fundamentalism and the denial of the divine
by
Alister E McGrath
( Book )
22 editions published between
2007
and 2010 in 3 languages and held by 2,004 WorldCat member libraries worldwide
"Alister McGrath is ideally placed to evaluate Dawkins' ideas. Once an atheist himself, he gained a doctorate in molecular biophysics before going on to become a leading Christian theologian. He wonders how two people, who have reflected at length on substantially the same world, could possibly have come to such different conclusions about God. McGrath subjects Dawkins' critique of faith to rigorous scrutiny. This book will be warmly received by those looking for a reliable assessment of The God Delusion and the many questions it raises - including, above all, the relevance of faith and the quest for meaning."--Jaquette
The Christian theology reader
by
Alister E McGrath
( Book )
45 editions published between
1995
and 2017 in
English
and
Chinese
and held by 1,665 WorldCat member libraries worldwide
"This Reader is designed as a companion to the editor's highly successful Christian Theology: An Introduction. It makes available some 280 seminal texts from the entire Christian tradition from Ignatius of Antioch to the Catechism of the Catholic Church (1994), cross-referenced and indexed for ease of use. All readings prior to 1800 have been specially translated for the purposes of this reader, to ensure consistency of translation and ease of reading in English. Every effort has been made to ensure that the work is as user-friendly as possible, making as few demands as possible of its users. Each chapter includes an introduction outlining the main historical and theological issues, and identifying key issues and thinkers. Each individual reading is prefaced by an introduction, alerting the reader to its importance and context, and followed where necessary by notes on translation and interpretation. The work also includes a full glossary of theological terms and biographical details of theologians cited, as well as suggestions for further reading."--Jacket
The intellectual origins of the European Reformation
by
Alister E McGrath
( Book )
47 editions published between
1987
and 2008 in
English
and held by 1,429 WorldCat member libraries worldwide
The sixteenth-century Reformation remains a fascinating and exciting area of study. The revised edition of this distinguished volume explores the intellectual origins of the Reformation and examines the importance of ideas in the shaping of history.:.; Provides an updated and expanded version of the original, highly-acclaimed edition.; Explores the complex intellectual roots of the Reformation, offering a sustained engagement with the ideas of humanism and scholasticism.; Demonstrates how the intellectual origins of the Reformation were heterogeneous, and examines the implications of this for
more
fewer
Audience Level
0

1
Kids
General
Special
Audience level: 0.26 (from 0.01 for A scientif ... to 0.82 for A comparis ...)
Associated Subjects
Apologetics
Atheism
Authors, English
Bantu-speaking peoples--Religion
Bible
Calvin, Jean,
Calvinism
Christianity and atheism
Crucifixion--History of doctrines
Crucifixion of Jesus Christ
Dawkins, Richard,
Europe
Evangelicalism
Evangelicalism--Church of England
Faith
God
God delusion (Dawkins, Richard)
God--Proof
Good and evil
Heaven
Humanism
Influence (Literary, artistic, etc.)
Intellectual life
Irreligion
Jesus Christ
Justification (Christian theology)
Justification (Christian theology)--History of doctrines
Lewis, C. S.--(Clive Staples),
Luther, Martin,
McGrath, Alister E.,
Natural theology
Nature--Religious aspects--Christianity
Philosophy, Medieval
Philosophy, Renaissance
Protestantism
Reformation
Reformed Church--Doctrines
Religion
Religion and science
Religious thought--Middle Ages
Renaissance
Salvation
Scholasticism
Switzerland--Geneva
Theism
Theologians
Theology
Theology, Doctrinal
Theology, Doctrinal--Middle Ages
Theology of the cross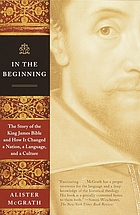 Covers
Alternative Names
A. E.マクグラス.

Alister Edgar McGrath

Alister McGrath Brits theoloog

Alister McGrath britský anglikánský teolog, biofyzik

Alister McGrath conférencier en théologie, Wycliffe Hall, Oxford

Alister McGrath nordirischer Theologe und Professor an der Universität London

Alister McGrath teologo, biologo e educatore britannico

Mac Grath, Alister E.

Mac Grath Alister E. 1953-....

MacGrath, Alister 1953-

MacGrath, Alister E.

MacGrath Alister E. 1953-....

MacGrath, Alister Edgar 1953-

Mc Grath, Alister E.

Mc Grath Alister E. 1953-....

McGrath Alister

McGrath, Alister 1953-

McGrath, Alister E.

McGrath, Alister E. 1953-

McGrath, Alister E. (Alister Edgar), 1953-

McGrath Alister Edgar

McGrath, Alister Edgar 1953-

McGrath, Alister Edger 1953-

McGrathas Alisteris

Άλιστερ ΜακΓκράθ

Макграт, Алистер

آلیستر مک گرات

ليستر ماكغراث

맥그라스, 알리스터 1953-

맥그라스, 알리스터 E. 1953-

맥그라스, 앨리스터 1953-

맥그래스, 알리스터 1953-

맥그래스, 알리스터 E. 1953-

맥그래스, 앨리스터 1953-

맥그래스, 앨리스터 E. 1953-

앨리스터 맥그래스

アリスター・マクグラス

マクグラス, A. E.

マクグラス, アリスター

マクグラス, アリスター・E.

マクグラス, アリスタ- E. 1953-

マグラス, アリスター

Languages