Sommers, Christina Hoff
Most widely held works about Christina Hoff Sommers
more
fewer
Most widely held works by Christina Hoff Sommers
Who stole feminism? : how women have betrayed women
by
Christina Hoff Sommers
( Book )
22 editions published between
1994
and 1996 in
English
and
Undetermined
and held by 1,878 WorldCat member libraries worldwide
This book claims that the modern feminist movement has been "co-opted" by radical left-wing extremists. In addition to attacking academics, liberals, and the feminist leaders, the author accuses all of the above of using deceptive or inaccurate data
The war against boys : how misguided feminism is harming our young men
by
Christina Hoff Sommers
( Book )
14 editions published between
2000
and 2001 in
English
and held by 1,722 WorldCat member libraries worldwide
"Christina Hoff Sommers analyzes the work of the leading academic experts, Carol Gilligan and William Pollack, and finds it lacking in scientific rigor. There is no girl crisis, says Sommers. Girls are outperforming boys academically, and girls' self-esteem is no different from boys'. Boys lag behind girls in reading and writing ability, and they are less likely to go to college." "The "girl crisis" has been seized upon by some feminists and has been suffused with sexual politics. Under the guise of helping girls, many schools have adopted policies that penalize boys, often for simply being masculine. Sommers says that boys do need help, but not the sort they've been getting. They need help catching up with girls academically. They need love, discipline, respect, and moral guidance. They desperately need understanding. They do not need to be rescued from masculinity."--Jacket
One nation under therapy : how the helping culture is eroding self-reliance
by
Christina Hoff Sommers
( Book )
10 editions published between
2005
and 2013 in
English
and held by 1,168 WorldCat member libraries worldwide
Americans have traditionally placed great value on self-reliance and fortitude. In recent decades, however, we have seen the rise of a therapeutic ethic that views Americans as emotionally underdeveloped, psychically frail, and requiring the ministrations of mental health professionals to cope with life's vicissitudes. Being "in touch with one's feelings" and freely expressing them have become paramount personal virtues. Today-with a book for every ailment, a counselor for every crisis, a lawsuit for every grievance, and a TV show for every conceivable problem-we are at risk of degrading our native ability to cope with life's challenges. Drawing on established science and common sense, Christina Hoff Sommers and Dr. Sally Satel reveal how "therapism" and the burgeoning trauma industry have come to pervade our lives. Help is offered everywhere under the presumption that we need it: in children's classrooms, the workplace, churches, courtrooms, the media, the military. But with all the "help" comes a host of troubling consequences, including: * The myth of stressed-out, homework-burdened, hypercompetitive, and depressed or suicidal schoolchildren in need of therapy and medication * The loss of moral bearings in our approach to lying, crime, addiction, and other foibles and vices * The unasked-for "grief counselors" who descend on bereaved families, schools, and communities following a tragedy, offering dubious advice while billing plenty of money * The expansion of Post-Traumatic Stress Disorder from an affliction of war veterans to nearly everyone who has experienced a setback Intelligent, provocative, and wryly amusing, One Nation Under Therapy demonstrates that "talking about" problems is no substitute for confronting them
The science on women and science
( Book )
6 editions published in
2009
in
English
and held by 510 WorldCat member libraries worldwide
Are women victims of a widespread bias in science and engineering, as a 2007 report of the National Academy of Sciences concluded? Or are there other, more plausible explanations for the paucity of women in various quantitative fields? What, if anything, should be done to encourage more women to become engineers and scientists? Anyone looking for a balanced and temperate treatment of this sometimes-contentious topic will welcome this collection of essays from leading academics on both sides of the issue
The war against boys : how misguided policies are harming our young men
by
Christina Hoff Sommers
( Book )
11 editions published between
2013
and 2015 in
English
and held by 506 WorldCat member libraries worldwide
Girls and women were once second class citizens in the nation's schools. Americans responded with concerted efforts to give girls and women the attention and assistance that was long overdue. Now, after two major waves of feminism and decades of policy reform, women have made massive strides in education. Today they outperform men in nearly every measure of social, academic, and vocational well being
One nation under therapy : how the helping culture is eroding self-reliance
by
Christina Hoff Sommers
( )
11 editions published between
2006
and 2009 in
English
and held by 136 WorldCat member libraries worldwide
Americans have traditionally placed great value on self-reliance and fortitude. In recent decades, however, we have seen the rise of an ethic that views Americans as requiring the ministrations of mental health professionals to cope with life's vicissitudes. Being "in touch with one's feelings" and freely expressing them have become paramount virtues. Today, with a book for every ailment, a counselor for every crisis, a lawsuit for every grievance, and a TV show for every conceivable problem, "help" is offered everywhere, but with it come troubling consequences, including: the myth of stressed-out, homework-burdened, hypercompetitive, and depressed or suicidal schoolchildren; the loss of moral bearings in our approach to lying, crime, addiction, and other foibles and vices; the expansion of Post-Traumatic Stress Disorder from an affliction of war veterans to nearly everyone who has experienced a setback.--From publisher description
Freedom feminism : its surprising history and why it matters today
by
Christina Hoff Sommers
( Book )
2 editions published in
2013
in
English
and held by 128 WorldCat member libraries worldwide
"Women's equality is one of the great achievements of Western civilization. Yet most American women today do not consider themselves "feminists." Why is the term that describes one of the great chapters in the history of freedom in such disrepute? In Freedom Feminism: Its Surprising HIstory and Why It Matters Today, Christina Hoff Sommers seeks to recover the lost history of American feminism by introducing readers to social feminism's forgotten heroines. More importantly, she demonstrates that a modern version of social feminism -- in which women are free to employ their equal status to pursue happiness in their own distinctive ways -- holds the key to a feminism renaissance"--Back cover
Who stole feminism? : how women have betrayed women
by
Christina Hoff Sommers
( )
10 editions published between
1996
and 2009 in
English
and held by 122 WorldCat member libraries worldwide
Sommers has exposed a disturbing development: how a group of zealots, claiming to speak for all women, are promoting a dangerous agenda that threatens cherished ideals and sets women against men in all spheres of life. In case after case, Sommers shows how these extremists have propped up their arguments with highly questionable but well-funded research, presenting inflammatory and often inaccurate information and stifling any semblance of free and open scrutiny. Trumpeted as orthodoxy, their resulting findings on everything from rape, domestic abuse, and economic bias to the supposed crisis in girls' self-esteem perpetuate a view of women as victims of the "patriarchy."
more
fewer
Audience Level
0

1
Kids
General
Special
Audience level: 0.25 (from 0.11 for Miscellane ... to 0.87 for La guerra ...)
Related Identities
Associated Subjects
Authors
Begley, Louis
Boys
Commercial crimes
Deconstruction
Derrida, Jacques
Earlham College
Educational change
Emigration and immigration
Ethics
Families
Feminism
Feminism and art
Feminism and science
Feminism--Political aspects
Feminist literary criticism
Feminists
Feminist theory
Gender identity
Literature, Modern
Mental health
Moral conditions
Philosophy
Plath, Sylvia
Political correctness
Pratchett, Terry
Psychotherapy
Race relations
Rape in literature
Real estate investment trusts
Science--Philosophy
Self-reliance
Sex differences in education
Sex discrimination against women
Sex discrimination in education
Sexton, Anne,
Sexual harassment
Social change
Social conditions
Social ethics
Sommers, Christina Hoff
Teenage boys
Teenage boys--Psychology
Tradition (Philosophy)
United States
Wilson, Lanford,
Women and literature
Women in higher education
Women in science
Women--Political activity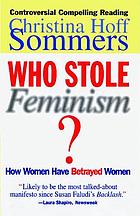 Covers
Alternative Names
Christina Hoff Sommers American author and philosopher

Christina Hoff Sommers Amerikaans filosofe

Christina Hoff Sommers Amerikanang may-akda at pilosopo

Christina Hoff Sommers autora e filósofa estadounidense

Christina Hoff Sommers autora estadounidense

Christina Hoff Sommers saggista statunitense

Christina Hoff Sommers US-amerikanische Philosophin und Feministin

Hoff Sommers, Christina

Hoff Sommers, Christina 1950-

Hoff Sommers, Christina Marie 1950-

Rodni feminizam

Sommers, Christina

Sommers, Christina H.

Sommers, Christina H. 1950-

Соммерс, Кристина Хофф

כריסטינה הוף סומרס

כריסטינה הוף סומרס סופרת ופילוסופית אמריקאית

کریستینا هوف سمرس

크리스티나 호프 소머스

克里斯蒂娜·霍夫·萨默斯

Languages