Handy, Charles B.
Most widely held works about Charles B Handy
more
fewer
Most widely held works by Charles B Handy
Understanding organizations
by
Charles B Handy
( Book )
152 editions published between
1976
and 2009 in 3 languages and held by 2,901 WorldCat member libraries worldwide
This text offers an extended dictionary of the key concepts, and shows how this can help us find new solutions to familiar problems, describing approaches and techniques
The age of unreason
by
Charles B Handy
( Book )
84 editions published between
1989
and 2012 in 7 languages and held by 2,198 WorldCat member libraries worldwide
Shows how dramatic changes are transforming businesses, education, and the nature of work. Handy maintains that discontinuous change requires discontinuous, upside-down thinking. We need new kinds of organizations, new approaches to work, new types of schools and new ideas about the nature of our society
The age of paradox
by
Charles B Handy
( Book )
20 editions published between
1994
and 2003 in 3 languages and held by 1,363 WorldCat member libraries worldwide
"Now, in this striking sequel, Handy proposes bold ideas for how individuals and organizations can navigate their way through this brave new world. Change is occurring more rapidly than ever, challenging the assumptions and traditions of previous decades. Fewer full-time positions create more flexibility - but put the responsibility on us to create job opportunities. The end of lifelong careers gives us the freedom to explore new organizations and industries - but provides us with less security and comfort. Knowledge as a commodity to be sold offers the possibility of a more egalitarian society - yet highlights the fact that few have access to good education." "It is these unintended consequences of change - the paradoxes - that Handy confronts in The Age of Paradox. He argues that although the paradoxes of modern times cannot be solved, they can be managed. "There are pathways through the paradoxes if we can understand what is happening and are prepared to act differently." He shows us how we can accept and exploit the fuller responsibilities that today's workplace imposes; maintain our sense of continuity, connection, and direction; and balance our personal and professional commitments. In the same compelling style that captivated readers of The Age of Unreason, Handy describes the pathways to tomorrow."--Jacket
Gods of management : the changing work of organizations
by
Charles B Handy
( Book )
80 editions published between
1978
and 2012 in 8 languages and held by 1,323 WorldCat member libraries worldwide
"Charles Handy's four gods symbolise the different styles of management to be found in businesses and organisations today. Zeus is a dynamic entrepreneur who makes snap decisions. Apollo is the god of order who defines staff through their job description and not personality. Athena is the goddess who recognises expertise and creates a task culture. Dionysus creates a culture where staff owe little allegiance to a manager. Each god represents different values and creates a differing culture. To be successful a leader, or manager, needs to be aware of the culture within their organisation and to be able to work to its strengths to create a productive and satisfying workplace."--Publisher
Beyond certainty : the changing worlds of organizations
by
Charles B Handy
( Book )
43 editions published between
1995
and 2006 in 4 languages and held by 1,161 WorldCat member libraries worldwide
In this challenging and exhilarating collection of 35 recent essays, the best-selling author and social philosopher shares his reflections on a changing world, a world in which we can be certain only of uncertainty. To plan for the future in such an environment, says Charles Handy, we must learn to think differently. In vintage Handy style, the author offers pearls of wisdom and truths about work and organizational life. He advocates compromise as the path to progress and urges organizations to give more freedom to individual employees in order to maintain a balance between commitment and creativity. Beyond Certainty is a book to dip into, enjoy, and share with colleagues and friends
The hungry spirit : beyond capitalism : a quest for purpose in the modern world
by
Charles B Handy
( Book )
46 editions published between
1997
and 2012 in 11 languages and held by 1,047 WorldCat member libraries worldwide
From one of the world's most respected business and social philosophers, a groundbreaking book that challenges us to question our reliance on traditional definitions of ʺ successʺ and inspires us to find meaning and fulfillment in our professional, personal and spiritual lives. Many of us, Charles Handy asserts, are confused and frustrated by the fast-paced, prosperous world we have created for ourselves. We are puzzled by the consequences of capitalism, whose material benefits and comforts we enjoy every day, but which also divides rich from poor, consumes so much of our energies, and does not always lead to a more contented life. In a world that is super-efficient, highly productive, and too often soulless, how do we quench our spiritual ʺ hungerʺ? In The Hungry Spirit, one of the most visionary business thinkers of our age offers a powerful argument for reexamining the role of work in our lives and discovering what we are truly meant to do and to be. Calling on individuals and organizations to find purpose in the journey we take rather than focusing on money and profits, which are simply the means to keep us going, Handy shows how we can all better ourselves and our companies while also contributing to a decent society
The empty raincoat : making sense of the future
by
Charles B Handy
( Book )
57 editions published between
1993
and 2012 in 10 languages and held by 827 WorldCat member libraries worldwide
Following on from "The Age of Unreason", Charles Handy makes some radical arguments for the future not only of organizations, but for the individuals who work in them
The elephant and the flea : reflections of a reluctant capitalist
by
Charles B Handy
( Book )
32 editions published between
2001
and 2011 in 4 languages and held by 619 WorldCat member libraries worldwide
In this poignant personal memoir, which is also a reflection on the past and future of world capitalism, retired oil executive/economist/guru Handy takes us on his life's journey, looking back to such topics as his childhood and education and how they prepared (or, rather, did not prepare) him for a career in business; the changing nature of organizational life within the old economy and the new; the great variety of capitalism around the world; and, through it all, his struggle to find meaning and fulfillment in work. Handy uses the metaphor of the elephant and the flea to critique the great shift from the prevalence of behemoth, slow-moving, bureaucratic organizations that provided a lifetime of security and not much freedom, to a world in which we are much more independent, flitting from job to job, latching onto elephants when we need to, but mostly flying solo and without safe havens.--From publisher description
Waiting for the mountain to move : reflections on work and life
by
Charles B Handy
( Book )
20 editions published between
1991
and 2006 in 3 languages and held by 329 WorldCat member libraries worldwide
"Charles Handy's reflections on work and life have earned him legions of fans throughout the world." "Now Handy's fans in America - present and future - can sample what his BBC listeners have enjoyed for so long. Waiting for the Mountain to Move includes sixty-five of this gifted commentator's best essays, culled from ten years of radio broadcasts. Often scripted to fill the three-minute slots allotted those broadcasts, each essay is a brief but brilliant flash of wisdom and inspiration that illuminates and explores questions we all grapple with (or ought to) every working day." "With titles including "Life Is Not a Dress Rehearsal," "Trust and the Plumber," and "Learning from Misdoing," these writings wring poignant lessons from common occurrences and cause us to examine our lives, our institutions, and our society in a different and revealing light. The essays - sometimes sober, sometimes humorous - touch on a wide range of subjects, but Handy's pervasive goal is to help others find meaning and purpose in life by bringing their selves and their work, their "being and doing", closer together."--Jacket
more
fewer
Audience Level
0

1
Kids
General
Special
Audience level: 0.53 (from 0.31 for The age of ... to 0.99 for Handy, Cha ...)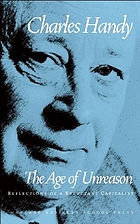 Alternative Names
Charles Handy econoom uit Ierland

Charles Handy irischer Wirtschafts- und Sozialphilosoph

Charles Handy Irish economist

Charles Handy irlandzki teoretyk zarządzania

Handy, C. 1932-

Handy, C. (Charles), 1932-

Handy Charles

Handy, Charles 1932-

Handy, Charles B.

Handy, Charles B., 1932-

Handy, Charles Brian.

Handy, Charles Brian 1932-

Hendijs, Čārlzs 1932-

Τσαρλς Χάνντυ

Хэнди, Чарльз 1932-

ჩარლზ ჰენდი

핸디, 찰스

핸디, 찰스 B

ハンディ, チャールズ

查尔斯·汉迪

Languages
Covers