Greif, Geoffrey L.
Most widely held works by Geoffrey L Greif
Group work with populations at risk
by
Geoffrey L Greif
( )
35 editions published between
1997
and 2017 in
English
and held by 2,632 WorldCat member libraries worldwide
Group Work With Populations at Risk, Third Edition is a fundamental resource for practitioners in health and mental health settings and a comprehensive guidebook of group work skills. Geared toward students and professionals gaining a beginning understanding of groups, this volume describes how to work with vulnerable populations that include returning war veterans, Latino and Latina immigrants, women and men who were abused as children, children of divorce, and people struggling with substance abuse, AIDS, cancer, or chronic mental illness. Each chapter describes the population and reviews th
Out of touch : when parents and children lose contact after divorce
by
Geoffrey L Greif
( )
11 editions published in
1997
in
English
and held by 1,684 WorldCat member libraries worldwide
Setting out to find the reality beneath the catchall categorization of out-of-touch parents as deadbeats, substance abusers, child mistreaters, or criminals, Greif focuses on those parents who tried and, for a vast array of reasons, failed to maintain contact with their children. It is their voices, in a discussion dominated up till now by the custodial parent, that we most need to hear, Greif argues, if we are to uncover ways to avoid such failures in the future. Rather than offering dry statistics and abstract generalizations, Greif lets us hear these voices directly in 26 in-depth interviews with estranged parents and with children caught in the crossfire of painful divorces. These interviews, and Greif's perceptive analyses of them, reveal the whole spectrum of logistical, emotional, and legal difficulties that keep parents and children apart. From the ordinary problems of visitation rights and child support to the more complex and troubling issues - bitter court battles, accusations of sexual abuse, domestic violence, children rejecting a parent, child kidnapping, and many others - Out of Touch vividly and often heart-breakingly presents all the ways that fathers and mothers, even with the best intentions, can lose contact with their children. But the book does more than tell the stories of failed relationships. Its concluding chapter offers a series of specific and extremely helpful suggestions for families - parents, children, grandparents - who find themselves in danger of complete estrangement. Greif outlines how families can employ support systems, communication skills, mediation, and many other strategies to overcome the most difficult obstacles that occur after a divorce. It is here that the lessons gleaned from the broken relationships of the past become invaluable advice for the future
Buddy system : understanding male friendships
by
Geoffrey L Greif
( Book )
15 editions published between
2008
and 2009 in
English
and held by 1,637 WorldCat member libraries worldwide
"Much has been made of the complex social arrangements that girls and women navigate, but little scholarly or popular attention has focused on what friendship means to men. Drawing on in-depth interviews with nearly 400 men, therapist and researcher Geoffrey L. Grief takes readers on a guided tour of male friendships, explaining what makes them work, why they are vital to the health of individuals and communities, and how to build the kinds of friendships that can lead to longer and happier lives. Another 120 conversations with women help map the differences in what men and women seek from friendships, and what, if anything, men can learn from women's relationships." "The guiding feature of the book is Grief's typology of male friendships: he dispels the myth that men don't have friends, showing that men have must, trust, just, and rust friends. A must friend is the best friend a man absolutely must call with earthshaking news. A trust friend is liked and trusted but not necessarily held as close as a must friend. Just friends are casual acquaintances, while rust friends have along history together and can drift in and out of each other's lives, essentially picking up where they last left off. Understanding the role each of these types of friends plays across men's lives reveals fascinating developmental patterns, such as how men cope with stress and conflict and how they make and maintain friendships. We also learn how notions of masculinity and the women in their lives shape their friendships, and how their friends keep them active and happy."--Jacket
Single fathers
by
Geoffrey L Greif
( Book )
19 editions published between
1985
and 1987 in
English
and
Undetermined
and held by 991 WorldCat member libraries worldwide
"Based on the survey responses of more than 1100 fathers raising children alone after separation or divorce."
Adult sibling relationships
by
Geoffrey L Greif
( )
9 editions published between
2015
and 2016 in
English
and held by 808 WorldCat member libraries worldwide
The bond siblings develop in childhood may be vastly different from the relationship that evolves in adulthood. Driven by affection but also characterized by ambivalence and ambiguity, adult sibling relationships can become hurtful, uncertain, competitive, or exhausting though the undercurrents of love and loyalty remain. An approach that recognizes the positive aspects of the changing sibling relationship, as well as those that need improvement, can restore healthy ties and rebuild family closeness. With in-depth case studies of more than 260 siblings over the age of forty and interviews with experts on mental health and family interaction, this book offers vital direction for traversing the emotional terrain of adult sibling relations. It pursues a richer understanding of ambivalence, a normal though little explored feeling among siblings, and how ambiguity about the past or present can lead to miscommunication and estrangement. For both professionals and general readers, this book clarifies the most confounding elements of sibling relationships and provides specific suggestions for realizing new, productive avenues of friendship in middle and later life - skills that are particularly important for siblings who must cooperate to care for aging parents or give immediate emotional or financial support to other siblings or family members -- Provided by publisher
Beating the odds : raising academically successful African American males
by
Freeman A Hrabowski
( Book )
4 editions published in
1998
in
English
and held by 783 WorldCat member libraries worldwide
Today, young Black men are more likely to be killed or sent to prison than to graduate from college. Yet, despite all the obstacles, some are achieving at the highest academic and professional levels. Beating the Odds tells their remarkable stories and shows us what African American families have done to raise academically successful sons, sons who are among the top two percent of African American males in terms of SAT scores and grades. By interviewing parents and children from a range of economic and educational backgrounds and from both single and two-parent homes, the authors identify those constants that contribute to academic achievement and offer step-by-step guidance on six essential strategies for effective parenting: child-focused love; strong limit-setting and discipline; continually high expectations; open, consistent, and strong communication; positive racial identity and positive male identity; and full use of community resources. The proof of the effectiveness of such strategies is in the sons themselves, who speak eloquently in these pages about their struggles and successes in both the classroom and the often hostile world that surrounds it. Essential reading for parents, teachers, and school administrators, Beating the Odds offers insight, guidance, and hope for anyone concerned about the plight of young African American men and the society they live in
When parents kidnap : the families behind the headlines
by
Geoffrey L Greif
( Book )
8 editions published between
1993
and 2014 in
English
and held by 614 WorldCat member libraries worldwide
It is estimated that 350,000 children a year are abducted by a family member. What happens when a child is kidnapped from home? What are the emotional and psychological consequences for the child who must live in hiding for weeks, months, or even years? How does the parent left behind cope with having no knowledge of the child's whereabouts or well-being? And what could lead a parent to inflict such a painful existence on his or her own child? Until now, little systematic research has been undertaken to find answers, and the scope and consequences of parental abduction have remained largely unknown. Now, in When Parents Kidnap, Geoffrey Greif and Rebecca Hegar provide the most comprehensive look yet at the problem of the abduction of children by their parents. The authors capture the experiences both of the parents searching for their children and the abductors who have taken them. We see vivid depictions of life on the run and learn the painful details of how children who have been in hiding for months and sometimes years cope with moving from town to town and school to school. We also learn how reunion with the searching parent affects them. The phenomenon of parental abduction is part of a larger social context of changes in the family. Almost a quarter of U.S. children live with only one parent - more than five million of them children of divorce - and the growing prevalence of parental abductions has officials and professionals alarmed. Greif and Hegar point the way to improvements in public policy by showing precisely how changes in custody, divorce, and other laws could help to reduce abduction of children, or resolve it more quickly. Identifying five common scenarios that end in abduction, Greif and Hegar help the reader to understand a wide range of abduction situations, and they provide specific suggestions for mental health professionals involved with families who have experienced this trauma
The daddy track and the single father
by
Geoffrey L Greif
( Book )
5 editions published in
1990
in
English
and held by 601 WorldCat member libraries worldwide
Offers first-hand experiences for raising children
Mothers without custody
by
Geoffrey L Greif
( Book )
8 editions published between
1986
and 1989 in
English
and held by 512 WorldCat member libraries worldwide
Two plus two : couples and their couple friendships
by
Geoffrey L Greif
( Book )
8 editions published between
2011
and 2017 in
English
and held by 306 WorldCat member libraries worldwide
Friendships are undeniably important to an individual's health, longevity and wellbeing, but they can be equally important for the health and happiness of a couple. Just as a friend can provide a mirror to the self, another couple can provide a reflecting team that supports or impedes a relationship's growth. Two Plus Two: Couples and Their Couple Friendships offers an important framework for helping couples to have conversations about their friendships with other couples and to enrich their own relationships. When couples agree about how to spend their time alone and with others, they are mor
more
fewer
Audience Level
0

1
Kids
General
Special
Audience level: 0.20 (from 0.08 for Out of tou ... to 0.99 for Clinical W ...)
Related Identities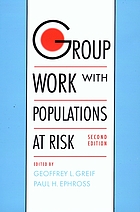 Alternative Names
Languages
Covers