Holmes, Frederic Lawrence
Most widely held works about Frederic Lawrence Holmes
Most widely held works by Frederic Lawrence Holmes
Instruments and experimentation in the history of chemistry
( )
16 editions published between
1999
and 2002 in
English
and held by 2,237 WorldCat member libraries worldwide
"This volume moves chemical instruments and experiments into the foreground of historical concern, in line with the emphasis on practice that characterizes current work on other fields of science and engineering. From the days of the alchemists through the creation of the modern laboratory, chemistry has been defined by its instruments and experimental techniques. Historians, however, have tended to focus on the course of chemical theory rather than on the tools and experiments that drove the theory. This volume moves chemical instruments and experiments into the foreground of historical concern, in line with the emphasis on practice that characterizes current work on other fields of science and engineering. The principal themes are: change and stability, precision, the construction and transformation of apparatus, the dissemination of instruments, and the bridging of disciplines through instruments. The essays are divided into three chronological sections: The Practice of Alchemy (reviewing the material and iconographic evidence as well as the written record and the issue of reproducibility of alchemical experiments), From Hales to the Chemical Revolution (discussing significant seventeenth- and eighteenth-century innovations as well as smaller innovations that cumulatively extended the reach and improved the quality of chemical experimentation), and The Nineteenth and Early Twentieth Centuries (discussing the increasingly important role of innovative apparatus as chemistry grew into the first large-scale modern scientific discipline)."--Publisher's description
Meselson, Stahl, and the replication of DNA : a history of "the most beautiful experiment in biology "
by
Frederic Lawrence Holmes
( )
16 editions published in
2001
in
English
and held by 1,951 WorldCat member libraries worldwide
"In 1957 two young scientists, Matthew Meselson and Frank Stahl, produced a landmark experiment confirming that DNA replicates as predicted by the double helix structure Watson and Crick had recently proposed. It also gained immediate renown as a "most beautiful" experiment whose beauty was tied to its simplicity. Yet the investigative path that led to the experiment was anything but simple, Frederic L. Holmes shows in this masterful account of Meselson and Stahl's quest." "This book reconstructs the complex route that led to the Meselson-Stahl experiment and provides an inside view of day-to-day scientific research - its unpredictability, excitement, intellectual challenge, and serendipitous windfalls, as well as its frustrations, unexpected diversions away from original plans, and chronic uncertainty. Holmes uses research logs, experimental films, correspondence, and interviews with the participants to record the history of Meselson and Stahl's research, from their first thinking about the problem through the publication of their dramatic results. Holmes also reviews the scientific community's reception of the experiment, the experiment's influence on later investigations, and the reasons for its reputation as an exceptionally beautiful experiment."--Jacket
Reconceiving the gene : Seymour Benzer's adventures in phage genetics
by
Frederic Lawrence Holmes
( )
13 editions published between
2006
and 2008 in
English
and held by 1,940 WorldCat member libraries worldwide
"This book relates how, between 1954 and 1961, the biologist Seymour Benzer mapped the fine structure of the rll region of the genome of the bacterial virus known as phage T4. Benzer's accomplishments are widely recognized as a tipping point in mid-twentieth-century molecular biology, when the nature of the gene was recast in molecular terms. More often than any other individual, he is considered to have led geneticists from the era of the classical gene into the molecular age. Drawing on Benzer's remarkably complete record of his experiments, his correspondence, and published sources, this book reconstructs how the former physicist initiated his work in phage biology and achieved his landmark investigation. The account of Benzer's creativity as a researcher is a fascinating story that also reveals intriguing aspects common to the scientific enterprise."--Jacket
Hans Krebs
by
Frederic Lawrence Holmes
( )
8 editions published in
1993
in
English
and held by 1,652 WorldCat member libraries worldwide
This comprehensive volume completes Frederic Holmes' notable and detailed biography of Hans Krebs, from the investigator's early development through the major phase of his groundbreaking investigation, which lay the foundations upon which the modern structure of intermediary metabolism is built. With access to Krebs' research notebooks as well as to Krebs himself through more than five years of personal interviews, the author provides an insightful analysis of Hans Krebs and of the scientific process as a whole. The first volume, published in 1991, covered Krebs' formative years in Germany, hi
Reworking the bench : research notebooks in the history of science
by
Frederic Lawrence Holmes
( )
23 editions published between
2003
and 2011 in
English
and held by 983 WorldCat member libraries worldwide
This is the first book that addresses the issue of research notes for writing history of science in a comprehensive manner. Its case studies range from the early modern period to present and cover a broad range of different disciplines. The contributions are based on papers presented at the workshop entitled "Reworking the Bench: Laboratory Notebooks in the History of Science", held at the Max Planck Institute for the History of Science in Berlin or written after the workshop
Dictionary of scientific biography
by
Charles Coulston Gillispie
( Book )
24 editions published between
1980
and 2008 in
English
and held by 872 WorldCat member libraries worldwide
Provides information on the history of science through articles on the professional lives of scientists. All periods of science from classical antiquity to modern times are represented
Antoine Lavoisier, the next crucial year, or The sources of his quantitative method in chemistry
by
Frederic Lawrence Holmes
( )
23 editions published between
1997
and 2014 in
English
and held by 775 WorldCat member libraries worldwide
Through his development of quantitative experimental methods, the chemist Antoine Lavoisier (1743-1794) implemented a principle that many regard as the cornerstone of modern science: in every operation there is an equal quantity of material before and after the operation. The origin of Lavoisier's methods, however, has remained a missing piece in this remarkable episode of scientific history, perhaps because the talented young scientist himself was not prepared for the journey his discoveries would set before him. In this book, Frederic Holmes suggests that Lavoisier gradually came to understand the nature and power of his quantitative method during the year 1773, when he began to carry out a research program on the fixation and release of airs. Drawing upon Lavoisier's surviving laboratory notebooks, Holmes presents an engaging portrait of a scientist still seeking the way that would lead him to become the leader of one of the great upheavals in the history of science. Holmes follows Lavoisier day-by-day at work in his laboratory over a course of several months. The scientist's resourcefulness and imagination spring to life in this account, as does his propensity to make mistakes, which taught him as much as his successes. During the course of this odyssey, Lavoisier saw his early theory of combustion collapse under the weight of his own efforts to provide experimental evidence to support it. In compensation, he acquired a method and the hard-won experience on which he would later construct a more enduring theoretical structure. Originally published in 1997. The Princeton Legacy Library uses the latest print-on-demand technology to again make available previously out-of-print books from the distinguished backlist of Princeton University Press. These paperback editions preserve the original texts of these important books while presenting them in durable paperback editions. The goal of the Princeton Legacy Library is to vastly increase access to the rich scholarly heritage found in the thousands of books published by Princeton University Press since its founding in 1905
Lavoisier and the chemistry of life : an exploration of scientific creativity
by
Frederic Lawrence Holmes
( Book )
19 editions published between
1984
and 1987 in
English
and held by 684 WorldCat member libraries worldwide
Drawing on Lavoisier's daily laboratory records, unpublished notes, and successive drafts of articles, Holmes explores the interaction between this creative scientist's theories and practice, the experimental problems he encountered and his response to them, the apparently intuitive understanding that guided his choice of experiments, and the gradual refinement of his hypotheses. This thorough and comprehensive exposition of Lavoisier's scientific style forms the basis for general reflections on the nature of creative scientific imagination that will interest historians of science and biology, philosophers of science, cognitive psychologists, and all who are intrigued by the drama of pioneering scientific discovery
Investigative pathways : patterns and stages in the careers of experimental scientists
by
Frederic Lawrence Holmes
( Book )
8 editions published in
2004
in
English
and held by 361 WorldCat member libraries worldwide
"This fascinating book is an investigation of scientific creativity. Following the research pathways of outstanding scientists over the past three centuries, it finds common features in their careers and their landmark discoveries and sheds light on the nature of long-term experimental research."--Jacket
more
fewer
Audience Level
0

1
Kids
General
Special
Audience level: 0.21 (from 0.06 for Instrument ... to 0.90 for Hans Krebs ...)
Related Identities
Associated Subjects
Bacteriophages--Genetics
Benzer, Seymour
Bernard, Claude,
Biochemistry
Biochemists
Body fluids
Chemical apparatus
Chemistry
Chemistry--Experiments
Chemists
Creative ability in science
Discoveries in science
Europe
France
Genetic epistemology
Geneticists
Germany
History
Holmes, Frederic Lawrence
Humanities
Krebs, Hans Adolf,--Sir
Laboratories
Lavoisier, Antoine Laurent,
Meselson, Matthew
Metabolism--Research
Molecular biology--Experiments
Muslim scientists
Osmosis
Physiology
Physiology, Experimental
Plants, Motion of fluids in
Research
Research institutes
Respiration--Research
Science
Science--Study and teaching
Scientific literature
Scientists
Scientists--Biography
Stahl, Franklin W
Technical writing
United States
Viral genetics
Yale University.--Department of the History of Science and Medicine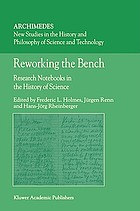 Covers
Alternative Names
Frederic L. Holmes

Frederic L. Holmes US-amerikanischer Wissenschaftshistoriker

Frederic Lawrence Holmes Amerikaans historicus (1932-2003)

Frederic Lawrence Holmes historiador de la ciencia estadounidense

Frederic Lawrence Holmes historiador estatunidenc

Frederic Lawrence Holmes historien américain

Holmes, F. L.

Holmes, Frederic L.

Holmes, Frederic L. 1932-2003

Holmes, Frederic Lawrence

Homles, Frederic Lawrence

Languages