Moreland, James Porter 1948-
Most widely held works about James Porter Moreland
Most widely held works by James Porter Moreland
Naturalism : a critical analysis
by
William Lane Craig
( )
21 editions published between
2000
and 2002 in
English
and held by 1,865 WorldCat member libraries worldwide
"Naturalism: A Critical Analysis presents a rigorous analysis and critique of the major varieties of contemporary philosophical naturalism. It advocates the thesis that contemporary naturalism should be abandoned in light of the serious difficulties raised against it. The contributors draw on a wide range of topics including: epistemology, philosophy of science, value theory to basic analytic ontology, philosophy of mind and agency, and natural theology."
Universals
by
James Porter Moreland
( )
25 editions published between
2001
and 2014 in
English
and held by 1,545 WorldCat member libraries worldwide
Things are particulars and their qualities are universals, but do universals have an existence distinct from the particular things describable by those terms? And what must be their nature if they do? This book provides a careful and assured survey of the central issues of debate surrounding universals, in particular those issues that have been a crucial part of the emergence of contemporary analytic ontology. The book begins with a taxonomy of extreme nominalist, moderate nominalist, and realist positions on properties, and outlines the way each handles the phenomena of predication, resemblan
Debating Christian theism
by
James Porter Moreland
( )
8 editions published in
2013
in
English
and held by 969 WorldCat member libraries worldwide
Comprising groundbreaking dialogues by many of the most prominent scholars in Christian apologetics and the philosophy of religion, this volume offers a definitive treatment of central questions of Christian faith. The essays are ecumenical and broadly Christian, in the spirit of C.S. Lewis's Mere Christianity, and feature lucid and up-to-date material designed to engage readers in contemporary theistic and Christian issues. Beginning with dialogues about God's existence and the coherence of theism and then moving beyond generic theism to address significant debates over such specifically Christian doctrines as the Trinity and the resurrection of Jesus, Debating Christian Theism provides an ideal starting point for anyone seeking to understand the current debates in Christian theology. -- Book cover
Philosophical foundations for a Christian worldview
by
James Porter Moreland
( Book )
12 editions published between
2003
and 2017 in
English
and held by 729 WorldCat member libraries worldwide
What is real? What is truth? What can we know? What should we believe? What should we do and why? Is there a God? Can we know him? Do Christian doctrines make sense? Can we believe in God in the face of evil? These are fundamental questions that any thinking person wants answers to. These are questions that philosophy addresses. And the answers we give to these kinds of questions serve as the the foundation stones for consrtucting any kind of worldview. In Philosophical Foundations for a Christian Worldview J.P. Moreland and William Lane Craig offer a comprehensive introduction to philosophy from a Christian perspective. In their broad sweep they seek to introduce readers to the principal subdisciplines of philosophy, including epistemology, metaphysics, philosophy of science, ethics and philosophy of religion. They do so with characteristic clarity and incisiveness. Arguments are clearly outlined, and rival theories are presented with fairness and accuracy. Philosophy, they contend, aids Christians in the tasks of apologetics, polemics and systematic theology. It reflects our having been made in the image of God, helps us to extend biblical teaching into areas not expressly addressed in Scripture, facilitates the spiritual discipline of study, enhances the boldness and self-image of the Christian community, and is requisite to the essential task of integrating faith and learning. Here is a lively and thorough introduction to philosophy for all who want to know reality. --! From publisher's description
The creation hypothesis : scientific evidence for an intelligent designer
( Book )
6 editions published between
1993
and 2008 in
English
and held by 614 WorldCat member libraries worldwide
Is there evidence from natural science for an intelligent creator of the universe? For a century the reigning scientific view has been that God is not necessary to account for the existence of the world and of life. Evolutionary theory is said to be all that is needed to explain how we got here. In addition, many theistic evolutionists contend that God likely used many of the mechanisms of evolution to achieve his will. In this book J. P. Moreland and a panel of scholars assert that there is actually substantial evidence pointing in a different direction. First, they consider philosophical arguments about whether it is possible for us to know if an intelligent designer had a hand in creation
Jesus under fire : modern scholarship reinvents the historical Jesus
by
E Wilkins
( Book )
9 editions published between
1994
and 2010 in
English
and held by 604 WorldCat member libraries worldwide
Jesus Under Fire questions the findings of the Jesus Seminar that have challenged the biblical record of Jesus and his life and ministry, and presents rationally grounded affirmations of the traditional biblical teachings. Arguments are clearly laid out so that the church and the broader community can understand the issues and respond to modern theories intelligently and responsibly. Contributors, including New Testament scholars, philosophers, and apologists, begin with an evaluation of the methodology of the modern critical approach and a review of the latest wave of controversial books. The words, the actions, the miracles, and the resurrection of Jesus are examined for authenticity. Finally, the issues of exclusivism and pluralism are addressed
Consciousness and the existence of God : a theistic argument
by
James Porter Moreland
( )
9 editions published between
2008
and 2009 in
English
and held by 588 WorldCat member libraries worldwide
Moreland argues that the existence of finite, irreducible consciousness (or its regular, law-like correlation with physical states) provides evidence for the existence of God. Moreover, he analyzes and criticizes the top representative of rival approaches to explaining the origin of consciousness, including John Searle₂s contingent correlation, Timothy O₂Connor₂s emergent necessitation, Colin McGinn₂s mysterian "₁naturalism, "₂ David Skrbina₂s panpsychism and Philip Clayton₂s pluralistic emergentist monism. Moreland concludes that these approaches should be rejected in favor of what he calls "the Argument from Consciousness."₂
The Blackwell companion to natural theology
by
James Porter Moreland
( Book )
24 editions published between
2009
and 2012 in
English
and held by 535 WorldCat member libraries worldwide
With the help of in-depth essays from some of the world's leading philosophers, 'A Companion to Natural Theology' explores the nature and existence of God through human reason and evidence from the natural world
Philosophy made slightly less difficult : a beginner's guide to life's big questions
by
Garrett J DeWeese
( Book )
3 editions published in
2005
in
English
and held by 412 WorldCat member libraries worldwide
Garrett DeWeese and J.P. Moreland understand this frustration and in this book offer help to make philosophy at least slightly less difficult. In straightforward language with everyday examples, they explain the basics needed to understand philosophical concepts and thus bring clarity to discussions of life's big questions
more
fewer
Audience Level
0

1
Kids
General
Special
Audience level: 0.23 (from 0.06 for Naturalism ... to 0.51 for The Blackw ...)
Related Identities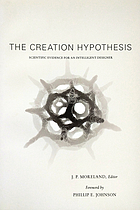 Covers
Alternative Names
J. P. Moreland Amerikaans filosoof

James Porter Moreland

Moreland 1948-

Moreland, J.P.

Moreland, J.P. 1948-

Moreland, J. P. 1948- (James Porter)

Moreland, J.P. (James Porter), 1948-

Moreland, James Porter 1948-

Porter Moreland, James 1948-

모어랜드 1948-

모어랜드, J. P. 1948

모어랜드, 제임스 포터 1948-

Languages