Hart, Oliver D.
Most widely held works about Oliver D Hart
Most widely held works by Oliver D Hart
Firms, contracts, and financial structure
by
Oliver D Hart
( Book )
42 editions published between
1995
and 2010 in 3 languages and held by 583 WorldCat member libraries worldwide
The book is written in a fairly non-technical style and includes many examples. It is aimed at advanced undergraduate and graduate students, academic and business economists, and lawyers, as well as those with an interest in corporate finance, privatization and regulation, and the transition from socialism to capitalism. Little background knowledge is required, since the concepts are developed as the book progresses and the existing literature is fully reviewed
Foundations of incomplete contracts
by
Oliver D Hart
( Book )
25 editions published in
1998
in
English
and held by 107 WorldCat member libraries worldwide
In the last few years a new area has emerged in economic theory, which goes under the heading of However, almost since its inception, the theory has been under attack for its lack of rigorous foundations. In this paper, we evaluate some of the criticisms that have been made of the theory, in particular, those in Maskin and Tirole (1998a). In doing so, we develop a model that provides a rigorous foundation for the idea that contracts are incomplete
Cooperatives vs. outside ownership
by
Oliver D Hart
( Book )
25 editions published between
1997
and 1998 in
English
and held by 99 WorldCat member libraries worldwide
We are concerned with the design of a constitution for a firm -- an ex ante contract which assigns residual rights of control (and possibly residual income rights) without reference to the issue to be decided. We focus attention on two polar constitutions: nonprofit cooperatives and outside ownership. In the former, ownership is shared among a group of consumers on a one member, one vote basis. In the latter, all control rights and rights to residual income are allocated to an outsider. Ex post, agents are assumed to have asymmetric information, which rules out recontracting. We have two main results. First, in the case of perfect competition, an outside owner achieves the first-best; a cooperative typically does not because the rent from any cost advantage relative to the market is used to shield members from competitive pressure, and the median voter's preferences may not reflect average preferences. Second, in the case where the members of a cooperative have common preference orderings they unanimously vote for the first-best; an outside owner typically makes inefficient decisions, tailored to the marginal rather than to the average customer
Default and renegotiation : a dynamic model of debt
by
Oliver D Hart
( Book )
19 editions published between
1989
and 1997 in
English
and held by 98 WorldCat member libraries worldwide
Abstract: We analyze the role of debt in persuading an entrepreneur to pay out cash flows, rather than to divert them. In the first part of the paper we study the optimal debt contract -- specifically, the trade-off between the size of the loan and the repayment -- under the assumption that some debt contract is optimal. In the second part we consider a more general class of (non-debt) contracts, and derive sufficient conditions for debt to be optimal among these
On the design of hierarchies : coordination versus specialization
by
Oliver D Hart
( Book )
24 editions published between
1999
and 2000 in
English
and held by 97 WorldCat member libraries worldwide
We develop a model of hierarchies based on the allocation of authority. A firm's owners have ultimate authority over a firm's decisions, but they have limited time or capacity to exercise this authority. Hence owners must delegate authority to subordinates. However, these subordinates also have limited time or capacity and so further delegation must occur. We analyze the optimal chain of command given that different agents have different tasks: some agents are engaged in coordination and others in specialization. Our theory throws light on the nature of hierarchy, the optimal degree of decentralization, and the boundaries of the firm
A new bankruptcy procedure that uses multiple auctions
by
Oliver D Hart
( Book )
21 editions published between
1996
and 1997 in
English
and held by 87 WorldCat member libraries worldwide
We develop a new bankruptcy procedure that makes use of multiple auctions. The procedure" is designed to work even when capital markets do not function well (for example in developing" economies, or in economies in transition) -- although it can be used in all economies."
The proper scope of government : theory and an application to prisons
by
Oliver D Hart
( Book )
18 editions published between
1995
and 1996 in
English
and held by 83 WorldCat member libraries worldwide
When should a government provide a service inhouse and when should it contract out provision? We develop a model in which the provider can invest in improving the quality of service or reducing cost. If contracts are incomplete, the private provider has a stronger incentive to engage in both quality improvement and cost reduction than a government employee. However, the private contractor's incentive to engage in cost reduction is typically too strong because he ignores the adverse effect on non-contractible quality. The model is applied to understanding the costs and benefits of prison privatization
Debt and seniority : an analysis of the role of hard claims in constraining management
by
Oliver D Hart
( Book )
17 editions published between
1993
and 1995 in
English
and held by 74 WorldCat member libraries worldwide
We argue that long-term debt has a role in controlling management's ability to finance future investments. A company with high (widely-held) debt will find it hard to raise capital, since new security holders will have low priority relative to existing creditors. Conversely for a company with low debt. We show there is an optimal debt-equity ratio and mix of senior and junior debt if management undertakes unprofitable as well as profitable investments. We derive conditions under which equity and a single class of senior long-term debt work as well as more complex contracts for controlling investment behavior
Takeover bids vs. proxy fights in contests for corporate control
by
Lucian A Bebchuk
( Book )
21 editions published between
2001
and 2002 in
English
and held by 70 WorldCat member libraries worldwide
Abstract: This paper evaluates the primary mechanisms for changing management or obtaining control in publicly traded corporations with dispersed ownership. Specifically, we analyze and compare three mechanisms: (1) proxy fights (voting only); (2) takeover bids (buying shares only); and (3) a combination of proxy fights and takeover bids in which shareholders vote on acquisition offers. We first show how proxy fights unaccompanied by an acquisition offer suffer from substantial shortcomings that limit the use of such contests in practice. We then argue that combining voting with acquisition offers is superior not only to proxy fights alone but also to takeover bids alone. Finally, we show that, when acquisition offers are in the form of cash or the acquirer's existing securities, voting shareholders can infer from the pre-vote market trading which outcome would be best in light of all the available public information. Our analysis has implications for the ongoing debates in the US over poison pills and in Europe over the new EEC directive on takeovers
The Economics of bankruptcy reform
by
Philippe Aghion
( Book )
9 editions published in
1992
in
English
and held by 55 WorldCat member libraries worldwide
We propose a new bankruptcy procedure. Initially, a firm's debts are cancelled, and cash and non-cash bids are solicited for the 'new" (all-equity) firm. Former claimants are given shares, or options to buy shares, in the new firm on the basis of absolute priority. Options are exercised once the bids are in. Finally, a shareholder vote is taken to select one of the bids. In essence, our procedure is a variant on the U.S. Chapter 7, in which non-cash bids are possible; this allows for reorganization. We believe our scheme is superior to Chapter 11 since it is simpler, quicker, market-based, avoids conflicts, and places appropriate discipline on management
more
fewer
Audience Level
0

1
Kids
General
Special
Audience level: 0.72 (from 0.66 for Firms, con ... to 0.88 for Existence ...)
Related Identities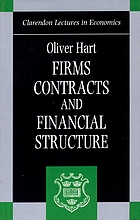 Alternative Names
D'Arcy Hart, Oliver Simon

Hart, O. D.

Hart, Oliver.

Hart, Oliver D.

Hart, Oliver S.

Hart, Oliver Simon D'Arcy

Oliver Hart Amerikaans econoom

Oliver Hart amerikansk ekonom

Oliver Hart amerikansk økonom

Oliver Hart US-amerikanischer Ökonom

Харт, Оливер

الیور هارت اقتصاددان آمریکایی

ハート, オリバー

奥利弗·哈特

Languages
Covers