Shambaugh, David L.
Most widely held works by David L Shambaugh
China goes global : the partial power
by
David L Shambaugh
( Book )
16 editions published between
2013
and 2014 in
English
and
Spanish
and held by 1,019 WorldCat member libraries worldwide
Here, eminent China scholar David Shambaugh delivers the book that the world has been waiting for--a sweeping account of China's growing prominence on the international stage. For three decades, analysis have been charting how the world has changed China during its era of "reform and opening"--But now it is time to understand how China is impacting the world. Drawing on five years of research and travel around the world, including a year in China, this is the first major study to examine the multiple dimensions of China's growing presence on all continents. Contrary to conventional wisdom, however, the evidence reveals China's global presence to be more broad than deep, while its international influence is considerably limited. This may change over time, but for now, Shambaugh finds China to be a "partial power," with nowhere near the clout of the United States, and therefore not yet the strategic rival many Americans assume. Shambaugh also illuminates domestic debates that reveal the country as confused and conflicted about its international identity. This balanced but sobering assessment offers a useful correction to the often hyped discourse about China's rise.--Adapted from jacket
Modernizing China's military : progress, problems, and prospects
by
David L Shambaugh
( Book )
21 editions published between
2002
and 2004 in
English
and
Chinese
and held by 626 WorldCat member libraries worldwide
"David Shambaugh, a leading international authority on Chinese strategic and military affairs, offers a uniquely comprehensive and insightful assessment of the Chinese military. Basing his analysis on an unprecedented use of Chinese military publications and interviews with People's Liberation Army (PLA) officers, Shambaugh addresses important questions about Chinese strategic intentions and military capabilities - questions that are of key concern for government policymakers as well as strategic analysts and a concerned public." "The policy consequences of China's military modernization for the United States and China's neighbors are multiple and profound, involving questions of the global balance of power. Shambaugh investigates how much progress the PLA is making and in precisely which areas. He questions whether China is developing a power projection capability that might threaten its neighbors and important American interests in East Asia. He also asks whether the PLA can successfully invade Taiwan if ordered to do so, whether China's strategic missile force threatens its neighbors and the United States, and whether China's own military-industrial establishment is capable of producing modern weaponry."--Jacket
The China reader : the reform era
( Book )
9 editions published between
1999
and 2010 in
English
and held by 623 WorldCat member libraries worldwide
"The China Reader: The Reform Era is a compilation by two astute China watchers of the most important documents, articles, and statements on China from 1972 to the present. Here are the voices of the experts, from Chinese analyses of the fall of Soviet Communism to Western exposes of an ecological crisis that threatous global weather patterns into the next millennium. Here, too, are the artifacts of an era, from regulations to control Chinese cyber-space to a Party member's Orwellian justification of the military crackdown in Tiananmen Square. The China Reader is a guide to understanding a nation in the throes of change - a historic moment with profound implications for policy makers and markets from the Pacific Rim to Wall Street."--BOOK JACKET
The modern Chinese state
by
David L Shambaugh
( Book )
21 editions published between
2000
and 2011 in
English
and held by 581 WorldCat member libraries worldwide
"The Modern Chinese State is the first book to examine systematically the evolution of the Chinese state from the late Ming dynasty, through the Nationalist and Communist party-states of the twentieth century, and into the twenty-first century. The contributing authors, all leading scholars in the field of Chinese studies, carefully assess the internal organization of the Chinese state over time, the ruling parties that have governed it, the foreign and indigenous systems that have served as models for state-building and political development, and the array of concepts that have guided Chinese thinking about the state."--Jacket
Chinese foreign policy : theory and practice
( Book )
17 editions published between
1994
and 2006 in
English
and held by 573 WorldCat member libraries worldwide
Chinese Foreign Policy offers an unprecedented and comprehensive survey of China's foreign relations since 1949. The contributors include leading historians, economists, and political scientists in the field of Chinese studies, as well as noteworthy international relations specialists. The principal purposes of the volume are to assess the variety of sources that give shape to Chinese foreign policy, and to explain and analyse four decades of Chinese interaction with the world, using theories of international relations as an analytical framework. The first section considers the historical, perceptual, economic, and political domestic sources of Chinese foreign policy, and argues that China's rulers have long believed in their nation's centrality in world affairs, and that China has felt an overwhelming need since the start of the Cold War to ensure its own security and regain freedom of initiative in its foreign relations. The chapters analyze not only nation-state contacts but a broad range of economic and social interactions, giving an enriched sense of the totality of China's foreign relations. The role of ideology in motivating elites and forming foreign policy is also explored both at formal and informal levels. One major variable in China's foreign relations is economic development strategy, and this is considered in depth. The second part reviews the international systemic sources of China's foreign relations, such as strategic systems, and scientific and technological imperatives. China is seen as searching for a redefined role in a multipolar rather than a bipolar world order. The complex and cyclical Sino-US and Sino-Soviet relationships are analyzed, bringing to light the underlying patterns and systemic forces, as well as interpersonal relationships, shaping China's foreign policy. Other chapters deal with China's relationships with Europe, Africa, the Middle East, and Asia, and with China's international behaviour in the sphere of economics, trade, and aid. The last part of this book relates the study of Chinese foreign policy directly to International Relations theory, concluding that the foreign policy can only be understood when the theories of international relations are supplemented by a specific knowledge of China's strategic and domestic milieu. Studies of these subjects are retrospective in that all contributors explore broad patterns of Chinese external behaviour based on careful and systematic analysis of the historical record and a full range of primary documentary sources, but they are also forward looking in that they consider various scenarios for the future evolution of China's relations with the world community. This book contributes through an interdisciplinary approach to our understanding of China's role in the evolving world order, and will be invaluable to academics, students, commentators and policy makers alike. It is the most comprehensive study of modern China's foreign relations published to date
China's Communist Party : atrophy and adaptation
by
David L Shambaugh
( Book )
22 editions published between
2007
and 2010 in
English
and held by 536 WorldCat member libraries worldwide
Few issues affect the future of China--and hence all the nations that interact with China--more than the nature of its ruling party and government. In this timely study, David Shambaugh assesses the strengths and weaknesses, durability, adaptability, and potential longevity of China's Communist Party (CCP). He argues that although the CCP has been in a protracted state of atrophy, it has undertaken a number of adaptive measures aimed at reinventing itself and strengthening its rule. Shambaugh's investigation draws on a unique set of inner-Party documents and interviews, and he finds that China's Communist Party is resilient and will continue to retain its grip on power
Tangled titans : the United States and China
by
David L Shambaugh
( Book )
14 editions published between
2012
and 2013 in
English
and held by 511 WorldCat member libraries worldwide
"Tangled Titans offers the most current and comprehensive assessment available of United States-China relations. In this definitive book, leading experts consider the past, present, and future of this complex relationship through an in-depth exploration of its historical, domestic, bilateral, regional, and global contexts. Never in modern history have two great powers been so deeply intertwined, yet so suspicious and potentially antagonistic. Readers will find Tangled Titans essential reading to understand the current dynamics and future direction of relations between the world's two most important powers."--Page 4 of cover
The odyssey of China's Imperial art treasures
by
Jeannette Shambaugh Elliott
( Book )
15 editions published between
2005
and 2015 in 3 languages and held by 419 WorldCat member libraries worldwide
Tracing the 3000-year history of the Chinese imperial collections, from the Bronze Age to the 21st century, this title follows the gradual formation of the Peking Palace Museum in 1925, its hasty fragmentation as large parts of the collection were moved, and finally its formal division into what are two Palace Museums
more
fewer
Audience Level
0

1
Kids
General
Special
Audience level: 0.42 (from 0.07 for Power shif ... to 0.69 for China-Euro ...)
Related Identities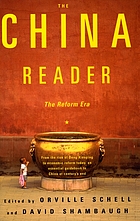 Alternative Names
David Shambaugh Amerikaans politicoloog

David Shambaugh US-amerikanischer Politikwissenschaftler

Shambaugh, David.

Shambaugh, David 1953-

Shambaugh, David L.

Shambaugh, David Leigh.

Shambaugh, David Leigh 1953-

Shen, Dawei 1953-

Shen, Ta-wei

Shen, Ta-wei 1953-

샴보, 데이비드

샴보, 데이비드 L

デイビッド・シャンボー

沈大伟

Languages
Covers