Thakur, Ramesh Chandra 1948-
Most widely held works by Ramesh Chandra Thakur
Atrocities and international accountability : beyond transitional justice
( Book )
14 editions published in
2007
in
English
and held by 491 WorldCat member libraries worldwide
Rebuilding societies where conflict has occurred is rarely a simple process; but where conflict has been accompanied by gross and systematic violations of human rights, the procedure becomes fraught with controversy. This volume brings together eminent scholars and practitioners with direct experience of some of the most challenging contemporary cases of international justice, and illustrates that justice and accountability remain complex ideals.--Publisher's description
Kosovo and the challenge of humanitarian intervention : selective indignation, collective action, and international citizenship
by
Albrecht Schnabel
( Book )
22 editions published between
2000
and 2006 in
English
and held by 461 WorldCat member libraries worldwide
The Kosovo conflict has the potential to redraw the landscape of international politics, with significant ramifications for the UN, major powers, regional organizations, and the way in which we understand and interpret world politics. Can the veto now effectively be circumvented to launch selective enforcement operations? Can the humanitarian imperative be reconciled with the principle of state sovereignty? This book offers interpretations of the Kosovo crisis from numerous perspectives: the conflict-parties, NATO allies, the immediate region surrounding the conflict, and further afield. Country perspectives are followed by scholarly analyses of the longer-term normative, operational, and structural consequences of the Kosovo crisis for world politics
Unintended consequences of peacekeeping operations
by
Cedric De Coning
( Book )
13 editions published in
2007
in
English
and held by 457 WorldCat member libraries worldwide
Peacekeeping operations have unintended consequences -- this has long been ignored by both practitioners and researchers. The deployment of a large number of soldiers, police officers and civilian personnel inevitably has various effects on the host society and economy, not all of which are in keeping with the peacekeeping mandate and intent or are easily discernible prior to the intervention. Such unintended consequences are especially serious when they cause harm to the local community, as in the case of sexual abuse and exploitation, corruption or the creation of a false economy. Unintended side-effects can also negatively affect the ability of the peacekeeping mission to achieve its mandate. This book is an attempt to improve understanding of unintended consequences of peacekeeping operations, by bringing together field experiences and academic analysis. It covers consequences on individuals and groups of individuals, on the host society and economy, and on the troop-contributing countries. It also analyzes the degree to which the United Nations has tried to manage some of these side effects, as well as the United Nations' accountability in the context of the international legal framework. The aim of the book is not to discredit peace operations but rather to improve the way in which such operations are planned and managed. The book identifies the need to develop a culture of accountability, which should include institutionalizing processes aimed at anticipating unintended consequences as a routine part of all planning cycles, and the monitoring of effects, including unintended effects, so that proactive steps can be taken to prevent and manage negative side effects as early as possible.--Publisher's description
United Nations peacekeeping operations : ad hoc missions, permanent engagement
by
Ramesh Chandra Thakur
( Book )
20 editions published between
2001
and 2002 in
English
and held by 409 WorldCat member libraries worldwide
This volume explores the evolution of peacekeeping, particularly since the early 1990s. This period was characterized by much initial enthusiasm and hopes for a United Nations that would find a more agreeable international environment for effective and sustained operations to secure peace where it existed, and to provide peace where it did not. Peacekeeping has always been one of the most visible symbols of the UN role in international peace and security. And it was disappointment with the performance of UN peacekeeping operations which was to become symbolic of the UN's failure to emerge from the ashes of the Cold War as a rejuvenated key player in international and, increasingly, internal peace and security. United Nations Peacekeeping Operations reflects some of the thinking, some of the experiences in the UN and in the field, some of the frustrations, and some of the hopes of this past decade. It combines academic analysis, field experience, and reflection with forward-looking proposals (including the suggestions of, and responses to, the recent Brahimi Report) for more effective peace operations designed and deployed by the UN in partnership with regional, subregional, and local actors. The various chapters in this book confirm the reality of differences among academics, international civil servants, and generals in their respective cultures of reflection, introspection, and analysis. The first part of the book outlines the challenges of post-Cold War peacekeeping; the second part sheds light on regional experiences of peacekeeping missions, with an emphasis on the post-Soviet region and Africa. In the third part practitioners with extensive field experience share their specific experiences in Cambodia, former Yugoslavia, and East Timor. Part four takes stock of the recent record of UN peacekeeping, and of the UN's own attempt to analyze, evaluate, and reform its performance in peace operations
Making states work : state failure and the crisis of governance
( Book )
3 editions published in
2005
in
English
and held by 404 WorldCat member libraries worldwide
This publication is the result of a joint interdisciplinary project of the International Peace Academy and the United Nations University. It focuses on situations when state structures begin to break down or collapse, encompassing a range of crises from states in which basic public services are neglected to the total collapse of governance. It looks at the roles and responsibilities of key actors in the situation in relation to their own populations and the international community, and considers the lessons that can be drawn from a range of countries to develop effective strategies to address such situations
Global governance and the UN : an unfinished journey
by
Thomas G Weiss
( Book )
17 editions published in
2010
in
English
and held by 390 WorldCat member libraries worldwide
In the 21st century, the world is faced with threats of global scale that cannot be confronted without collective action. Although global government as such does not exist, formal and informal institutions, practices, and initiatives -- together forming "global governance"--Bring a greater measure of predictability, stability, and order to trans-border issues than might be expected. Yet, there are significant gaps between many current global problems and available solutions. Thomas G. Weiss and Ramesh T
Enhancing global governance : towards a new diplomacy?
by
Andrew Fenton Cooper
( Book )
18 editions published between
2002
and 2005 in
English
and held by 359 WorldCat member libraries worldwide
Analyses the means by which global governance has been promoted by innovative diplomatic practices. The book reviews the application of new diplomacy approaches, first in the commercial domain of international activity, particularly in the application of codes of conduct that would affect both states and global business, and then in selected areas of the expanded security agenda
From sovereign impunity to international accountability : the search for justice in a world of states
( Book )
13 editions published in
2004
in
English
and held by 343 WorldCat member libraries worldwide
This book explores the progress, scope, and controversies of holding political leaders accountable for international crimes. The last century has seen the role of law and justice in governance extend beyond the realm of individual nations. Its significance, both regionally and globally, is illustrated by the developments made in international law, especially with regard to the recognition of international human rights, universal jurisdiction, and additional international crimes. However, the significant advances with regard to the international recognition of humanitarian law and the ending of impunity for war criminals stand in real danger of being reversed
From civil strife to civil society : civil and military responsibilities in disrupted states
by
William Maley
( Book )
18 editions published between
2001
and 2005 in
English
and held by 339 WorldCat member libraries worldwide
Yet the challenges have proved daunting. Civil and military actors have different organizational cultures and standard operating procedures and are confronted with the need to work together to perform tasks to which different actors may attach quite different priorities."--Jacket
Arms control after Iraq : normative and operational challenges
by
Waheguru Pal Singh Sidhu
( Book )
14 editions published in
2006
in
English
and held by 336 WorldCat member libraries worldwide
The stated reason for invading Iraq was its alleged clandestine pursuit of weapons of mass destruction in defiance of UN resolutions. Even though the allegation was proven false, the international community remains preoccupied with the threat of the proliferation and use of such terrible weapons. The questions discussed in this book include doctrinal issues regarding the use of force in general; the implications of a shift in the utility of nuclear weapons from deterrence to compliance and of a focus on non-proliferation to the neglect of disarmament; the place and role of the United Nations in controlling the spread and use of WMD; the regional dynamics of proliferation concerns in North-east Asia and the Middle East; and the threats posed by the possible acquisition of nuclear weapons and missiles by non-state actors.--Publisher's ddescription
more
fewer
Audience Level
0

1
Kids
General
Special
Audience level: 0.05 (from 0.02 for The Iraq c ... to 0.07 for Kosovo and ...)
Related Identities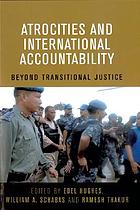 Alternative Names
Chandra Thakur, Ramesh 1948-

Rameśa Ṭhākura 1948-

Ramesh Chandra Thakur

Ramesh Chandra Thakur 1948-....

Ramesh, Thakur

Ramesh Thakur 1948-....

Thakur, Ramesh.

Thakur Ramesh 1948-....

Thakur, Ramesh C.

Thakur, Ramesh C. 1948-

Thakur, Ramesh Chandra

Thakur, Ramesh Chandra 1948-

Ṭhākura, Rameśa 1948-

Languages
Covers