Cookson, Peter W.
Most widely held works about Peter W Cookson
Most widely held works by Peter W Cookson
Expect miracles : charter schools and the politics of hope and despair
by
Peter W Cookson
( Book )
11 editions published between
2001
and 2004 in
English
and held by 1,545 WorldCat member libraries worldwide
Charter schools are the most significant educational experiment in the last two decades. In Expect miracles, Peter W. Cookson, Jr. and Kristina Berger focus on the current trend toward deregulation in public education. The issue of deregulation is of critical importance because the spirit of entrepreneurship that is behind deregulation is seldom examined from a sociological perspective. This book places the debate concerning the future of public education in a meaningful framework that allows the reader to ask new questions and seek genuine solutions. Using the latest research as the basis for discussion, this book provides a fresh look at the growing and politically volatile charter school movement. The authors present the most balanced analysis to date of the movement that is changing the landscape of American education
School choice : the struggle for the soul of American education
by
Peter W Cookson
( Book )
8 editions published in
1994
in
English
and held by 960 WorldCat member libraries worldwide
Stratification and segregation. Cookson argues that school choice can be a useful tactic of educational reform, but that without good schools to choose among and full access to information about the options, the ability to choose is meaningless. He concludes by offering a proposal that would make school choice an innovative mechanism in the creation of a school system that is at once more egalitarian and superior
Preparing for power : America's elite boarding schools
by
Peter W Cookson
( Book )
15 editions published between
1985
and 2009 in
English
and held by 869 WorldCat member libraries worldwide
Why do private boarding schools produce such a disproportionate number of leaders in business, government, and the arts? In the most comprehensive study of its kind to date, two sociologists describe the complex ways in which elite schools prepare students for success and power, and they also provide a lively behind-the-scenes look at prep-school life and underlife. -- Publisher's description
Education and sociology : an encyclopedia
by
David Levinson
( Book )
14 editions published between
2001
and 2014 in
English
and held by 832 WorldCat member libraries worldwide
First Published in 2002. Routledge is an imprint of Taylor & Francis, an informa company
Exploring education : an introduction to the foundations of education
by
Alan R Sadovnik
( Book )
23 editions published between
1994
and 2017 in
English
and held by 575 WorldCat member libraries worldwide
"This text offers an alternative to traditional foundational texts by combining a point-of-view analysis with primary source readings. Pre-service and practicing teachers will find a solid introduction to the foundations disciplines - history, philosophy, politics, and sociology of education - and their application to educational issues including school organization and teaching, curriculum and pedagogic practices, education and inequality, and school reform and improvement."--BOOK JACKET
Transforming schools
by
Peter W Cookson
( Book )
16 editions published between
1955
and 2014 in
English
and
Undetermined
and held by 483 WorldCat member libraries worldwide
The authors in this book address the issues that relate to the crisis in American education and review some of the proposed solutions. To transform education, schools must be examined as social systems that are interrelated with families, communities, and the world of work. Following the introduction, section 1, "Conditions for Educational Opportunities," is comprised of the following four chapters: (1) "Schooling, Achievement, and Mobility" (Aaron M. Pallas); (2) "Tracking and Detracking Practices: Relevance for Learning" (Maureen T. Hallinan); (3) "Parental Ties to the School and Community and Mathematics Achievement" (Chandra Muller); (4) "Reading Reality More Carefully Than Books: a Structural Approach to Race and Class Differences in Adolescent Educational Performance" (Roslyn Arlin Mickelson, Sumie Okazaki, and Dunchun Zheng); and (5) "Dropouts: Definitions, Causes, Consequences, and Remedies" (Gary Natriello). The second section, "Changing Definitions of Education," includes the following five chapters: (6) "Mapping Knowledge Perspectives in Studies of Educational Change" (Rolland G. Paulston); (7) "Expanding Definitions of Learning and Teaching: Notes from the mi Underground" (Mindy Kornhaber and Mara Krechevsky); (8) "Thinking Like a Fish: The Implications of the Image of School Community for Connections between Parents and Schools" (Mary Erina Driscoll); (9) "Education Reform and Policy Implications" (Kathryn M. Borman, Louis Castenell, Karen Gallagher, Sally B. Kilgore, and Debra A. Martinson); and (10) "Schools Must Do More for Children--Child Advocacy as an Educational Responsibility" (Judith H. Cohen). Section 3, "Learning and Assessment," is comprised of the following four chapters: (11) "The Content of Cultural Inventions: Learning and Curriculum" (Ivor F. Goodson); (12) "The Role of Standards and Assessments in National Reform" (David Lee Stevenson); (13) "The Politics of a National Curriculum" (Michael W. Apple); and (14) "High School Curriculum Differentiation and Postsecondary Outcomes" (Thomas B. Hoffer). The following five chapters are included in the fourth section, "New Strategies for Solving Educational Problems"; (15) "Policy, Knowledge, and Power: Some Issues for the Study of Educational Reform" (Thomas S. Popkewitz); (16) "Can the Big-City School System Be Governed?" (Kenneth K. Wong); (17) "Administrative Leadership and the Crisis in the Study of Educational Administration: Technical Rationality and Its Aftermath" (James G. Cibulka and Hanne B. Mawhinney); (18) "Privatization: Integrating Private Services in Public Schools" (Ellen B. Goldring and Anna V. Shaw Sullivan); and (19) "Why School Choice? A Question of Values" (Peter W. Cookson, Jr., And Barbara Schneider). Nine figures, 10 tables, and an index are included. References accompany each chapter. (Lmi)
International handbook of educational reform
by
Peter W Cookson
( Book )
12 editions published in
1992
in
English
and held by 479 WorldCat member libraries worldwide
This book provides an overview of education reform in 27 countries. Following the introduction by Peter W. Cookson, Jr., Alan R. Sadovnik, and Susan F. Semel, part 1 offers national case studies of educational reform in the 1980s. Chapters include: (2) "Argentina" (Ana Munoz-Sandoval); (3) "Australia" (Richard Teese); (4) "Brazil" (Robert Cowen and Maria Figueiredo); (5) "Canada" (Dennis Thiessen); (6) "China" (John N. Hawkins); (7) "Colombia" (Mary Ann Larsen-Pusey); (8) "Cuba" (Rolland G. Paulston and Cathy C. Kaufman); (9) "Arab Republic of Egypt" (Samir A. Jarrar and Byron G. Massialas); (10) "France" (George A. Male); (11) "Germany" (Wolfgang Mitter); (12) "Great Britain" (Geoffrey Walford); (13) "Hong Kong" (Gerard A. Postiglione); (14) "Hungary" (Cathy C. Kaufman); (15)"India" (Ila Patel); (16) "Iran" (Golnar Mehran); (17) "Israel" (Yitzhak Kashti, Mordecai Arieli, and Rina Shapira); (18) "Japan" (James J. Shields, Jr.); (19) "Kenya" (Reese Hughes); (20) "Mexico" (Eduardo Pena de la Mora); (21) "Nicaragua" (Susan Rippberger, Mark B. Ginsburg, and Rolland G. Paulston); (22) "Norway" (Val D. Rust); (23) "Peru" (Sydney R. Grant); (24) "South Africa" (Harold D. Herman); (25) "United States" (Susan F. Semel, Peter W. Cookson, Jr., And Alan R. Sadovnik); (26) "ussr" (Stephen T. Kerr); (27) "Yugoslavia" (Niksa Nikola Soljan); and (28) "Zimbabwe" (Betty Jo Dorsey). Part 2 examines comparative issues in stratification. Chapters include: (29) "Women and Higher Education Reforms: Expansion Without Equality" (Gail P. Kelly); and (30) "Issues of Class and Educational Reform in Comparative Perspective" (Irving Epstein). References and an index are included. (Lmi)
Class rules : exposing inequality in American high schools
by
Peter W Cookson
( Book )
9 editions published between
2013
and 2015 in
English
and held by 408 WorldCat member libraries worldwide
Class Rules challenges the popular myth that high schools are the Great Equalizers. In his groundbreaking study, Cookson demonstrates that adolescents undergo different class rites of passage depending on the social-class composition of the high school they attend. Drawing on stories of schools and individual students, the author shows that where a student goes to high school is a major influence on his or her social class trajectory. Class Rules is a penetrating, original examination of the role education plays in blocking upward mobility for many children. It offers a compelling vision of an equitable system of schools based on the full democratic rights of students. Book features: provides a fresh, dynamic way of understanding educational inequality and social reproduction, offers a breakthrough social/psychological theory of how adolescents acquire class consciousness, compares the cultures and curricula of five American high schools focusing on the class composition of their students. -- Provided by publisher
The Choice controversy
by
Peter W Cookson
( Book )
9 editions published in
1992
in
English
and held by 405 WorldCat member libraries worldwide
Issues in school choice--constitutionality, feasibility, equity, and educational productivity--are examined in this book. The controversy requires an ongoing analysis of the origins of the school-choice movement, the kinds of plans proposed and implemented, their educational and social consequences, and the philosophical assumptions underlying the argument that increased freedom of choice leads to improved student achievement and social equity. The first part centers on the political and philosophical issues of school choice. Articles include "Choice Orientations, Discussions, and Prospects," by Mary Anne Raywid; "Minerva and the Market: The Sources of the Movement for School Choice," by Kevin J. Dougherty and Lizabeth Sostre; "Choice: The Fundamentals Revisited," by Jeffrey Kane; "Do Parents Choose School Quality or School Status? A Sociological Theory of Free Market Education," by Amy Stuart Wells and Robert L. Crain; and "The Ideology of Consumership and the Coming Deregulation of the Public School System," by Peter W. Cookson, Jr. The second part provides alternative ways of examining the school-choice issue. Articles include "Public Subsidies for Private Schools: What Do We Know and How Do We Proceed?" by John F. Witte; "Do Private Schools Outperform Public Schools?" by Albert Shanker and Bella Rosenberg; "Private Citizenship and School Choice," by Michael Johanek; "The Dutch Experience with School Choice: Implications for American Education," by Frank Brown; and "Issues of Choice: Canadian and American Perspectives," by Stephen B. Lawton. References accompany each chapter. (LMI)
more
fewer
Audience Level
0

1
Kids
General
Special
Audience level: 0.29 (from 0.07 for A parent's ... to 0.81 for Beatrice S ...)
Related Identities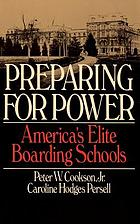 Covers
Alternative Names
Cookson, Peter J. 1942-

Cookson, Peter W.

Languages